Odds are you've heard the term "2011" thrown around a few times. These double-stacks are designed similarly to the 1911 platform, only with greater capacity and, often, modernized features. The term 2011 was actually coined by Staccato back when they were still known as STI, meaning you're likely to run into a lot of double-stack 1911s not being marketed as the 2011. After all, copyrights and trademarks are a thing.
To give you an idea of what's on the market, we've gathered five of our favorite 2011-style handguns for your perusal. In no particular order, of course.
Staccato P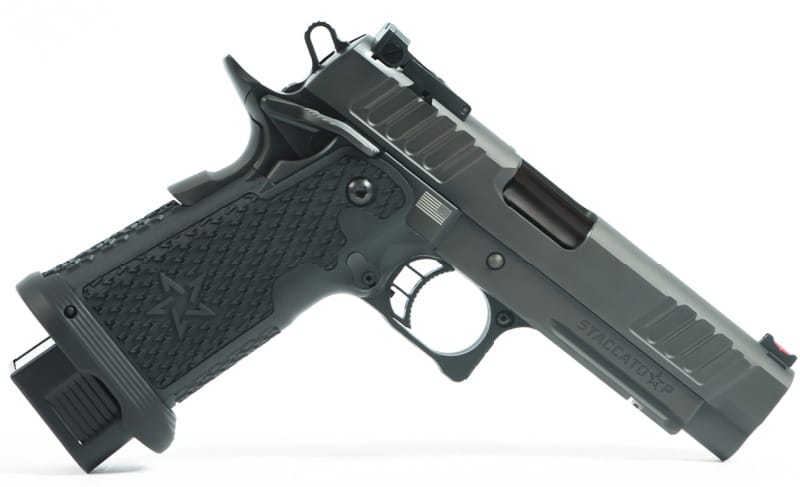 Considering Staccato is the official originator of the 2011, it only makes sense for them to appear first. This is a gun maker that designs and produces beautifully crafted guns that are also fantastically precise (and comfortable to shoot, too). This is a customizable gun, as is the tradition with Staccato. The base model has a 4.4-inch bull barrel, is chambered in 9x19mm Parabellum, and has a 17 +1 capacity (it also ships with a 20-round magazine for even greater capacity). So, what makes the Staccato P great?
According to the respected gun maker, the Staccato P is approved for duty use by more than 1,000 law enforcement agencies, which is pretty impressive in and of itself. It's also carried by elite units like the Texas Rangers and the US Marshals Special Operations Group, so you could say it enjoys widespread use and trust among the law enforcement community. This is a gun made for accuracy, reliability, and durability. Slide serrations are rounded so they're not overly aggressive feeling and the grip is designed to encourage a high, firm hold on the gun. It's comfortable to shoot, cycles consistently, and delivers stellar results on target.
Nighthawk Double Stack Upgrade (and more)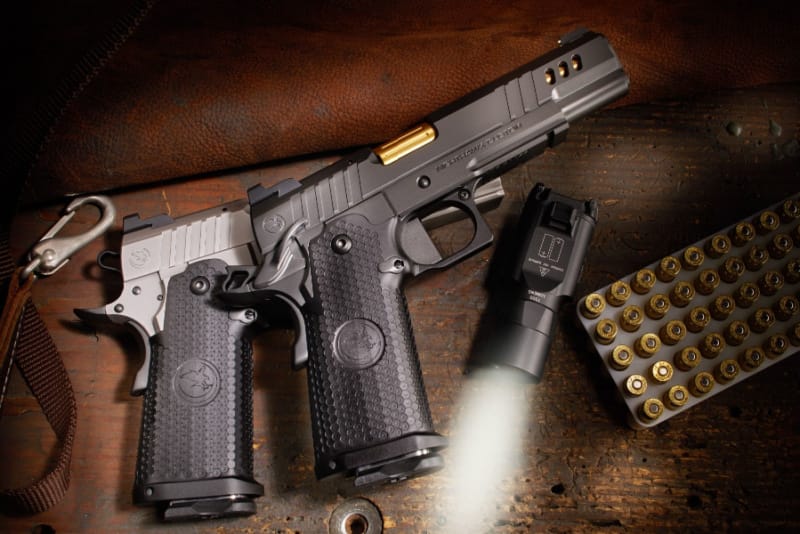 Nighthawk Custom is well known for their high-end 1911s. Their guns are made not only to look good but to shoot impressively as well. If you're a fan of Nighthawk but hesitating because your heart is set on a double stack, no worries. Nighthawk offers a Double Stack Upgrade for their 9x19mm Parabellum pistols.
The high-capacity double stack frame turns 9mm Nighthawks into 17 +1 capacity guns, which is pretty nice when you're focused on having more rounds available in your carry or home defense gun. The customized double-stack guns also have an enhanced, aggressive grip texture for a firm grip during live fire, even with wet or sweaty hands. Like existing grips, the aggressive double stack design is machined from billet aluminum and anodized for resistance to wear. Of course, customizing a 9mm as a double stack isn't the only option. Nighthawk Custom does have three models that come standard as double stacks: the Chairman, Agent 2, and Thunder Ranch model. These guns are made to withstand serious use and look good doing it.
Cosaint Arms COS21 DS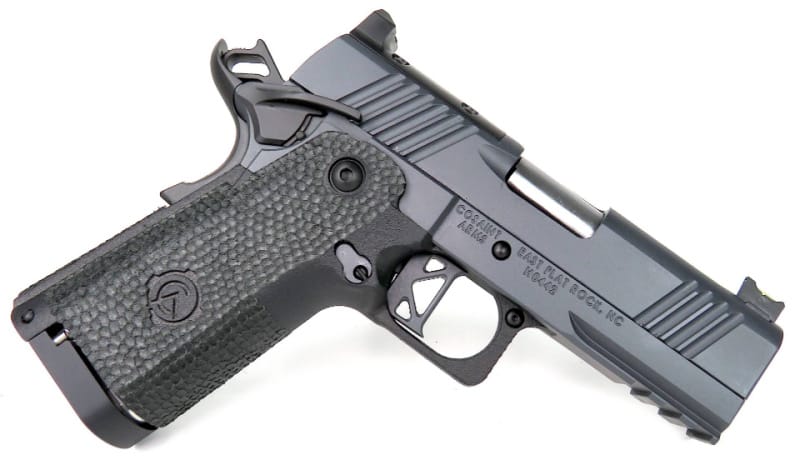 Although Cosaint Arms is newer to the market, the guy behind the guns is a longtime firearms designer. Now that he's gone out on his own, he's able to design exactly the guns he wants, and that includes the COS21 DS. This is, of course, a double-stack 1911 featuring a bevy of customizable features and details. The pictured pistol is chambered in 9x19mm Parabellum, but it's worth mentioning that these guns can be made in a variety of calibers including 10mm Auto.
The Cosaint COS21 DS has a 17 +1 capacity in 9mm and ships with a pair of MBX magazines, which is an awesome detail. Grips are hand textured for a sure grip that's firm but doesn't cut into your hands and the grip safety is precisely fit into the frame for seamless operation. The gun has angled serrations at the front and back of the slide for easier manipulation and an accessory rail ahead of the trigger guard makes adding accessories easy. Oh, and you can get it optics ready, so if you prefer a red dot, it's a simple matter to add one. Cosaint's entire line of handguns is impressive and make great additions to your gun collection.
Wilson Combat eXperior 5
We know what you're thinking: that's not a 1911. And while you'd be correct, the Wilson Combat eXperior 5-inch Double Stack epitomizes all that is modern about 2011-style handguns. The eXperior is made to be the perfect combination of classic 1911 features and modern double-stack precision, so while it isn't exactly a 2011-style gun, it's just right for this list (and for use in general). The way Wilson Combat puts it is that they made sure to include all the best tactical, functional, and cosmetic options as standard on the eXperior.
This 9mm handgun has an 18 +1 capacity. It features the familiar Wilson Combat starburst pattern on the grips and additional texturing on the frontstrap and backstrap for an even better grip during live fire. The slide stop is countersunk, the chamber is fluted, and it has a 5-inch stainless match-grade barrel and bushing with a flush-cut reverse crown. Serrations are located at the front and rearward portions of the slide and the gun comes standard with a red fiber optic front sight for fast target acquisition. This is a gun made to be sleek, snag-free, and smooth to operate. It's precise down-range and also a pleasure to shoot. Components are high-end and carefully selected so you can be sure you're getting a well-made, quality pistol.
Dan Wesson DWX
Dan Wesson has long made reliable, aesthetically awesome pistols. The DWX is a nice example of the company's dedication to innovation and performance, and it's a gun you really should get your hands on. Dan Wesson describes the DWX as the perfect melding of the CZ and Dan Wesson brands. This is a 9mm chambered pistol with a 19 +1 capacity and an overall empty weight of 45 ounces. The black frame, red grip panels, and red highlights come standard.
The DWX utilizes a locked breech barrel system, doing away with the standard 1911 link system and replacing it with a CZ-style takedown via the slide stop. The greater capacity is managed with flush-fit magazines, which is nice, and the magwell is designed for rapid magazine changes. It also has numerous standard 1911 parts, making it easy to tune as desired whether for competition or defensive use. Standard sights are easily customizable thanks to their 1911-style dovetailed sight in the front with a CZ Shadow 2 style rear sight. An ambidextrous thumb safety makes the gun even more versatile. And thanks to a CZ 75 style frame this gun has a shape that will be familiar to a lot of shooters.
Why a 2011-style gun? Because it gives you traditional 1911 features, only better. These are the enhanced versions of a classic, and we're here for the dependability, capacity, and aesthetics. Which one is your favorite? Tell us what you think in the comments section.