The Sig P228 — It's An Oldie But Goodie!
Recently, I had a chance to acquire a Sig P228. I'd owned two prior to this current pistol, and had sold or traded them away years ago. For a long time, I regretted getting rid of them and wished to add another one to my stable. After all, it's Swiss and German-made, how could I go wrong?
Back in the day, when the P228 was first introduced in 1988, it was considered to be fairly compact as far as service pistols were concerned. When I unboxed my "new" P228, it was like shaking hands with an old friend, a very familiar, satisfying feeling. What struck me, though, is that the P228 now seems to be a very large pistol! Which got me to thinking that we are spoiled in that we now have
pistols built on very small frames. Glock, Sig, S&W, and every other manufacturer now have a myriad of compact pistols available. Grips have shrunk drastically, with single stack magazines being the order of the day for many, which equates to thin grips. Thin is most definitely in!
My P228 was once issued to a District Attorney's officer down south, and so it is not a pristine specimen. There is holster wear, it was most likely dropped a time or three, and the mag well shows evidence of many speed reloads in the tiny nicks that these things cause. But it's a P228! I consider it to be one of the best combat handguns in the world.
The military adopted the P228 and designated it the M11. It's still used by military and police forces throughout the world. Until recently, it was also a favorite of SWCC (Special Warfare Combat Crewmen) units, who work closely with the Navy SEALs. The SWCC guys liked it because they worked in cramped quarters on boats, while the SEALs used the P226 more often.
Other units who used the P228 included the US Secret Service, Army CID (Criminal Investigations Division), Air Force OSI (Office of Special Investigations), BATF, FBI, and police departments that are too numerous to mention.
The P228 has since been discontinued and replaced by the P229, which is a stronger version of the P228. The P228 is plenty strong for the 9mm, but newer calibers were being introduced, such as the .40 S&W and the .357 Sig, which operate with higher pressures. As a result, Sig decided to go with a one-piece milled stainless steel slide in the P229, which better withstands the higher-pressure rounds.
Sig fans were sad to see the P228 discontinued, myself included. In the early 2000s, Sig did some runs of the P228, but I'm not aware of any that have been done in recent times. It appears that the P228 may not enter production again. In 2012, the military adopted the M11-A1, which has a short reset trigger and night sights.
P228 Specs and Details
The P228 is hammer-fired and fires from a locked-breech, short-recoil method, with a hammer drop safety. It is recoil-operated and fires double-action/single-action (DA/SA), with a double-action pull around 12 pounds and a single-action pull of 4.5 pounds. The slide is made from stamped carbon steel with a pinned breech block.
The barrel is 3.9 inches long. The frame is made from aluminum alloy, and the overall weight is 26.1 ounces unloaded. The overall length is 7.1 inches, height is 5.4 inches, and the width is 1.5 inches.
The trigger is also extremely smooth, and I'm sure that is, in part, due to the fact that this is a very well-used firearm. The trigger has been pulled thousands of times, which helps to smooth it up nicely. The double-action is super smooth, and the single-action breaks very nicely.
The grip (factory original) is good, and fills the hand very well. There are aftermarket grips available, but for me, the factory version works just fine and seems to fit both large and small hands equally well. The texture also offers a positive purchase, even if the shooter's hands are wet.
Mag Options
As I mentioned, back in 1988, Sig introduced the P228 as a shorter, more compact version of the famed P226. It holds 13 rounds in the magazine, but will also accept the 15 and 20-round P226 magazines. I like to keep a 13-round magazine in the pistol, while carrying one or two spare 15-round mags for backup. I figure if it hits the fan, having mags with more capacity is a Good Thing. The fact that the P226 magazine hangs out of the mag well of the P228 slightly will not bother me in the least. I've never heard someone who has been in a gun battle say, "Gosh, I wish I'd brought less ammo."
One nice thing is that magazines are available in plentiful quantities. I picked up a spare 15-rounder that is made by Mec-Gar, and it is very nicely made, and came packaged in Sig factory packaging. At this time, Mec-Gar is an OEM (Original Equipment Manufacturer) for Sig. The magazines are well made of solid steel and drop free when released.
Performance
How did my well-used P228 stack up? Very nicely, thank you. As I said, it was like an old friend coming home. The smoothness of the slide has always been something that I marvel at with the P228. When the slide release is activated, the slide just seems to glide home with a "Whoosh!"
Accuracy is very good, as expected from a Sig. I used reduced size B-27 targets, as full-size targets were not available at the time. I fired out to 25 yards and kept the pace fairly rapid. No, I couldn't cover the groups with a silver dollar, but I wasn't concerned with such niceties; I wanted to hit the kill zone as quickly as I could, and for that, the Sig delivered perfectly.
Naturally, no stoppages or problems were encountered during range time. Problems with Sigs are extremely rare, and their reputation for ridiculous reliability is well earned. I've been to a number of trainings and shooting schools, and Sig is one of the brands that we very rarely see any problems with. The other most reliable brands seem to be Glock, H&K, and the Springfield Armory XD series (in my
experience).
Recoil with the P228 is fairly light, and the sights return to the target quickly, facilitating fast follow-up shots, which is exactly as it should be. For me, the Sig requires minimal effort to fire. I just put the sights where I want it to hit, and the pistol seems to kind of fire itself.
Field stripping could not be easier with the P228. Make sure that the pistol is unloaded, the slide is locked to the rear, and the takedown lever is swung down. Remove the slide, allowing the spring and guide rod to be removed, and then the barrel can be removed. That's it. To reassemble, the procedure is reversed. There are no tricky parts to this procedure. It simply goes like clockwork.
Holster Up
To carry the pistol, I selected the DeSantis Mini-Slide holster. I'm quite pleased with my choice! The holster carries the pistol securely and keeps the P228 tucked into the body closely. From the factory, the holster offers a smooth, fast draw, which will no doubt improve over time. The stitching on the holster is nice enough for me to make note of here. If you're looking for a quality holster, DeSantis makes excellent holsters that won't break your checking account.
In summary, the Sig P228 is boring. It operates with sickening dependability and hits the target quickly and accurately. In my opinion, a boring firearm is the best kind because it doesn't require constant coddling. It just works. And the P228's history makes it a real classic. If you are able to pick one up, I highly recommend doing so. Unfortunately, they seem to be commanding serious prices on the secondary market these days. Unless you're like me, and you're able to entice a friend to trade his to you.
Pistol mags: you need some? We have 'em for every conceivable handgun make and model.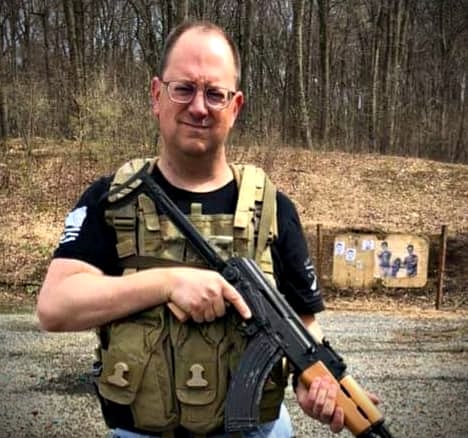 Jim Davis served in the PA Dept. of Corrections for 16 ½ years as a corrections officer in the State Correctional Institute at Graterford and later at SCI Phoenix. He served on the Corrections Emergency Response Team (CERT), several of those years as a sniper, and also the Fire Emergency Response Team (FERT). For 25 years, he was a professional instructor, teaching topics including Defensive Tactics, Riot Control and Tactical Operations, Immediate Responder, and cognitive programs as an adjunct instructor at the DOC Training Academy. He was then promoted to the title of corrections counselor, where he ran a caseload and facilitated cognitive therapy classes to inmates. His total service time was close to 29 years. He was involved in many violent encounters on duty, including incidents of fatalities.