If you don't take advantage of the ability to quickly and easily swap grips with your P320, then what is the point? Seriously, why even P320 if you aren't willing to tinker. SIG themselves sells a number of replaceable grip modules that allow the shooter to quickly and easily swap between different grip modules for different purposes. Well, Sig isn't the only company that has gotten in on the action, and a little company Mirzon has produced what might be the best P320 grip module out there.
The Mirzon Enhanced Grip Module doesn't replicate Sig by any means. Instead, they took their own route and crafted their grip module to provide the most control possible. The Mirzon grip module's design implements a ton of different changes to enhance control, increase accuracy, and reduce recoil. At least Mirzon claims the grip does this. We aim to figure out if those claims hold water.
Into the Mirzon Enhanced Grip Module
From the start, you can choose between three different polymer colors, including black, coyote tan, and storm gray. Beyond those three colors, you can choose 14 different Cerakote colors to give you whatever color setup you could ever want. Colors include standard like gunmetal, but also silly stuff like zombie green and just plain cool finishes like Northern lights.
Buyers get the choice between a standard model or a grip cut for a safety. We get a four-slot rail which is much friendlier to my TLR-1 than the compact grip, so I'll take it.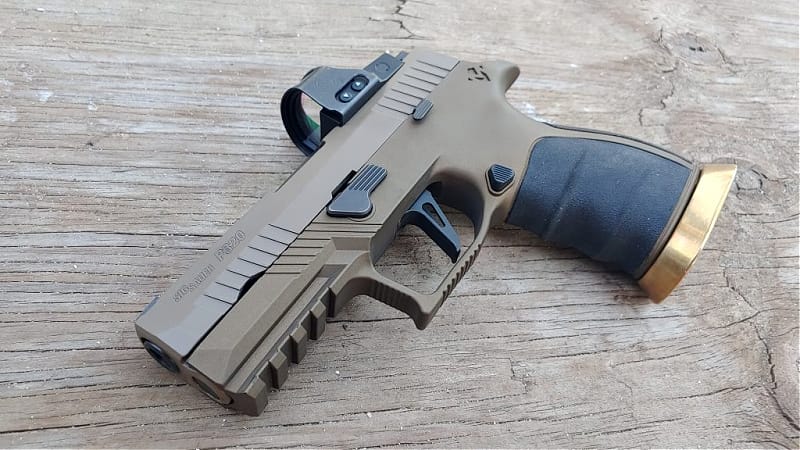 These modules function with all slides except for the subcompact slide and X-Compact slide. It's a full-sized grip designed to function with full-sized 40 S&W and 9mm magazines. That being said, a proprietary base plate sold by Mirzon allows you to use 15 round mags in the Mirzon enhanced grip module.
Holsters aren't an issue, and the Mirzon fits standard Sig P320 rigs without complaint. On top of that, the Mirzon grip module works with mag wells and the big X5 grip weight to increase controllability and reduce recoil. They even include the magazine release—what sweethearts.
Getting a Grip
What caught your eye first? The shiny magwell? Or the black textured grip? Well, we'll talk about both. The black textured grip should catch your eye because it's going to catch your hand! That texture is somewhat soft and sticky and absolutely provides an outstanding grip. You grip it, and it grips you back.
The Mirzon grip texture extends to the rear of your grip and provides an outstanding level of control. You ever let your grip slip just a bit and have to do a slight readjustment? Sometimes you get a little tired, and it happens. I don't blame you. Well, it doesn't happen with the Mirzon. That grip texture works brilliantly, and the gun stays put regardless of how many rounds you toss downrange.
The extended beavertail is interesting. It curves downwards and around your hand. It's super comfy and allows you to really shift your hand up higher on the gun. Go to the front of your grip, and you get a nice trigger guard undercut that compliments the beavertail and allows for a high grip. A high grip results in more control, and more control results in better accuracy and faster follow-up shots.
I'd normally hate the finger grooves, but I find them a lot less offensive than a lot of built-in finger grooves. CoughGlockcough.
Can it Really Reduce Recoil?
That's a helluva claim, right? This grip reduces recoil, and Mirzon touts measurements via accelerometers. I'm always a little cautious of claims, but that's why I'm reviewing the enhanced grip module. Upon dropping my FCU into the frame and slapping the slide on, I just hit the range.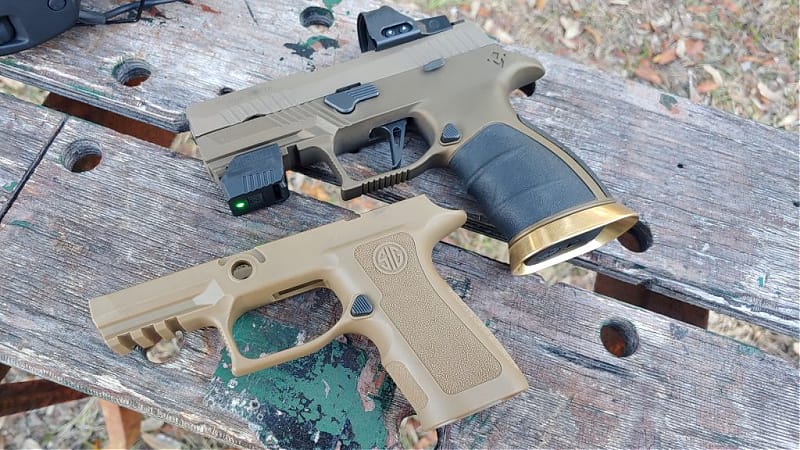 I've shot my little P320C a lot, so I know what it feels like. With my first shot, I thought I felt smoother recoil and more control with the Mirzon grip. I struggled with thinking, is it just the placebo effect? It's possible I imagined the claim to be real. After a little brainstorming, I remembered that the Mantis X10 has a Reocilometer, and I have a Mantis X10.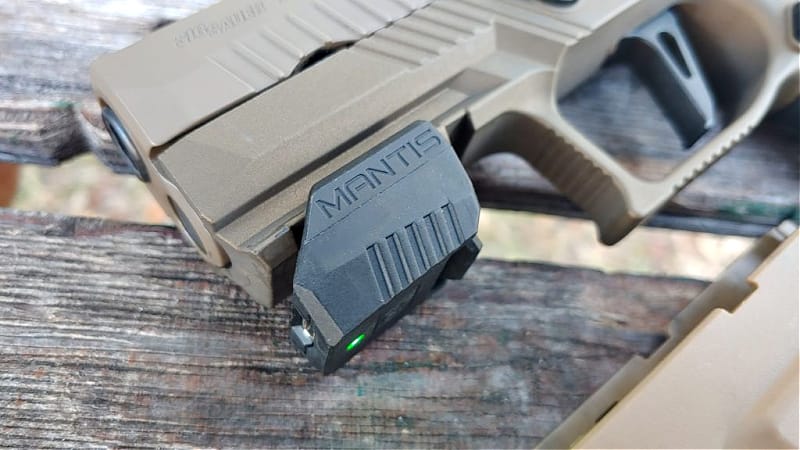 I fired up the app, tossed the Mantis on the rail of the OEM grip module, and went at it. I fired five rounds, then swapped the FCU and slide to the Mirzon enhanced grip module and fired five more rounds. You can feel a difference, but numbers don't have feelings.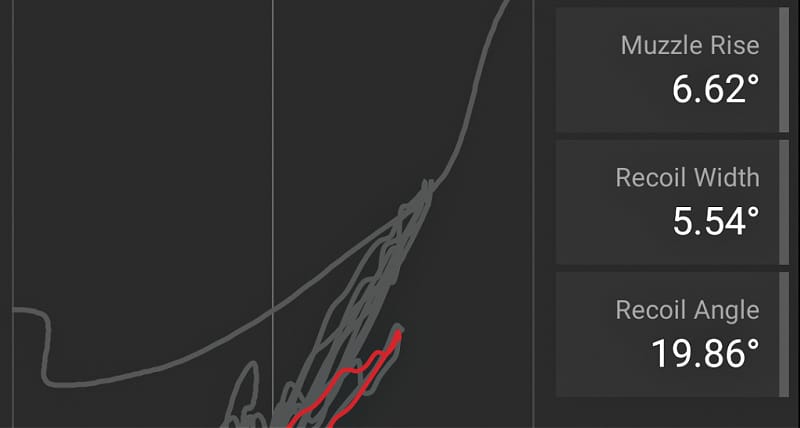 According to the Mantis X10, the muzzle rise with the OEM was worse than the muzzle rise with the Mirzon. In fact, the best I accomplished with the OEM grip was a muzzle rise of 12.95 degrees, and the best with the Mirzon was 6.62 degrees. That's a significant difference, and even the worst in strings of fire were still separated by a fair bit.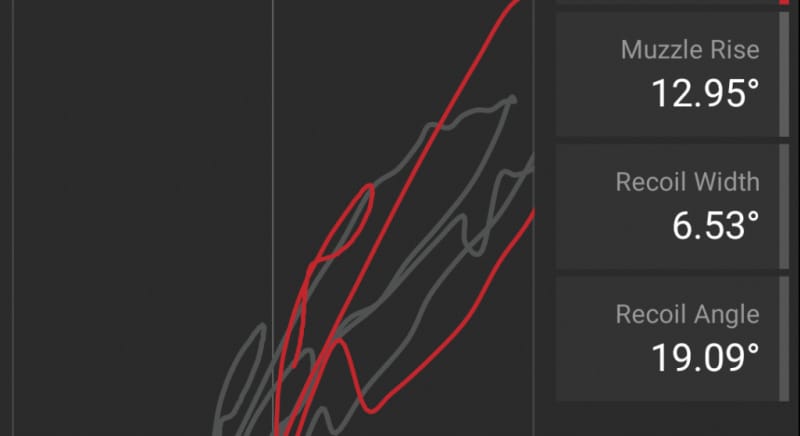 Now I'm thinking, what if I mixed in a compensator with the Mirzon grip. I might be able to cheat this game up a little bit.
Going Fast
Okay, we knocked that out. Now let's go fast! I ran a wide variety of drills, including the iHack, a Failure to Stop Drill, the Sage Dynamics Eleanor drill, and even the classic El Presidente! I blazed through each chill like a champ! Well, not really, but more like an enthusiastic amateur. The Eleanor still kicks my butt, but I did well and easily passed the others.
What I found along the way was a grip module that offered fantastic control and excellent ergonomics. I did very well in drills like the Baer Solutions Standards, the Guerilla Approach Consistency drill, and the classic 10-10-10 drills. In fact, I ran a personal best with the 10-10-10 drill at 5.8 seconds with everything in the black. Keep in mind that's with an optic and optics certainly help.
I've seen better times with a higher degree of accuracy with the Mirzon enhanced grip module. I'm truly impressed by how much of a difference such a simple change makes. My model rocks the magwell for quicker reloads, but that's completely optional and removing it makes for an easy carrying gun.
Hollaback Grip Module
The Mirzon Enhanced Grip Module seemingly lives up to its claims. Slight differences have been made to produce an easier handling and easier shooting firearm. It's not the cheapest grip module, but it's well worth the points to performance. Check it out here, and let me know what you think below. I'd love to hear about some other experiences with the Mirzon.
Also, should I comp the gun too? I feel like it'd make an impressively easy to control gun even easier to control.