It's hard to own an AR-15 without changing something on it. I will admit, a basic mil-spec AR-15 is a great rifle and doesn't really need anything replaced. But where's the fun in that? We live in a day where everything is customizable, and our guns have not been left out.
One of the benefits of customizing your rifle is to make it work better for you. The length of the handguard, barrel, type of stock, optic, light, etc., can all be changed. You can dress it up to be exactly what you want. The buttstock is one of the easiest things to replace, depending on the type of stock you select.
Over the years, the AR-15 rifle has evolved just a little. We have more color options, visual designs, and materials. But the heart of the rifle, which is the upper and lower, has not really changed that much. It's the handguard, stock, and accessories that change the look of the gun. And some of the new stocks out there really give the gun a different look. But how many features do you need on a rifle buttstock? I have selected a few different types of stocks to discuss. Some of them are different looking and some are more practical than others.
Magpul CTR Mil-Spec Stock
Magpul is a leading manufacturer of not just AR-15 stocks, but gun stocks in general. One of the best things about Magpul is you don't have to worry about quality. You can focus more on the style of stock that works for your gun.
If you want a simple swap from your standard carbine buttstock, the Magpul CTR mil-spec stock is a great choice. It offers great shoulder support with a thin rubber pad, which standard mil-spec stocks do not have. Two screws on the back of the rubber pad allow you to swap it out for a thicker one if desired. The A-frame stock has an adjustable lever under the top just like standard stocks, but it also has a friction locking lever to ensure it doesn't move.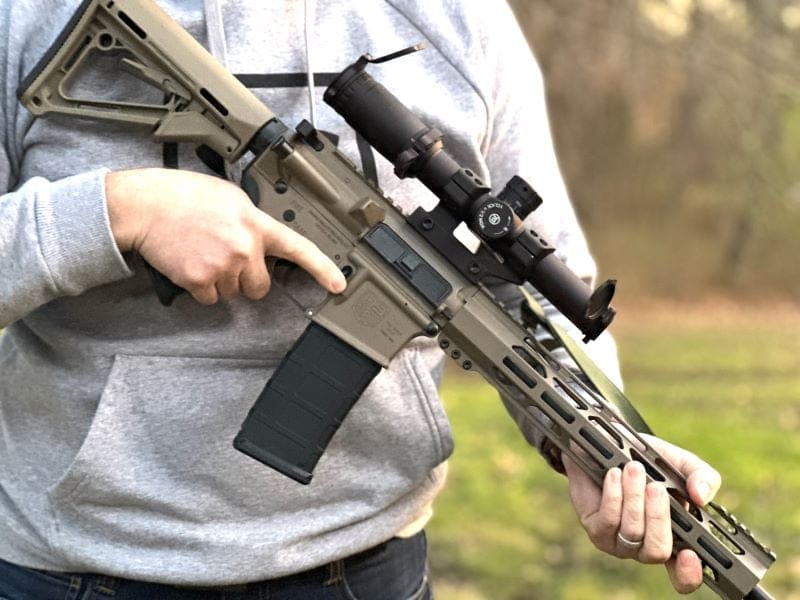 Once the stock is in the desired position, close the locking lever to ensure the stock does not rattle and make noise. There are QD mounts on each side of the stock with a sling attachment. I use QD mounts on most of my guns, but if you prefer, it also works with 1.5-inch swivel sling mounts too.
BCM SOPMod "Widebody"
The SOPMod stock by BCM is a stock that takes up minimal space while providing a wider top for the cheek weld. It is designed to help reduce snags when moving around. The adjustment lever is built into the bottom of the stock, so it is not visible. To adjust the stock, squeeze on the bottom lever just in front of the QD mount.
The butt plate is what I would call a hardened rubber pad. I don't care for butt plates that are too thick or too soft. This one provides some cushion for your shoulder without being too soft. There is a slot for swivel slings just below the QD mount. This is a good stock for AR-10s or a rifle with a scope. This stock sells for close to the same price as the Magpul CTR, so it really comes down to which one works best for you. BCM is just as reputable as Magpul so there are no quality issues with this stock either.
Mission First Tactical BATTLELINK Minimalist
This stock has been gaining in popularity over the past few years. Mission First wanted a functioning stock that was light and practical. The Battlelink Minimalist provides the same functions as most other stocks, but in a compact form. It has a QD attachment on the bottom of the stock instead of the sides like other stocks. The adjustment lever is flush with the bottom portion of the stock, so it doesn't stick out. For a compact, light stock, it still has a non-slip rubberized buttpad that is surprisingly comfortable. The only issue with the L-shaped stock is the tendency for things to get caught on it.
Coming in just under six ounces, this stock works great if you are trying to keep your gun light and simple. This is a good option for SBRs (short barrel rifles) if you want to register it and pay the $200 tax stamp to the feds. Mission First is not as popular as Magpul or BCM but they make some great products here in the USA.
Hera CQR Buttstock
So, this AR-15 stock is a little different looking and Hera also makes a front grip that matches it. If you like space-age-looking guns, check out this stock. Unlike the previous stocks discussed, the CQR does require taking some parts off your gun. The stock will slide over a mil-spec carbine buffer tube, but the grip must come off because it's built-in to the stock.
Because the stock slides forward onto the gun, the safety selector spring installs differently than a normal grip. The stock slides on first and the safety selector spring goes into a cutout on the side of the new grip. A small piece of rubber also goes in the cutout to help hold the spring in place. Once installed, this stock becomes fixed and is not adjustable. The donut-shaped grip reminds me a little bit of the FNS P90 rifle that came out back in the day.
If you want to try the CQR stock, I recommend the front grip that matches it. They come in several colors including black, FDE, and OD Green. I use one on a full-size rifle, but they look the best on a shorter gun with a handguard that is not longer than the Hera front grip. But again, this would require an SBR, which must be registered. The Hera CQR set is pricey at nearly $150 so make sure this is a look you want before purchasing.
Hera CCS Stock
Hera does make a stock that is more traditional but still has that modern look to it. The CCS stock is a little more curvy than other stocks but it's still adjustable. It has QD attachments on both sides but there is no adjustment lever. Instead of a lever, the stock is adjusted by pushing two round buttons built-in to each side of the stock. This process is not hard, but not as fast as other stocks with a lever.
The stock has a great look to it and it's comfortable to shoot, but if you adjust your stock a lot, I will not recommend this one. I set mine in the second position and leave it there, so it does not bother me to have a different adjustment system. The CCS stock runs about $60, putting it in the same ballpark as other collapsible stocks.
Which one is the best?
I'm not sure it's fair to say one is the "best" when there are multiple good products to choose from. But I can say which one I like the most, and that is the Magpul CTR. This stock is built to last, has everything you need in a stock, and is priced exceptionally well for its quality. This, of course, is my personal preference, because there are a ton of quality stocks on the market. Which one is your favorite stock? Feel free to share your experience and knowledge with other readers.