Why is finding a suppressor-ready .45 ACP so complicated? While there are a select-few single actions on store shelves, finding a range-ready polymer-framed .45 is much less common. The Springfield XD-M is a top contender. It's built for use with a suppressor and it comes in this configuration from the factory.
Why .45 ACP?
1911 fans don't need any convincing. Adding a threaded barrel to a 1911, though, can pose problems. You'll likely need the assistance of a gunsmith as the 1911 platform, though modular, can still require that parts are hand-fitted to each gun.
The .45 ACP may not be the fastest round, but it hits hard. The terminal ballistics of the fat ball rounds have proven themselves in combat, tactical applications, and self-defense for more than a century. And the popularity means there are countless varieties of loads and bullet designs to choose from.
But for the XD-M built with a threaded barrel, the .45 ACP has another big benefit. Almost all these loads are subsonic. The threshold for a good loud crack is right around 900 feet per second, and most of the heavier rounds stay below that mark.
The 5.28" barrel on the XD-M is going to provide enough length for the powder to burn up, which increases muzzle velocity, but most of the .45 ACP ball ammo is going to hold right in below the 900 fps mark. And you still have the benefit of running +P ammo, or lighter (and faster) defensive loads, too.
With these speeds, an XD-M .45 with a silencer should be hearing safe.
The XD-M .45
Specs
Caliber .45 ACP
Color Black
Barrel 5.28″ Hammer Forged Steel, Threaded (.578 x 28), Melonite® Finish, 1:16
Slide Forged Steel, Melonite® Finish
Frame Black Polymer
Sights Dovetail, Suppressor Height
Recoil System One Piece w/ Full Length Guide Rod
Grip Width 1.2″
Magazines (3) 13-Round
Weight 31 oz
Length 8.6″
Height 6″
MSRP $673
The XD-M has always been a gun that produces solid accuracy. I've run them in numerous calibers over almost a decade and I've come to expect good things.
Grip texture on this XD-M hasn't caught up to some of the other Springfields—like the Hellcat or the XD-S Mod 2—both of which have the more sandpaper-like feel to the grips. But the aggressive tire-tread on the XD-M is still tactile enough that my hand doesn't shift.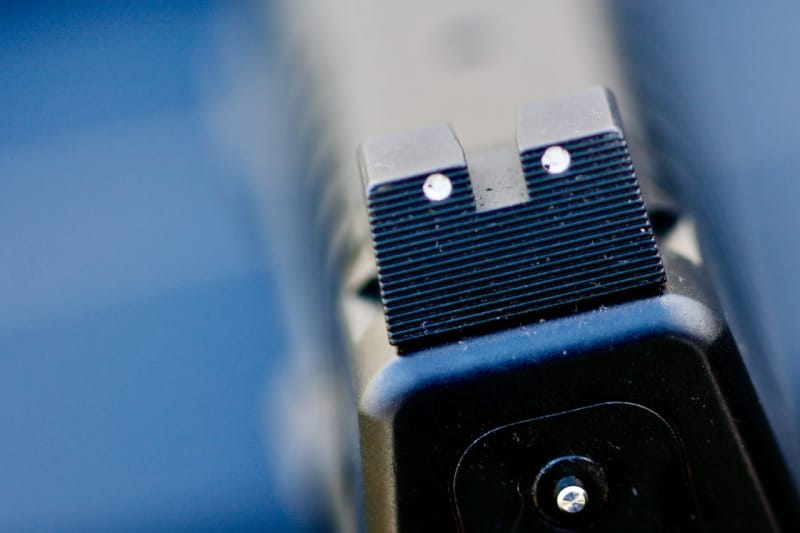 The suppressor height sights are an added bonus. Why anyone would thread a barrel on a factory gun and not include them seems ridiculous, yet it still happens. These on the XD-M are tall enough to be seen over the side of the Banish 45.
The XD-M in .45 ACP comes with three 13-round magazines. This is a respectable capacity for a .45. The 9mm versions hold more, yes—but finding subsonic 9mm isn't always easy—and when you strip the 9mm of its velocity, the lighter bullets don't perform as well.
And that, for me, is the appeal here. In terms of foot-pounds of force, a subsonic .45 ACP crushes it. Take two of Remington's subsonic loads. A 147 grain 9mm round, with a muzzle velocity of 945 FPS (which is right at that threshold for a sonic crack), produces 291 foot-pounds of energy. A 230 grain .45 ACP round leaves the barrel at 830 FPS and has 351 foot-pounds of energy.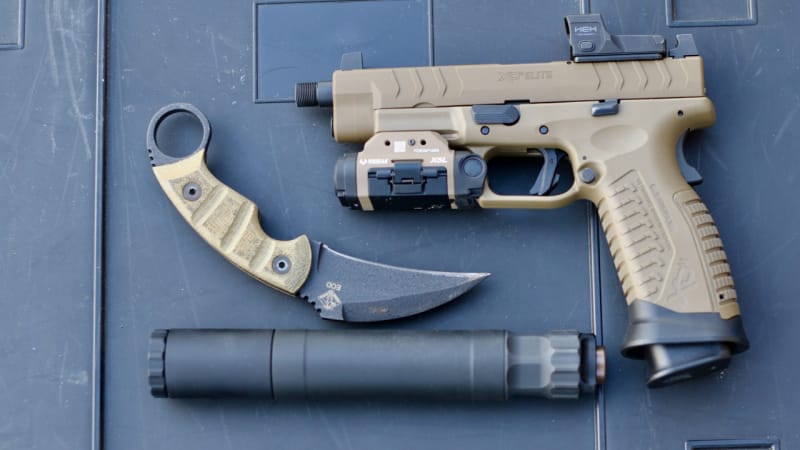 There's nothing wrong with a suppressed 9mm. But everything about the .45 ACP seems like it was meant to be suppressed.
Shooting the XD-M
The XD-M has a highly manageable recoil impulse. I find there to be less rise than I experience with a 1911—something I attribute to the ergonomics of the grip. The XD-M in .45 ACP fits in my hand better than a 1911, and the shape of the grip is more rounded and less wide and flat—and that's before any fine-tuning that can be done with the interchangeable backstraps.
I've been carrying an XD-M Elite in 9mm for months, and I'm faster with that gun than I am with the XD-M in .45 ACP. The 9mm Elite shoots flat and fast. My split times on the .45 are marginally slower, but they're still proficient. Speed isn't always everything.
Shooting the Springfield XD-M suppressed
The recoil impulse on the XD-M suppressed with a Banish 45 is hard to describe. Because there's more mass out on the end of the barrel, there's not so much muzzle flip. But the muzzle-flip that is there is somewhat whip-like. The muzzle-end of the can goes up more slowly, but motion carries through in like a wave.
The feeling is far easier to control than that description would imply. For me, recoil management on an unsuppressed pistol requires that I keep the muzzle from climbing too high and control the movement back to the target for a follow-up shot.
I find that a suppressed .45 ACP tends to rise less and dip more so that I'm moving through shots in a more fluid motion. I'm not as fast on movement drills, but I can get by.
And hearing the .45 ACP slap a steel target without the bark of an unmuffled gun is something that never gets old.
The Banish .45 can be set up in two lengths. The short version is 6.7". The longer version is 8.6". The weight comes in just over nine ounces, or right at 11. Titanium doesn't weigh much. Neither, though, does the XD-M, which has a polymer frame. With the suppressor, the gun comes in under three pounds (but that's before you add a full mag).
Subsonic ammo is still painfully loud without hearing protection. The Banish .45 in its long configuration pulls 36 DB from the report, making it hearing safe. It isn't Hollywood quiet. It isn't as whisper-quiet as some suppressed bolt guns, but it is hearing safe.
Blowback with the Banish 45 is minimal. As you would with any firearms, you should still wear eye protection. The addition of hearing protection is up to you.
Why would you want to shoot suppressed?
I've always been opposed to these kinds of questions. It's fun. That's enough?
But there are other benefits. We all like to hear things. Shooting with a can helps preserve that sense—and even opens up other sounds that you'd never hear when wearing hearing protection.
And shooting suppressed allows you to talk to others more easily. As a teaching tool, a good silencer makes range time much safer.
Silencers are really ideal for hunting. The XD-M isn't as effective on hogs in the .45 ACP version as it is in the 10mm version, but the .45 ACP is still hell on a pig. This is a harder argument to make, as carrying an unholstered handgun isn't ideal but it can be done safely and effectively.
Home defense is another story altogether. Think about the scenarios we all should train for. The first is the incredibly nuanced skill set needed to clear a house. In an enclosed space, in the dark, you'll want a light. The Springfield XD-M can do that, too. But if you do fire a shot, or multiple shots, without hearing protection on…. What will that do to your equilibrium? To your ability to communicate? How blinding will the muzzle flash be?
Let's go back to the real answer. Why shoot suppressed? Why not shoot suppressed?
My gut tells me that the biggest reason why people don't is the cost. The threaded barrel and suppressor sights will add a bit to the price tag on the XD-M, but with an MSRP of $673, that cost is hardly prohibitive. And the availability of reliable ammo that is organically subsonic means you won't have to pay extra for the privilege.
The biggest expense will likely be the suppressor and the fun-fee you'll have to pay to your Uncle Samuel for the stamp.