There's nothing quite like a Desert Eagle. Not only are these guns enjoyable to shoot, but they're offered in a variety of colors and patterns, making it possible to get just about whatever aesthetic you're after. If you've been hoping for a steampunk vibe, the latest Desert Eagle is for you. The Magnum Research Steampunk Desert Eagle has finally arrived, and it's absolutely awesome.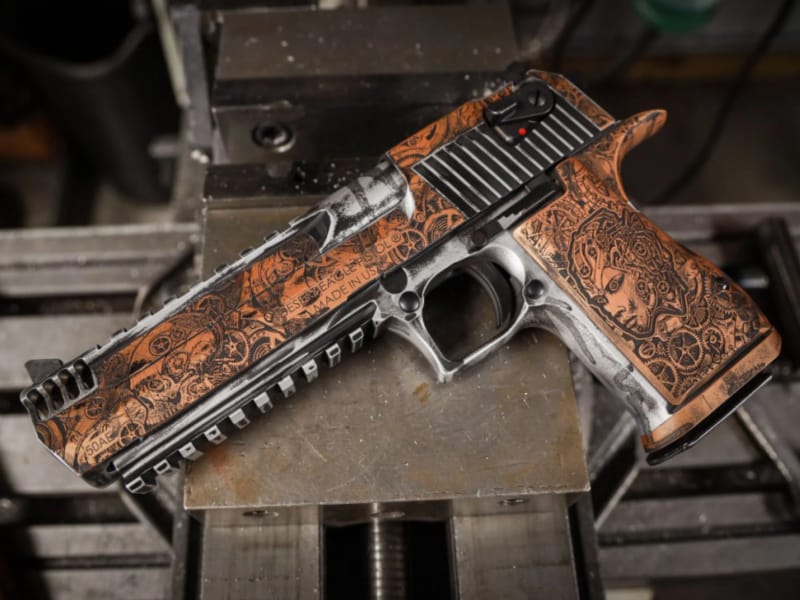 Magnum Research partnered with Dark Alliance and Koted Arms to create the Steampunk Desert Eagle, which just might be the coolest gun to hit the market. This handgun is the ultimate incarnation of custom Desert Eagle craftwork. Magnum Research states that only 20 of these custom pistols will be produced, and each is unique in its own right, making it a true collector's item. The Steampunk Desert Eagle is a one-of-a-kind heirloom with intricate engravings of gears and machinery for a classic Steampunk motif. The slide, frame, and grips have all been used as a canvas, and each gun is coated with a Cerakote copper and black finish to reflect a dystopian 19th-century feel. The pistols are hand-taped during finishing, meaning no two are identical.
The Steampunk is chambered in 50 AE (Action Express) and ships with one 7-round magazine. A certificate of authenticity is included with each gun to verify it's one of only 20 ever to be made. All 20 Steampunk Desert Eagles are available for sale directly to the customer through the Magnum Research Custom Site. These one-of-a-kind guns are beautifully made and will make a fantastic addition to any gun owner's collection.
MSRP for the Magnum Research Steampunk Desert Eagle is listed as $8,763.00.