The Springfield Hellion is a new bullpup rifle available from Springfield Armory. When one thinks "Springfield bullpup", one usually thinks of the old 1903 model or M1A Bulldog. The Hellion, however, is (obviously) a substantially more modern design, chambered in 5.56 and based on the Croatian VHS-2 rifle design.
This is Springfield's release video. It's in English, not Croat, but does feature a professional voice actor from the 90s.
You may have already seen this:
The hints about what was coming may have come even earlier, however. KillerFord1977 actually asked about a Springfield Armory bullpup nearly two years ago.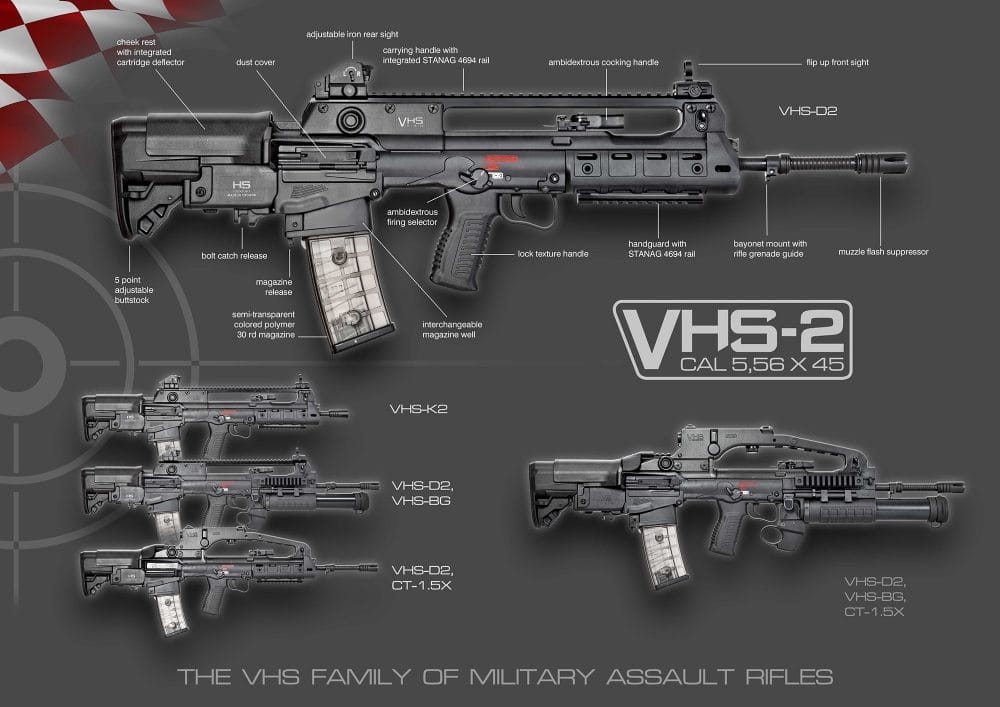 You may recall the Croatian VHS-2 from its cinematic debut in Hobbs & Shaw. It kinda looks like the illegitimate love child of a FAMAS and a G36. and the Springfield Hellion bullpup isn't much different.As you can see, the name of the new bullpup is not (legally anyway) terribly old.
If it is a derivative of the VHS-2, you might want to know a bit more. Here ya go.
VHS-2 Rifle
HS Produkt Croation Bullpup
The VHS-2 series of rifles is a line of 5.56x45mm bullpup designs from Croatia; specifically, from the Croatian firm HMS Produkt The dash-2 model of the Višenamjenska Hrvatska Strojnica ("multifunctional Croatian machine gun") was introduced in early 2013. The original configuration was designed at the behest of the Croatian Army, which was looking for a new infantry rifle to bring them into NATO compatibility.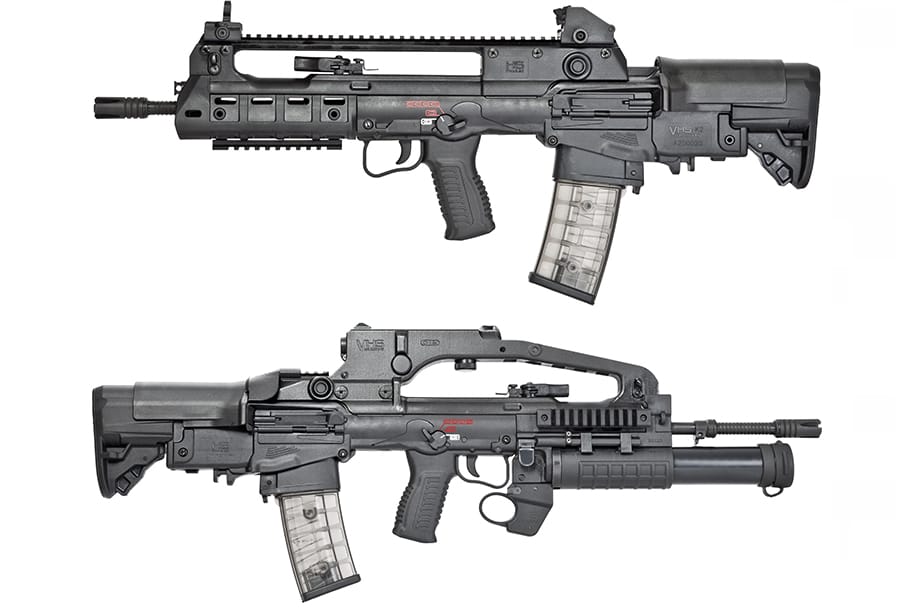 Croatia, which is slightly smaller than the US state of West Virginia, has a relatively small military (roughly 20,000 active duty personnel), most of which is comprised by their Army. Some of these soldiers have deployed to Mazar-e-Sharif and Faizadaban with ISAF, others to various UN peacekeeping missions (including the Golan Heights and Libya), and most recently some to Lithuania and Poland as part of Operation Forward Presence. The country is a member of the EU and, together with Albania, joined NATO in 2009.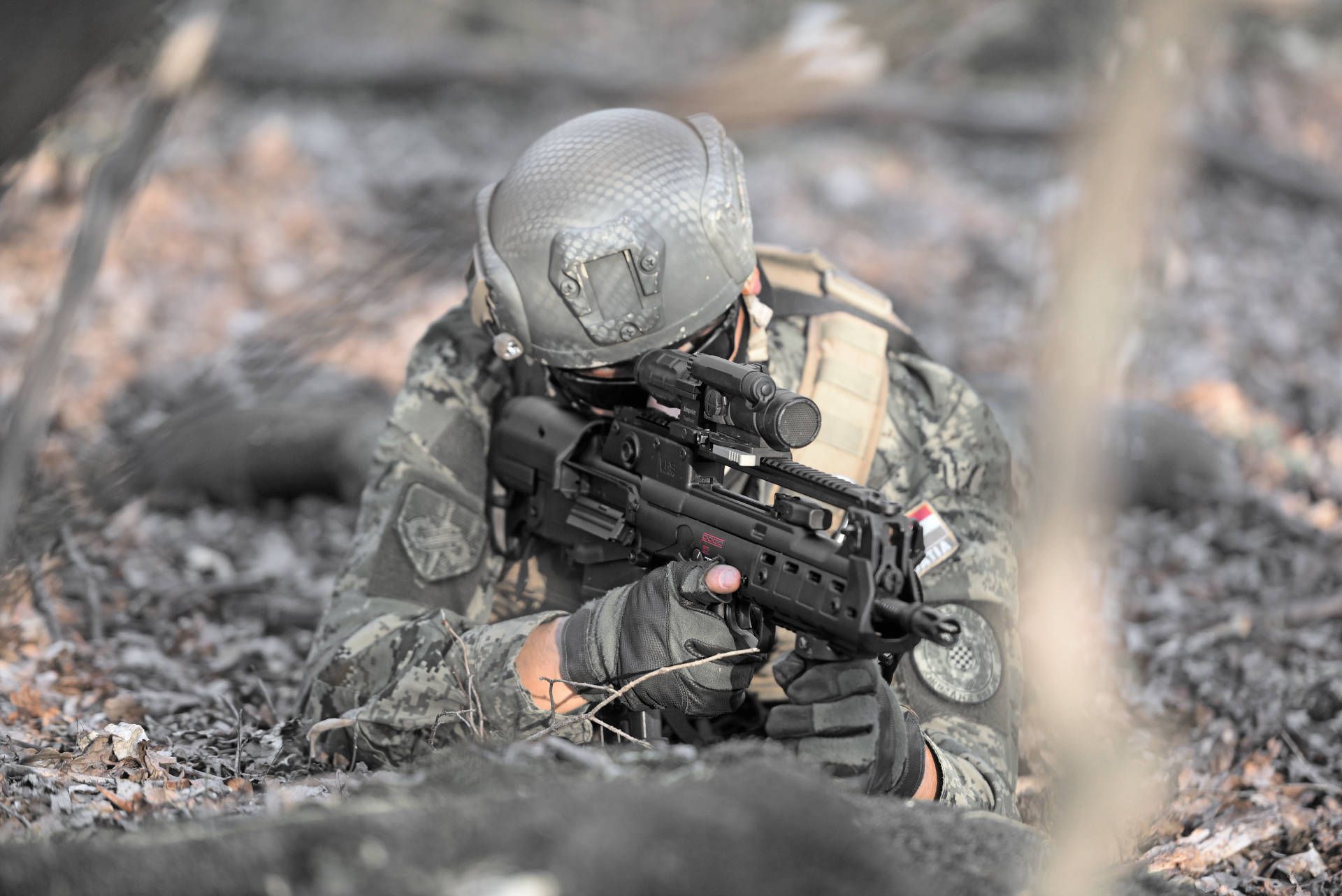 Here's LAV's take on it.
This is the current manufacturer's description of the VHS-2 rifle.
Forgive any awkwardness. Sometimes they slip some Croatian into the description: like wehicle instead of vehicle.
VHS-2 is a fully ambidextrous 5.56 NATO caliber assault rifle. Designed on a bullpup modular platform it maintains all the ballistic benefits of a longer barrel in a shorter package without sacrificing overall length, accuracy and muzzle velocity. The polymer receiver is equipped with a 5 point adjustable buttstock. A combination of all of this with dual dust cover ejection ports on both sides of the receiver and specially designed empty case deflectors creates a flexible and user-friendly multi-purpose rifle. The rifle is equipped either with a carrying handle with NATO STANAG 4694 rail and flip-up iron sights or with integrated 1.5X optical red dot sight. The front handguard has NATO STANAG 4694 rails at the 3, 6, and 9 o'clock positions with removable rail covers so the rifle can accept extra accessories. Magazines are made of durable polymer with a semi-transparent pattern and 30 rounds capacity allowing the operator to quickly view the ammunition count without removing the magazine. VHS-2 uses a proven short-stroke gas piston operating system with a rotating bolt. The rifle can fit VHS-BG 40 mm single-shot grenade launcher under the barrel. VHS-2 is coming in two different versions: VHS-2D 500 mm barrel length designated marksman version with effective range up to 800 m and VHS-2K 410 mm barrel length standard base version.
Advantages/key features
compact size/short overall length
accuracy
ballistic benefits
modularity
true ambidexterity
maneuverability
highest operational versatility
easy to operate in confined spaces
easy maintenance
no external moving parts on the weapon during firing (nonreciprocating charging handle doesn`t move and can`t potentially hit users' hands, face, or hit structures and other objects during the shooting in confined spaces such as vehicles, etc.)
changing position of the ejection port without using special tools or spare parts
left-handed shooters can shoot with the right positioned ejection port or vice versa
options between flat or magazine with coupling attachment points
More Hellion miscellany