There was a time in the not-so-distant past when it was the exception, rather than the rule, to see people running handguns with red dot sights in classes. But time has passed, trends have changed, and their use has increased exponentially. Red dot sights are now practically standard, which means you have to find a way to mount one to guns that aren't optics-ready. If you have an XD, Springfield Armory has a line of OSP Slide Kits made to convert your pistol into an optics-ready platform without a trip to the gunsmith.
Vice President of Marketing for Springfield Armory, Steve Kramer, had the following to say about the company's slide kits:
With these new XD 4″ 9mm OSP Slide Kit and Slide Assembly conversion systems, Springfield Armory is providing owners of this rugged and proven pistol a means to update their handgun for the use of modern red dot optics. In addition, the XD OSP Slide Assembly option allows you to convert other full-size 9mm and .40-cal. variants of the XD into the 4"-barreled 9mm configuration with optics capabilities.
Springfield Armory describes the details of the slide kits:
First up is the XD OSP Slide Kit…a package that provides users with a complete OSP-cut, full-size XD slide assembly packaged with a recoil spring assembly, barrel and an optics mounting plate in the Springfield Micro footprint. This plate accepts optics like the Shield SMSc and allows for co-witnessing with the iron sights…. With this XD OSP Slide Kit, you can convert several XD variants to a full-size 4″ 9mm configuration featuring OSP capabilities. The kit converts the following:

XD 5″ 9mm to XD 4″ OSP 9mm
XD 4″.40 to XD 4″ OSP 9mm (with purchase of 9mm magazine)
XD 5″.40 to XD 4″ OSP 9mm (with purchase of 9mm magazine)
Also available is the XD OSP Slide Assembly…which includes an OSP-cut slide assembly for an XD 4″ 9mm pistol along with a Springfield Micro footprint optics-mounting plate. It is designed to convert an XD 4″ 9mm to an XD 4″ 9mm OSP, while utilizing the original pistol's barrel and recoil spring system. With this assembly, you can easily swap out the slide on your 4″ 9mm pistol to gain OSP optics-mounting capabilities…. Also available is an XD OSP Slide Assembly packaged with a Crimson Trace CTS-1500 red dot optic and optic mounting plate…. Both XD OSP Slide Assembly offerings convert the following:

XD 4″ 9mm to XD 4″ OSP 9mm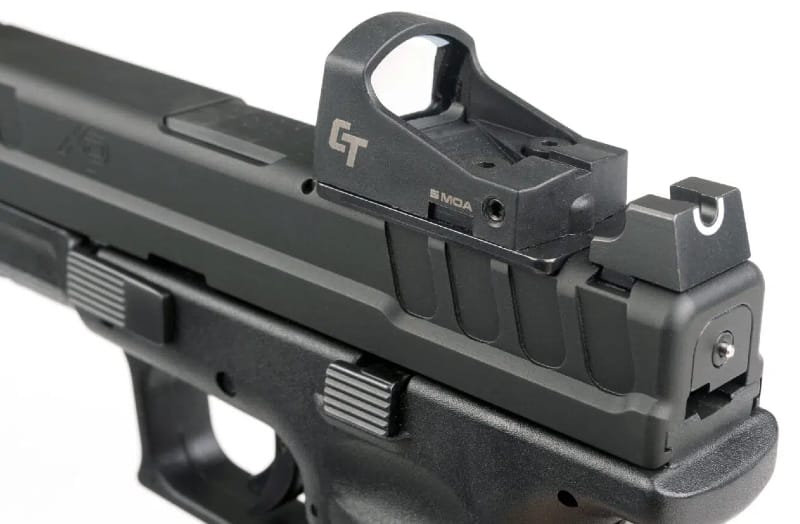 Who doesn't want an optics-ready slide? These kits and assemblies make it possible to make several XD variants far easier to add red dot sights to, which is a great idea for serious shooters. Why mess with mounting plates and milling when you can get a slide made for this specific purpose?
MSRP for the XD OSP Slide Kit is $396; MSRP for the XD OSP Slide Assembly starts at $270.