12 gauge shotguns are a thing of beauty. With more specialty rounds available in this caliber than any other, the shotgun is truly the most versatile tool in a shooter's arsenal. Slugs for deer, birdshot for flying critters, and buckshot for home defense. Few guns can serve as many roles as the 12-gauge shotgun. Upgrades, like the shotgun muzzle brake from SGM Tactical, can often improve performance in one or more of those roles.
Semi-automatic shotguns are especially great tools themselves, sacrificing some of the ammunition insensitivity for faster follow-up shots. Magazine-fed shotguns take this a step further and allow for rapid reloads, but further limit the number of compatible ammunition types.
One thing that nearly all 12 gauge shotguns have in common though, is severe recoil with both slugs, and defensive rounds like buckshot. While there are several products available that do an admirable job at curbing this recoil, one that I particularly like is the SGM Tactical Saber Boss.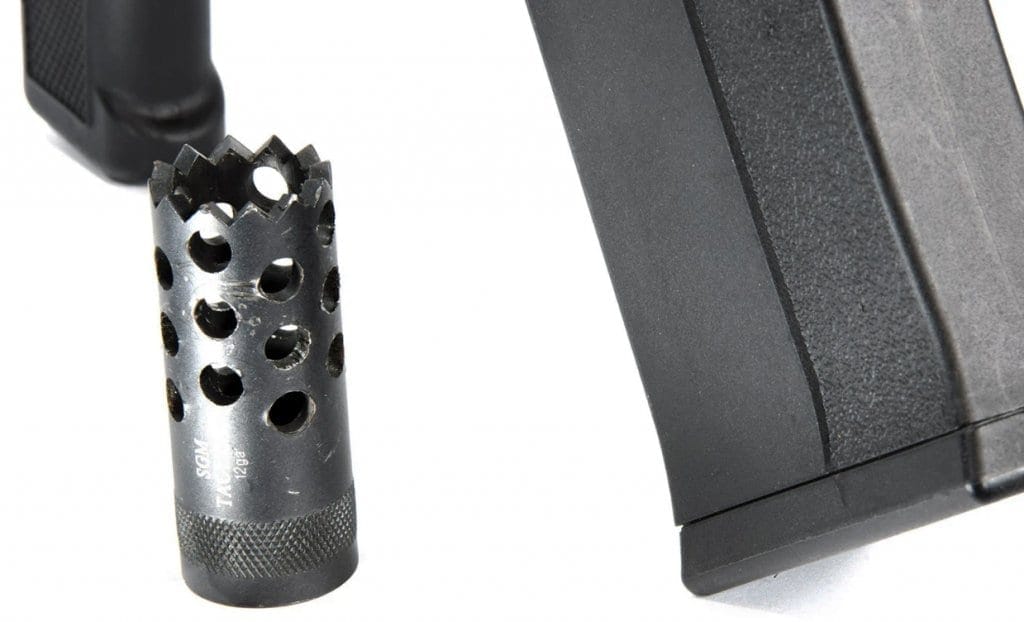 SGM Tactical Saber Boss
Featuring eight rows of compensating ports, the Saber Boss is an extremely effective muzzle device. The end of it features aggressive teeth to functions as both a standoff device as well as a blast diverter (the latter being important should the shooter use it to breach a door).
The Saber Boss is available in two configurations, one threaded for the VEPR 12 and the other for the Saiga 12. Both function identically and look very similar. Additionally, both are constructed 4140 heat-treated steel, and finished in a super-durable black oxide finish.
Shotgun Muzzle Brake Performance
In testing, the Saber Boss made a tangible difference in the amount of felt recoil. Not just to this shooter, but even to my petite, sub-100lb wife. She normally doesn't like shotguns at all due to their large size, heft, and excessive recoil.
Additionally, the Saber Boss added little perceivable weight to the Saiga 12 test gun. This makes it a no-brainer addition to one. But what most shooters likely want to know is how well it holds up after extensive use.
Saber Boss: Longevity and Abuse
After more than 500 rounds fired through the Saber Boss, it looks like total hell. Not because of normal wear and tear, but because of the amount of abuse it was subjected to.
First, it was put on a Saiga 12 and used to curb the recoil of an entire case of Winchester 1oz slugs. Then a few 10-round boxes of defensive 00 buckshot. But this is no big deal, just extra use.
After that, the muzzle device was used to force thread an out-of-spec Saiga clone muzzle. This was done with a massive torque wrench, and because it lacks a flat surface, an old Allen wrench.
The wrench was shoved through two opposite ports and used as a leverage point for a few hundred (if not thousand) pounds of torque. Yes, the ports themselves began to deform. However, they didn't crack or break.
Plus, the Saber Boss threads kept their shape and edge. They still installed without issue on a standard Saiga 12.
SGM Tactical shotgun muzzle brake mounted up to do work.
Overall Impressions
Retailing for around $50, the Saber Boss isn't exactly cheap. But it's not terribly expensive by modern sporting rifle standards. Few AR muzzle devices are South of $100 save for basic A2 flash hiders.
Given how much the device improves the shooting experience, and how well it takes negligent treatment, the Saber Boss seems like a real winner.
This article is from December 2018.