Today we'll take a look at the MOAB 2 Tactical Boot offering from Merrell Boots. Merrell has been making popular boots and shoes for a number of
years, and many people swear by them. I've been a long-time customer.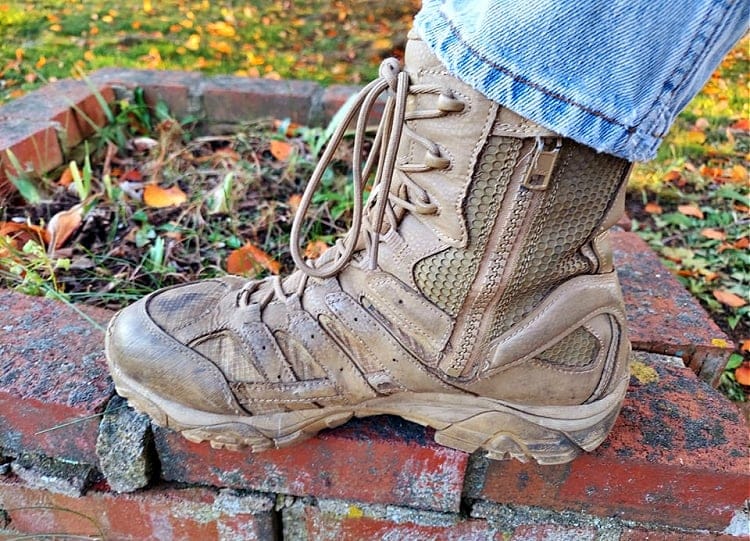 For the past several years, I've been using these Merrell tactical boots, so I feel very confident in being able to give an accurate review of them.
Key Features
Waterproof membrane
Rubberized mesh ankle upper for support
Heavy-duty YKK side zipper
Breathable mesh lining
Removable insole
Air cushion in the heel to absorb shock
Vibram TC5 rubber sole
Weight is two pounds, 11 ounces per pair
At the time of this writing, there are two colors available: black and tan. The boots I've bought over the years have been of the tan persuasion.
Let's start with the good points first.
Comfort!
These are extremely, super, exceedingly, superlatively comfortable boots! It's like they hug the feet and ankles in padded bliss, protecting them nicely. I wore them when I worked in a sawmill, which was a particularly unforgiving environment where plenty of opportunities existed to bang my ankles against lumber, boards, and such. These boots protected my feet very well. For comfort, they get a 10 out of 10.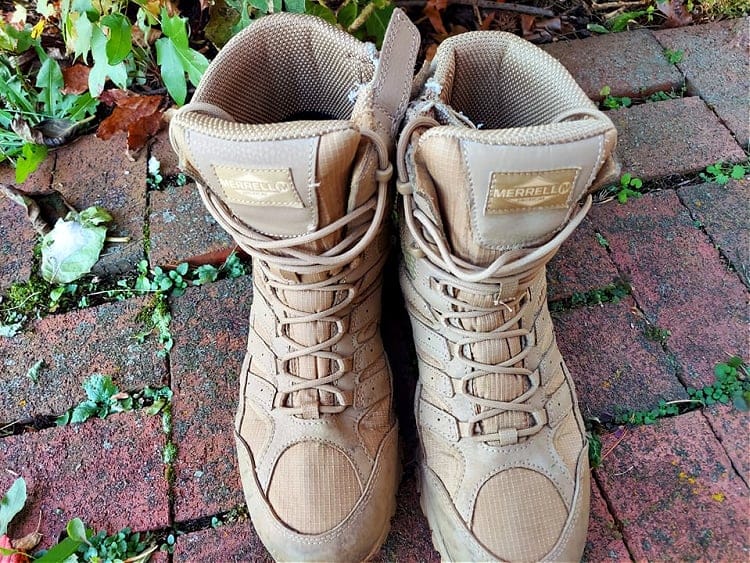 Weight
The MOAB Tactical boots are light on the feet, despite being 8-inch uppers. As mentioned, they are two pounds, 11 ounces for the pair. That's pretty
lightweight! As such, they don't wear you out as if you were dragging around bricks on your feet. When hiking or taking long walks, this really means a lot. For being lightweight, they get a 10 out of 10.
Appearance
These boots simply look cool, and there's no other way to put it. Merrell just did a smashing job designing these things to look…well, tactical! They're constructed in an interesting way, and you can see from the photos that they have interesting architecture. This is, naturally, easier to see in the tan models, since the black color kind of hides the features. Because tan is lighter and allows more light to be reflected, you can just see it better. Cool factor: 10 out of 10!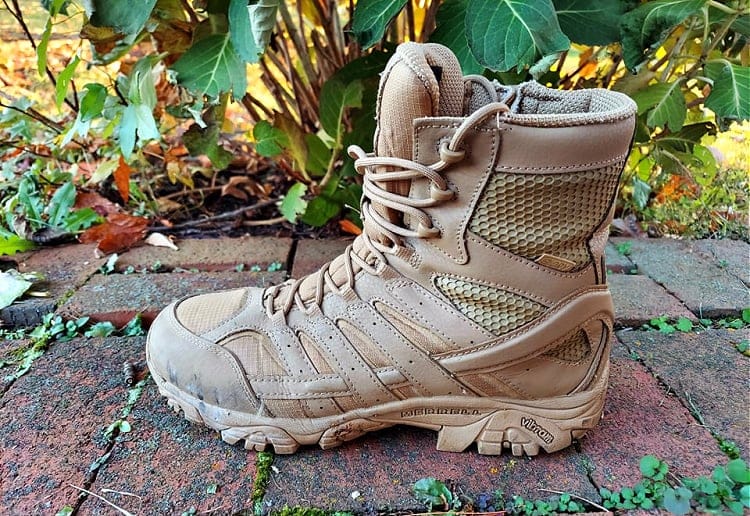 Traction
For gripping various surfaces, they work very well. Dirt, grass, rocks, wet floors, the Vibram soles grip it all fairly well. I've not yet been in a situation where the gripping quality of these boots failed, though the closest that would have been was on slippery, wet floors. Nevertheless, these boots do about as well as any other boots. 10 out of 10 in this department.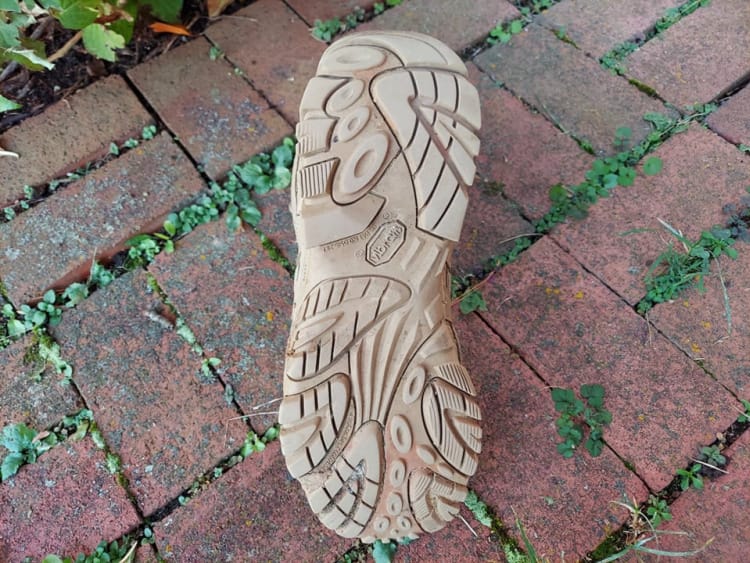 Price
At the time of this writing, these boots retail for around $150, which is pretty much in line with many other brands and models that are similar. They represent a decent value for the money.
Side Zipper
Initially, I did not view the zipper on the side of the boot's upper as an advantage, figuring it was just one more thing to break. I was mistaken. Of the several pairs of Merrell Tactical boots I've had, not one zipper has failed. On the contrary, the zippers make it easier and faster to get the boots on and off, which is a big plus.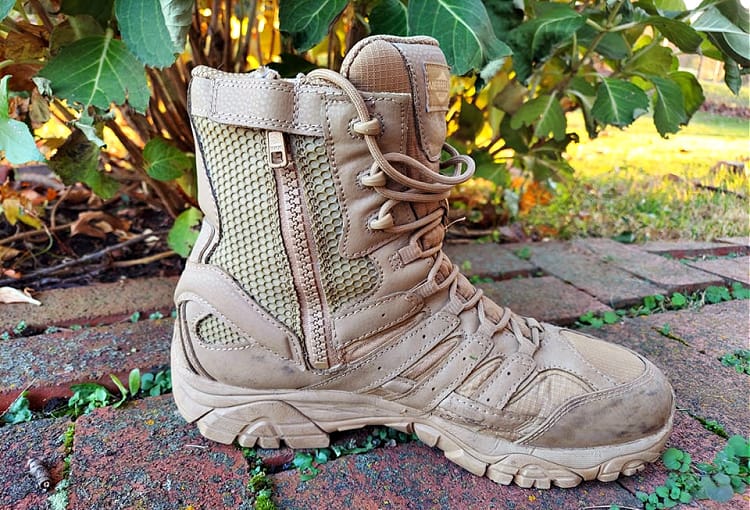 What I didn't care for
Durability
This is the only area that I'm not completely satisfied with the Merrells. They hold up reasonably well, although my chief complaint is that they lose their waterproof quality after several months. It just goes away. This is very irritating when I'm working in the rain or fording a low creek, and I see no reason why Merrell cannot rectify this issue. Plenty of other boot makers make boots that stay waterproof for years.
Merrell does offer a one year warranty on their boots, but if you intend to cash in on that, you will need your original sales receipt. And who keeps the sales receipt for their boots? Not me. So when I contacted them this time around, they refused to replace my boots. In the past, a receipt was not needed, and they did replace a pair that I had this issue with, but apparently that is no longer the protocol.
Yes, I've had this very same issue with a few other pairs of their tactical boots, so it is not a fluke. It's the order of the day for these boots.
Aside from that, the stitching around the toes will also let go after a while. If they would make that stitching more durable, it would be swell.
Now I don't mean to imply that these boots self-destruct after two months of wear; they do not. You can count on a good year of wear for them, unless you are in the wilderness beating the hell out of them (not normally my protocol).
For durability, I give these boots a 7 out of 10. Could be better, could be worse.
Would I buy again?
So, given that complaint, would I purchase another pair of the Merrell MOAB 2 tactical boots?
Yes. The comfort level is just really off the charts and I love how they look. I can live with buying a pair every year or so. Next time, I'll save my receipt.
Overall, the light weight also adds to the comfort in a big way, which is another factor in my continuing to buy them. Give them a try, I think when you slip your feet into these boots, you will have a smile on your face.