Maxim Defense has apparently been hard at work to follow up on the success of last year's PDX. As an example, they recently announced the MDX and MD:15 firearms and a line of ammunition specifically designed for short-barreled weapons: the SBA (Short Barrel Ammunition). They advise the new MDX Weapon System, all (as of this writing) chambered in 5.56 NATO, is part of the 2020 AEWE (Army Expeditionary Warrior Experiment) sponsored by the MCOE (Maneuver Center of Excellence). Maxim says their latest efforts were made to help "…fulfill the broad spectrum of needs by today's military and law enforcement operations." Read up on the new Maxim PDX (MDX:404), Maxim MDX:508, Maxim MDX:510, and Maxim MD:15.
PDX (MDX:505)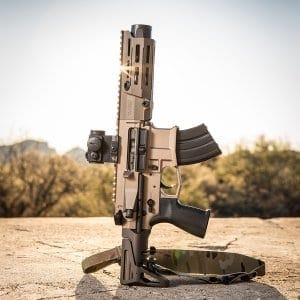 The PDX is the shortest in Maxim's new lineup, with a 5.5" barrel. Available in both SBR and Pistol configurations, this platform meets all your concealed needs. New for this version of the PDX is the Maxim SCW stock system. This cuts down the length of the stock to just 4 inches. All models have an integrated BCG (Bolt Carrier Group) with interchangeable buffers that vary in weight. The PDX is also shipping with the Maxim HATEBRAKE muzzle booster. The HATEBRAKE is designed to reduce recoil and flash, keep gas and concussion downrange, and improve overall performance.
The PDX is available in Arid or Black color and has chamber options of 5.56 NATO, 7.62×39 and .300BLK. All models feature the ALG Combat Trigger and ship with a 20 round magazine.
Maxim's MDX:508
The next size up in Maxim's MDX Weapon Systems line is the MDX 508.
The 508 features the same basis as the PDX, but with a slightly longer barrel coming in at 8.5 inches. As with all models, the 508 uses Maxim's proprietary bolt carrier group and buffer spring system. Upfront, you'll find a 7 sided "M-Slot" (compatible) handguard and an adjustable gas block tucked inside. Maxim's new HATEBRAKE muzzle device rounds out the gun on the business end, keeping noise and gas downrange away from the user. The 508 has a couple of additional options when it comes to configuration. When it comes to a stock or a pistol brace, you get the option of choosing between "CQB" and "SCW" for either. Available in .300BLK, 5.56 or 7.62×39 and your choice of two colors. MSRP is listed at $2,495.
MDX:510
The Maxim MDX:510 is next up in Maxim's new releases. Coming in with a 10.3-inch barrel, the 510 has all the same features as the 508, just with a slightly longer barrel. ALG Combat trigger, proprietary BCG and HATEBRAKE muzzle device are all standard equipment here. Available in .300BLK, 5.56 or 7.62×39, CQB or SCW stock/brace options and your choice of two colors. MSRP is listed at $2,495.00 and Maxim is currently accepting pre-orders on its website with a ship date of March 2020.
MD:15
The MD:15 is a standard AR platform wrapped in Maxim design and ingenuity. Designed, they say, to fit the ever-growing need for reliable and affordable AR15 options, the MD15 uses many features found on the PDX/MDX platforms. All MD:15s use the Maxim HATEBRAKE muzzle device to reduce recoil and keep noise and gas away from the shooter. They also feature Maxim's slimline handguard, which is free-floating and have a monolithic look and feel, and feature M-Slot on five sides. The MD:15 is offered in a variety of configurations from caliber to stock. MSRP is listed at between $1500 and $1700, depending on options.
LPVO: Low Power Variable Optic articles.
TUI Ammunition
Maxim isn't just developing new firearms. Maxim has partnered with Fort Scott Munitions to create their own ammunition specifically designed for use in short barrel platforms.
With the goal of improving velocity and ballistics in mind, Maxim has developed 3 common short barrel calibers. Specs are listed below and more information is available on their website.
Maxim Defense 300BLK TUI
Grain: 115gr and 190gr Subsonic
Bullet: SCS (Solid Copper Spun)
Box Count: 20 cartridges
Case Count: 25 boxes
Maxim Defense 5.56 NATO TUI
Grain: 55gr, 62gr, 70gr
Bullet: SCS (Solid Copper Spun)
Box Count: 20 cartridges
Case Count: 25 boxes
Maxim Defense 7.62x39mm TUI
Grain: 119gr
Bullet: SCS (Solid Copper Spun)
Box Count: 20 cartridges
Case Count: 10 boxes
You can find Maxim Defense online at MaximDefense.com.
Read all related Mag Life articles in our Maxim Defense lineup or check out more SBR information in the archives.
Grab a gun: but hone your skills; there's more to it than just pulling the trigger.
Read more from Mag Life contributor Sean Black.