Size matters, right? Don't listen to anyone who tells you differently. Sometimes you need something big, and sometimes you don't. If we are talking concealed carry, you likely want the latter. You want it small, lightweight, and easier to both conceal and carry. That goes for the guns and the accessories you're bolting to it. When it comes to mini red dots on handguns, for the longest time your options were somewhat limited if you were packing a pocket pistol. Well, Holosun is now offering a mini red dot worthy of concealed carry in the form of the 507K.
Shield created the first popular pocket pistol-sized red dot sight, but the competition has always been rather light. As a big believer in capitalism, I wholeheartedly agree with the idea that competition is always good. The Holosun 507K is designed to fit the same footprint as the Shield RMSc.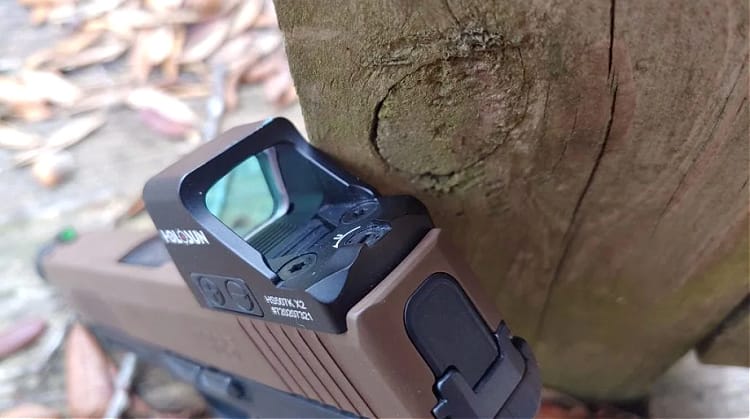 That's a good thing because I'm hoping we don't see a wide variety of footprints put out for small guns because it's a hassle. Currently, companies like Sig Sauer, Glock, Walther, and more are producing sub-compact pistols cut for the RMSc footprint. My 507K is the SIG P365 XL, and it is a perfect fit.
The 507K X2 Specs
The little 507K is quite small, but good things can come in small packages, right? Well, if so, the 507K X2 weighs an ounce total and is 1.6 inches long, .98 inches wide, and .95 inches tall. Holosun used 7075 T6 anodized aluminum in the 507K's construction.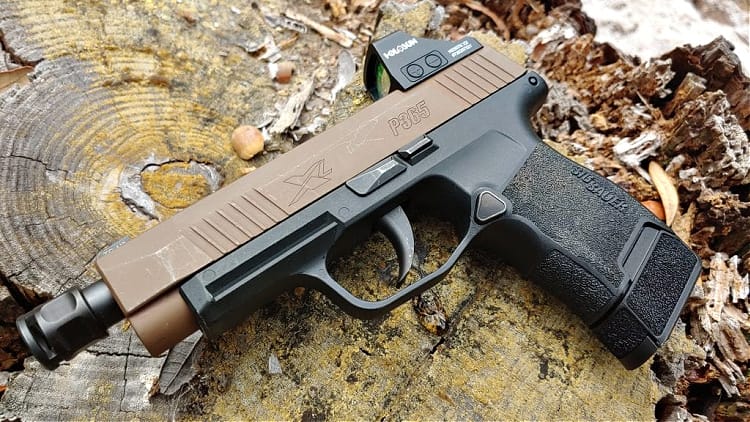 We get ten daylight settings and two-night vision settings for use at any time of day. The battery lasts 50,000 hours, and unlike other Holosun optics, there is no solar backup. Overall this tiny optic looks good, feels good, and keeps things nice and small.
What Makes the 507K Different?
Swampfox, Riton, SIG, and Shield all make micro-sized optics. Now, why would you choose the 507K over any of those options? Well, I can say that the 507K is made from aluminum when some of the competition is made from various polymers.
Durability is a big thing to carry optics, and I'm not so sure that polymer is the way to go for a super small optic. I love my polymer frame pistols, rifles, and shotguns, but I don't think polymer optics are quite there yet.
Also, you can't beat a side-mounted battery compartment—no need to remove the optic to swap batteries. Just unscrew, drop it in, and retighten.
Holosun equips the 507K with their multi reticle system. The MRS grants users a simple 2 MOA dot, a 32 MOA circle, and a combination of dot and circle. In my shooting, I've found those various options to be quite handy, and I'll talk a little more about that later.
Ergonomically the 507K is also outfitted with two buttons to control the optic. Every other micro red dot works with either a single button or automatic adjustments. Instead of missing your chosen brightness level and having to cycle through each and every option to get back to it, you just adjust back and forth as necessary.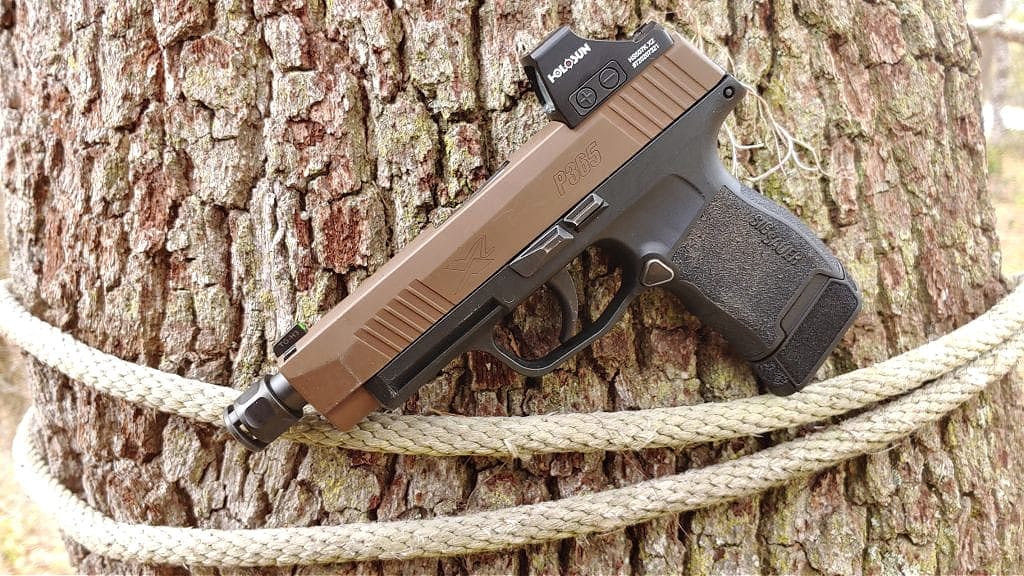 Getting Down and Dirty
Let's stop jawin' and start shooting. I zeroed the 507K at 10 yards. Hear me out. This is a concealed carry pistol, and 10 yards is more than enough. A 10-yard zero carries me out to 25 yards without issue.
At 10 yards, I can also easily see how the optic is off and which direction I need to adjust. I zeroed the optic in about six rounds if you don't count the rounds I used to confirm my zero. Once I was set up, and on target, it was off to the races.
That Big Dot
I started at 10 yards and worked on presentations. This is where I found the big 32 MOA circle and dot to be quite handy. When I started with a red dot, I realized how garbage my presentation was because I had to fight to find the dot.
If I was a new shooter, the 32 MOA circle would be my choice because even with a garbage presentation, you can find it with ease. That big ass dot just can't help but be seen.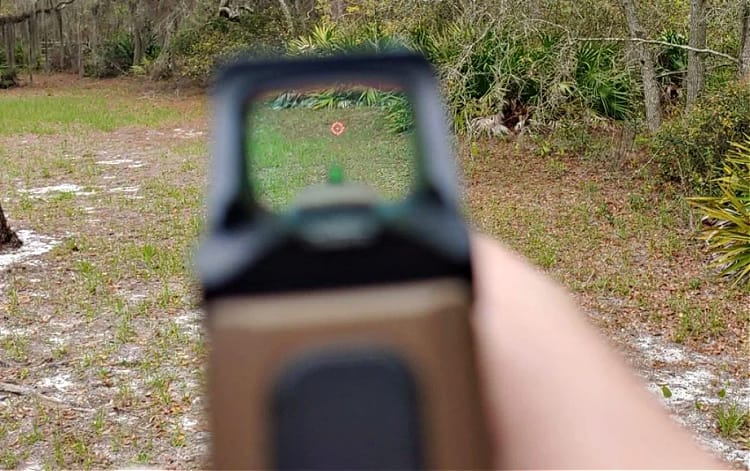 The same goes for sight tracking between shots. That big dot is just there all the time and doesn't stray from sight for long. At close ranges transitioning between starts for speed is a non-issue. Get that dot on target and let the lead fly.
That big dot fills your vision, and you won't have issues hitting targets at concealed career ranges. To me, that range is from zero to 25 yards. So I needed to back off a bit.
Getting Some Distance
I backed off 5 yards at a time and moved from just man-sized paper targets to a rack of steel targets. The targets included a 4, 6, and 8-inch gong as well as a 25% IPSC target. Plenty of challenge to be had.
At 15 yards, it was quite easy to find each gong, often spinning the 4-inch gong one over the top of the rack. On paper, I placed all my shots in the head and did so with gusto. I worked a few failure-to-stop drills with rather great success. A big dot makes it easy to go from rapid shots to the chest to well-aimed headshots.
At 20 yards, the performance was great, and 25 yards is where the 507K makes its bones. Being able to hit a 4-inch gong with regularity at 25 yards with a subcompact pistol is no easy feat. With iron sights, it'd be more of a matter of luck than skill for me.
With the dot, I was able to do it over and over again. Admittedly at this range, I swapped to the 2 MOA dot at this range to see the small target a little easier. I ran an impromptu drill starting from large to small and then small to large.
My time going from small to large was 4 seconds and some change, and from large to small, I sat at a comfortable 3.6ish seconds. With iron sights, I simply couldn't do this.
Adding a Red Dot
The addition of a mini red dot to my concealed carry pistol fills a skill gap for me. Could I hit a small gong at this range with iron sights? Eventually, sure I could. Why wait? Why waste ammo? I'd rather add a red dot and be on my way.
A red dot eliminates sight radius issues and gives you big boy potential in a subcompact pistol. Red dot Luddites will yell all day about iron sights being more durable, but guess what I still have irons. The rear notch in the 507Klines up perfectly with my front iron sight. Should the red dot fail, I still have irons.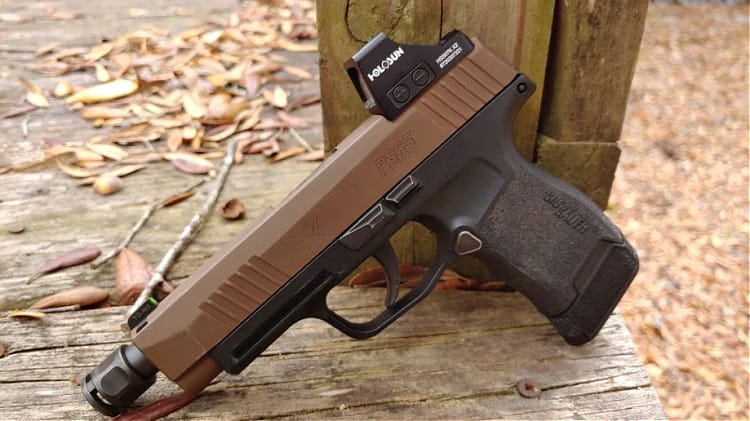 It's good to see more and more micro red dots hitting the market, and I'm hoping the competition will keep increasing quality. For now, the Holosun 507K checks all my boxes. My experience is limited, so let us know below what micro red dots you guys have used and how well they work for you.