The XM17 MHS Competition was held to find a Modular Handgun System to replace the current service pistol, the Beretta M9. Sig Sauer won the MHS competition with their P320 pistol but we know other companies also submitted entries into the MHS competition.
FN has their FN509 pistol. It shares the same basic concept as the Glock MHS pistol. They both have full-size grips but shorter barrels/slides.
Let's take a closer look at the Glock MHS pistol
It has steel sights, the slide is stamped 19 MHS, and it has a Glock 19 sized slide and barrel. So far nothing new other than the extra letters, "MHS".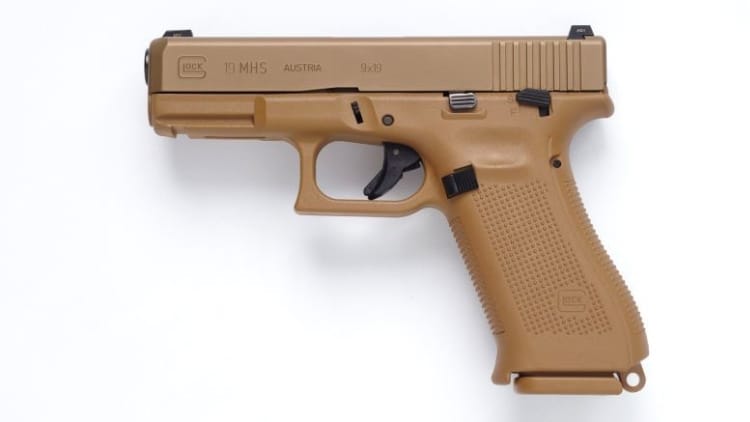 One feature that is different from the M series, is the little pinky extension of the grip. You can see how it protrudes down in front of the magazine base plate. If you move your eyes rearward, you can see the grip has a loop for a lanyard. I am not sure why they needed to add the loop since Glock grips all have holes molded into the bottom of the grip where you could attach a lanyard.
The magazines are molded in Flat Dark Earth as well. A few years ago, the Marines had a limited run of .40 S&W Glock magazines in Dark Earth.
They even made a 22-round version in Dark Earth.