Do ghost ring sights offer any advantages over aperture sights? How does each function? Stick with me, I'll give you the low down!
In The Beginning
In the beginning, God invented the aperture sight. And it was good. This type of sight picked up popularity in the late 19th century, so to say it is tried and true is an understatement. The origin of the aperture sight lies in Turkey.
Essentially, the rear aperture sight is a disc with a hole cut in the middle of it. The shooter lines up and centers the front post in the center of the rear aperture, or hole, and he hits the target. It's a rather simple affair, overall.
Another popular term for aperture sights is "Peep Sights" because the shooter peeps through that rear hole at the front sight The terms are used interchangeably. The front sight and the target are more in focus than the rear sight, and that rear aperture tends to show up in our vision as a blurry circle. The eye naturally centers the front sight in that blurry circle. It works like magic!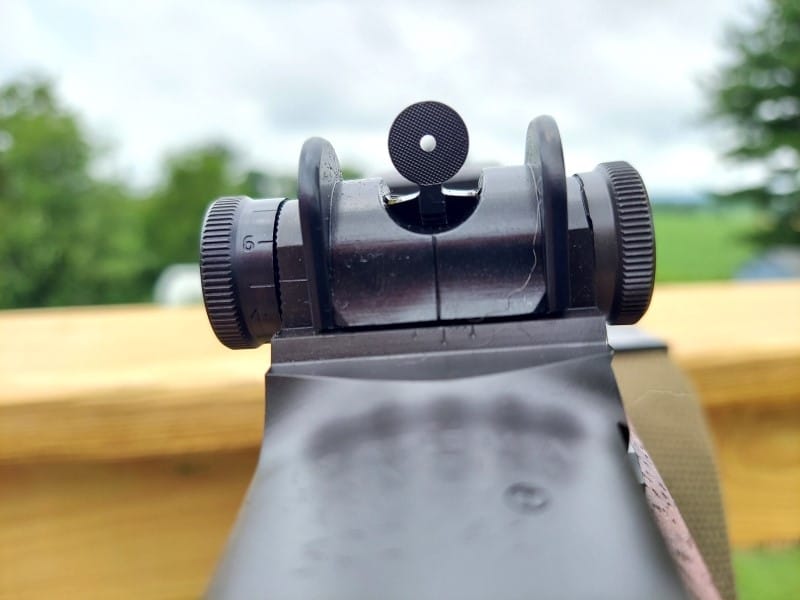 Many rifles, especially military rifles, utilize aperture sights: The M-16/AR-15 family, the M-1 Garand, M-1 Carbine, M-1A/M-14, British Lee-Enfield No. 4 and 5, the Springfield 1903A3, the FN-FAL, and a ton of others too numerous to list here. These sights also carried over into the civilian market as well.
On some of the older military rifles such as the Lee Enfield, the aperture is mounted on a "ladder" style sight. To adjust to different ranges, a dial is turned and the sight moves up the ladder to the various ranges. The Enfield ladder can be lowered forward into a notch on the rear of the receiver so it is out of the way. A rear aperture flips up when the ladder is lowered and serves as the standard battle sight, and the opening for this battle sight is larger than the one on the more precise ladder sight (sort of like an early ghost ring sight). The whole system is ingenious, and when you think of the amount of work and machining that goes into one rifle, it is amazing. I've had several rifles with this sighting system. They are accurate and a marvel of ingenuity.
These days, sights aren't nearly as involved as those, with most manufacturers opting for much simpler systems. In modern examples, simplicity and speed are virtues of the aperture sight. Something complex is not what our military needs for combat use.
With the introduction of the M-16A2 in 1983, the sights for that particular system were revamped and improved. Some predicted that these sights were too fragile for combat, but that really never proved to be the case. Once zeroed, the range can be adjusted easily, and they're fast into use. They also offer an option that we'll touch on more in-depth in a bit, in that they offer a ghost ring type sight as well as an aperture.
Personally, I think the sights used on the M-16A2/M-4 series are among the easiest to zero and use of any rifle these days. I can't think of any that are easier and simpler to use, to be honest.
I'm also quite fond of the M-1A sights, which descended from the M-1 Garand. They're robust and give an excellent sight picture. They take a bit more effort to zero than the M-16 series, but they're a classic, and they're very robust and durable.
Advantages of the Aperture
Aperture sights offer precision at longer distances because of their smaller, circular opening. As mentioned, the eye naturally centers the front sight post into the rear aperture, making these sights very fast and intuitive to use. Because of their smaller opening, though, they are often a bit small for use at very close range.
Combat rifles such as the M-1 Garand and M-14 typically don't have tiny aperture sights; because they are intended for combat, the aperture is not intended to be prohibitive. Certain aperture sights that are intended for use in matches (often denoted as Match Sights) have very small apertures to take advantage of the most accuracy that they can squeeze out of the sighting system.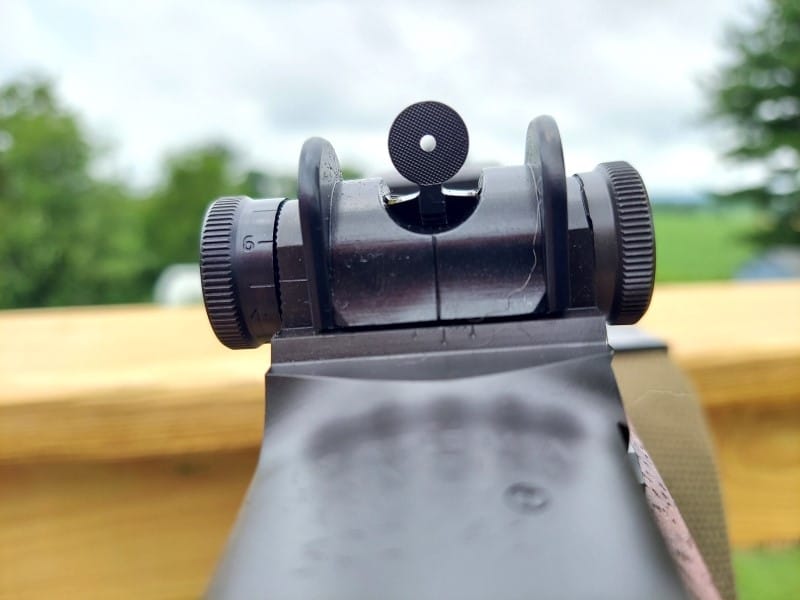 Advantages Of The Ghost Ring
Ghost Ring sights are similar to aperture sights, however, their circular opening is larger. This offers the user a sight that is faster into use, albeit less precise. The eye still centers the front sight post, but because it's larger, not as much precision can be achieved. Ghost rings really shine at closer distances.
Another huge plus of ghost ring sights is that they are easier and faster to pick up when used in low light conditions. And considering that many conflicts take place in low light, this is an advantage that comes into play a lot.
Those of us with older eyes can sometimes have difficulty seeing through small, precise aperture sights. However, the larger ghost ring sights can often benefit these old eyes, being not as restrictive to our vision.
Remember above when I mentioned the ghost ring option for the M-16A2 sight? The practice has expanded and is now included on quite a few "iron" sights, especially for the M-16/M-4 series of sights. The ghost ring option is marked 0-200, indicating that the ghost ring is most useful between zero and 200 yards. Of course, the aperture, with its much smaller opening, can be used at those ranges, but it isn't nearly as fast as the ghost ring.
Aftermarket sights, such as those from Magpul also offer this option. There's a small insert in the ghost ring of the sight that makes it an aperture sight. Flip that little insert down and it opens into a ghost ring sight, which adds versatility.
I have a rear sight from Midwest Industries that offers the same option. However, the method is similar to how it works on the original M-16A2 sight; there is an L-shaped piece, with one end having an aperture, and the other having the ghost ring. The user simply flips up whichever sight is desired. It's incredibly simple and fast. Normally, I just leave the ghost ring in place on all my sights because the likelihood of having to use my AR-15 at close range is very strong. If I were on a battlefield and it was open country, the aperture might be more appropriate.
Shotguns
At some point, someone realized that shotguns could benefit from the ghost ring sighting system, and a new aftermarket industry was born. As well, many manufacturers are now offering ghost ring sights on their shotguns as factory options.
Since shotguns are principally close-range weapons in the first place, it was only natural to tailor ghost ring sights to them. Not only useful for buckshot, but ghost rings can also help quite a bit when slugs are used. Firing slugs using a bead sight is not an accurate practice except at very short distances, but with ghost rings, the range is extended drastically.
Some of the sights, such as those offered by Trijicon, have Tritium inserts, which enhance their usefulness in low light conditions. Really, though, there are too many available to list in this article, with dozens to choose from.
Aside from the rear ghost ring, there is also the front sight, of which there are many variations as well. Some are a post or a ramp with a set of ears similar to what we see on the M-1A or M-16. Others have a hood that forms a circle of its own. Still others have neither of those. Again, the options are mind-boggling!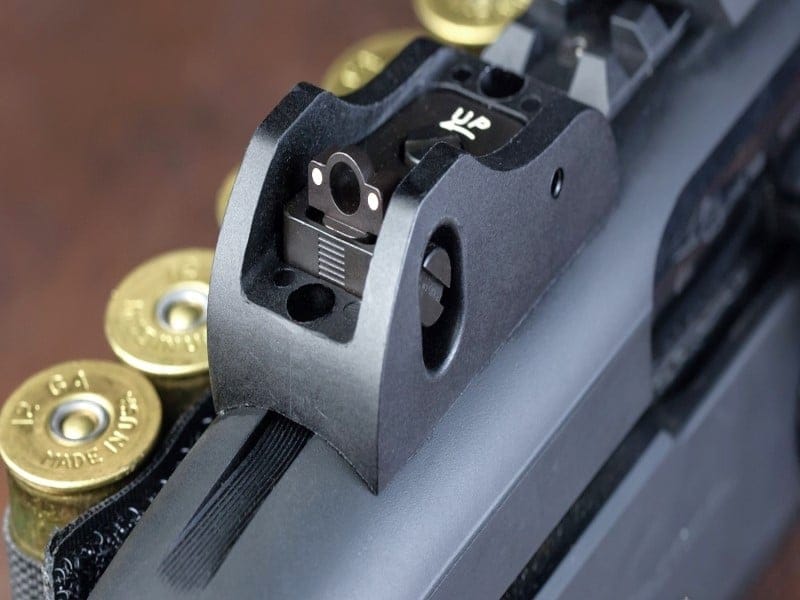 Mossberg and Remington, and I'm sure others, offer shotguns right from the factory with ghost ring sights as an option. Personally, I think it's great that we can buy shotguns equipped with ghost ring sights, rather than having to shop around and have to take the gun to a gunsmith to have them installed. Granted, sometimes we're after something specific, in which case that extra effort is just fine, even expected. But sometimes it's nice to just get it from the factory too.
The Final Word
Over the decades, aperture sights have changed a lot, while the general principle remains the same. They started out as a hole that we look through, and they've remained as such.
We've changed how they're adjusted and how large the hole is, in some cases. In the end, though, whether it's the round hole of an aperture or a ghost ring, they help us to get the job done faster and with more precision than say, open or "buckhorn" sights.
Modern materials such as fiber optics and tritium have brought the aperture and ghost ring sights into the modern era and increased their efficiency. Whether you're using an older set of aperture sights or one of the new varieties, they're likely to work very well for you.
As for me, aperture sights have always been my favorite as far as iron sights are concerned, and always will be. If I'm using a shotgun, it's ghost rings for this guy. I'd say that neither is superior, generally speaking. However, each performs a certain task extremely well. In the end, it's really a matter of matching the right tool to the right job.
That's the hole story.