One of my favorite action movies of all time, and I am sure it's on the list for most of you out there, is Heat, directed by Michael Mann and starring Robert Deniro and Al Pacino, along with an all-star cast. If you're too young or just don't have a clue what movie I'm referring to, stop and find a way to stream it. Watch it in its entirety and come on back as there are some spoilers ahead.
Heat was an excellent film in many ways. Things are done right because the filmmaker actually used advisors who knew what they were doing and he listened to their advice. I mean if you're going to pay for advisors, you ought to listen to them right? Either way, I digress. The actors also received weapons training. Here's a behind the scenes feature:
All the hard work of the actors and filmmakers paid off with a great movie with a good plot, character development, and some of the best shootout scenes in Hollywood history. It's also a movie that gun enthusiasts can enjoy without yelling at the screen for things that never make sense when it comes to guns in the movies.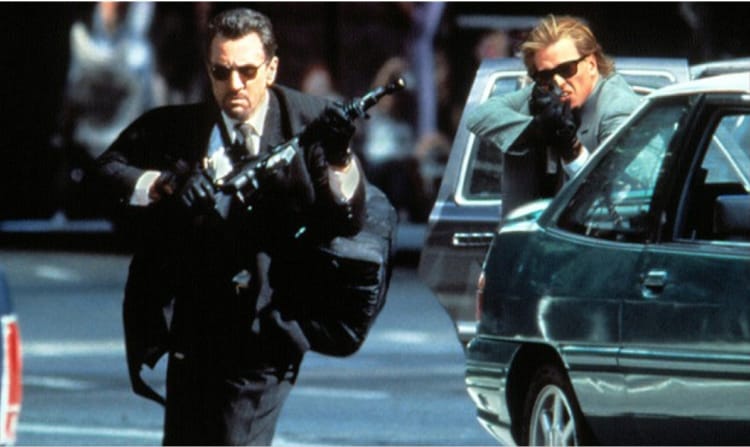 If you're familiar with Ian McCollum of Forgotten Weapons, he is just a wealth of information when it comes to weapons—especially the rare ones. I've learned a lot from his videos over the years. He made a video based on the firefight after the bank heist in Heat.
He and his friends go to the desert in the same attire and weapons to run some drills to simulate certain aspects in the firefight between the bank robbers and the police in Heat. They reenact a lot of the iconic scenes like Robert Deniro's speech to the hostages in the bank to Val Kilmer's well-executed emergency reload.
Ever wondered how much each of those large black duffel bags of money weighed? Iain states in the video that 4 million dollars weighs about 88 pounds and that it was too heavy for them to run safely so they went with 60 pounds.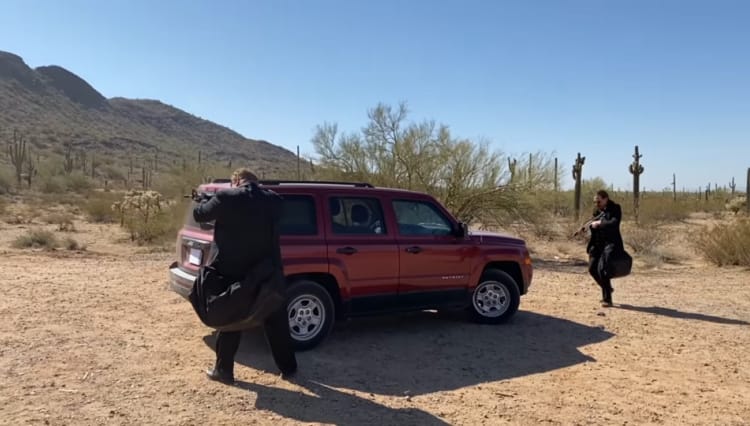 They run Colt CAR15s and a Galil like Tom Sizemore's character does in the movie.
It's definitely a fun video to watch with all of them in the desert on a sunny day running live-fire drills lugging those heavy black duffel bags and a dummy around.
I am sure they had a blast making it. It definitely answered some of the questions about how realistic it was for the bank robbers to run and gun with those duffel bags loaded with cash.
Watch both of the next two videos!
If you're looking to have a clone of the CAR15s from Heat, you'll need some good ole metal mags, which can be found at GunMag Warehouse.
For those who have a Galil, GunMag has those too: TAPCO Galil/Golani Sporter .223/5.56 30-Round Polymer.