The high-capacity ETS Glock magazine has a transparent mag body. It looks cool when it is full of ammo and you can clearly see how many rounds are in the magazine. Even though the ETS high cap mags are transparent, once the magazine is inserted into a Glock 17, you can't see how many rounds are hidden under the magazine. It can be anything from 0-17 rounds. Once you start shooting those last 17 rounds you don't know how many rounds you have left unless you keep count or remove the magazine to see how many you have left.
We will take a page out of Magpul's book and mark one of the coils as an indicator that your mag is running out of ammo. Below you can see a close up of a windowed PMAG.
The modification is rather simple, all you need is a paint pen.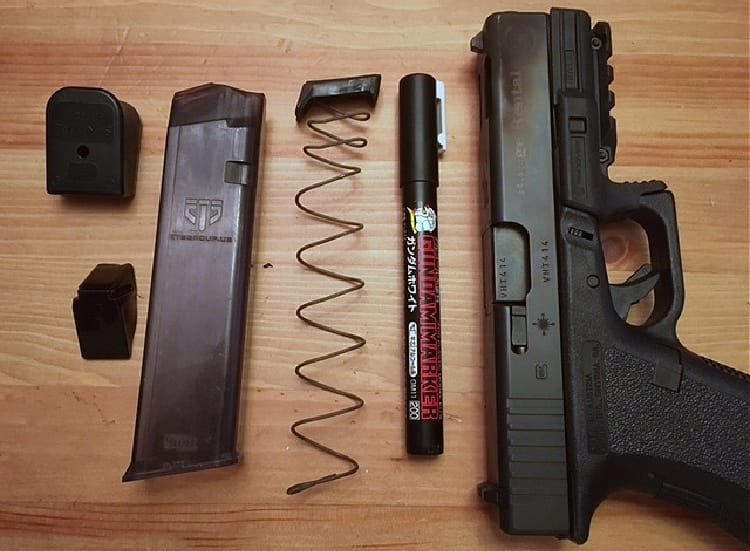 Here is how you add a round counter to your ETS high cap mag.
1. Insert the empty magazine into your gun.
2. Note which spring coil is closest to the bottom of the grip.
3. Dissassemble the magazine
4. Mark the coil from step 2
5. Reassemble the magazine
The modification is rather easy and adds a feature to your high cap mags.
By having that coil marked with a light color, you can easily see it. Once that coil gets close to the bottom of the grip, you know you are running low on ammo. You could take this an extra step and make marks along the outside of the mag. Load 20 rounds into the mag. Mark the outside where the colored coil rests. Do this again for 25 and 30 rounds. You can then quickly see how many rounds are in the gun without taking the magazine out and counting them.
Find more high cap ETS Glock magazines, at GunMag Warehouse.