Want a cool-looking shotgun that looks like a monster of a gun? This one just may do the trick. In recent years, semi-auto shotguns have become more popular. They will probably never become more popular than the iconic pump shotgun, but they are definitely making their place in the gun world. One of those companies that have been rolling out semi-autos at a very affordable price is Black Aces Tactical.
I love the idea of a shotgun in a bullpup design because it is such a short gun, overall. One reason I have always had an issue with full-size pump shotguns like the Mossberg 500 or the Remington 870 for self-defense is the length. If you respond to an intruder in your home, a heavy, long, pump-action shotgun may be challenging to maneuver throughout your home. I prefer a shorter, more compact gun for this.
One of the unique things about the bullpup design is the ability to have a shorter rifle overall without shorting the barrel. Companies like Styr Aug, IWI, and others have made some great rifles with this design. The FD12 is 28" overall in length but still has an 18.5" barrel. For comparison, my Mossberg 500 is 37" overall with a barrel length of 18".
What's different about the FD12 Bullpup?
Black Aces Tactical has some interesting designs and they are surprisingly cheap. But do they work? Are they reliable? This model is the FD12 Pro Series Bullpup 12 gauge.
The design of this bullpup places the receiver at the rear of the gun and doubles as a shoulder brace. One downside with this design is the optic must be placed further down the barrel. This causes the gun to give up a small amount of accuracy over long distances. In my opinion, the tradeoff of a shorter gun is worth it when it comes to shotguns.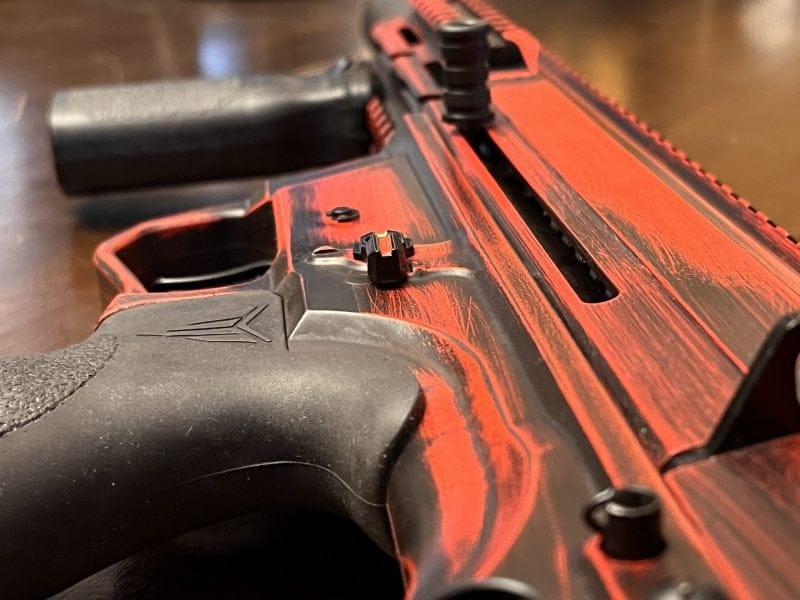 FD12 Specs
12 Gauge
Cycles both light and heavy loads: 2 ¾"– 3" Shells
5″ barrel
28″ Overall Length
Barrel Shroud
Ambidextrous charge handle
Ambidextrous Safety
Ambidextrous Mag release
Two (2) 5-round magazines and three (3) chokes included
Magazine fed
Takes 1919 mags and drums
Black synthetic Black Aces Tactical forward grip included
Weight 10 lbs.
Mag Fed vs. Tube Fed
Aside from being semi-auto, the biggest difference between a traditional pump shotgun and a bullpup is the magazine. There can be pros and cons to this. With a mag-fed shotgun, you can reload much quicker than inserting shells into the tube individually. The downside is that magazines are another moving part that can fail. Shotgun mags specifically have had some issues when it comes to reliability. For the most part, when I hear of cycling issues with mag-fed shotguns, it is almost always a problem with the magazine. Box magazines on semi-auto shotguns are also bulky and can be harder to carry vs. carrying individual shells on a vest, bandoleer, or on the side of the shotgun itself.
If you are using a semi-auto shotgun for self-defense it is wise to shoot it enough that you feel comfortable with its reliability. I like to compare pump shotguns to revolvers. They take a little longer to load, but they are probably going to go bang when you pull the trigger. A semi-auto shotgun can be great and reliable, but when you are shopping in the budget-friendly price range they need to be tested well before using them for this purpose.
On the Range
So, what is the best way to test a shotgun for reliability? Take it to the range and shoot the heck out of it.
I wanted to start with the cheap stuff. In my experience, this is where semi-auto shotguns tend to have feeding issues. I used Federal Premium Top Gun, Winchester Super-X and Browning BPD to get started. It was the cheapest stuff I could find on the shelf. During the first 5-round mag, the shell failed to extract completely with each shot. I sprayed some CLP on the bolt and in the chamber and that seemed to fix the problem. I fired 40 more rounds through the FD12 and didn't have any more cycling issues.
Next, I used some 00 Buck in several different brands and had no issues. The vertical foregrip that was included in the case helped provide good control of the gun. The recoil was lighter than a pump because of the blowback, making follow-up shots a little faster. Slugs were not an issue for the FD12 and a red dot made this a fast-shooting and accurate gun. I didn't spend a lot of time zeroing in the optic (I have another optic to try on it later), but I was able to hit 1-gallon water jugs at 50 yards during timed drills.
Final thoughts
For a mag-fed, semi-auto 12GA shotgun in a budget price range, the Black Aces FD12 was a smooth shooting gun. I like the color options available for this model (yes, I am now one of those multi-color-gun-loving guys) and they sell at a decent price. This gun can be picked up at many gun stores for under $400. It comes with a hard plastic case, 2 mags, a choke kit, and a vertical grip. The safety and mag release are ambidextrous and there are two built-in QD mount attachments. Picatinny rails on all four sides of the gun allow you to attach about anything you want.
This could be a great self-defense weapon for your home or a fun range day gun. The Black Aces Bull-Pup won't replace your pump-action shotgun but will be a great addition to it. Hunt, skeet shoot, blow up some water bottles, or just keep it in your bedroom as part of your advanced alarm system. Whatever you do with it, you won't be disappointed in what this shotgun has to offer at this price point.