I'm a sucker for knives I can carry every day. I like to keep a good working blade on hand, if only for utilitarian needs. And the TOPS Knives BOB Fieldcraft Folder is a solid candidate for hard-working EDC.
What is it?
It is an unapologetic beast. With a blade over four inches and a robust handle, this is TOPS's attempt to build a folder that—when unfolded—works just like a fixed blade. And there are lots of other fixed blade Fieldcrafts by TOPS.
As pocketknives go, the TOPS Fieldcraft is hardly subtle. Its blade length makes it illegal here in Arkansas, where I live. But that's just in some select city limits, and this is hardly a city-limit kind of knife.
The Fieldcraft is meant to work. Bushcraft is a growing pastime. You know the people I'm talking about—the primitive types that relax by putting themselves into survival situations on purpose. The kind of folks who like to whittle make-shift furniture out of green wood with their teeth.
Actually, it is a skill I regularly teach. I took this knife out on a recent wilderness survival weekend with a bunch of teenagers. In fact, the viscera on the blade here is Whitetail—part of how we fed ourselves that weekend.
I'd never suggest that anyone knowingly go into the woods with just a pocket knife. There's no way that a folder will ever replace a decent fixed blade. Still, better to have a folder on you—and a capable one at that—than nothing at all.
What role does it fill in fieldcraft?
Fieldcraft, bushcraft, I'm not sure of the difference. One is in a field, the other the bush? I'll look into that.
There are several skills that are fundamental to the pastime. First is fire building. Second is the comfortable camp. Third, and no less important, would be the general elements of "survival"—by which I mean gathering food, mostly.
Fire is first. Can you cut kindling? A fixed blade is ideal for batoning, but very few folders (and I mean only one that I know of) can stand up to the rigors that come from beating on the back of the blade with a small log. The Fieldcraft will fold, and that can cause serious damage to your hands.
But the robust blade and design of this knife means it will withstand a lot more than most, so that's a huge plus in its favor.
And there's even a divot in the micarta scale that is designed to be used as a bearing of sorts for a bow drill. Starting fires without matches isn't that hard, given the right tools, and the bow drill method is one of the easiest.
The most popular these days, though, is the ferro rod.
Practical use of the Fieldcraft
I found that the heft of the Fieldcraft gives it much more cutting power than most of my other pocket knives. It has heft and powers through cuts. The jimping on the back of the blade gives more room to add leverage, too.
The blade isn't fast to deploy, though. This isn't one you'll flick open with a snap. Out of the box, the Fieldcraft was almost like opening an old Buck 110—not easy with just one hand.
Closing the knife is reliably easy, even one-handed. The liner lock is super solid, yet disengages easily.
What is a modified Scandi-grind?
A Scandinavian grind is hard to explain to a knife novice. Almost all knives made now have a double bevel. The big one—the visible reduction of stock on the side (in the case of some Japanese blade shapes) or sides is there to reduce mass, weight, and—sometimes—resistance.
The actual cutting edge of the blade is much finer, and usually at a steeper angle. A Scandi-grind takes the primary bevel as the final angle of the cutting edge and extends the primary bevel all the way to the cutting edge. In this way, it is something like a chisel grind.
To sharpen a traditional double-bevel knife, you have to hold 99% of the knife off of the sharpening stone. Only the cutting edge touches. This makes sharpening a bit of an art form.
To sharpen a Scandi-grind, you simply set the entire bevel on the stone and work it down as needed. As long as your stone is flat, this should be an easy knife to keep razor-sharp. Do not be tempted to hold that bevel off the stone—you will quickly work in a secondary bevel.
In this case, TOPS calls this a "modified Scandi-grind." That really just means a Scandi-grind that has a slight secondary bevel that has been blended over into the primary bevel to form a convex edge that would need to be sharpened just like most other knives. In other words, this looks like a Scandi-grind until you get down close.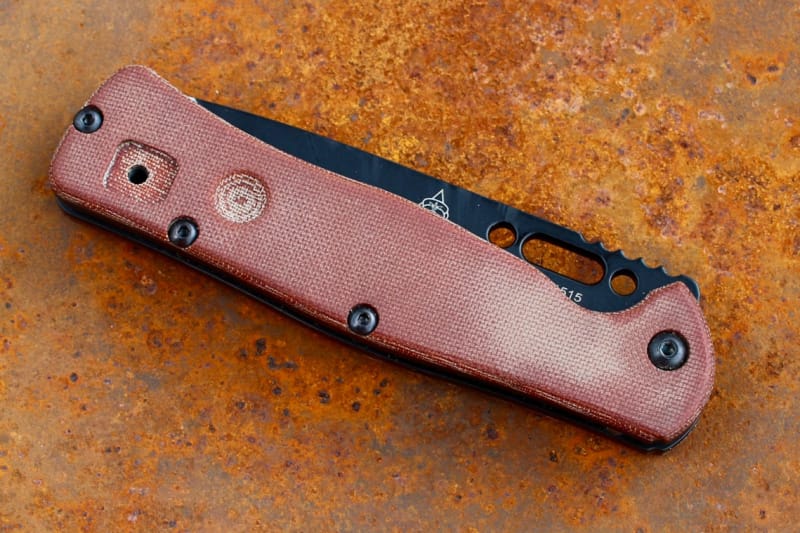 Issues with the Fieldcraft?
I worked this knife out over the course of a long weekend in the woods. There was no task that it couldn't do. Outside of my hesitancy to beat on the back of the blade, I had no doubts that this knife would work.
The blade, though, is coated. This prevents you from being able to use the spine of the blade for striking a ferro rod.
Conclusions
Two things I'd like to make clear about this knife. This is a workhorse. It is exceptionally capable and stood up to everything I asked it to do (even the removal of a wicked splinter with the super-sharp point of the knife—that was before the deer viscera). Combine this with a hatchet and a reliable survival rifle and you can go anywhere in the woods.
The second is that there are some decisions here that need explanation by the Brothers of Bushcraft that had their hands in this design. It is all well-and-good to powder-coat a blade, but the massive exposed primary bevel is free from that protection. And the coating makes it hard to use with a ferro rod. Is the faux Scandi-grind just for show?
It doesn't really change how I feel about the knife. I tested it in some well-staged survival situations and the knife kicked ass. It is easily on my top 5 hard-use folder list, even with its liner lock.
Editor's note:
As of this writing, I'm not finding the Fieldcraft Folder available in many places. The most recent pricing shows the knife selling in the neighborhood of $180, but the retailers that are listing it as in stock are getting scarce.
And oddly enough, as this was a review knife sent to us by TOPS, there's no active link on the TOPS website. There are numerous references to Fieldcraft knives and other collaborations with the Brother of Bushcraft line, but I'm not seeing the landing page.