Vortex is an interesting company. They seem to be dedicated to making anything and everything in the world of optics. If you asked me if they are a big ticket, premium brand, or budget brand. I'd have to answer yes, and that covers it as accurately as possible. I've seen their Razor HD Gen 3 1-10X sell for multiple thousands of dollars. Yet, on the flip side, the new Vortex Defender offers you a budget-friendly red dot that swings in to deliver a micro-sized optic for concealed carry firearms.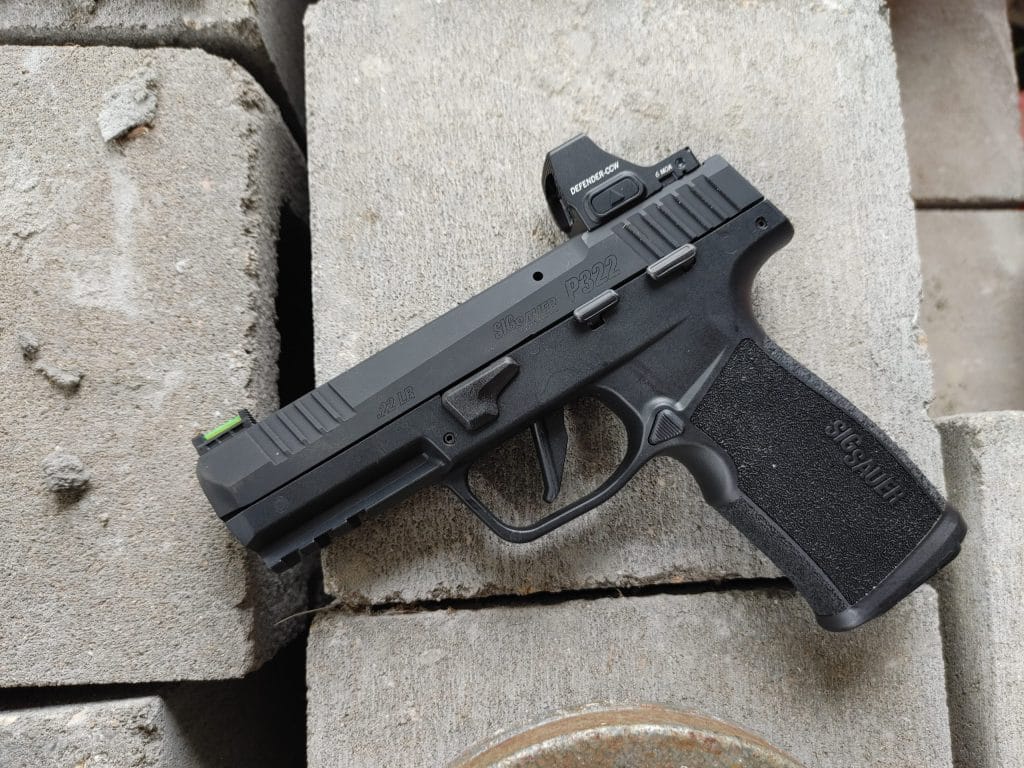 At only $250, it's a low-priced option for concealed carriers looking to outfit their compact pistol with a red dot optic. The big question is if the Defender is a worthwhile investment. Cheap optics have a bad reputation (or did), but we've seen a fairly revolutionary decrease in the cost of red dots without a great reduction in quality. In our pursuit of knowledge, we take the Vortex Defender to the mats to figure out just how tough an optic can be.
I will say Vortex includes some awesome stuff in their box, and others can take note. This includes seemingly a half dozen different screw sets for different guns and a very nice tool for attaching and zeroing the optic.
The Vortex Defender — From the Outside, In
The Vortex Defender uses the Shield RMSc footprint, so it's compatible with most modern handguns sliding into the market. The RMSc footprint has become the footprint of choice for subcompact and micro-compact firearms. It's the standard with the Sig P365, Hellcat, Kimber Mako, and many more.
The Defender weighs .95 of an ounce and is only 1.59 inches long. Vortex doesn't publish height and width data, but I have a ruler. It's an inch tall and an inch wide. It keeps things small, and the only thing big about it is the frame. It's surprisingly thick for a small optic. That's not a bad thing necessarily since it supports the lens.
One eye-catching feature is the dimpled front lens. It's got a quasi-diamond plate. It's a grip texture, so you can rack your slide off the optic. I've never run into a problem racking the slide with an optic without the grip texture, but it's encouraging. I like that Vortex endorses me slamming their dot into various surfaces to cock my gun.
Operating the Defender
Vortex throws us 10 brightness settings. We have eight daylight and two-night vision modes. We do get a top-loading battery design that is nice to see. Sadly we only get 9,000 hours of battery life, which is pretty low for a modern red dot. There is an auto-shutoff mode with motion-sensing technology, but it doesn't shut the optic off until it sits still for 14 HOURS!
If this was my carry optic, it would essentially never be turned off by the motion-sensing technology. Why they chose 14 hours is beyond me, and I think Holosun does it right with their very aggressive shutdown system.
Vortex uses a two-button design that allows you to increase and decrease brightness, as well as shut the optic off. The buttons are large and easy to press. Vortex wisely shrouded the buttons to help prevent accidental presses. When the gun is holstered the increase brightness button faces the shooter's body. If it somehow gets pressed, the brightness only goes up. If you did accidentally press it, this means you only increased the brightness, and you'll still be able to see the dot.
At the Range
The Vortex Defender attaches easily enough, and the Defender uses 1 MOA adjustments, so adjustments are broad, but that's not a problem for a handgun red dot. There is just a hair of tactile feedback per click. You really have to pay attention to feel it. Even so, I got a 10 and then 25 yard zero, simple enough.
At first glance, you have the blue tint you've always had, which isn't a bad thing; it's just present. Notch filters tend to be slightly blue. The dot sizes are either 3 or 6 MOA. I used the 6 MOA dot. The dot itself isn't the clearest option, and there is some starbursting and odd fasting unless you turn it to max brightness. At max brightness, it's fairly crisp and clear.
When you transition between targets rapidly or try to track the dot, you will notice some lag. The dot trails with swift movement, and it's very noticeable. This can make the dot a little harder to track.
The optic still maintained zero just fine and allowed me to knock the circle out of a B-8 easily enough. In various lighting conditions, I had no problem with the dot. Bright weapon lights, the setting, and the rising sun at various angles, and in low light scenarios, there were no issues finding the dot.
Let's Beat It Up
To test its durability, I put that diamond plate front texture up to the challenge of cocking my gun. I slammed into barriers and tables and off my boot like I was Mad Max. I then dropped the dot on both sides and the top several times. After all this slamming and dropping, I went back to the range to test its zero.
It maintained its zero without issue. There was no shift, and the dot didn't shut off or fail after some drops and falls. After the range, the drops, and the falls, I decided to test the waterproof seal and sprayed it with a hose to clean it off. It's not enclosed, so I did try the emitter before I took another sight picture. The dot was there, unmoved or challenged by water. I popped the battery out and found no water entry into the optic.
The Bottom Line
Is the Vortex Defender a revolutionary optic? No. No, it is not. The Defender does offer shooters a budget-friendly red dot that can be depended on. If you draw your gun, you can have faith that your Defender will work, will hold zero, and will take the bumps and bruises of life. It doesn't have the best dot or the best battery life, but it works, and it costs $250. This is the first red dot I've reviewed at this price point I would consider worthy of concealed carry.