Sig Sauer has the name recognition of a qualified pistol maker, but the company has been making an entire family of red dot optics since 2015. The Sig Romeo MSR is their least expensive option and among the least expensive red dots overall. If you are new to red dots or looking for a budget option, the MSR is a likely candidate. But is it a good product worthy of the Sig name or is it rotten in disguise? Follow along as we delve into the features, sight-in procedure, shooting characteristics, and reliability of the Sig MSR.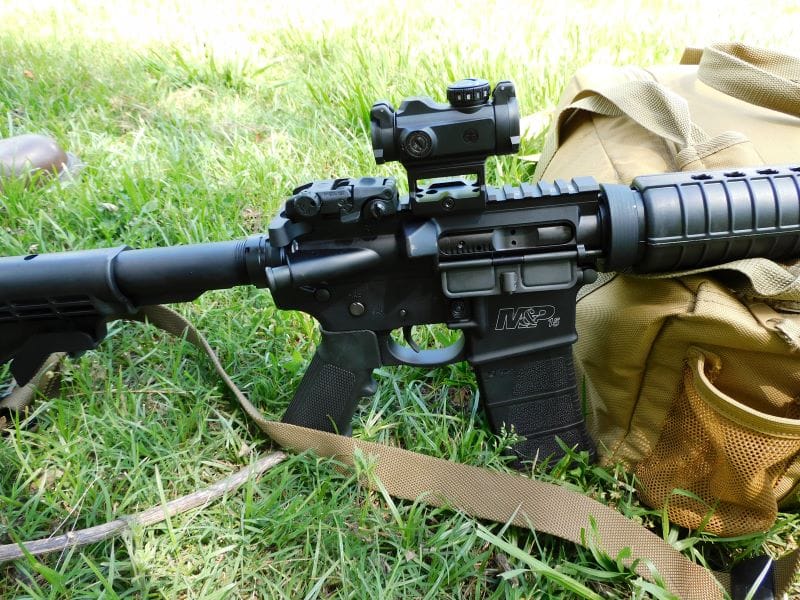 Overview
The Sig Romeo MSR, or Modern Sporting Rifle, is an entry-level red dot marketed toward AR platform rifles. If you want lots of buttons and a wicked mounting setup, one of the higher priced options in the Romeo family is going to be the winner for you. The MSR has a more pedestrian look, and it regularly sells for under $120.
I first became familiar with red dots as a young hunter in the early 2000s. I had never seen one in a local store but there were a number of them available for order through print catalogs. Although I am aging myself here, I did try a few at the time and came away unimpressed. They tended to be simple, with windage and elevation adjustments and a knob to turn the sight on or off. It was not a big culture shock when switching from a rifle scope, but the ones I tried simply did not hold up.
I immediately got that simplistic impression of the Sig MSR when I received it. There is a windage dial to adjust the dot from left to right and an elevation dial to adjust it up or down. A knurled knob over the top of the sight houses the battery and is used to activate the 2 MOA dot. Some versions of the MSR have the option of a red or green dot. This one has a red dot only.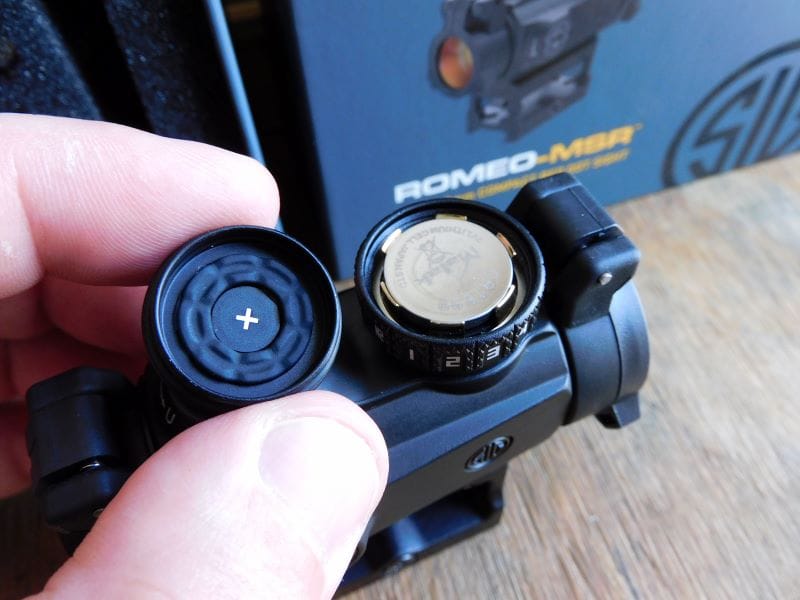 But aside from these similarities, the MSR is lightyears ahead of those old dots. The housing, adjustment dials, and activation knob are all made of 6061 T-6 aluminum. The only plastic I could see are the two flip-up optic covers that protect the lenses on both sides of the sight. You may not ever need to flip them up as the center is transparent and you can see through with ease. It is a 1x20mm optic, the tube is 20mm in diameter and there is no inherent magnification, only the dot.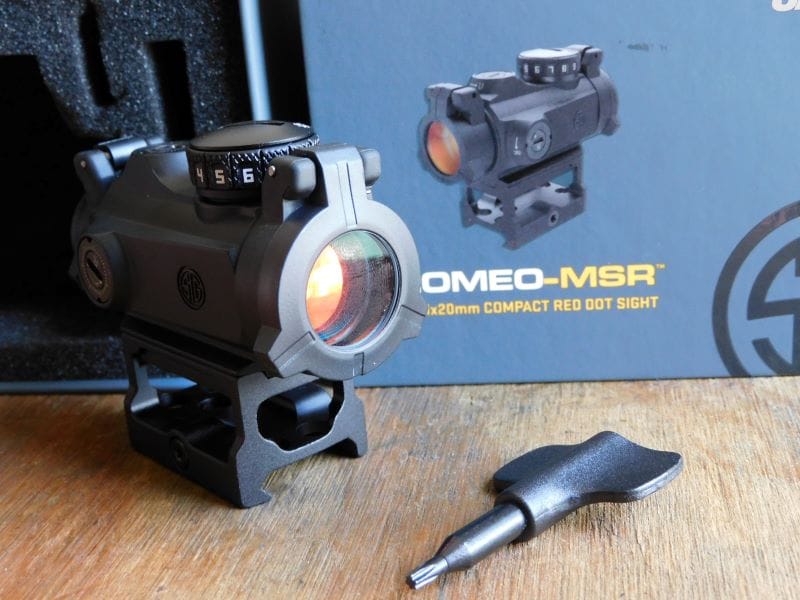 The MSR is fixed into an aluminum mount and is ready to install on any Picatinny rail-equipped rifle or shotgun. The height of this mount is sufficient to allow the user to deploy backup iron sights, should the optic go down. The box includes a lens cleaner, manual, and spanner wrench. The wrench has a Torx end to tighten the mount and a flat end to make adjustments to the windage and elevation dials.
Dialing It In
The brightness adjustment turret has two blank settings, the first denotes that the optic is completely turned off. From there, the turret can be turned clockwise to N1 and N2. These settings are for use with night-vision goggles and the dot cannot be seen with the naked eye. Turning the turret further shows the dot with an increased brightness from levels 1-10. One turn past # 10 shuts the optic off in second blank setting. A quick counter-clockwise turn brings back the dot at full brightness. Continuing the turn lowers the brightness.
The turret is aggressively knurled and easy to grip, but it is somewhat stiff to move back and forth. While this is a benefit to prevent the brightness from changing when you do not want it to, it can be tricky to get to the right brightness in a hurry. I simply leave the optic off on the second blank position and flick the turret to # 10 if I am in a hurry.
Zeroing the Sig Romeo MSR is not unlike an old rifle scope. There is an elevation turret behind the brightness knob and an elevation turret on the right side. These turrets control the up / down and left / right movements of the dot in your field of view. On some riflescopes, these elements are fully finger adjustable. But the MSR cannot be adjusted on the fly, nor can it be accidentally adjusted. My test rifle, a Smith & Wesson M&P 15, uses an MBUS rear-peep sight and an A2 fixed front sight. Using the included tool, I adjusted the turrets so that the dot was indexed just over my front sight. For every audible click in windage or elevation, an adjustment of 1 MOA is made. I could readily see the dot move as I clicked over to where I wanted the dot to be.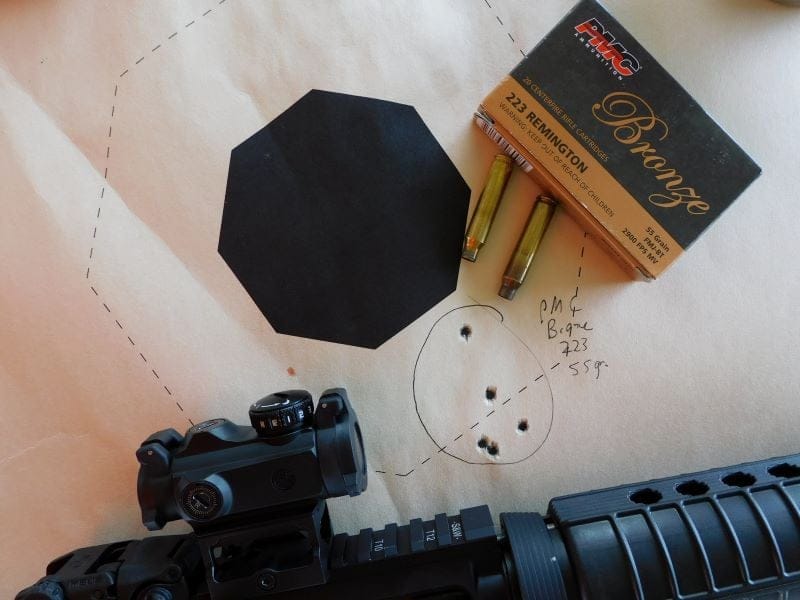 From a bench rest, I fired five rounds of .223 Remington PMC Bronze from a distance of 25 yards to get on paper. With a few extra clicks, I was perfectly zeroed with a group measuring one-half of an inch. I then set out another target at 100 yards to make final adjustments for my preferred distance. My initial group was a few inches low and right, but measured only 1¾ inches. From the same rifle, I can generally get that kind of result with iron sights — at 50 yards. Clicking left and up, I got the Sig MSR fully zeroed in under 20 rounds.
Shooting Characteristics of the Sig Romeo MSR
While the sight-in procedure might be boring to document, it is an educational experience. The brightness settings need to be understood and that knowledge has to be tailored to your vision, your targets, and how much sunlight you are apt to deal with on the firing line.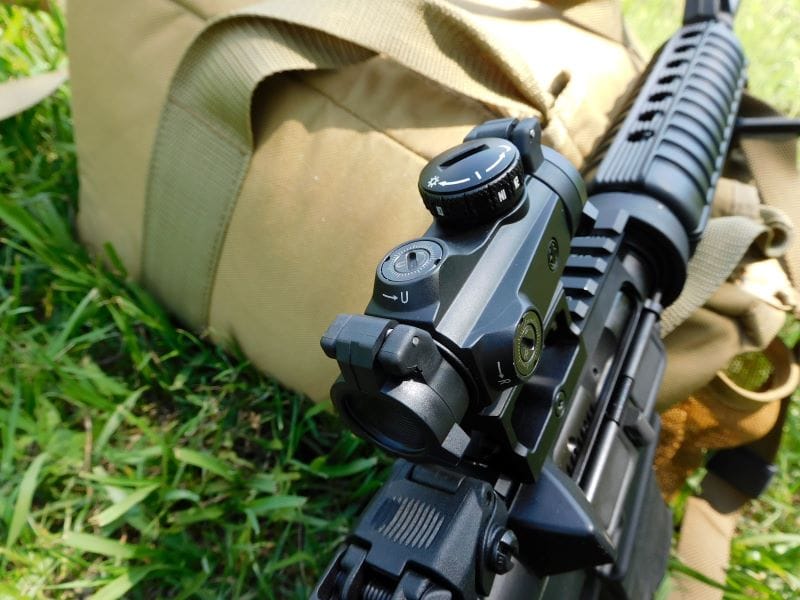 I initially sighted in using four-inch dot targets. At 25 yards, the optic set at setting #10, popped easily in the bright sunlight. But it also flared large over the target. At 100 yards using the same targets, the dot was even more prominent. I backed off the brightness and the ambient sunlight washed out more of the dot. The benefit is that the dot appears smaller than it actually is. I could comfortably see and pinpoint the dot onto target when using setting # 7. This setting worked just as well when dark clouds loomed overhead. I worked my way out to a 1/2 sized steel silhouette at 300 yards. I was rewarded with a delayed thud most of the time, but the dot was more than covering the head, which I used as an aiming point to drop rounds into the chest portion of the target.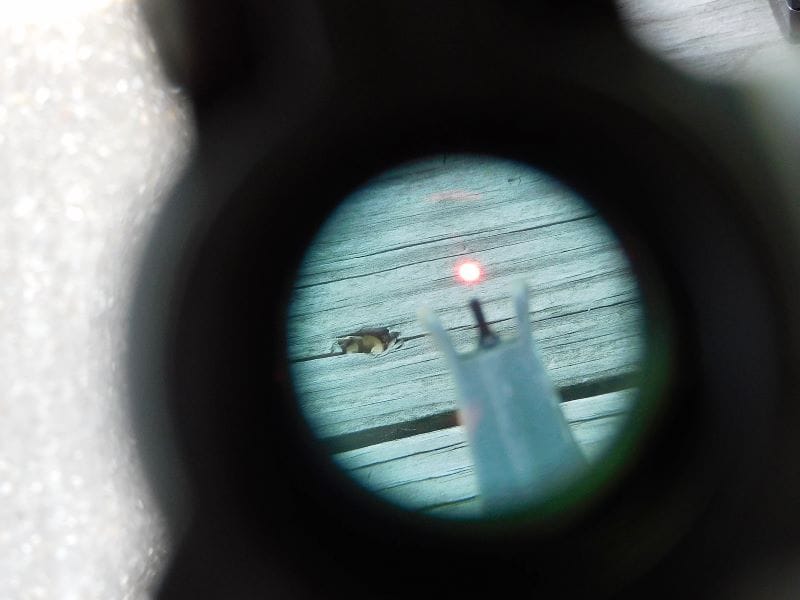 While I ultimately found my preferred setting, it will differ from person to person. I have a failing right eye that cannot visually see settings #1-4, but a good left eye that can. In near-complete darkness, I found setting # 9 and 10 to be so bright that it flares much of the lens. If employed at close distances, the Sig Romeo MSR at maximum brightness is quick to deploy and use, but the flare can disrupt the view of the target more than in daylight.
In terms of accuracy and speed, the MSR helped me get better groups at distance faster than with iron sights. Instead of aligning front sight with rear sight and keeping them even, all one has to do is find the dot, keep a good cheek weld to the stock, and squeeze the trigger. I shot my Sig MSR-equipped AR side by side with a Mossberg MVP rifle in the same caliber. The Mossberg wore an excellent Leupold 1.5-4x30mm rifle scope and the difference in group size between the two rifles was neck and neck. However, it was easier to see my shots through the scope. With the MSR, it might be tricky to see impacts on target, whether it's on paper or an animal.
Reliability
From an early age, I was taught to baby my optics. A damaged or bumped optic in the field could mean missing an animal and not having meat for the freezer. Worse, it could mean a bad hit. My testing of the Sig MSR was certainly not a torture test, but a novice red-dotter's take on a novice red-dot. With that said, my Smith & Wesson M&P has been wearing the Sig MSR for two months. It has survived two falls onto limestone gravel and a dozen accidental bumps working around vehicles and a small rifle safe. Some of that was intentional, some of that was not. The MSR held zero and took no damage. That is much better than I can say for most red dots and riflescopes that were kicking around 20 years ago. My primary concern was the reliability of the battery.
I never liked the idea of relying on a battery to aim and fire my rifle. Surely, electronics are reliable, but what if you run out of juice just as you need it most? The Sig MSR runs on a single 1632 watch battery and has an advertised battery life of 20,000 hours — or 833 days. To me, that seems like a lot, but it is on the light end as far as modern red dots are concerned. For some extra green, you can get a red dot with a small solar panel and shake-awake technology that can double the MSR's battery life.
I once asked our own Travis Pike, a connoisseur of red-dot and holographic sights, his opinion of the MSR. He opined that his own optic took a beating, hold zero, but ate up batteries. Jason Mosher concurred, adding that the brightness turret is stiff to turn. The only truth I could not confirm is on battery life. In my infinitive ignorance, I accidentally kept the optic on from Day 1 on N2, thinking it was off. I realized my error, but on hearing battery life complaints, I turned up the brightness and left it on. Two months on, it was still bright when I decided to give it a rest. Although shake-awake technology can offer some forgiveness if you are prone to leaving optics on, two months is more than enough time for most of us to realize a mistake.
Parting Shots
The Sig Romeo MSR is a quality optic at a bargain price. Its all-metal construction and few controls make it a durable, but easy-to-understand piece of equipment. While the MSR is at home on tactical rifles with iron sights, it is equally useful on more budget-friendly options that come optics-ready. The price is certainly right if you are looking to get into the game quickly. But if you simply like to keep it simple, the MSR is not a bad option. Additional light settings and exotic mounting systems increase the cost for a benefit that can be marginal for some. Like a dinner of steak and potatoes, the Sig Romeo MSR dispenses with the niceties for the essentials that will not only satisfy but will get the job done as well.