I wanted a simple, low-power scope for my AR-14 (a Stag Arms M-4gery). Nothing elaborate with a complex reticle, but it had to be durable too. And it couldn't break the bank. That's a pretty tall order, isn't it? Especially the part about it breaking the bank. Oh, I'd have loved to snag a Trijicon ACOG, but that would have broken the bank, and then some! One day while perusing the shelves of my local gunshop, I spied the solution—a Leupold Mark AR 1.5-4x20mm variable power scope!
I've been using Leupold for decades. Back in the mid-1990s when I attended my first sniper school (yes, back when the sun was still 60 watts and the earth was cooling), we were issued Leupold Tactical scopes for our sniper rifles (3.5-10X). Every sniper rifle I was ever issued after that wore a Leupold scope, and every one of those scopes performed to perfection. I never had one single problem with any of them. And believe me, we put those scopes through quite a bit, given the mission we were tasked with. They were exposed to extreme heat and cold, snow, ice, rain, and their share of bumps. Never once did any of them fail. So I've been a Leupold fan ever since.
Sure, there are more expensive scopes. Some have clearer optics than the Leupold (but not many). But after having seen with my own eyes what a Leupold will endure and keep functioning, I was sold.
Adjustments
The adjustments are marked as .1 MOA at 100m on the elevation knob. The turrets are of the tactical type, so you can make instant adjustments in the field. You can easily see the numbers on the turret so you can turn back to zero any time you'd like. And they're easy to zero. Once you get it dialed in, use the supplied tool to loosen the turret, bring it to zero, and tighten it down. You are now zeroed in.
The elevation turret is calibrated for 55-grain bullets going at 3,100 feet per second. So if you range a target at, say, 350 yards, you can dial the elevation target to 3.5 and be reasonably close. That's a very nice aspect of this scope.
The windage turret also has all the numbers exposed, so adjustments are very easy and simple with that one, as well.
Specs
The length of the scope is 9.2 inches, and it weighs 9.5 ounces. So it's not a large, heavy scope. As such, it's rather well suited for an AR-type rifle.
The lenses are all multi-coated, of course, for the best in protection and light transmission. It is also waterproof.
The power knob has enough tension that you're not going to accidentally rotate it and unexpectedly change your power setting, and yet it's easy enough to adjust when you intend to. It's a nice balance of tension.
I like the reticle, which is a simple duplex type. It's heavy enough to be easy to see, yet offers enough precision at distance. Another thing I like is that it is uncluttered. So many reticles these days look like something from a video fantasy game, with hash marks here, there, and everywhere. Not this one—you center it and pull the trigger.
The Mark AR scope wears a nice, matte black finish.
Versatile
Considering that I would be mounting it on a carbine, I wasn't after a ton of magnification, intending to reach out a couple hundred yards or so. The 4x magnification would handle that well enough.
For closer work, I'd have preferred a true 1x optic, but this one has 1.5x. Not perfect, but it will do. At close range, the 1.5x will give a nice, wide field of view for most ranges.
If I have to engage at room distances, I'll just cant the carbine to the side and sight down the barrel, which will center punch a bad guy at such ranges.
On low power, snap shots at 20 yards and out were very easy and fast. At 100 yards, even at the 1.5x setting, that slight magnification made hits easier than with iron sights.
When set on 1.5x, it is a simple matter of bringing the rifle up and both eyes open—as the dominant eye picks the scope up (both eyes are still open), it focuses on the scope reticle, which seems to superimpose itself over the target. The non-dominant eye's input seems to be discarded by the brain, which is now focused on your target. This works very quickly and efficiently.
Price
At the time of purchase (early 2021), I paid $188 for the Mark AR scope, which I thought was a very reasonable amount, considering the quality of Leupold products. I suspect the price was that low because this optic doesn't have any glowing or light-up reticle, which is okay with me. Sure, it's a trade-off, but the price was so reasonable that I couldn't pass it up. Recently, Leupold (stupidly, in my opinion) discontinued the Mark AR scope lineup. However, they do have very similar scopes in their current lineup, they just aren't called the Mark AR.
At The Range
As expected, the adjustments on the Mark AR are repeatable and the clicks can be felt and are audible. Everything on the adjustment turrets works just how it's supposed to. Once you get the scope zeroed, you just loosen up the turrets, dial them to zero, and you are good to go for range adjustments. It's really that simple and easy (did I mention that I like simple and easy?).
The optics are very clear and bright, considering the objective lens is just 20mm. No complaints whatsoever here.
One gripe that I do have: I contacted Leupold to see about ordering flip-up scope caps. They responded back that these are available, and that they would cost $99.99 EACH! So for $200 (more than the price of the scope overall), I can have flip-up scope caps. I don't see that happening any time soon. Two thumbs down to Leupold for that ridiculous price. I told them so and never received a reply back.
Overall
You get high-quality optics that will last a very long time. Leupold has been in the game for a long time and has the name and experience to back up its products. Throughout my considerable experience with Leupold products, they've never let me down, nor any of my teammates, which says something.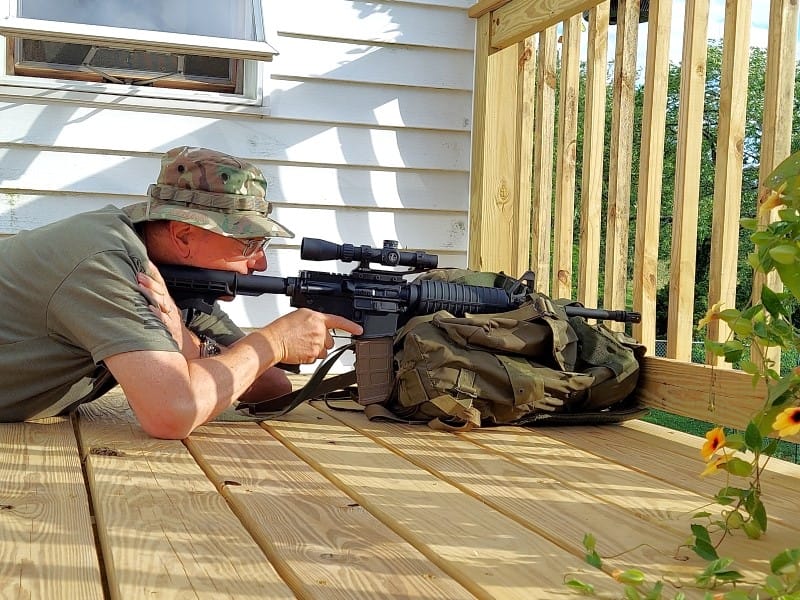 The magnification of the Mark AR scope certainly helps me land more accurate hits with my carbine while not adding much weight or bulk to the carbine. The simple duplex reticle allows me to do it at speed. In short, this scope gives me everything I'm after for the carbine, nothing more, nothing less. I definitely endorse Leupold Scopes!