The TRUGLO TRU-Bright 30 1-6 x 24 is an impressive-looking scope for the price, but is it too good to be true? Let's look at the specs and see how it holds up on the range.
We all want to find that great scope for a low price that meets our needs while saving us hundreds of dollars. Unfortunately, when it comes to scopes, you almost always get what you pay for. At least that's how it's always been.
Guns used to be the same, but we have also seen a huge surge in smaller companies. Manufacturers are now producing higher quality guns at lower prices because of advancements in technology and machinery. It used to be that quality parts were only produced by big-name manufacturers, but that is no longer the case. Could this trend be moving into the gun accessory world as well?
TRUGLO TRU-Bright Specs
The TRU-Bright 30 series by TRUGLO is an attractive-looking scope for an AR platform. It could also work on a bolt action rifle, but for the purpose of this review, we will be looking at it for the AR-15 and AR-10. It is available for purchase in 1-4 or 1-6 x 24 magnification.
Company specs include
Reversible, offset, monolithic 30mm scope mount CNC-machined from aircraft-grade aluminum
Two pre-calibrated BDC turrets in calibers .223 (55 grain) and .308 (168 grain)
Dual Color illuminated reticle (TG8516TL)
Reticle can be used in black without illumination
Generous 4″ eye relief
Quick-zoom lever included (TG8516TL)
One-piece aircraft-grade aluminum tube
Water & shock resistant
Fog proof
Mil-dot reticle enables the user to determine the distance of objects of a known size and provides quick trajectory and wind drift aiming references
Pre-Calibrated for AR-15 and AR-10
One of the cool ideas about the TRUGLO is the pre-calibrated settings for .223 in 55 grain and .308 in 168 grain. This may not be appealing to the advanced long-distance shooter, but it could be very helpful to some. It would also be a great idea for those who have multiple rifles and do not want to spend a grand on multiple scopes. So, the question is, does it work? To find out, I mounted it on a BCM AR-15 with a 16" barrel and headed out to the range.
On the Range With the TRU-Bright 30
The TRUGLO came with a CNC-Machined, 30mm scope mount for a Picatinny rail. Out of the box I was able to install it on my BCM within minutes. The scope was a little on the heavy side but did feel like it was built solidly. I started out at 100 yards zero in the sight as this was recommended by the company. According to the instructions, it would only need minor windage and elevation adjustments.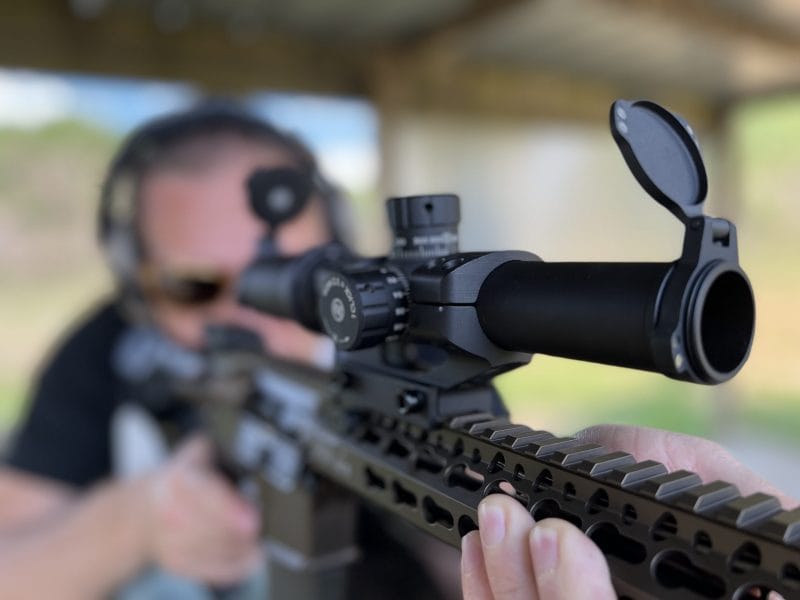 The eye relief was about 4" as specified by the company. I did find the dual-core illuminator a little lacking and wish it had been brighter. During the day it doesn't do much good. I turned it off and found it just as easy to place the center crosshair of the reticle on the target without the illumination. I think the illumination would be helpful on overcast days or in low-light situations.
Sighting in the TRUGLO
Although the instructions said minor changes would be needed, the elevation dial was on 800 yards by the time I had it zeroed in at 100 yards. I would call this a little more than "minor" but they made it very easy once zeroed in to loosen the elevation knob and set it back on 100 to match the new settings. Once this was done, it worked exactly like they said. I was able to turn the elevation knob to the distance I was shooting at and place my crosshair on the target.
The windage settings were just a little to the left, so it didn't take long to adjust that setting either. Once I had the scope zeroed in at 100 yards, I moved out to 200 yards and changed the dial to 200 to see if it would stay on target. Five shots found the center, so I moved it out to 400 yards and again changed the dial to 400. This was as far out as I could shoot on the range that I was using, but the pre-calibrated settings appeared to be working as advertised.
Will it stay zeroed in?
Once I had it sighted in, I wanted to see if it would stay that way. This is one of the biggest issues with cheaper scopes. Movement from transporting and handling and jarring from being fired can knock it out of alignment. I made sure to knock it around a little on some posts by the range and carried the rifle around by holding it from the scope. I let the rifle fall over on the ground a few times, but I did find a spot that was soft grass because I didn't want to damage my rifle.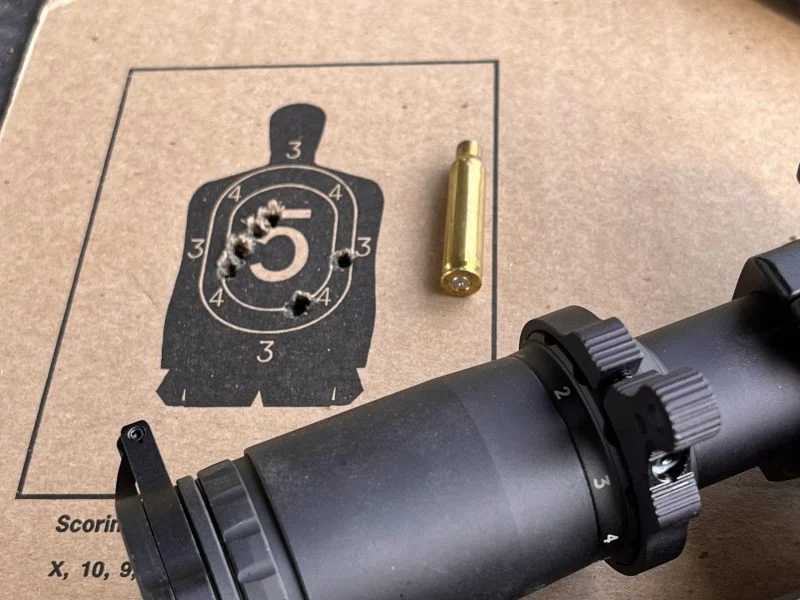 On the second round of shooting, I fired 30 rounds at 200 yards and another 30 rounds at 100 yards. The scope was still hitting its target and none of the settings appeared to be off from moving it around.
Summary
When it comes to buying a scope, you can spend as much as you want. Every shooter must determine the price they can pay versus the quality of a scope they need. If you get one that is too cheap, you may find yourself missing all your targets or re-setting the sights every time you shoot. On the other hand, you may not want to spend a small fortune on a scope you will not be using all the time.
The TRUGLO TRU-Bright 30 may not be a great scope for shooting targets 1,000 yards away. But if you want a scope that can reach out a few hundred yards and is a decent price, this may be a good option for you. I have some better scopes on other rifles, but I also paid a much greater price for them. The TRU-Bright 30 appears to be a great scope for the price point.