If you're looking for a gun suitable for deep concealment in potentially non-permissive environments, it's worth considering a derringer. Bond Arms is perhaps the top manufacturer of high-quality derringers in the United States, and they're constantly expanding their line with carefully designed models. The latest is the Bond Arms Honey B, an addition to the Stinger Rough Series family of guns.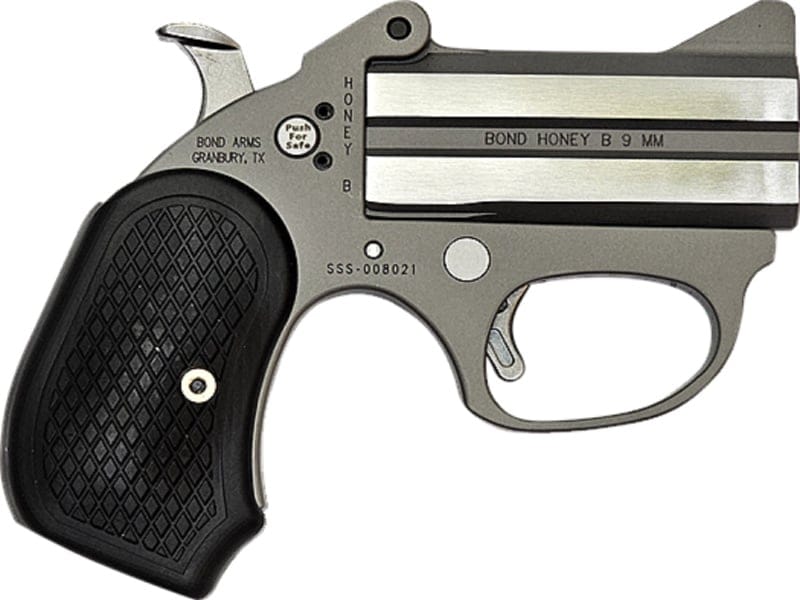 Honey B Features
The Honey B is introduced by Bond Arms and offers numerous enhancements that make it a great option for gun owners interested in small, easily concealable guns. The B is available in multiple caliber choices so users can select the chambering that suits their needs. Options include 22LR, 9x19mm Parabellum, 380 ACP, and 38 Special. According to Bond Arms, what sets this design apart from the other Stinger Series pistols is the inclusion of the B6 grips which enhance grip which means greater control and comfort. It also translates to greater accuracy on target.
B6 grips offer a full-handed feeling despite the small frame of the gun. They're designed to take the guesswork out of hand placement for greater control thanks to an enhanced palm swell and the option of a smooth or textured backstrap. Putting B6 grips on the Stinger frame is a fantastic combination. With more surface area, even the 9mm is more manageable in this ultra-compact derringer.
The Honey B measures 5.5 inches long and has a three-inch barrel. It has an empty weight of 17.5 ounces. Bond Arms states that is enough to mitigate felt recoil in 380 ACP and 9mm without sacrificing the lightweight control of 22LR and 38 Special. The Honey B does have a trigger guard and a 7-pound trigger pull weight. Sights are standard fixed sights with a front blade sight and a 10-yard sight picture. The open-action design makes loading the 2-round capacity barrels easy. This is a gun that's a great option for using as a backup gun (BUG), deep concealment pistol, or for defense against snakes.
MSRP is $320.00.