Here's a neat fact about the F-16 fighter jet. The pilot's seat is far more reclined than those in other planes. That's a bit of physics and biology trickery to help the pilot deal with high G forces.
What does that have to do with pistols? If you create gas ports in a pistol barrel, like those in the Smith & Wesson M&P 40 Ported model from the Performance Center, you can create a similar bit of trickery that reduces the adverse effects of recoil. As with the F-16 where a comfy chair can't negate the laws of physics, ported pistols don't actually reduce recoil. However, they redirect it to help you keep sights on target. As an extra bonus, the perception of felt recoil is also reduced along with muzzle flip.
The Performance Center M&P 40 Ported has cuts in the barrel and slide that direct muzzle exhaust upward to either side of the front sight in the 10 and two o'clock directions. Those miniature "rocket engines" make neat flame patterns when you shoot, but more importantly, they exert a downward force on the muzzle. All of this reduces the amount of muzzle flip and helps you keep the sights on target.
An added benefit is that felt recoil is reduced. When I shoot this particular 40 S&W, it feels like a 9mm. I know because in the same range outings I had a slew of new Smith & Wesson M&P pistols, two of which were identical, sans the porting, but chambered in 9mm. It's kind of a neat concept. People are switching to the 9mm in droves because of the reduced recoil and ability to get fast shots on target more easily. And of course, the increased capacity… However, if you want a bigger caliber without sacrificing controllability, maybe the porting is an option to consider.
One of those gun store counter pearls of wisdom is that ported barrels will blind you in lower light because of the flame jets that shoot upward and to the side. After shooting lots of ported and non-ported pistols in low light conditions, I would have to disagree. During the shot, I can't tell the difference. With any pistol there's a muzzle flash ball of hellfire the size of a volleyball or not far from it. Whether some of that takes the form of gas jets behind that miniature sun has proven largely irrelevant.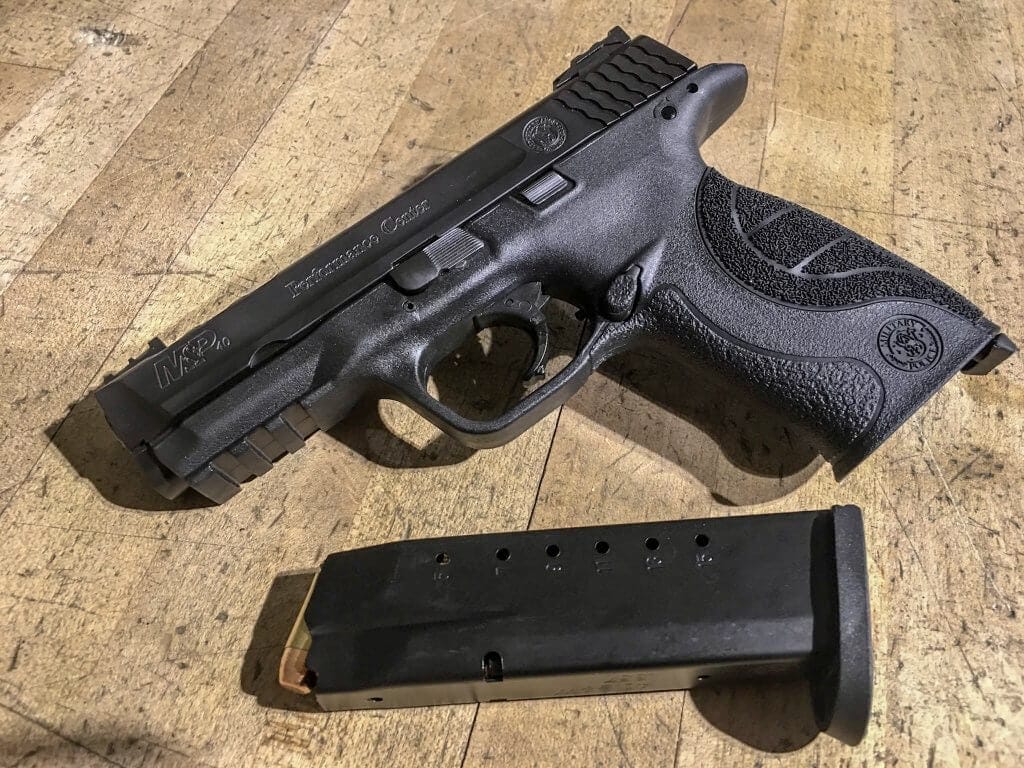 While it packs two fewer rounds than its 9mm counterpart, this .40 S&W pistol is no slouch when it comes to capacity. Even with its carry-friendly size it still packs 15 rounds in the magazine. Keep one in the chamber and you've matched the capacity of many 9mm pistols of similar size.