Springfield Armory has officially launched a major new handgun: Echelon. This 9mm borrows from the refined aesthetics of the smaller Hellcat family to bring a new level of performance to Springfield's catalog for those looking for a full-sized, polymer-framed duty pistol. So how does Echelon stack up?
It is no secret. I'm a fan of Springfield Armory. I've been carrying and reviewing Springfield guns for well over a decade now, and I regularly carry a TRP (a favorite for casual strong-side OWB carry) and a Hellcat (my favorite micro-compact for EDC). The XDM is a favorite for running suppressed.
The Echelon, though, is a bold step in a new direction. When Springfield launched the Prodigy last year, few were surprised. The double-stack 1911 was a logical addition and welcomed by those suffering from 2011 sticker shock. But a new polymer-framed 9mm?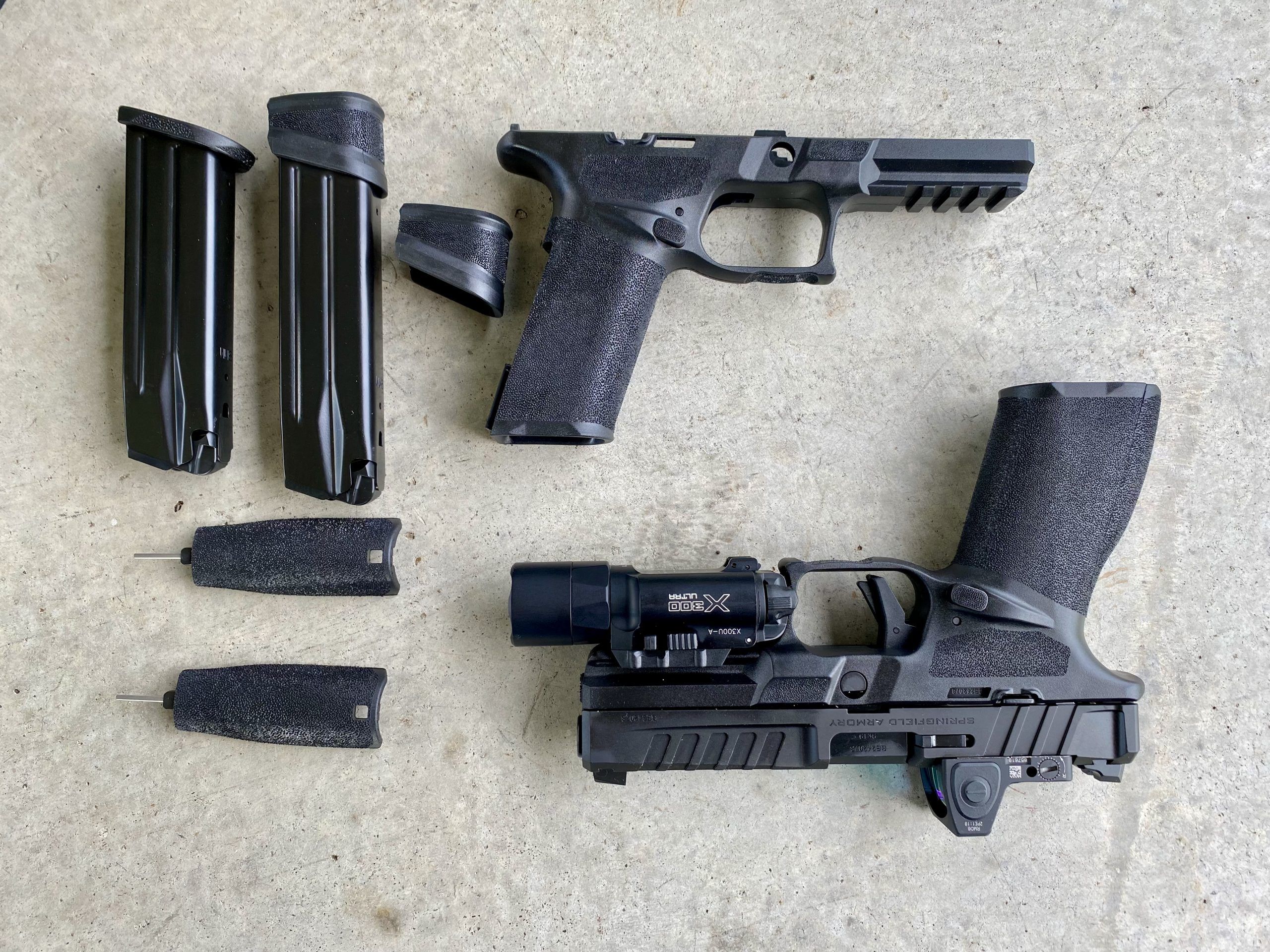 Those of us who have run the Hellcat have been expecting something like this for a while, now. While there were regular updates to the XD line, the Hellcat felt like a seismic shift for Springfield. We've been waiting for the duty-sized Hellcat. Echelon isn't that, exactly, but more on what it is in a minute.
The polymer-framed 9mm field is crowded.
Really crowded. Almost everyone makes one. And Springfield Armory makes several.
The XD line has remained a consistent option for those looking for mid-budget guns. They've never risen to the level of fashion accessory, though, the way a few others have. And they never reached widespread acceptance as duty pistols.
Echelon is poised to change both of those things. Everything Springfield has touched in the last few years has turned to gold, and this new pistol is looking like another win. The gun has a few compelling elements that will make it a contender.
First Impressions of Echelon
Out of the box, this gun looks good. While many raved about the XD line's performance, few praised it for its aesthetics. To be fair, though, this could be said about many polymer-framed pistols. Very few can hold a candle to the classic lines of a 1911.
The tactile feel of the Echelon is also an improvement. The grip texture is aggressive, kind of like a sandpaper finish. This extends around the front strap, back strap, and even onto the magazine's base plate (which adds grip to any magazine mishaps that have to be cleared in a hurry).
The controls of the gun are ambidextrous from the start. The slide serrations provide all the texture you could want for ease of manipulation. This gives the Echelon a big leg up on some of its direct competition.
The sights will be familiar to those who have run a Hellcat. The rear sight is a bright U shape into which the green front dot sits. Optics mounting is vastly superior to some of the guns in this category. You don't need to match plates with the optic and slide. Instead, an optic mounts directly to the slide itself.
So how does it shoot?
Echelon's standard mag is a 17 rounder — which tells you all you need to know about grip length. It fills the hand, providing just enough protrusion to make mag changes efficient and intuitive.
This is the foundation for Echelon's stability. The grip module, though, has ledges on either side that are meant to support the thumb on your support hand. This holds down the muzzle flip and makes it very easy to put follow-up shots on target.
The trigger has a bit of take-up before it hits a wall. The break is not far past that point. The break is consistent, if not as crisp as I'd like. And maybe my expectations of the trigger are high (as so much of what I'm seeing here has exceeded my expectations).
Echelon Accessories
Echelon comes with interchangeable grip modules designed for different hand sizes. I prefer the largest, but I'm a big guy. With thre grip sizes and multiple back straps to dial it in, there's no reason why you won't find an idealized grip.
As I write this, Safariland is building Duty-Rated holsters for the Echelon. Full disclosure — I work for Safariland and have been pushing to get these out into the world quickly, without compromising the retention ratings that allow those who serve to carry confidently. I expect we'll have at least four models of our thermoformed 6,000 Series holsters shipping in August.
There will undoubtedly be other holsters, too, both for IWB and OWB carry. A gun like Echelon is dependent on its holster, and Springfield has been diligent about ensuring those options are ready. While it will feel large for those accustomed to micro-compacts, this would be a rock-solid gun for appendix carry.
As for optics and lights, Echelon is a large platform. Go big. This gun deserves a full-sized light and a big optic.
Magazines?
This is GunMag Warehouse, after all. We kind of get picky about mags.
These are steel mags, much in the tradition of the Hellcat. The base plates are polymer and they are wide enough to grip below the edge of the grip in the event that there should be a mag that won't drop cleanly.
The capacity for the standard mag is 17. The extension adds an additional rounds. If Springfield's previous mags are any indication, there will likely be increased capacities to follow.
First Impressions Are Everything
And Echelon makes a good one. While my round count with this gun is admittedly low, the potential is here.
In the past, when a company takes a shot at the category leaders, there's almost always the question of price that — above everything else — becomes the selling point.
The Hellcat changed that approach for Springfield. While many of the XD pistols began competing on price first, then performance (at least that's how I interpreted things), the Hellcat put performance first and was priced accordingly.
The Echelon is priced right in there with the category leaders. It will likely settle somewhere around $650. From my perspective, though, it is bringing more to the table. The ergonomics are superb. The optics mounting system, alone, is worth celebrating. And if this gun performs like the early hype suggests it will, watch out.
We'll see on that last point. As Echelon will be marketed as a duty gun, performance tests — including the high round count torture testing — will begin to emerge.
At this early stage, Echelon is continuing the avalanche-like momentum of the brand. This looks to be another big step forward for Springfield. And there's much more to unpack here. From the intentional design of the chassis, to the optics mounting system, to the contours of the slide and its ease of manipulation, Echelon is worth a solid deep dive.