It's not as if there is a shortage of .22 pistols on the marketing. And rimfire ammo isn't as affordable as it used to be. We might as well get used to that, because just as steaks, movie tickets, and Shake Weights have all in increased in price, so has .22 ammo.
However, there's always room for another gun provided it brings value to the table.
What?
If you've kept watch, Smith & Wesson has launched two pistols called "M&P 22s" over the past few years. The first was the standard and it wasn't made in-house. The M&P 22 Compact is an all S&W version and it's the one we're talking about here.
The M&P 22 Compact is a single-action pistol with ambidextrous safety levers that aren't mushy like the first M&P 22 pistols. They, like other features of this gun, are solid and responsive. It's got adjustable rear sights so you can tune it to your favorite rimfire ammo and both front and rear sights sport easy to see white dots. The M&P 22 Compact comes with two 10-round magazines, but you'll want to order more. Even at a bulk price of $.08 per round, rimfire isn't nearly as painful to the wallet for an afternoon of plinking, so you can shoot plenty.
If you live in a free state, you can get one threaded. This one has a flush barrel, so you'll need a 3/8"x24 to 1/2"x28 adapter. Other models come with the adapter for about $20 more.
So What?
Old school gun writers used to talk about "the perfect packin' pistol" or one that was perfectly proportioned for the job and hand and supremely handy. That's what this one boils down to. It's about ¾ size relative to standard pistols so you can still get a full grip on it with all fingers comfortably at home. Since it's a .22, recoil isn't a factor, so the weight of less than a pound is a benefit with no real drawback.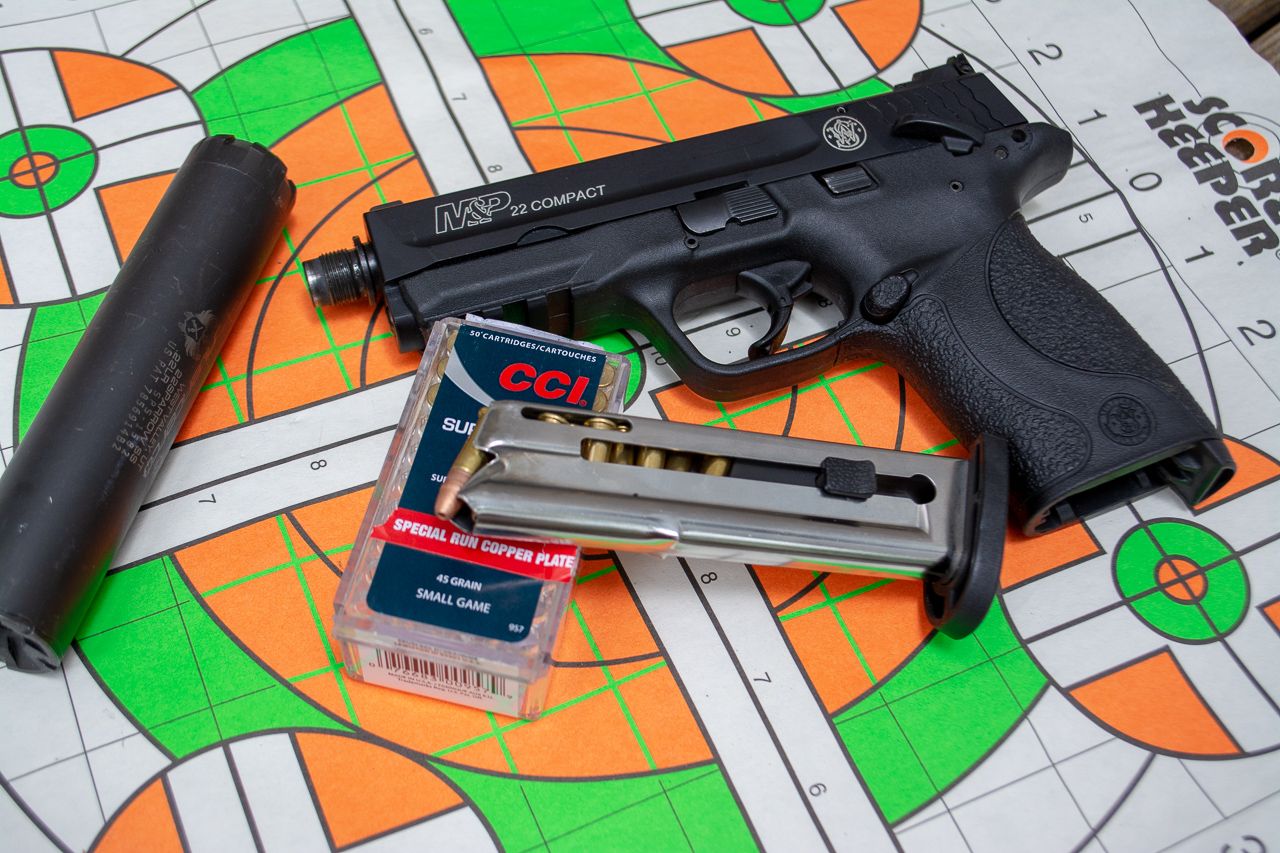 Here's where it really shines. Bite the bullet and stick a suppressor on it. The one shown here has a SilencerCo Sparrow and the combination is absolutely perfect. Even with the extra five inches of suppressor sticking off the fiery end, the overall package is still light and handy. Not at all muzzle heavy, you could shoot a brick of rimfire ammo without fatigue. At my first opportunity, I'm going to figure out how to make a holster for this gun and suppressor combo.
This configuration is quiet, quiet, quiet. With its 3.6-inch barrel, velocities are low so almost all .22 ammo will be subsonic. I've clocked over a dozen types and only found two that break the sound barrier of 1,133 fps where I live: Aguila Super Maximum 30-grain (1,177 fps) and CCI Stinger 32-grain (1,138.7 fps.)
Get one. You won't regret it.