The CMMG Dissent hit the market so hard last week that the anti-gun world recoiled in disgust. How dare someone say no to them! How dare anyone stand up and defend their rights! Well, the Dissent is here, and like most CMMG products, it takes the AR platform and innovates. CMMG has an excellent reputation for doing stuff differently; we have the Mutant, an AR that takes AK magazines. The Banshee series uses a revolutionary (literally) rotary blowback system.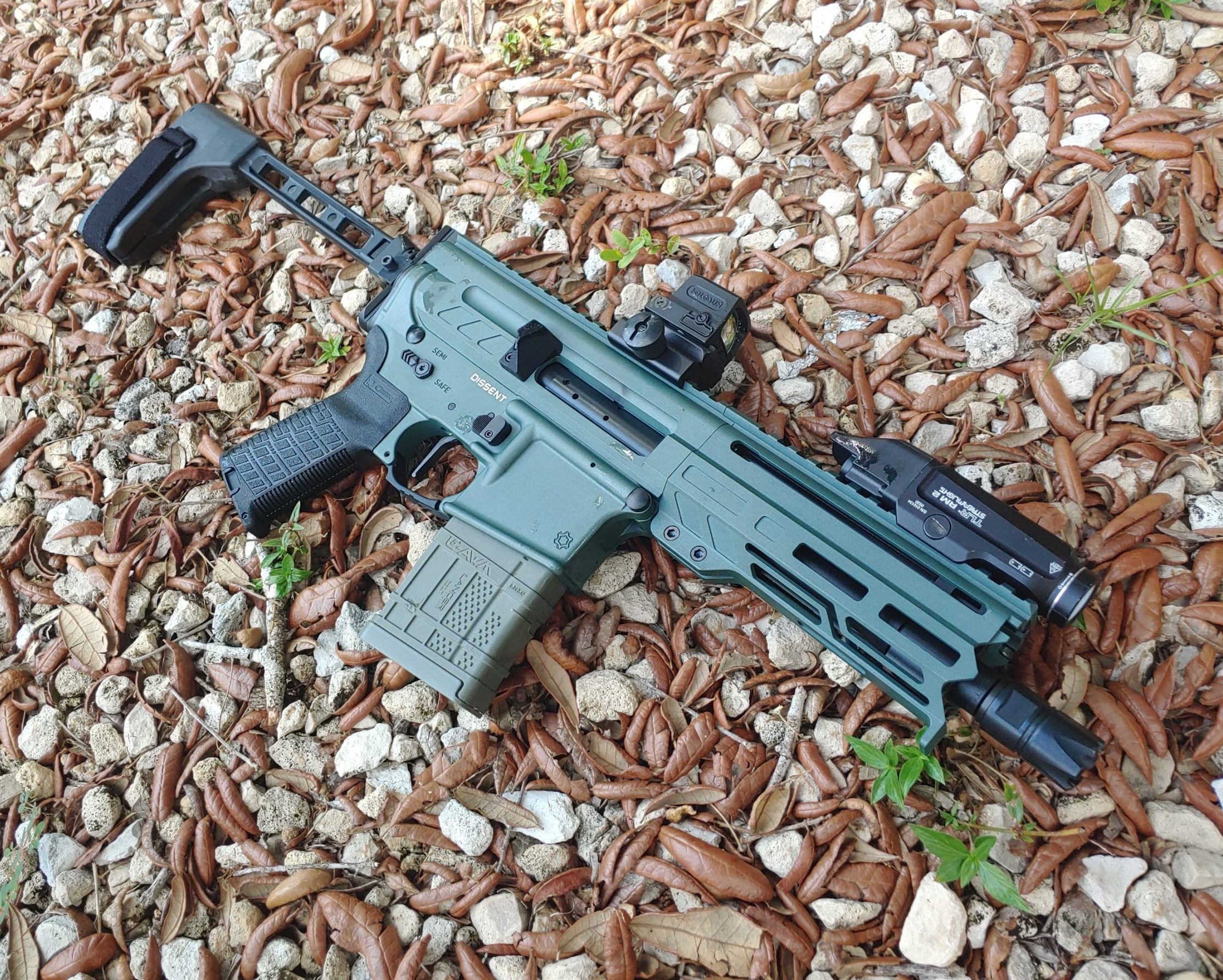 The Dissent is an AR that removes the need for a receiver extension. You can get quite the tiny platform without the need for a receiver extension and the external to the receiver buffer system. CMMG released the Dissent in 5.56, 300 Blackout, and 5.7x28mm. Without a receiver extension, the platform can be super compact, and the initial offerings of the Dissent with uber short 6.5-inch barrels.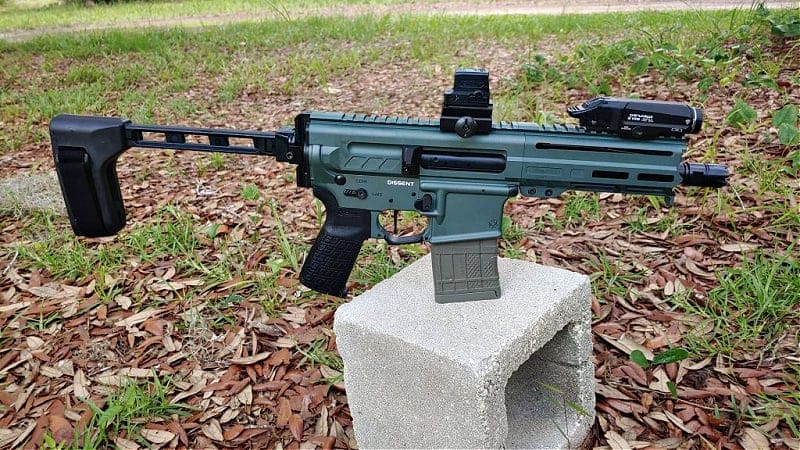 The overall length of the Dissent is 14.7 inches, and the gun weighs a mere 4.8 pounds. CMMG decked it out with ambidextrous safety and an ambidextrous magazine release. They removed the AR-type charging handle and went with a forward charging handle placed right above the barrel. At the rear end sits a 1913 rail for all manner of braces or stocks, depending on your gun's tax stamp status.
Its tiny and tiny guns in rifle calibers work well as PDWs. By itself, it's okay, but with a little jazzing up, you can make the Dissent into a handy little PDW. That's precisely what we plan to do today.
Turning the Dissent into a PDW
The Dissent is a rifle-caliber pistol but still legally a pistol, and if you keep it that way, many states give you an advantage with a concealed carry permit. State laws vary, so know your laws and don't just take my advice. However, with a concealed carry permit, you can keep the weapon loaded and accessible in your vehicle. You can likely carry it wrapped in a sling bag and ready.
CMMG's Dissent offers a lot of compact firepower in a simple, familiar, reliable platform. It's a specialized, niche tool, but one that might be handy for the average urban dweller.
It comes packed with most of the features I want and need while remaining small and concealable. The trigger is fantastic. The gun eats whatever I put through it, and for personal defense ranges, it's plenty capable. When you choose calibers, the 300 Blackout and 5.7x28mm offer you the best short barrel performance, but admittedly the 5.56 offers you much cheaper ammunition for practice. The gun itself is already well suited for the PDW role, but it needs a few accessories to really shine.
Holosun 509T — The Optic
I'm not even bothering with iron sights. It's a PDW, not an infantry rifle, so engagements will be short. Iron sights would gum things up. When choosing an optic, I want something lightweight and compact, but I also like the reliability of a true rifle optic. That eliminates most of the micro red dots due to their open design.
However, a few stand out by featuring enclosed emitters—specifically, the Holosun 509T. I want a small and lightweight optic. As light as possible, and the 509T fits that role well. The enclosed emitter increases the reliability and ensures nothing gets between the emitter and the glass lens. The 509T is robust, easy to use, and meets my need for reliability and small size.
I tossed it on a Trijicon riser to get the right height, and it's just perfect.
Streamlight TLR RM2 — The Light
If the Dissent was to sit in a bag and remain concealed, I want to keep the profile as thin as possible. I want less width and don't mind a little extra height. The TLR RM2 is the only light that offers me that capability that isn't a pistol light. It's compact, a little longer than usual, but easily attached.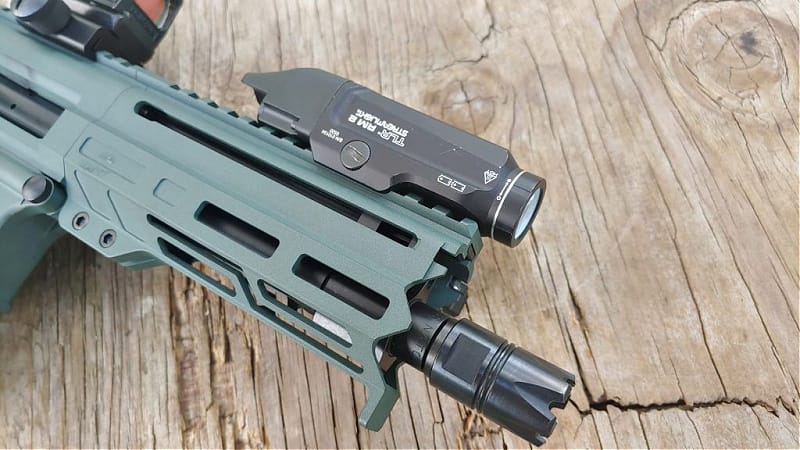 I mounted the light on the top of the M-LOK handguard in front of the optic. The big button in the rear allows for easy access with the thumb when mounted to this top rail. The TLR RM2 blasts 1,000 lumens with 10,000 candelas to back it up. Again, not impressive compared to the OWL, but for PDW ranges, it's plenty of light and is enough light for those close encounters.
SB Tactical FS1913A — The Brace
A brace is a must-have for any modern AR pistol. The Dissent is unlike any other AR pistol, though. It's a gun featuring a rear 1913 rail, and you need something different than your typical AR brace. The FS1913A brace is a side-folding, minimalist design that keeps the Dissent lightweight, low profile, and concealable.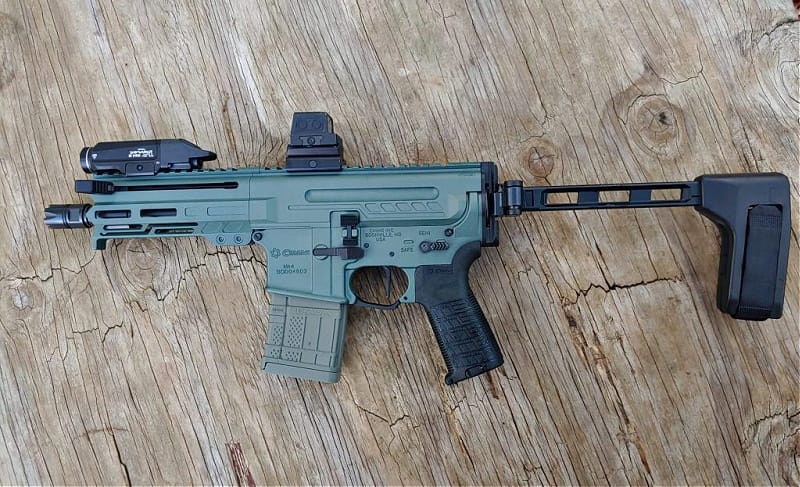 It's simple but very effective and makes handling a rifle-caliber pistol possible. It certainly makes it a much better weapon for defensive shooting purposes.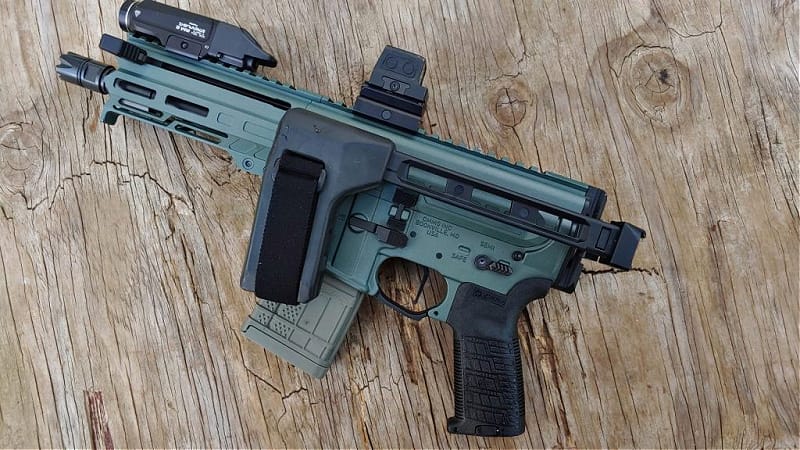 Lancer L5 20 Rounder — The Magazine
Finally, your magazine selection will make it much easier to conceal the weapon. 30-round mags might work depending on your bag, but a 20-rounder keeps things much more compact and easier to conceal. Lancer magazines offer a hybrid design with steel feed lips and a polymer body. No need to worry about feed lips warping and spreading when kept loaded for an extended period.
PMAG D-60 — The Other Magazine
If everything goes to hell and 20 rounds aren't enough, then you're gonna need a ton of ammo. If so, the PMAG D-60 has you covered. It's massive but can be stored in another pouch in your bag, trunk, or wherever. With this much ammo, you'll be able to deal with the zombie robot uprising and still get home in time for dinner.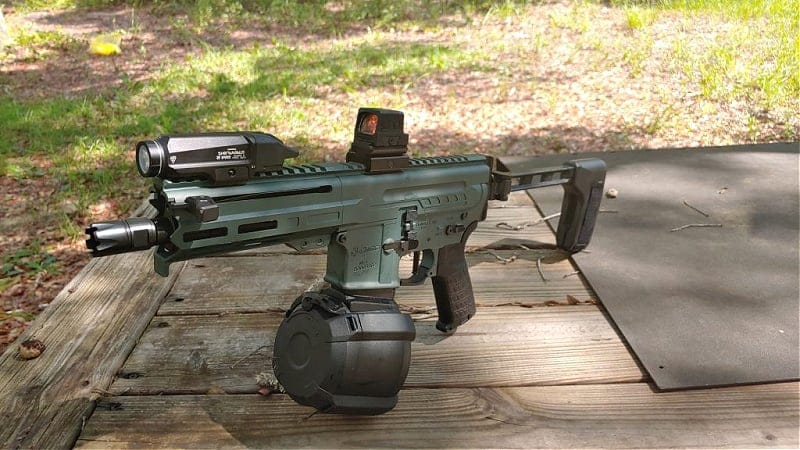 Your Dissent
I think the Dissent offers the AR market an exciting new firearm in the field of AR 15s. It's not a gimmick by any means, and I'm happy to see something a little new in such a massive market. The Dissent has fired up my own creativity, and I've turned it into what I think is a competent, functional PDW platform.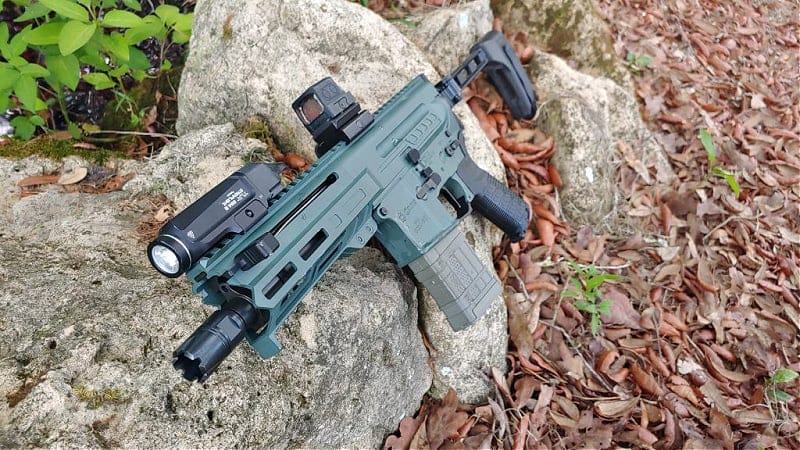 These are my ideas, and I want to know what's yours? What would you do to make your Dissent or similar firearm into a PDW? Let us know below.