Canik Firearms has released the next addition to the collectible Canik Signature Series with the "Miami Days and Miami Nights" versions. The limited-edition series will consist of 3050 individually numbered pistols of each of the Days and Nights versions, to pay homage to the iconic Miami 305 area code.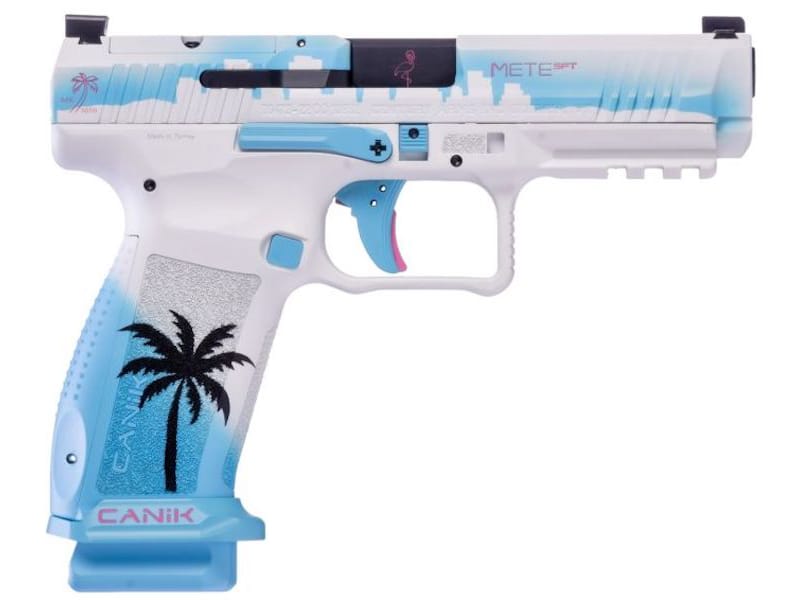 The Miami METE SFT limited edition 9mm pistols were specifically designed to pay tribute to the city of Miami with the city skyline, palm trees, flamingos, and a color scheme hailing straight from Miami Vice. The pistol has the Collectors Series Logo and the serial number is stamped on the left side of the slide and will come with a Certificate of Authenticity.
Specifications for the pistols
Weight w/ 18+2 Mag: 1.74lb
Capacity: 18/20+1 rounds
Cartridge: 9mm Luger
Action Type: Semi-Automatic
Frame Material: Synthetic
Overall Length: 7.56"
Barrel Length: 4.46"
The pistol's design, either Days or Nights option, will have a color-matching flared magwell and secondary magazine with a +2 round extension, for an overall capacity of 18 rounds in the first magazine and 20 in the extended mag. With the 18-round magazine, the pistol weighs just under 1.75 pounds.
The Miami Days and Nights 9mm pistol from Canik has an overall length of 7.56" and boasts a 4.46" long barrel. It has a white dot rear sight with a front sight post and the ready-out-of-the-box trigger that Canik is so well known for. The slide also features an angled rear sight edge for emergency one-handed operation.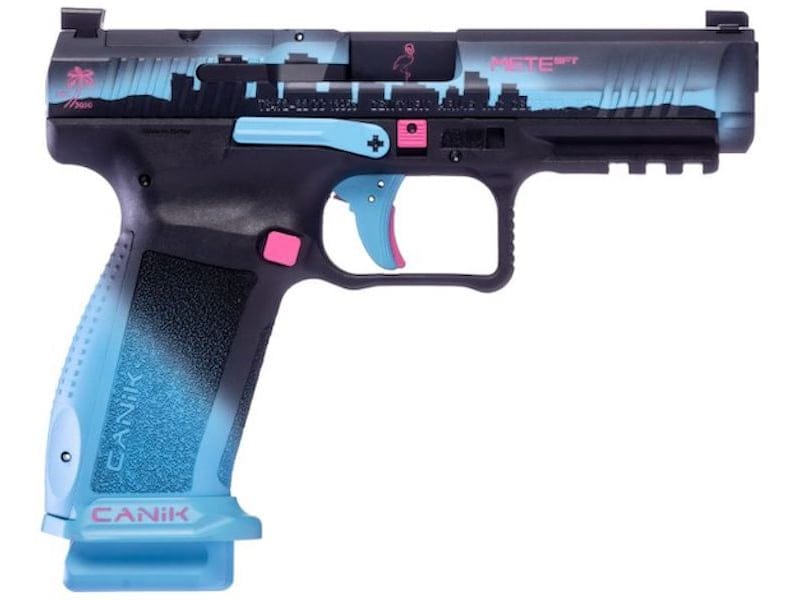 In the box are interchangeable back straps so those with a larger grip can customize their pistol. The pistol is optics-ready with plates that readily accept the Trijicon RMRcc and Shield RMS/RMSc footprint optics. The package also includes Canik's color-matching IWB/OWB (inside or outside waistband) holsters, tool kit, punch for easier disassembly, and a magazine loader. All these items, including a limited edition Miami patch, come inside the Signature Series storage and transportation case.
The 9mm pistol package is available, in either Days or Nights color scheme, for an MSRP of $769.99.