The Micro Conversion Kit, aka the MCK, has exploded in popularity. Why? Well, lots of reasons. As far as I can tell, the massive price drop and embracement of the pistol brace might be the biggest reasons. I remember years ago, MCK and similar systems used to cost as much or even more than the guns they utilized. Beyond the price drop and pistol brace, I can easily see why these systems are so dang popular.
Wait, Wait, Wait, What's an MCK?
Oh, I guess we are getting ahead of ourselves here. The MCK comes from CAA. An MCK is an encasement system, a chassis, if you will, that clamps over your pistol of choice. They are made for Glocks, Sigs, Springfields, S&Ws, and more — yes, despite what you might think from everything you see on Insta, CAA makes stuff for all sorts of gun types. Your pistol is just the lower parts kit to the whole thing.
And as you can see, there's more than black available. We know that'll be important to you camo pattern/color matchy-matchy types.
🔊 The ATF does not consider the MCK a firearm.
It's an accessory at most. You insert your pistol into the MCK, and the pistol acts as the firearm. The MCK with a pistol brace makes a standard pistol a massive pistol. SBR variants exist that replace the brace with a stock, but for legal use, you have to pay the crown a 200 dollar tax stamp.
In all seriousness, it goes beyond becoming a big pistol. You get the handling and size of a submachine gun.
What that means to you is that you can hold your handgun like a submachine gun with a forward and aft hand and gain more control over the weapon. Don't forget the brace that straps to your wrist to grant an entirely new level of control over your handgun.
Accessorize Like a Barbie Doll
Beyond that, you also get rails all around to fit optics, lights, lasers, and cup holders. Modern handguns can accommodate mini red dots, but what if you want to use an actual, full-sized red dot? Like a Sig MSR? Well, boom, the MCK grants you that. The same goes for pistol lights.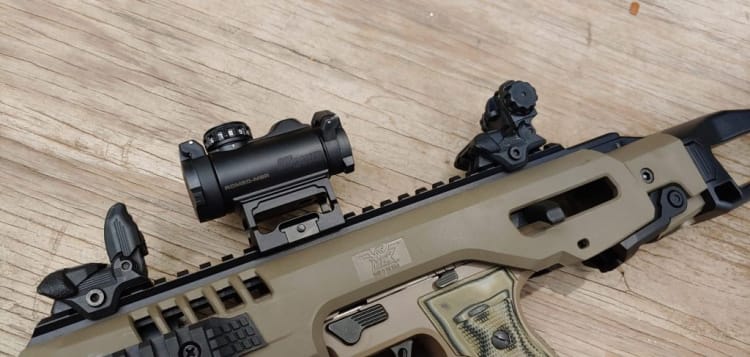 Strap on a Rein Micro or an OWL, and bam, you got a full power light that gives you a full-powered rifle light without the limitations of a pistol light. Speaking of lights, the MCK incorporates a pistol light into the frame. Below the barrel is an integral slot that allows you to slide in an Olight SIR Baton with an integrated control system.
CAA sent me the MCK with the light, folding iron sights, and a single point sling, so I was already quite accessorized. To make the most of the MCK, I also strapped on a SIG Sauer MSR red dot I'm currently testing.
Breaking Down the AAC MCK
Let's break it down from ass to tip. The brace of the MCK comes in both short and long lengths. Mine rocks the long version, and the brace itself is soft rubber that is comfortable around your forearm. This brace can fold to trim length and make it compact. On the bottom of the MCK and in front of the brace sits a QD point for a sling attachment, which is also included.
From there, we get the charging handle that locks onto your slide. It can be ambidextrous, but the ambidextrous model does not allow you to fold the brace. I kept the right-handed model. In front of the charging handle sits your pistol. Mine is the Sig P320 MCK, so it's a Sig P320 AXG.
It should be noted here that (as of this writing) CAA lists the RX series stuff as incompatible with the MCK (same with the M17/M18 models). Maybe it is, depending on how tight you want your tolerances, but it certainly worked well for me.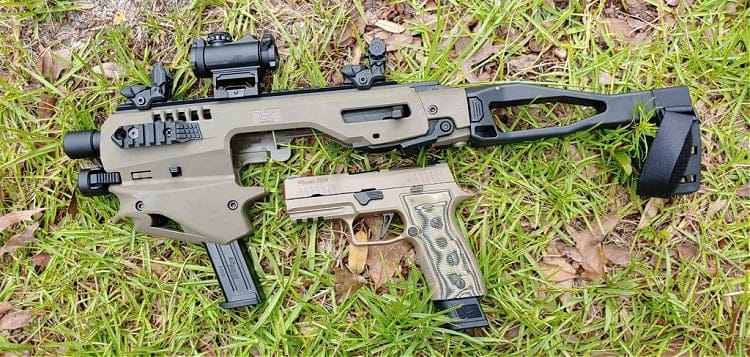 Popping your pistol into a CAA MCK is super simple. At the rear is a hinged door that opens to insert your firearm. You slide the pistol in and press it upwards into the charging handle, then slide it forward. It locks into your pistol's rail, you engage the gun door (see the video below), and bam, you're done.
All Sizes
The MCK series accommodate full-size and compact variants, and you might have to move the MCK's 'muzzle' back and forth to ensure proper fit. I chose the Sig Sauer P320 version, mostly because so many of the others I've seen were Glocks. I have the Sig Sauer AXG, and it's a non-standard frame. The hinged door required a little filing to make it fit properly — this would not have been required on a standard SIG P320.
In front of the pistol is an angled foregrip design. Famously, it friction-fits a spare magazine for a down and dirty reload. In front of that and below your barrel sits the light I mentioned. On the left and right, we have rails, and on top, we have a full-length optic rail with plenty of room for whatever optic you want to toss on it.
Slinging Lead With the CAA MCK
It took me a little time to get the AXG frame to fit, but once I did, it locked it super nice and was surprisingly stable.
No wiggle, no waggle. Once I locked in, I racked around and used the attached charging handle. It's interesting, but it works extremely well.
It fits into your slide serrations and does reciprocate. However, it never struck me or got in my way. I found the angled foregrip to be highly comfortable, and my hands fit around it perfectly. I got long arms, so the long brace makes sense to me. The brace locks to the side of the MCK and does prevent me from shooting the gun with the brace folded with my dominant hand.
The Sig AXG was already a soft shooting firearm, and when you add a lot more mass to it, it becomes even smoother. I'm a huge PCC guy and would say this is softer than a blowback-operated subgun.
Once I zeroed the red dot, I took full advantage of the extra range a subgun offers over a standard pistol. At 50 yards, I can hit a steel gong with a handgun most of the time. At 50 yards, my P320 equipped MCK hits the same gong every time with a higher rate of fire. That gong sang a song of ding, ding, ding if you know what I'm saying.
The tiny red dot barely moved between shots, and that makes it easy to unload quickly and accurately. The CAA MCK will improve your effective range, but don't expect it to necessarily give you sub-MOA groups. It's still a handgun inside a chassis, and it's not a precision weapon made for ranges outside of 50 yards.
Reloads and Uploads
I executed a few quick reloads with the forward-placed magazine and found it intuitive and ergonomic. Admittedly my practice of reaching to my belt for magazines took some effort to get away from. If I was using this thing for serious use, 'for operating,' as the kids say, this would be my emergency reload with my normal reloads on the belt or chest rig.
Admittedly, running the slide release is tricky. My sausage fingers can't reach the slide release well, so I would just use the charging handle. Locking the slide upwards is possible but not easy.
Your magazine release remains uninterrupted and easy to access.
What About Reliability?
The ejection port on the MCK is massive. There doesn't seem to be a way for the shell to get caught between the moving slide and stationary MCK. It never faltered or jammed through several hundred rounds of ammunition.
Downsides?
First, the lumens. This isn't a flashlight review, but the Olight SIR Baton and Olight's, in general, are not my choice for any serious use. I find them to be subpar weapon lights. The light claims 500 lumens, and it might have it, but the candela sucks. My smaller TLR 7 from Streamlight is brighter and has a better throw.
Second, After zeroing the red dot, doing a good bit of shooting, I put the MCK away. I removed the AXG to save room in the safe. On my second day of shooting, I noticed I was consistently hitting to the left, perhaps half an inch at 25 yards. My zero had shifted, and it wasn't a bad red dot because the iron sight zero was off as well.
I removed the gun and reinserted it, and bam, the zero shifted a little high and a little left. Whenever you remove the gun and reinsert it, you may have a slightly different position inside the MCK. In my experience, this results in a minor zero shift. That might not have been a problem had I been using a stock P320 instead of a frame they specifically advise isn't compatible, or it might have been impacted by a failure to engage the fun door. I dunno. Regardless, it's not a dealbreaker for me at all.

It's worth noting but a minor issue; just check to see if you have the same shift. If you can't afford another firearm, you want something easier to handle for home defense. It's something you'll have to account for in your planning.
Are You Down With CAA MCK?
The MCK from CAA is a ton of fun. They make your average everyday handgun look like a space gun. It's a slick and fun conversion that adds a little more edge to your standard pistol. It's a fun accessory, and when something makes me smile, I can't hate it. Do I need it? No, but do I want it?
Hell yeah I do.
Now I'm off to the range to shoot it.
MCK Installation Instructions
MCKSIG Micro Conversion Kit
For P320 full, compact, and carry.
Description via CAA.
This Micro Conversion Kit is a lightweight and sturdy platform for Sig Sauer handguns. It has a barrel shroud made of aluminum with a polymer body. The extended stabilizer, which now comes standard, enables one-handed firing for better shooting performance. It also comes with a Velcro® strap fastener which provides a custom fit to any user. MCK is the most cost effect conversion kit in the world. Fastest assembly/disassembly conversion kit on the market. Improving accuracy dramatically up to 200 yards. We are the exclusive licensee of the SB tactical stabilizer brace for the handgun conversion kits. Compatible with Sig Sauer p320.
Top Features:
No pistol disassembly required – Just place pistol into the kit, lock, and go
Allows for multiple handgun models into one platform
Ergonomic Finger Groove Grip for more stability
Top Picatinny rail, allowing a combination of sights and/or optics
Side Picatinny rails for mounting additional accessories, i.e… thumb-rests
Ambidextrous, fast and easy handling
Right-folding stock/arm brace for easy concealment and carry, locks in the folded position
Front spare magazine holder for a faster reload
Built-in charging handle allowing for quicker assembly/disassembly
Exposed slide release for direct contact and easier use
Allows for quicker assembly-disassembly
Perfect for safe action
Fits multiple handgun models
Easy concealment and carry
Perfect for law enforcement
MCK Measurements:
Width: 2.48
Height: 5.70
Length: 13.70
What is included in the Advanced Upgrade Kit:
Polymer-pair side rail thumb rests (MCKTHR)
Push button sling swivel (MCKPBSS)
One point sling (MCKOPS)
Flashlight that fits MCK & Micro Roni 17 / 19 chassis (MCKFL)
Polymer front flip-up sight (MCKFBUS),
Polymer front rear-up sight (MCKRBUS)