Do ya feel lucky, punk? Well, do ya? 'Cause it's your lucky day! If you're as much of a fan of the Auto Mag Classic Edition .44 AMP as Dirty Harry was, you can once again get your hands on one, now that these classics are back on the market.

Classics never die, but they can benefit from the occasional facelift. Such is the case with the reissue of the Auto Mag's Model D with an 8.5-inch barrel and available in High Polish or Brush Satin Finish. Grip-wise, you can choose either the Hogue G-10 or Hogue Checkered Wooden Grip. The gun comes with two 7-round magazines.
According to Auto Mag's website, this reissued gun didn't just get a clean-up and fresh polish. Thanks to five years of research and manufacturing upgrades, the new .44 AMP is "safer, stronger, more reliable, and metallurgically superior!" That's a pretty fancy word for us gun folks.
If you want to jump on the wagon early, Auto Mag is offering a pre-order special of $3,795. Keep in mind, you will not find these guns at your local gun store. Two reasons for that. First, this is a pre-order special, meaning they are still making the first batch of these guns. Second, each gun is handmade to your specs that you choose from the Auto Mag website, including polish choice and grip style. Once the gun is completed, it is shipped to the FFL of your choice. At press time, lead times for new guns were a minimum of 60 days out because of the individualized attention each one receives, including crafting and testing each serial number before it leaves.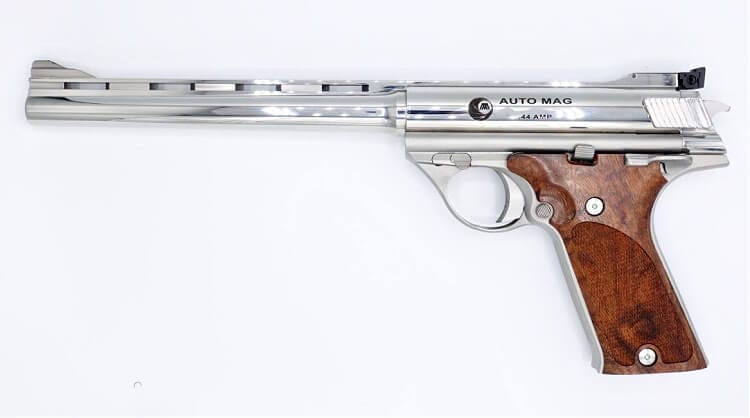 So far, the company has not announced a mass production run for this special firearm, so assume it won't be coming to a gun store near you any time soon.
For more information on this collector's edition firearm, visit Auto Mag's website.