The future of guns has arrived, and it's both cool and innovative. Arcflash Labs' EMG-02 Gauss Gun is a 10-stage, medium-voltage, capacitor-augmented, fully-automatic coil gun. Say that three times fast.
What the EMG-02 is, is a look at the possible future of computers and electronics in firearms. The EMG-02 has eight computer optically controlled stages and is made to fire ferromagnetic dowel pins between 6 and 8mm in diameter and 19 and 22mm in length.

Arcflash Labs released the following details of their EMG-02 coil gun:
Arcflash Labs, LLC, announces another milestone in the development of their handheld electromagnetic accelerators – an improved model with a more practical design, higher rate of fire and refined features, the EMG-02. The device is capable of delivering 266 Joules per second of energy on target (15 ft-lbs at 800 rds/min), doubling the output power of their last product the GR-1 "ANVIL" (100 Joules per second). This higher rate of fire allows for the EMG-02 to fill more practical applications in today's market.

The EMG-02 delivers similar muzzle energy to an air rifle, but with a much higher rate of fire. A high end pneumatic air rifle might be able to fire 20-50 shots before needing to re-pressurize. The EMG-02 can fire full auto, 18 rounds per magazine, and each battery stores enough charge for 300+ shots. No compressor required. The batteries can even be charged using inexpensive solar panels.

The key advantage of a Gauss Rifle over a firearm or air rifle is its versatility and independence – you can fire any magnetic projectile that fits inside the barrel, even ammunition fashioned from ordinary steel bolts. Gauss Rifles eliminate the user's reliance on mass produced ammunition, expensive air compressors, or complex/ dangerous reloading equipment. They also have very low recoil, allowing for high accuracy at short range (20-60 feet).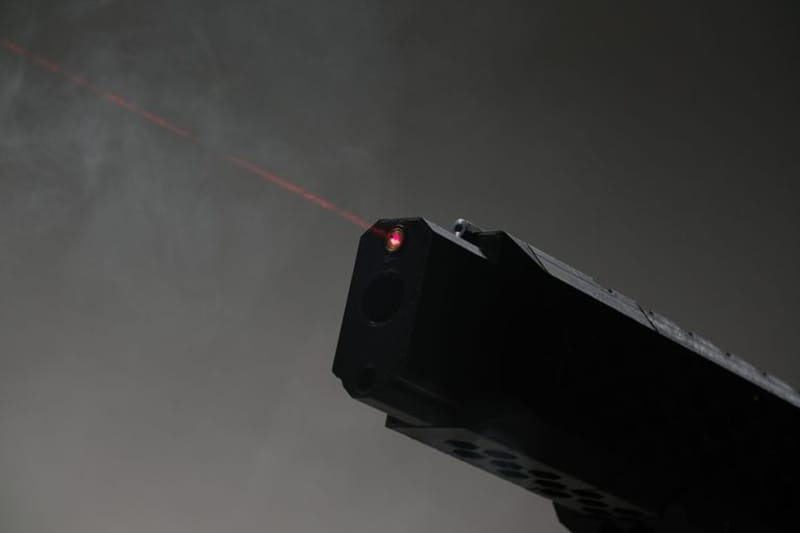 David Wirth, a co-founder of Arcflash Labs, told the media "with this new product, we're hoping to shake up a market traditionally dominated by air rifles." The other co-founder of Arcflash Labs, Jason Murray, stated: "It's the best design we've come up with yet."
Check out this video of the EMG-02:
Interested? Arcflash shared some details of the EMG-02:
NOW AVAILABLE FOR PRE-ORDER – Batch 1 ETA 15 December 2022
Lead time: approx. 4-6 months
For more information, please visit our new shipping table.

ALPHA PRODUCTION VERSION
– Full liability waiver *may* be required of end user prior to shipment
– Unit ships with one (1) EMG-02 gun, one (1) hard carrying case, one (1) battery pack, one (1) battery charger, one (1) 15-round magazine (MG15A), as well as ten (10) 51634 armatures.
MSRP for the Arcflash Labs EMG-02 is currently listed as $2515.50.
What do you guys think? Would you want a coil gun? Tell us what you think, and what you'd like to see from guns down the road, in the comments section.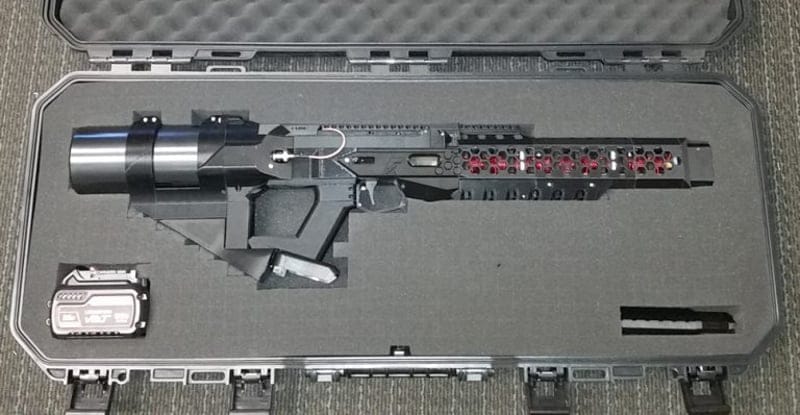 Coil Gun Specifications
Accelerator Specifications
| | |
| --- | --- |
| Primary power source | 1x 15S LiIon – 63V |
| Power supply | Proprietary (11kW) |
| Capacitors | 1x MV electrolytic |
| Switches | Proprietary (IGBT-based) |
| Projectile | variable caliber, alloy steel, 4.6-8.5g |
| Magazine Capacity | 15-18 rounds |
| Battery Capacity | Up to 300 shots per battery |
| Rate of fire | 8.0 rounds/sec (auto) 13 rounds/sec (burst) |
| Muzzle velocity | Up to 75 m/s |
| Muzzle energy | Up to 20J |
| Efficiency | 4.45% |
Physical Dimensions
| | |
| --- | --- |
| Barrel length | 13.0" |
| Bore | 0.32" |
| Physical Dimensions | 32.5" x 9.0" x 4.5" |
| Overall Weight (unloaded, no battery) | 9.7 lbs |