Winchester Model 1886 in 45-90 Win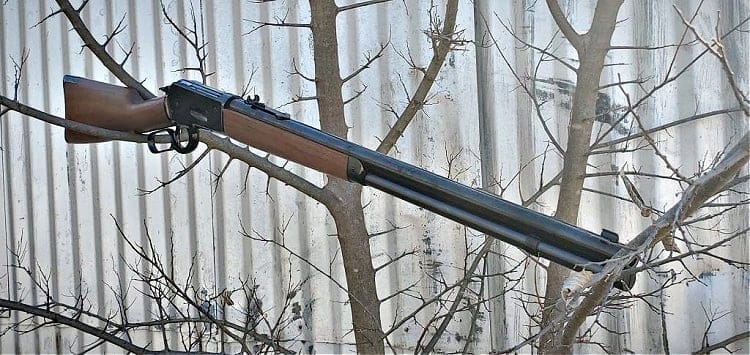 There is a permeating belief in the gun world that certain firearm platforms are superior to others. AR trumps shotgun, shotguns are better than bolts, and so on. One of the commonly overlooked platforms is the lever-action rifle, and it's a shame. Lever-actions rock. Not only do they hold a legit place for usefulness, but they also have historical significance. For example, the creation of the Winchester Model 1886 marked a turning point in firearms and even today it continues to be an excellent lever to add to your collection.
Read on to find out how it impacted history and why it's relevant today.
History
Wandering off into the historical weeds is a favorite pastime of mine. In this case, it might be even more enjoyable thanks to the gun in question. Levers are the guns that won the Old West and the 1886, specifically, was designed to win wars and drop dangerous game (which it did and does).
As its model name suggests, the Winchester 1886 began production in 1886 as an updated and improved version of the old Model 1876. It was designed by John Browning and manufactured by Winchester Repeating Arms Company (of course).
The 1886 was a more durable and reliable model thanks to changes such as a better locking-block and a nickel-steel barrel, the latter of which was used for smokeless powder cartridges. It was chambered in bigger calibers, too, starting with the 45-70 Gov't and moving on to 45-90 and 50-110 Express. Nearly two decades after its creation, it was chambered in .33 WCF, and then two decades after that it was offered in .348 Winchester. Eventually, 32-gauge shotshell was available by special order.
This model lever was used in the Spanish-American War and also early in World War I chambered in 45-90 Sharps. Apparently, it was needed in World War I so it could be loaded with incendiary ammunition to target airships. That order was placed by Great Britain and the guns were issued to gunners who used the levers to shoot hydrogen gas-filled German zeppelins.
Nothing says badass like using a 45-90 lever-action to set zeppelins on fire.
The Winchester Model 1886 was manufactured from1886 to 1935 when it was discontinued. Luckily for us, it's now back courtesy of Winchester. I was fortunate enough to get my hands on a model chambered in 45-90.
Winchester Model 1886 Details
Right out of the box the Winchester 1886 Short Rifle is a beautiful gun. The stock and forearm are made using Grade I walnut with a well-done satin finish and the receiver, lever, forearm cap, and buttplate are blued.
It ships with a Marble Arms front sight and adjustable rear sight. Originally this model was made to handle the 45-70 cartridge but it was eventually chambered in 45-90 Win.
The Model 1886 45-90 has a 24-inch steel barrel with a Sporter contour and brushed polish finish. Its overall length is 43 inches and it has an empty weight of 8 pounds, 6 ounces.
The recoil pad is the classic curved style and made from crescent metal in keeping with the original design. This gun has a basic, clean design with no engraving or checkering (personally, I like it this way). Tubular magazine capacity is 8 rounds.
Range Day
My first impression of the 1886, aside from its pleasing aesthetic appearance, was that it's a reasonably well-balanced lever-action. With a 13 ¼-inch length of pull, it's a good fit for my arms and the straight grip stock provides a solid cheek weld.
Stock
The one downside to sticking to its classic design is those aforementioned crescent points on the stock. Those will absolutely jab you in the shoulder to some degree so if you're considering shooting the gun at some length keep those contact points in mind. Shouldering the gun securely will only get you so far.
Safety
There's a tang safety on the Winchester 1886, the handiness of which depends on personal taste. If you're used to cross-bolt safeties don't worry, it doesn't take too much time to become accustomed to a tang safety.
The original Winchester Model 1886 didn't have this feature but it only makes sense that it's been added to the modern-day model.
Trigger
The trigger has a clean break and fairly short reset. You'll have no trouble running this rifle quickly.
Sights
Recoil
Recoil is probably at the front of your mind so let's get that out of the way.
The Winchester 1886 in 45-90 does have noticeable felt recoil because it is, after all, a lever-action chambered in a hefty cartridge. That felt recoil isn't problematic, though.
This is where shouldering the rifle properly and maintaining a solid shooting stance matters. As long as those bases are covered you'll be fine. Felt recoil is best described as manageable.
Ballistics
Ballistically the 45-90 Win is the perfect round for hunting large game. Depending on the load you can exceed 4,000 foot-pounds of muzzle energy. It's a great cartridge for deer hunting but it's worth remembering you're not just going to shoot the deer, you're going to blow a substantial wound cavity in its vitals.
If meat preservation is of the utmost importance to you, levers are probably not going to be your thing for deer. That said, they do get the job done handily and are fun to hunt with.
Greg Mead of Mead Industries provided the bulk of the ammunition used in my Winchester Model 1886 45-90. In fact, this review came to be because of his own interest in the cartridge. This was a case of the ammunition coming before the firearm and I'm glad he piqued my own curiosity.
Mead's loads are 45-90 300 grain RNFPs. This cartridge can be difficult to come by so aside from suggesting you go through Mead Industries I suggest this gun makes a great case for the need to handload your ammunition.
With its button-rifled barrel and recessed crown, the 1886 is an accurate rifle. Seated at the bench from a distance of 100 yards the 1886 loaded with Mead Industries 45-90 300 grain RNFP delivered average 5-shot groups of 3.6-inches. You'll have no trouble dropping deer—or hogs, bears, or what-have-you—with this rifle.
How Practical is a Lever Action Rifle?
If you think that lever-action sitting in your safe is only good for a lazy walk in the woods, guess again.
Heavy bullets and big chamberings make levers viable options for hunting, but they will also work for home defense and as truck guns. Levers have just as much use for defense of self as any other gun out there.
And, if you're facing the obvious guns-and-ammo shortage by willfully ignoring the levers in your collection or available on the racks of your local gun store—you're missing out.
These are well-made platforms and can in fact be run quickly and accurately in practiced hands. There's no reason to work that lever clumsily and slowly. Get some practice in and you'll discover just how fast it can be.
One key to loving levers is understanding their limitations.
Guns like the 1886 in 45-90, or 45-70, are capable but do not have incredible range. The bullets drop quickly leaving you with an effective range of approximately 150 yards. You may be able to push past that to around 200 yards depending on the load.
Just like with any gun you must be familiar with the drift and drop of your rifle with its specific ammunition. Adding a scope such as the Skinner Optics 1-6×24 scope is highly recommended to improve range and accuracy.
The reason I'm naming the Skinner scope specifically is because the owner of the company, Andy Larsson, is well-versed in lever-actions. He knew how to design a slim scope with a broad field of vision to suit their design. There are other options available but consider taking a moment to check out the Skinner Optics 1-6. This model is not drilled and tapped for a scope so you'll need to have that done by a competent gunsmith before properly mounting an optic.
Winchester Model 1886 Review: 10/10
Yes, 10/10 I recommend the Winchester 1886 in 45-90.
Having levers in your collection not only broadens your firearm skills but also expands the possibilities in a market where the uber-popular calibers are all but impossible to come by. (Again, get on the handloading and reloading, guys.)
This is a well-made, quality lever-action rifle that's proven itself to be reliable and accurate. The biggest drawback is that crescent stock but that's the classic design and comes with the territory.
No, you're not going to get mind-blowing sub-half-MOA precision out of a lever, but who cares? This gun performs well, impacts targets accurately, and hits hard enough to get the job done and then some.
If you're not so sure of the chambering, Winchester also offers it in 45-70 Gov't—which just might be my favorite lever cartridge in existence.
Don't make the mistake of dismissing the lever-action rifle for personal defense. It would be a tragic error to discount their efficacy when your life or the lives of your loved ones are on the line.
Winchester Model 1886 Specifications
•Caliber: 45-90 Win
•Barrel length: 24 inches
•Overall length: 43 inches
•Length of pull: 13 ¼ inches
•Drop at comb: 1 ¼ inches
•Drop at heel: 2 inches
•Weight: 8 pounds, 6 ounces, empty
•Magazine capacity: 8 rounds
•Twist rate: 1-in-20
•Barrel Finish: Brushed Polish
•Stock finish: Satin
•Wood Grade: Grade I Walnut
•Receiver finish: Brushed Polish
•Chamber finish: Polished
•Barrel: Steel
•Barrel contour: Sporter
•Recoil pad: Crescent Metal
•Pistol Grip Cap: None
•Checkering: None
•Engraving: None
•Sling Swivel Studs: None
•Receiver Material: Steel
•Trigger finish: Brushed Polish
•Bolt slide finish: Brushed Polish
•Magazine: Full-length tube
•Trigger material: Steel
•Trigger guard material: Steel
•Trigger Guard Engraving: None
•Drilled and Tapped: No
•MSRP: $1399.99

Kat Ainsworth Stevens is a long-time outdoor writer, official OGC (Original Gun Cognoscenti), and author of Handgun Hunting: a Comprehensive Guide to Choosing and Using the Right Firearms for Big and Small Game. Der Teufel Katze has written for a number of industry publications (print and online) and edited some of the others, so chances are you've seen or read her work before, somewhere. A woman of eclectic background and habits, Kat has been carrying concealed for over two decades, used to be a farrier, and worked for a long time in emergency veterinary medicine. She prefers big bores, enjoys K9 Search & Rescue, and has a Master's Degree in Pitiless Snarkastic Delivery.