Building a tactical lever-action rifle. You can do it with the Midwest Industries Marlin MLOK handguard, one of the Henry X lever guns, a Henry Long Ranger, even a Mare's Leg — though like the Tac-14 vs. a Remington 870 it's not going to be as effective as a Henry Big Boy X Model or Big Boy Steel Side Gate. As I see it (though I'm biased), the question isn't whether you could or even should build a tactical lever action, it's a question of how soon can you do it? Below you'll find a collection of opinions on the "tactical lever action", from how to build one yourself, to after-market accessories you might take advantage of, to reviews of particularly well-liked rifles and carbines. Editor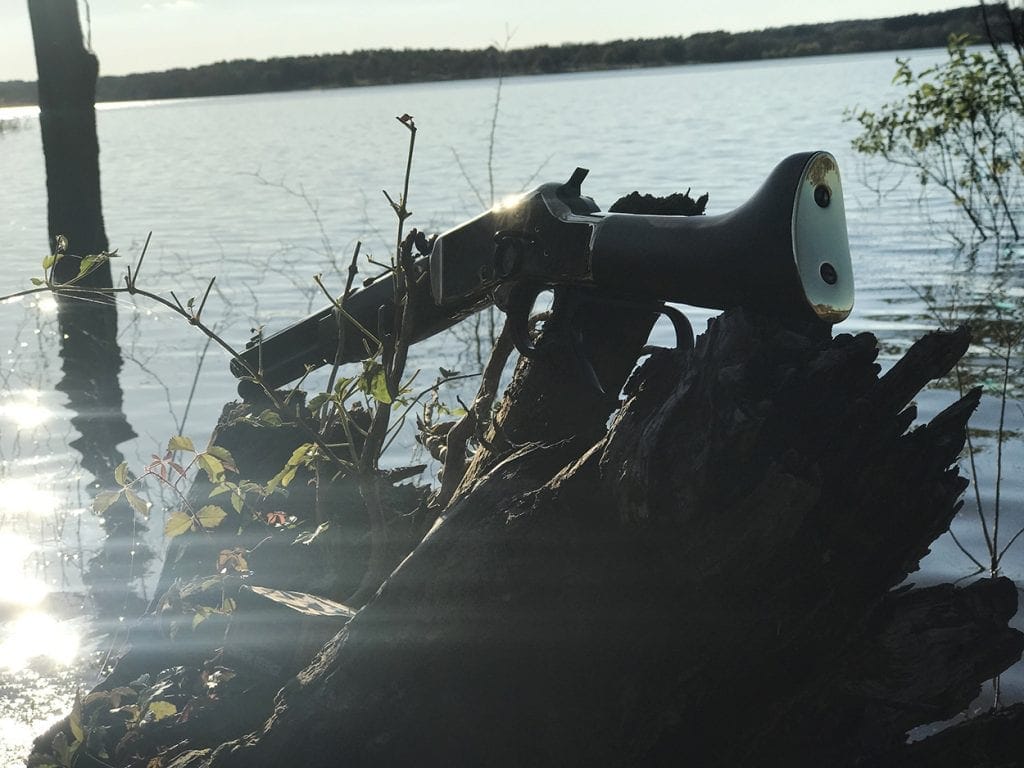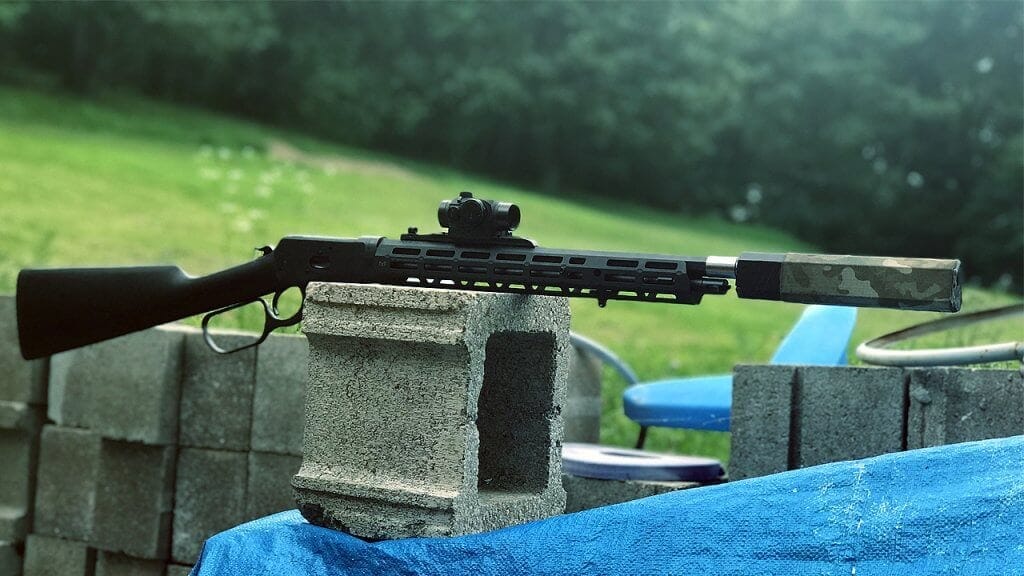 Building a Tactical Lever Action Rifle
Nick Chen
The lever gun was, back in the day, much like the AR-15 is today. Everyone had one to defend their home and land. We see people today still use them as hunting rifles or, in the case of Cowboy Action Shooting matches, they are used in competition. However, the lever-action rifle design has largely remained stagnant. There has not — until recently — been a way to accessorize one that works well.
Lately, however, some people have been making tactical lever-action rifles with the Midwest Industries MLOK handguard.
Tactical Lever Action Rifles: Early Versions
Mossberg released their Tactical 464 SPX several years ago. They took their 464 lever action and added a railed handguard as well as an AR-15 style carbine stock for adjustable length of pull and threaded the barrel.

The 464 SPX has undergone a slight change with the handguard. It no longer comes with the cheese grater tri-rail. As you can see from the stock image below, the handguard rails have been greatly reduced to just a few slots near the front end of the handguard.
While this ticks all the boxes as a "tactical lever action rifle" it was not widely adopted. I did not see Marlin or Henry Repeating Arms running to make a similar gun.
Midwest Industries To The Rescue
Midwest Industries designed an M-Lok handguard for the Marlin 1895. When used on the Marlin 336, you get something better looking and more functional than the Mossberg 464 SP. Although you do lose the length of pull adjustability. But do you see something that the Marlin does that the Mossberg can't? The top Picatinny rail for optics. That was the biggest problem with the Mossberg. Sure you could get the right set of rings and scope but the Marlin 336 allows you to attach any optic of your choosing. Red dots seem to work the best on a lever action rifle.
The success of the Marlin MLOK handguard led Midwest to make a similar handguard for the Henry Repeating Arms lever guns however it is significantly more complex to install. While the Marlin handguard takes at most 10 minutes with simple tools, the Henry handguard almost requires a competent gunsmith. Below is a concept gun by Henry called the X1.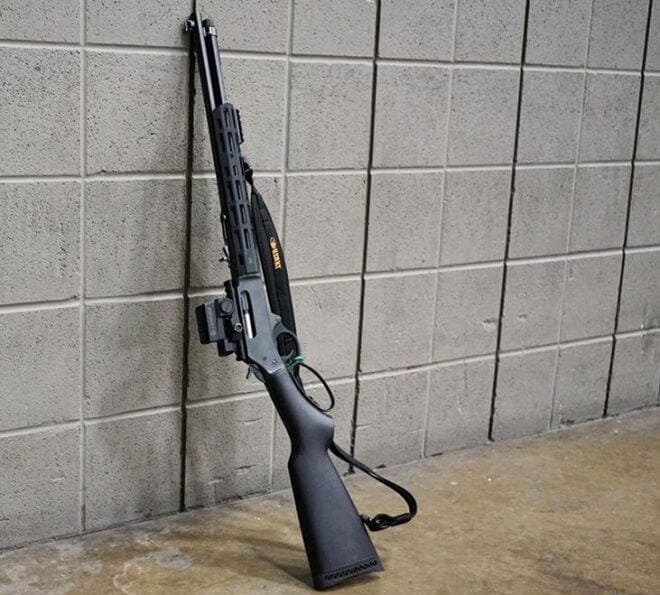 I Made My Own
Some people have gone the extra mile and modified their guns, or in this case handguards as well, to get a certain look and feel out of their rifle. Phil Rock aka @bufallodiller SBR'd his Marlin 1894 and threaded the barrel so he could suppress it with a SilencerCo Osprey45. The handguard was modified. He had to cut an inch off near the back of the handguard and reweld it back up. You can't even tell anything happened.
Inspired by this build I tried to make one myself. Taylor's Firearms offered up their 1892 Alaskan. This is a take down lever action rifle with short optic rail.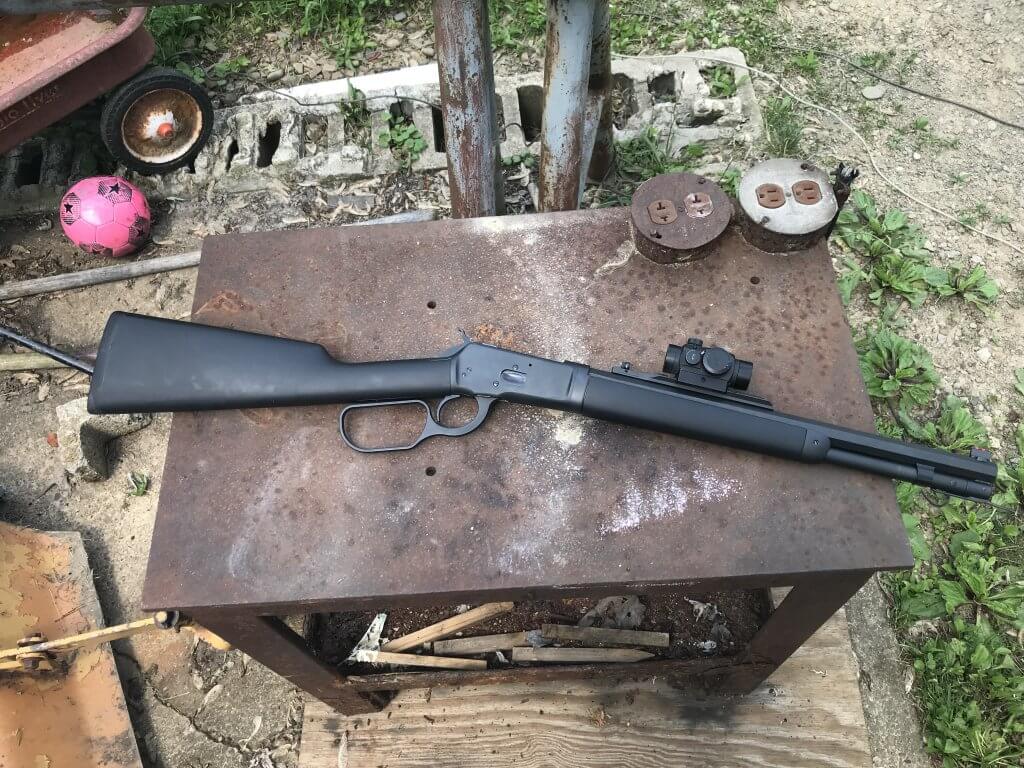 In order to take the barrel off the receiver, you have to flip open the locking lever on the end of the magazine tube. Unscrew the magazine tube until it is free and then pull it out about half an inch. The barrel has interrupted threads so you can rotate the barrel assembly 90 degrees and it will separate from the receiver. I wish the magazine tube also had interrupted threads, then I wouldn't have to unscrew the entire tube. Just a quarter circle turn and out it comes.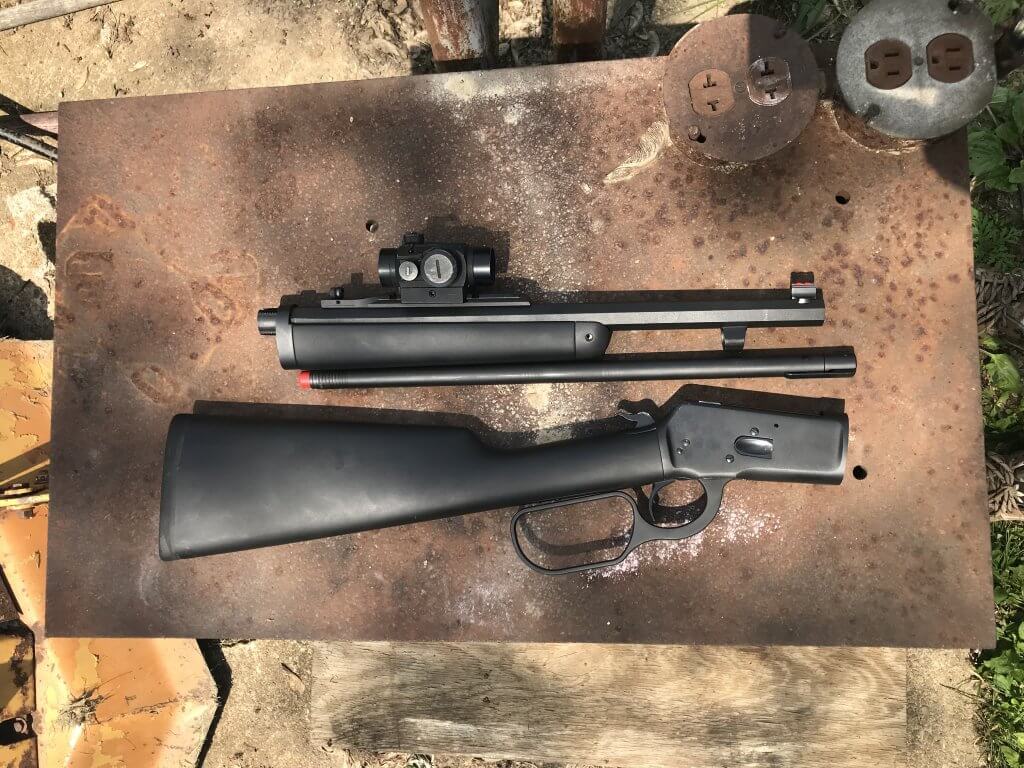 This 1892 Alaskan is chambered in .44 Rem Magnum so I could suppress it with my Osprey 45. The barrel is only 16″ but that length is needed for suppressing .44mag. If the barrel was shorter, the pressure of the cartridge would be too much for the Osprey45.
The 1892 Alaskan is not like the Marlin 1894. It has similarities but attaching the handguard required gunsmithing. I acquired the help of my friend Keith and his machine shop. The first challenge was attaching the handguard since the attachment points do not line up the same as they do on a Marlin. This was a simple matter of just drilling two new holes that line up with the factory mounting point on the 1892 barrel.
Then we tackled the rear of the handguard and how it interfaces with the 1892 barrel end cap. The endcap had three set screws installed on the inside. I am not sure what they are for but they dont go all the way through so they only interact with the rear of the factory handguard. Maybe there are there to take up any slack in the handguard? Well we removed them and inserted longer set screws. Keith then milled corresponding pockets in the Midwest Industries handguard. So now the handguard plugs into those three elongated set screws.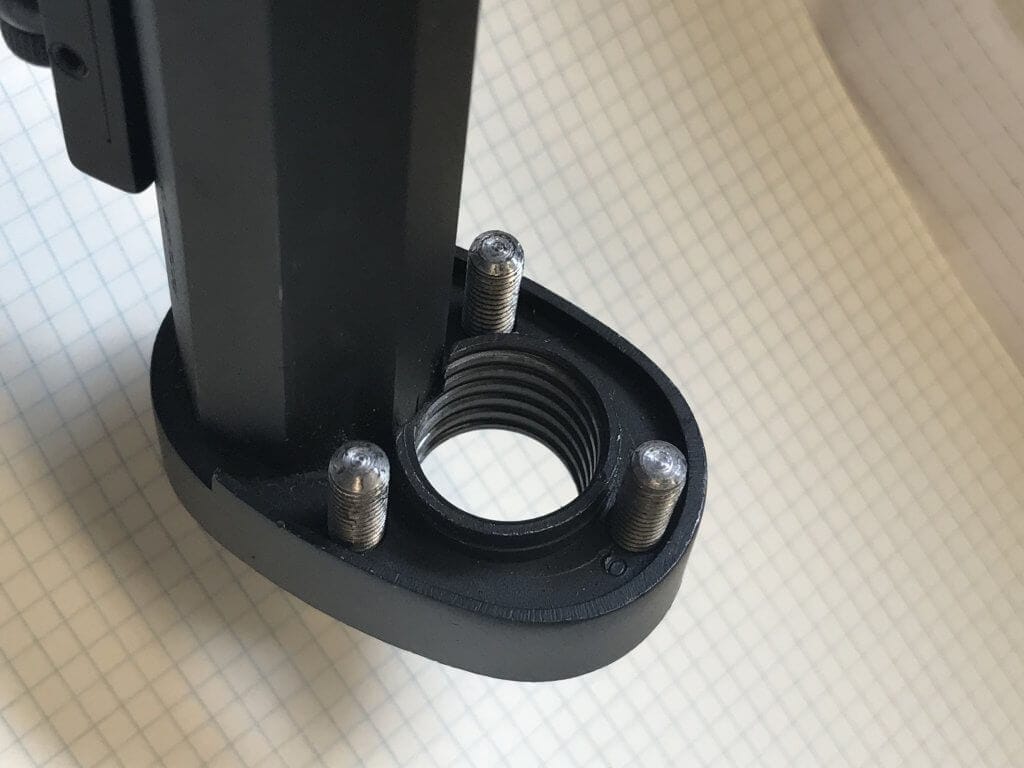 Below you can see the factory mounting hole just above the sling mount on the side of the handguard. As you move a little bit rearward along the handguard, you can see the new screw position that bolts to the barrel attachment point.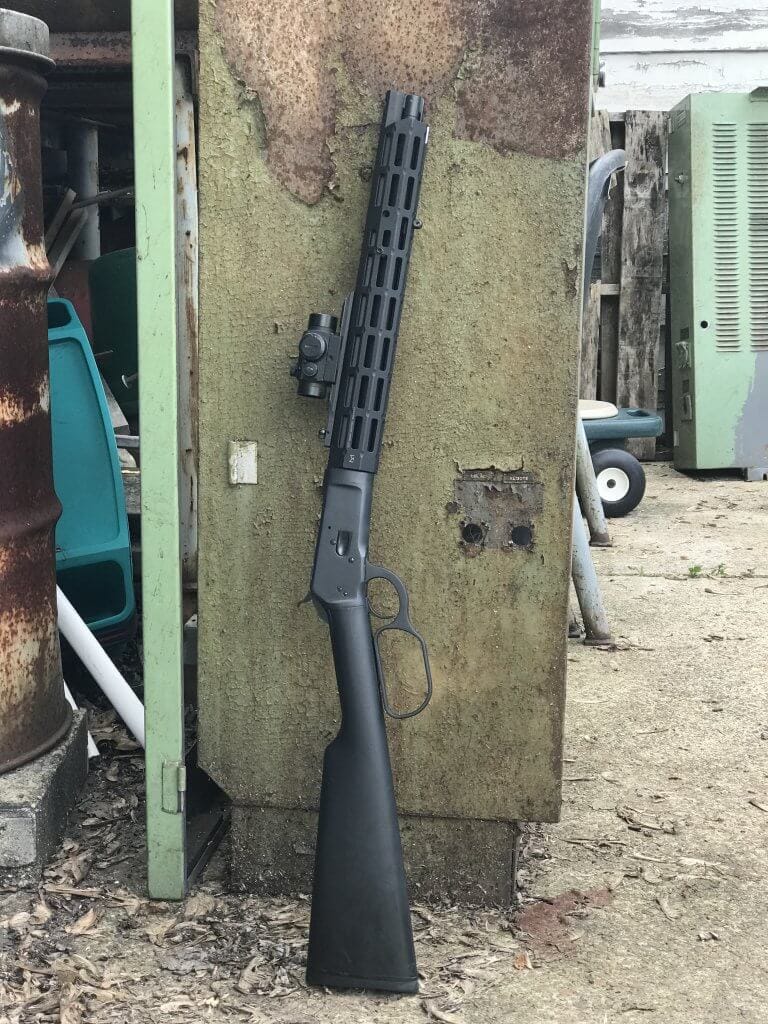 I had Keith cut open the first MLOK slot on the bottom of the handguard near the muzzle so I can lift the locking lever of the magazine tube and remove it to take down the rifle.
Next up was to thread the barrel. This is a little more difficult. I couldn't simply thread the barrel since the muzzle in flush with the magazine tube. The locking lever of the magazine tube actually indexes with an indentation on the bottom of the barrel. The other issue is that I will have to sacrifice the front sight. Since I will be exclusively shooting this with a red dot, I was fine with losing my front sight.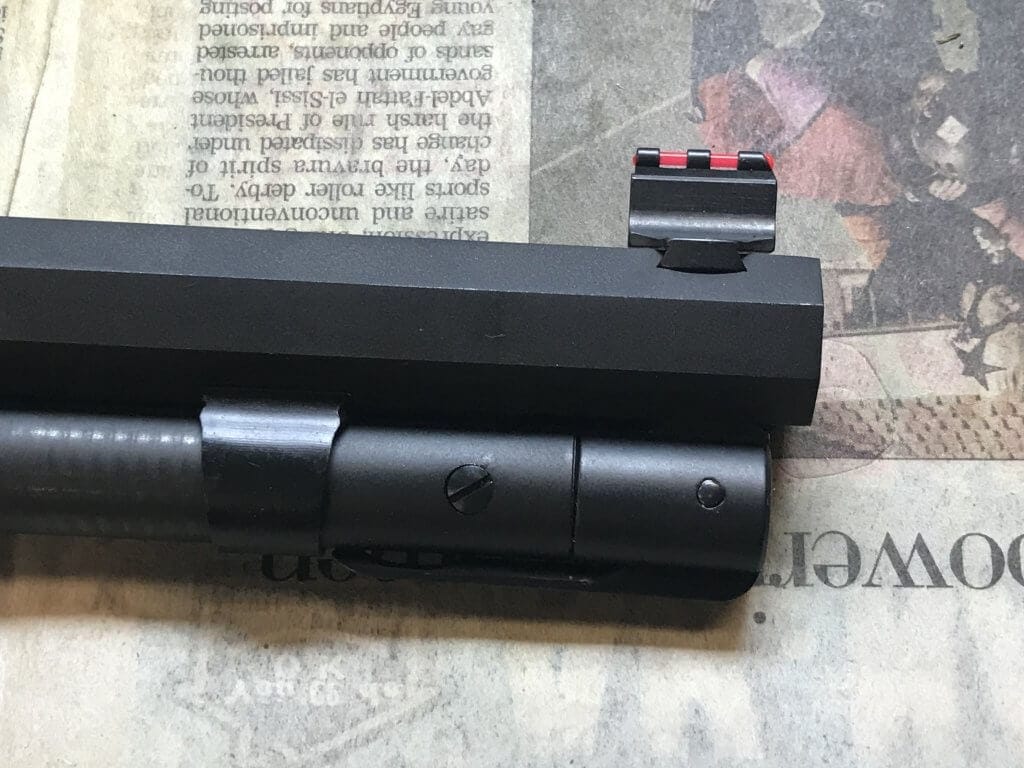 With the suppressor, the 1892 Alaskan is pleasant to shoot. Besides the fact that it is now hearing safe to shoot without earplugs or earmuffs, the Osprey45 actually helps to reduce recoil. I have never really noticed recoil reduction before on pistol caliber rifles or even while suppressing a 12ga shotgun or rifle in either 5.56 or .308.
However, I tried this setup with and without the suppressor and there was a remarkable reduction thanks to the suppressor.
I am very pleased with how this setup ended up. Not only do I have cooler looking rifle, it feels more ergonomic to hold the handguard further out toward the muzzle. I can add lights and lasers or even a bipod now. And of course, shooting suppressed is significantly more pleasant than unsuppressed. The only things I would change would be the make the magazine tube threads be interrupted so I don't have to unscrew the whole thing to take down the rifle. I would also like a Magpul SGA-style stock rather than the old-timey stock it has now.
Also, I would like it if the loading port was on the left-hand side of the receiver rather than on the right. That way I don't have to remove my shooting hand from the grip just to load the rifle.
However, a lot of those modifications are a lot more complicated and not something Keith or I could manage to do.
NC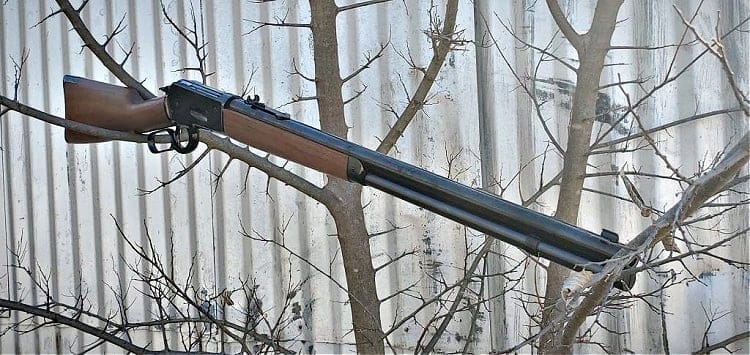 Winchester Model 1886 in 45-90 Win
Kat Ainsworth Stevens
There is a permeating belief in the gun world that certain firearm platforms are superior to others. AR trumps shotgun, shotguns are better than bolts, and so on. One of the commonly overlooked platforms is the lever-action rifle, and it's a shame. Lever-actions rock. Not only do they hold a legit place for usefulness, but they also have historical significance. For example, the creation of the Winchester Model 1886 marked a turning point in firearms and even today it continues to be an excellent lever to add to your collection.
Read on to find out how it impacted history and why it's relevant today.
Note for the purists: Is this the best option for a tactical lever-action rifle or lever action for home defense? Not in the context of the common vernacular, but a more "tactical" capability (e.g. faster reloads, the potential use of an optic, etc.) can be readily achieved with very little work. The following overview is to help you make an informed decision about your particular choice of lever gun.
History
Wandering off into the historical weeds is a favorite pastime of mine. In this case, it might be even more enjoyable thanks to the gun in question. Levers are the guns that won the Old West and the 1886, specifically, was designed to win wars and drop dangerous game (which it did and does).
As its model name suggests, the Winchester 1886 began production in 1886 as an updated and improved version of the old Model 1876. It was designed by John Browning and manufactured by Winchester Repeating Arms Company (of course).
The 1886 was a more durable and reliable model thanks to changes such as a better locking-block and a nickel-steel barrel, the latter of which was used for smokeless powder cartridges. It was chambered in bigger calibers, too, starting with the 45-70 Gov't and moving on to 45-90 and 50-110 Express. Nearly two decades after its creation, it was chambered in .33 WCF, and then two decades after that it was offered in .348 Winchester. Eventually, 32-gauge shotshell was available by special order.
This model lever was used in the Spanish-American War and also early in World War I chambered in 45-90 Sharps. Apparently, it was needed in World War I so it could be loaded with incendiary ammunition to target airships. That order was placed by Great Britain and the guns were issued to gunners who used the levers to shoot hydrogen gas-filled German zeppelins.
Nothing says badass like using a 45-90 lever-action to set zeppelins on fire.
The Winchester Model 1886 was manufactured from 1886 to 1935 when it was discontinued. Luckily for us, it's now back courtesy of Winchester. I was fortunate enough to get my hands on a model chambered in 45-90.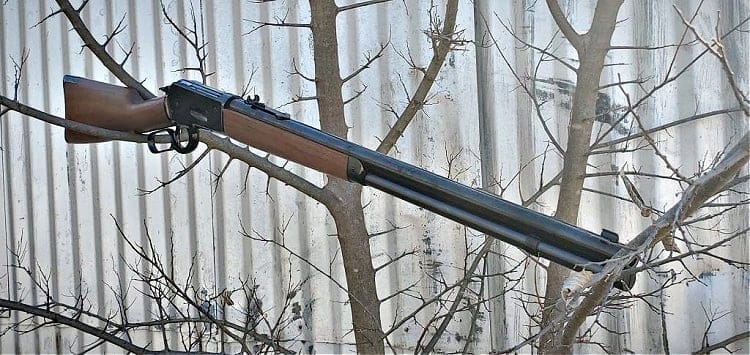 Winchester Model 1886 Details
Right out of the box the Winchester 1886 Short Rifle is a beautiful gun. The stock and forearm are made using Grade I walnut with a well-done satin finish and the receiver, lever, forearm cap, and buttplate are blued.
It ships with a Marble Arms front sight and adjustable rear sight. Originally this model was made to handle the 45-70 cartridge but it was eventually chambered in 45-90 Win.
The Model 1886 45-90 has a 24-inch steel barrel with a Sporter contour and brushed polish finish. Its overall length is 43 inches and it has an empty weight of 8 pounds, 6 ounces.
The recoil pad is the classic curved style and made from crescent metal in keeping with the original design. This gun has a basic, clean design with no engraving or checkering (personally, I like it this way). Tubular magazine capacity is 8 rounds.
Winchester 18-86 Range Day
My first impression of the Winchester 1886, aside from its pleasing aesthetic appearance, was that it's a reasonably well-balanced lever-action. With a 13 ¼-inch length of pull, it's a good fit for my arms and the straight grip stock provides a solid cheek weld.
Stock
The one downside to sticking to its classic design is those aforementioned crescent points on the stock. Those will absolutely jab you in the shoulder to some degree so if you're considering shooting the gun at some length keep those contact points in mind. Shouldering the gun securely will only get you so far.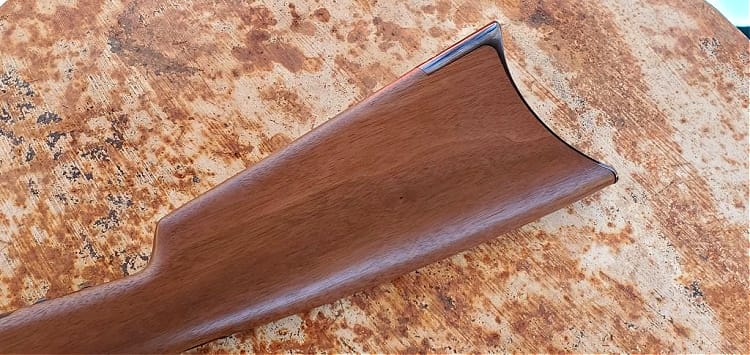 Safety
There's a tang safety on the Winchester 1886, the handiness of which depends on personal taste. If you're used to cross-bolt safeties don't worry, it doesn't take too much time to become accustomed to a tang safety.
The original Winchester Model 1886 didn't have this feature but it only makes sense that it's been added to the modern-day model.
Trigger
The trigger has a clean break and fairly short reset. You'll have no trouble running this rifle quickly.
Sights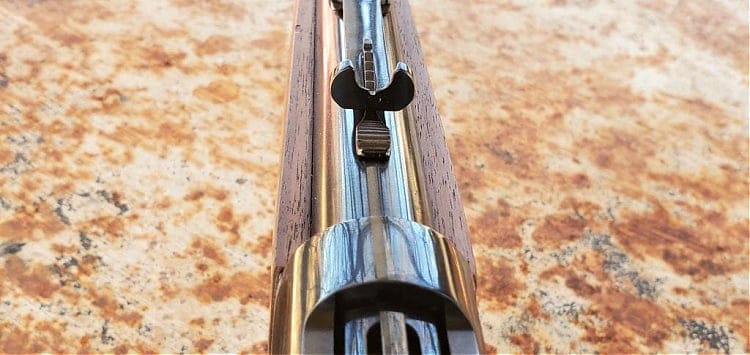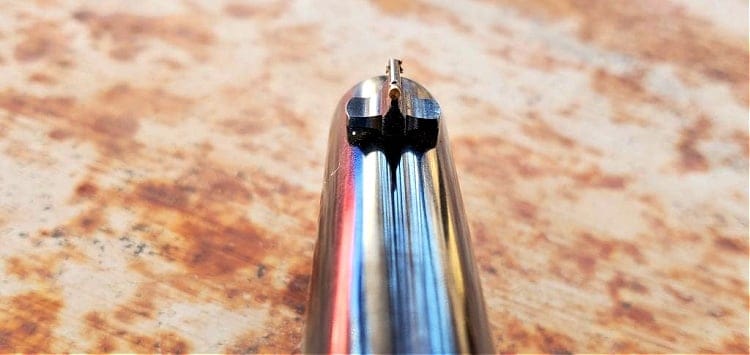 Recoil
Recoil is probably at the front of your mind so let's get that out of the way.
The Winchester 1886 in 45-90 does have noticeable felt recoil because it is, after all, a lever-action chambered in a hefty cartridge. That felt recoil isn't problematic, though.
This is where shouldering the rifle properly and maintaining a solid shooting stance matter. As long as those bases are covered you'll be fine. Felt recoil is best described as manageable.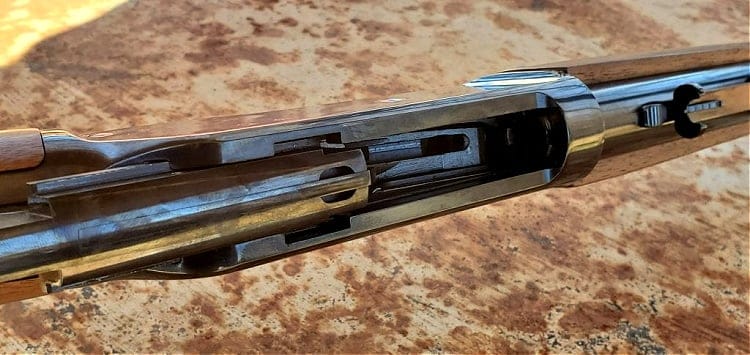 Ballistics
Ballistically the 45-90 Win is the perfect round for hunting large game. Depending on the load you can exceed 4,000 foot-pounds of muzzle energy. It's a great cartridge for deer hunting but it's worth remembering you're not just going to shoot the deer, you're going to blow a substantial wound cavity in its vitals.
If meat preservation is of the utmost importance to you, levers are probably not going to be your thing for deer. That said, they do get the job done handily and are fun to hunt with.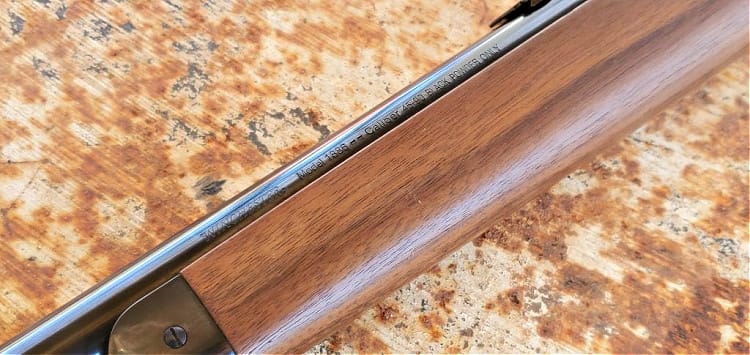 Greg Mead of Mead Industries provided the bulk of the ammunition used in my Winchester Model 1886 45-90. In fact, this review came to be because of his own interest in the cartridge. This was a case of the ammunition coming before the firearm and I'm glad he piqued my own curiosity.
Mead's loads are 45-90 300 grain RNFPs. This cartridge can be difficult to come by so aside from suggesting you go through Mead Industries I suggest this gun makes a great case for the need to handload your ammunition.
With its button-rifled barrel and recessed crown, the 1886 is an accurate rifle. Seated at the bench from a distance of 100 yards the 1886 loaded with Mead Industries 45-90 300 grain RNFP delivered average 5-shot groups of 3.6-inches. You'll have no trouble dropping deer—or hogs, bears, or what-have-you—with this rifle.
How Practical is a Lever Action Rifle?
If you think that lever-action sitting in your safe is only good for a lazy walk in the woods, guess again.
Heavy bullets and big chamberings make levers viable options for hunting, but they will also work for home defense and as truck guns. Levers have just as much use for defense of self as any other gun out there.
And, if you're facing the obvious guns-and-ammo shortage by willfully ignoring the levers in your collection or available on the racks of your local gun store—you're missing out.
These are well-made platforms and can in fact be run quickly and accurately in practiced hands. There's no reason to work that lever clumsily and slowly. Get some practice in and you'll discover just how fast it can be.
One key to loving levers is understanding their limitations.
Guns like the 1886 in 45-90, or 45-70, are capable but do not have incredible range. The bullets drop quickly leaving you with an effective range of approximately 150 yards. You may be able to push past that to around 200 yards depending on the load.
Just like with any gun you must be familiar with the drift and drop of your rifle with its specific ammunition. Adding a scope like the Skinner Optics 1-6×24 scope is highly recommended to improve range and accuracy.
The reason I'm naming the Skinner scope specifically is that the owner of the company, Andy Larsson, is well-versed in lever-actions. He knew how to design a slim scope with a broad field of vision to suit their design. There are other options available but consider taking a moment to check out the Skinner Optics 1-6. This model is not drilled and tapped for a scope so you'll need to have that done by a competent gunsmith before properly mounting an optic.
Winchester Model 1886 Review: 10/10
Yes, 10/10 I recommend the Winchester 1886 in 45-90.
Having levers in your collection not only broadens your firearm skills but also expands the possibilities in a market where the uber-popular calibers are all but impossible to come by. (Again, get on the handloading and reloading, guys.)
This is a well-made, quality lever-action rifle that's proven itself to be reliable and accurate. The biggest drawback is that crescent stock but that's the classic design and comes with the territory.
No, you're not going to get mind-blowing sub-half-MOA precision out of a lever, but who cares? This gun performs well, impacts targets accurately, and hits hard enough to get the job done and then some.
If you're not so sure of the chambering, Winchester also offers it in 45-70 Gov't—which just might be my favorite lever cartridge in existence.
Don't make the mistake of dismissing the lever-action rifle for personal defense. It would be a tragic error to discount their efficacy when your life or the lives of your loved ones are on the line.
Winchester Model 1886 Specifications
Caliber: 45-90 Win
Barrel length: 24 inches
Overall length: 43 inches
Length of pull: 13 ¼ inches
Drop at comb: 1 ¼ inches
Drop at heel: 2 inches
Weight: 8 pounds, 6 ounces, empty
Magazine capacity: 8 rounds
Twist rate: 1-in-20
Barrel Finish: Brushed Polish
Stock finish: Satin
Wood Grade: Grade I Walnut
Receiver finish: Brushed Polish
Chamber finish: Polished
Barrel: Steel
Recoil pad: Crescent Metal
Pistol Grip Cap: None
Checkering: None
Engraving: None
Sling Swivel Studs: None
Receiver Material: Steel
Trigger finish: Brushed Polish
Bolt slide finish: Brushed Polish
Magazine: Full-length tube
Trigger material: Steel
Trigger guard material: Steel
Trigger Guard Engraving: None
Drilled and Tapped: No
MSRP (as of this writing): $1399.99
Kat Ainsworth
Henry Long Ranger
A .223 option mag-fed option for your tactical lever-action rifle build
David Higginbotham
The Henry name is synonymous with lever-actions. Almost all of their guns are tube-fed and highly traditional in their design. The Long Ranger line, though, changed the game for Henry.
Henry fans long clamored for a gun that could offer more reliable long-range accuracy, and one that was faster to load, and the company responded with the Henry Long Ranger.
See what they did there?
Henry Long Ranger
The Long Ranger line is, as its name implies, meant for long-range shooting. Most of them, anyhow (more on that in a moment). With no magazine tube hanging off the barrel, the gun is free to move as it wants. Free floated barrels typically offer much more in the way of long-range accuracy than barrels that are bound up by gas tubes or mag tubes, so the Long Ranger has that going for it.
The box mags of the Long Ranger are also faster to reload. They're not as fast as an AR mag, but these will drop free with the push of a button. They have bright red followers that are easy to identify. The follower can even be seen under the bolt when it is closed, which is a great indicator of an empty mag and an almost empty rifle.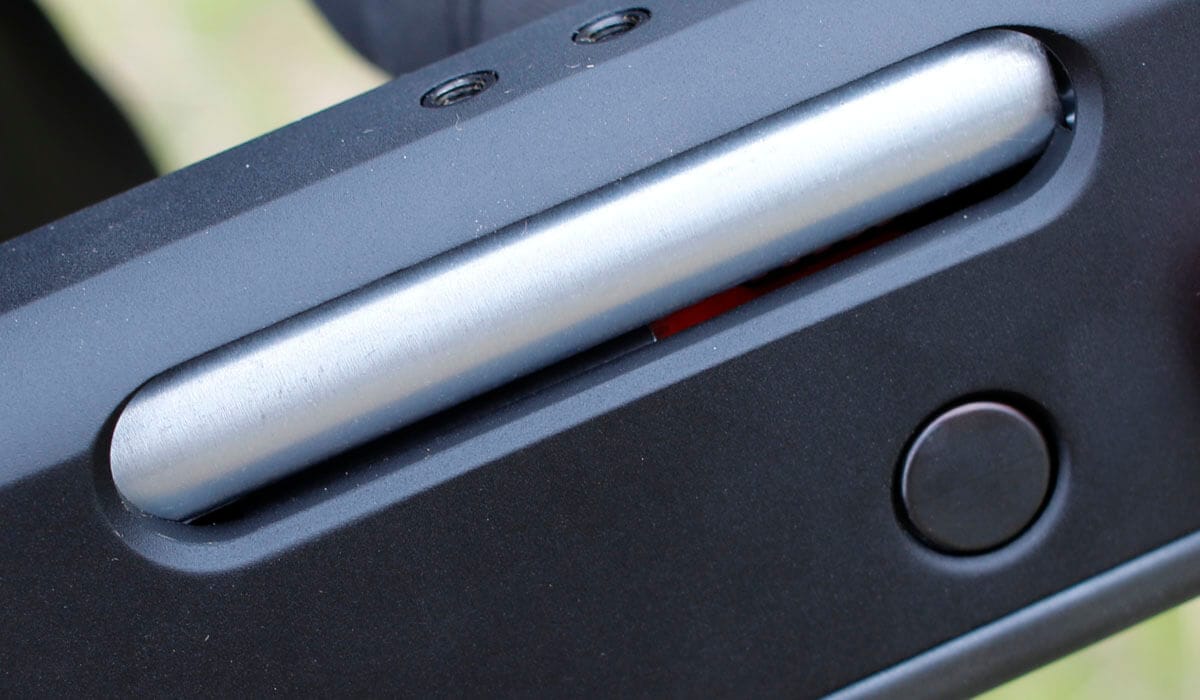 Vital Versatility
The mag-fed design also allows for a wider variety of ammunition. Think of the .30-30. This round has a big flat nose that's meant to be fed into a tube mag. It also isn't known for its super-long-range reliability. With a traditional box mag, you can load any number of pointy calibers–rounds that would be damaged or potentially dangerous if stacked up in a tube.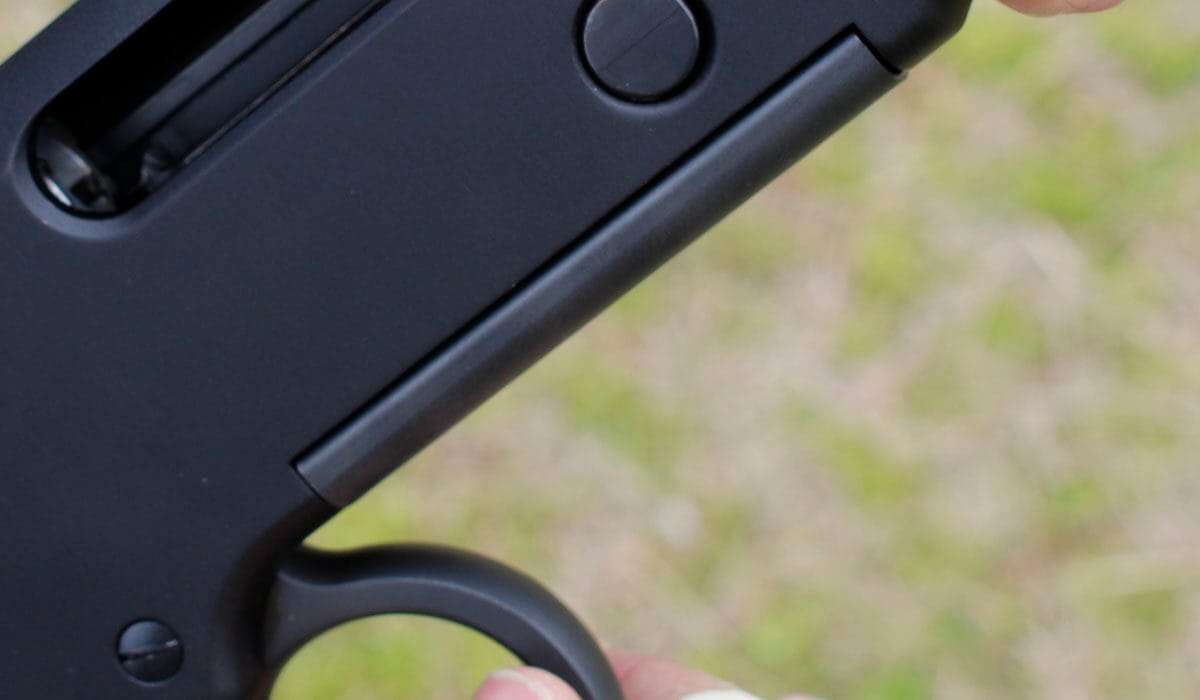 Henry's making the Long Ranger in .223, like this one, .243 Win, .308 Win, and 6.5 Creedmoor. In each of these, you now have the option of carrying a spare magazine or two.
If you're looking to go from field to table, you have options. With the .308, you may want an FMJ to drop a boar at 300 yards or a soft point for whitetail. Maybe you want a mag or two full of surplus rounds for plinking. Multiple mags make it easy to switch out.
If you're building it for more tactical purposes, i.e. as a defensive rifle, those ammunition choices might change.
Henry is offering these in two factory set-ups. One comes with scope mounts. If you know you'll be shooting long distances, this may be the best option.

If you want versatility, pick one of the three models they offer with irons. You can still mount a scope on these, but they don't come from the factory with mounts. Henry sells those as an extra.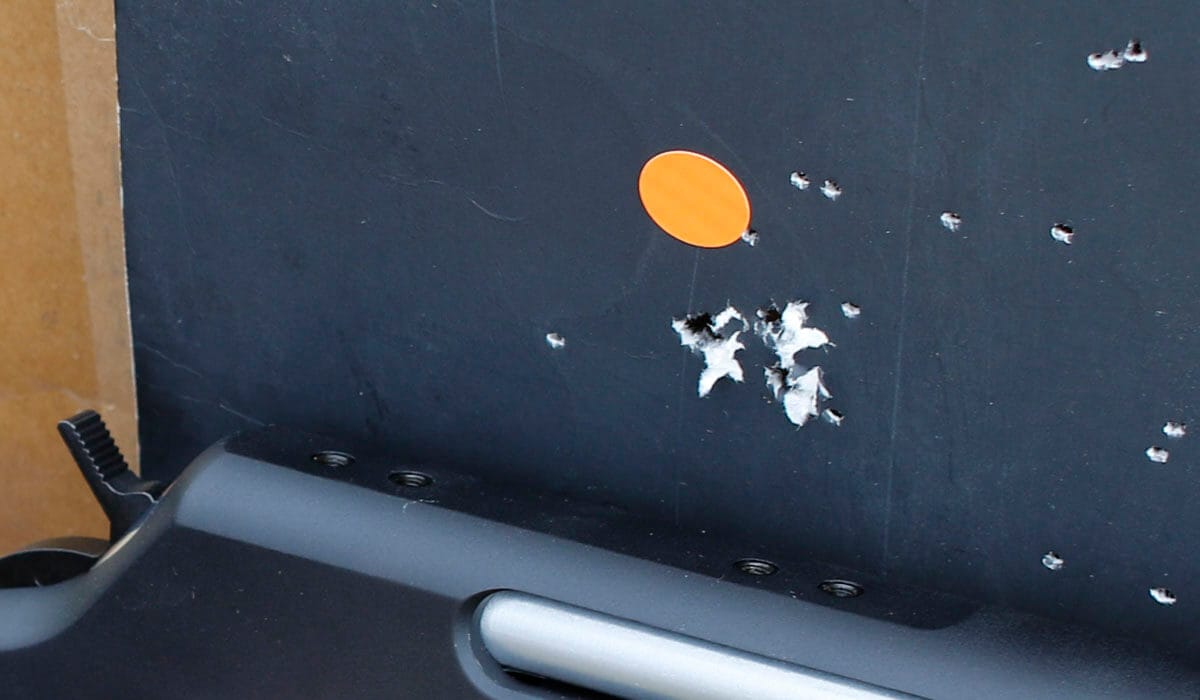 Why a .223 lever action rifle?
I hunt in Arkansas. Hunt with a .223 is legal here. The caliber is ideal for whitetail and for hogs, and I rarely get shots that are more than 200 yards. Most are under 100. For a brush-gun, nothing beats the speed of good iron sights. Maybe a red dot. Possibly a fiber optic 1-4.
But this is a lever action. Even jocked up to be a tactical lever action it would have that feel of tradition, the way my uncles used to hunt in the 60s, only better.
And I can put down some effective groups with the iron sights. The group above is from 100 yards, off a bench rest. You can see I'm not hitting exactly where I want, but the consistency lets me know that all I need to do is adjust the sights.
When released the Henry Long Ranger in this form had an MSRP of $1,066. That's not bad for a gun that will long outlive you.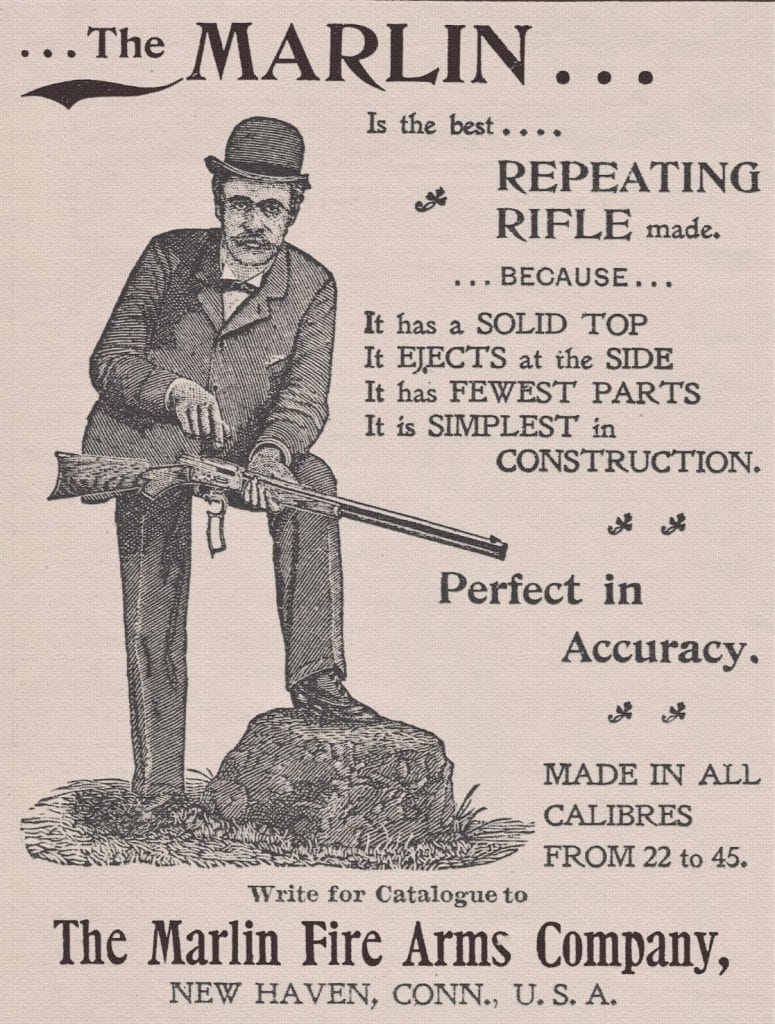 The Lever Action for Home Defense
Jim Davis
In this day and age, with a plethora of semi-auto rifles and carbines available to choose from, why in the world would someone in his right mind choose a lever-action rifle with which to defend hearth and home?
Everyone knows that lever guns are antiquated and useless, don't they?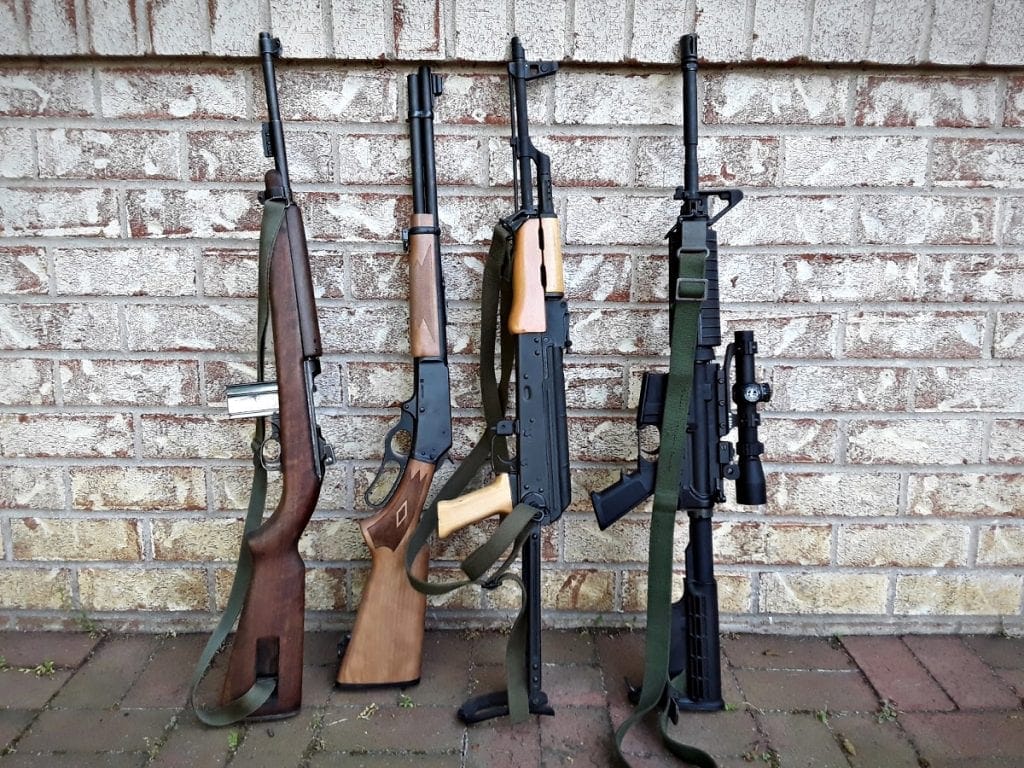 Let's not be so fast to dismiss them. Perhaps…just maybe…they still have something to offer to the masses. To be certain, they do have their drawbacks (what firearm doesn't?). Conversely, maybe they have enough advantages for us to revisit them for defensive purposes.
To be clear, this isn't a hit piece on modern firearms. I love semi-autos of all sorts. AR-15s, the M-1 Garand and carbine, the M-1A, a good HK-91…all very sexy! But there's something about a lever gun, and not just its low-key nature either.
I live in Pennsylvania, a state where deer hunting is practically a religion. I've often joked that the lever-action rifle is practically an issued firearm for hunters in my state. The .30-30 Winchester is far and wide the most popular game-getter in these parts where many deer are taken in the woods where shots don't typically stretch for hundreds of yards.
Without going painstakingly into the ballistics, it will throw 150 and 170-grain factory projectiles out to around 200 yards (give or take) effectively enough to put a deer down. It will also take a black bear if necessary.
The .35 Remington is a distant second to the .30-30 in popularity. Other favored rounds include the .44 and .357 Magnum.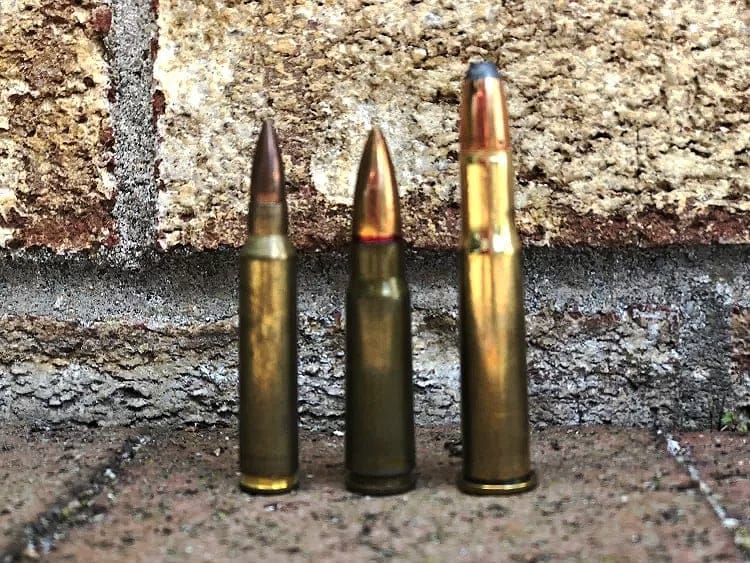 Some will reach out farther than others, obviously, but all of those cartridges will take game. They will also put aggressive humanoids down, and that is the main focus of this article.
Lever Action Rifle Drawbacks
Limited Capacity
First, let's look at some disadvantages of the lever-action rifle.
The magazine capacity of a lever gun is probably the most obvious drawback. Its capacity isn't typically high, especially in rifle calibers.
My personal favorite rifle caliber lever gun in .30-30 is the Marlin 336Y (the Marlin Youth Model 336) with a 16 ¼ -inch barrel and an overall length of 33 ¼ inches. Weight is 6 ½ pounds. This carbine holds five rounds in the magazine plus one in the chamber. Most standard-sized model 336 carbines hold six rounds plus one in the chamber.
That is not a lot of rounds (as if you needed me to point that out to you). The question is, what are you going to be using the weapon for? Will it be to repel a robber in the night? Deal with civil unrest? Zombie Apocalypse? Realistically, how many targets might I need to engage in a short time? That's certainly an important question to answer, and one that should be considered with any defensive firearm.
Lever Gun Rate of Fire
The lever gun lags behind the semi-auto again here, and in more than one way. Not only is a lever-action rifle's actual rate of fire lower than a semi-auto, but it will also (for most users) be at least somewhat more difficult to reacquire the target for an accurate shot after the trigger break. And that's assuming they maintain a cheek weld throughout.
Now, How About the Advantages of a Lever Gun?
The Tubular Magazine Has Its Points
Some might see the tubular magazine as a drawback, but that might not necessarily be the case. Consider that the magazine will never be lost since it's an integral part of the carbine. You don't need to buy additional magazines, which can be costly. Detachable magazines can become damaged or lost, but the tubular magazine is not likely to suffer such maladies. The tubular magazine can be topped off one round at a time during a lull in the action, which is also an advantage that we don't enjoy with detachable box magazines.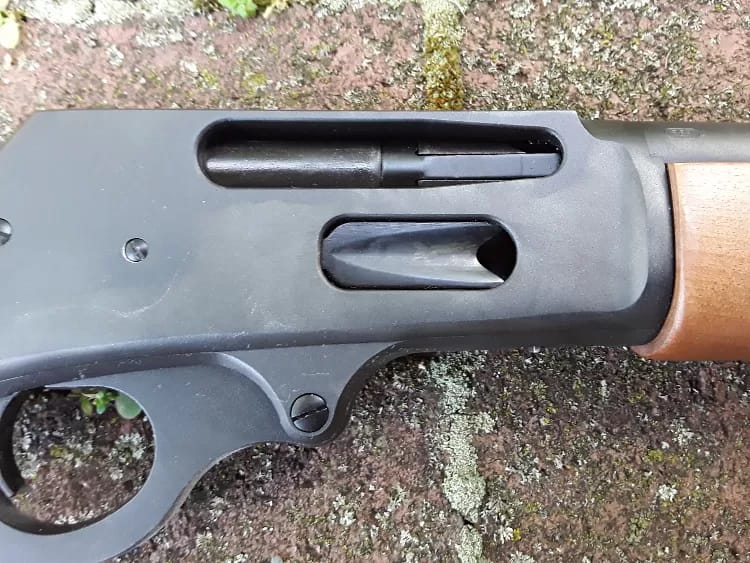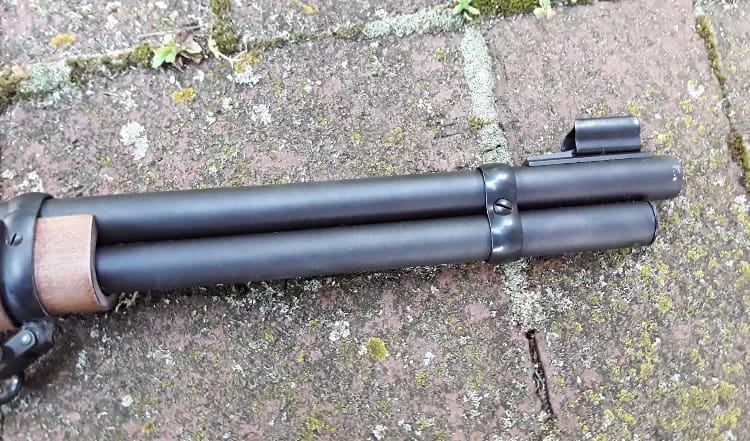 It's Easy to Maneuver
The overall length of the Marlin Youth carbine is pretty close to that of an AR-15 carbine, which makes it pretty handy and easy to maneuver, especially indoors, where a defensive arm is likely to be used. The little rifle is fairly maneuverable in hallways and such.
It's Less "Scary" Looking
The old lever action is pretty socially acceptable. After all, it is the gun that the cowboys used, and is very unlikely to cause terror in the local populace if seen. These days, the sad truth is that people tend to get panicky if they see a black rifle, and that can work against us in certain situations. Unfortunately, perception is a huge factor in these modern times, and any opportunity we can take advantage of to not have people freak out is to our credit. Does that mean you shouldn't own an AR? Of course not. But the "low-key" perception people so often have of a lever gun can definitely be an advantage.
A Lever Action Probably Won't Break Your Wallet
Cost is also a factor with many folks, considering we're not all rich. On the secondary market, a lever-action might set us back a couple hundred bucks, if that. Maybe you already have one, or maybe a relative has one that he's not really using. In my area, they are in every gunshop at very reasonable prices. Even new ones aren't very expensive, so availability is not an issue. As an aside, ammunition for lever actions is typically very available too.
Make no mistake, if you want, you can spend several months' wages on a lever gun. There are models out there that are sufficiently fancy to drain your account faster than Bernie Sanders would love to. Accessories abound, including lights, optics, suppressors, rail systems, etc. Personally, I take a minimalist approach for a few reasons, primarily because I can't afford all that stuff!
Beyond that, when you begin adding accessories galore, that streamlined handiness of the carbine quickly is lost. Weight increases, and again, the handling characteristics go to hell fast.
These Might Be Your Best Accessory Choices
Any weapon intended for defensive use should have a light on it if at all possible. That's as true with an old lever gun as it is with a brand spankin' new Glock.
Another accessory that might help a lot of people would be an optic. My aging eyes do not appreciate the buckhorn-style sights on most lever guns. A red dot sight or LPVO sure does help me out a lot.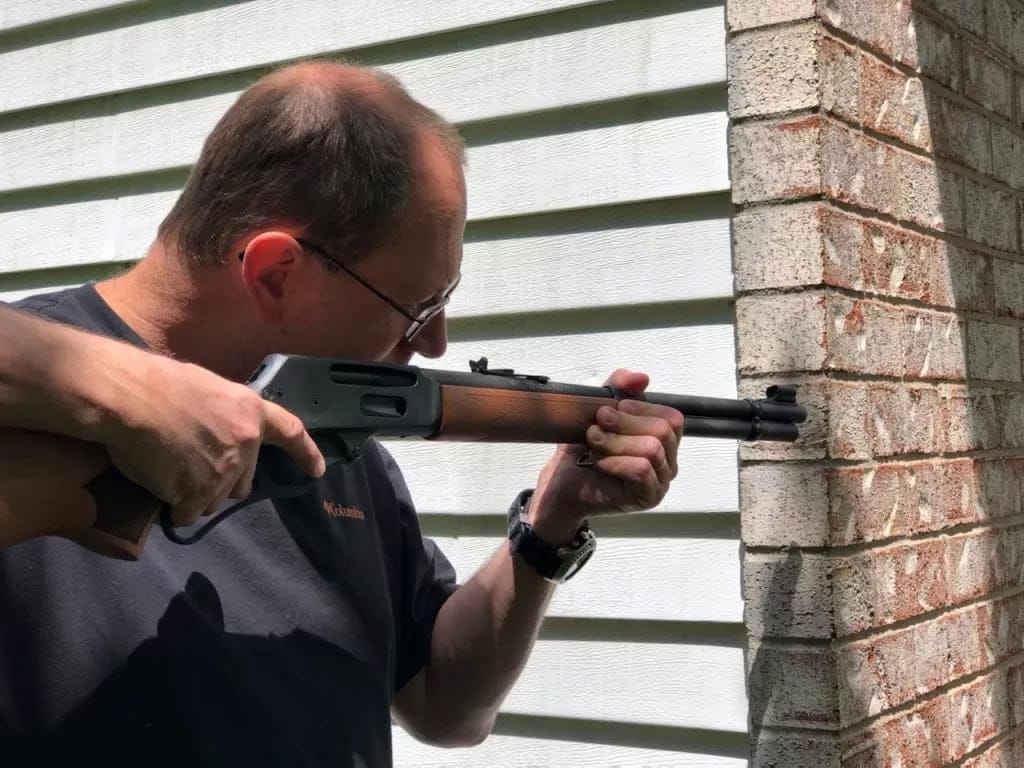 Courtroom Advantages
The legal factor cannot be ignored, either. Certain states or locales make it very difficult to own semi-autos and other "exotic" firearms (I'm using exotic there the same way a defense attorney might use "military-grade").
But I'm not aware of any (yet) that prohibit hunting-type rifles.
And after a shooting, when you go to court and a lawyer holds up that firearm to a potential jury, your humble, low-key lever-action rifle is going to appear much more reserved and reasonable than an AR15 with a red dot, red dot magnifier, offset red dot, bipod, and light-laser combo on it.
A lever gun says, "Hey, I'm just a reasonable guy trying to defend my family."
Is that necessarily right, accurate, or just? Of course not. But appearances matter, particularly when gun-related litigation is the context. That's another advantage.
In any case, those cost and legal factors alone might dictate that we have to use what is at hand as opposed to what is on our "wish list."
Don't Disregard the Lever Action for Home Defense
Would I feel confident taking on a home invader (or more than one) with a lever-action carbine? I think so.
I'd feel okay about repelling attackers in my house with one if that's what I had ready to hand and I'd trained and rehearsed with it..
I'd say it would be quite premature to write off the lever-action carbine just yet. It's been effective since the 1800s and it's soldiering on well into the next millennium.
Not only is it effective, but it also offers a nice bit of nostalgia for those who enjoy that sort of thing.
JD
Tactical Lever Action Rifle Accessories
David Reeder
I'm going to use the word tactical in that title and in some of these parts and after-market accessories below out of simple pragmatism. That's what many people are searching for on the interwebz, whether they're building out their lever gun to fight/defend or hunt with.
It's also at least a partially accurate term. Few people are going to put a weapon light, red dot, and certain other accouterments on a new-schooled old-school rifle if they aren't assembling it with defensive purposes in mind.
And, frankly, some folks — myself included — will add certain accessories more for the aesthetic of things than an actual need.
There's nothing wrong with that, as long as the look-cool part doesn't replace a more functional part on a gun that might actually have lives depending on it. But I digress.
The following sections will all be works in progress. We intend to update it as often as possible.
Optic Mounts for a Lever Action
We've received more than one email here at TML asking our opinions about optics for a lever action. Some folks wonder if a lever gun takes a different red dot sight, LPVO, etc. than a bolt gun or semi-auto like the AR15 platform guns. Barring some niche purpose that we might not know about, that's not the case. The best scope for a lever-action rifle is going to be the one that best suits that rifle's mission, just like every other weapon platform.
That, then, leads us back to the far more common debate about the relative value and quality of pretty much all optics…almost any of which will be superior to a typical lever gun's "buckhorn" style, ghost ring, or peep sight arrangement. And all of which, unfortunately, will be more likely to interfere with any use as a saddle gun, if that's your goal.
Regardless of your personal optic choice, you have to mount it, and that is lever-action specific. A Marlin 336 and Winchester 1873 will each require a different mount than an old Winchester M94, for instance, due to the way they drilled and tapped (or not) and where they eject. Similarly, the grooved receiver case on a Henry 45-70 or Savage 99 may make it easier for you to add the RDS you prefer than, say, Henry's Mare's Leg.
Below we'll lay out some options. First, consider the following questions:
What make and model is the lever-action carbine or rifle?
What is the intended purpose and operating environment of the weapon?
Does the weapon have an integral rail, e.g. the Pedersoli Boarbuster, Henry All Weather .45-70, or Marlin Dark Series 1895?
Is the weapon's receiver drilled and tapped? If so, is it for pistol caliber or rifle caliber?
Does the weapon have a fixed stock (most of them) or adjustable (ex. the Mossberg 464 SPX)?
Will you need to add a padded cheek rest?
Phoenix Weaponry Red Dot Sights for Lever Guns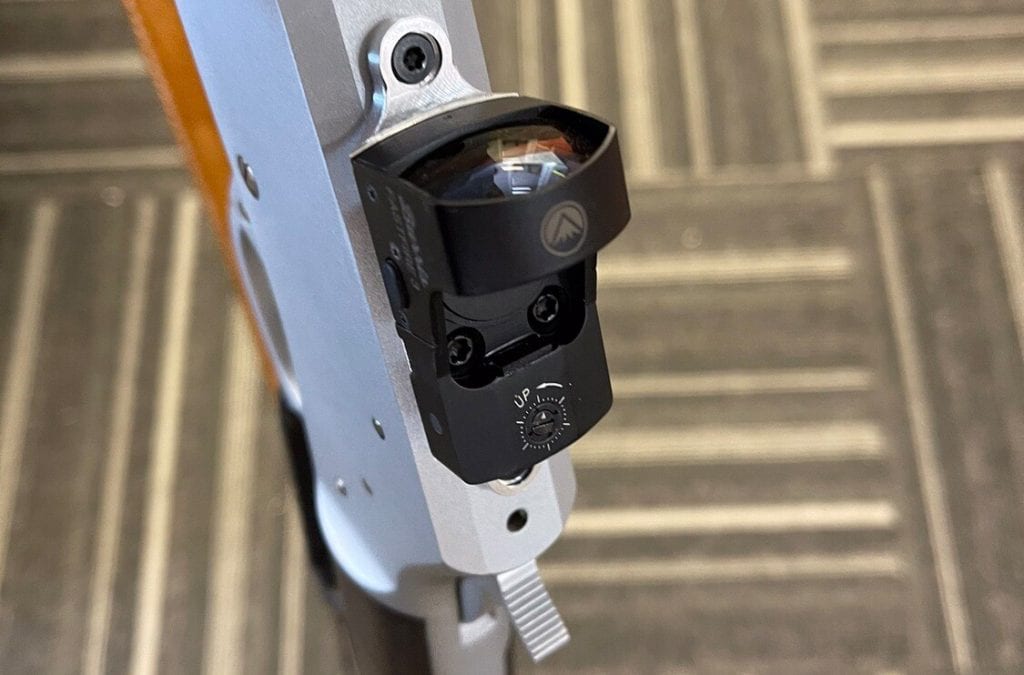 Initially designed for Henry Repeating Arms rifles and carbines, this is a lightweight low profile direct mount for H006 and H012 rifles using factory mounting holes for several brands of red dot sights (see below).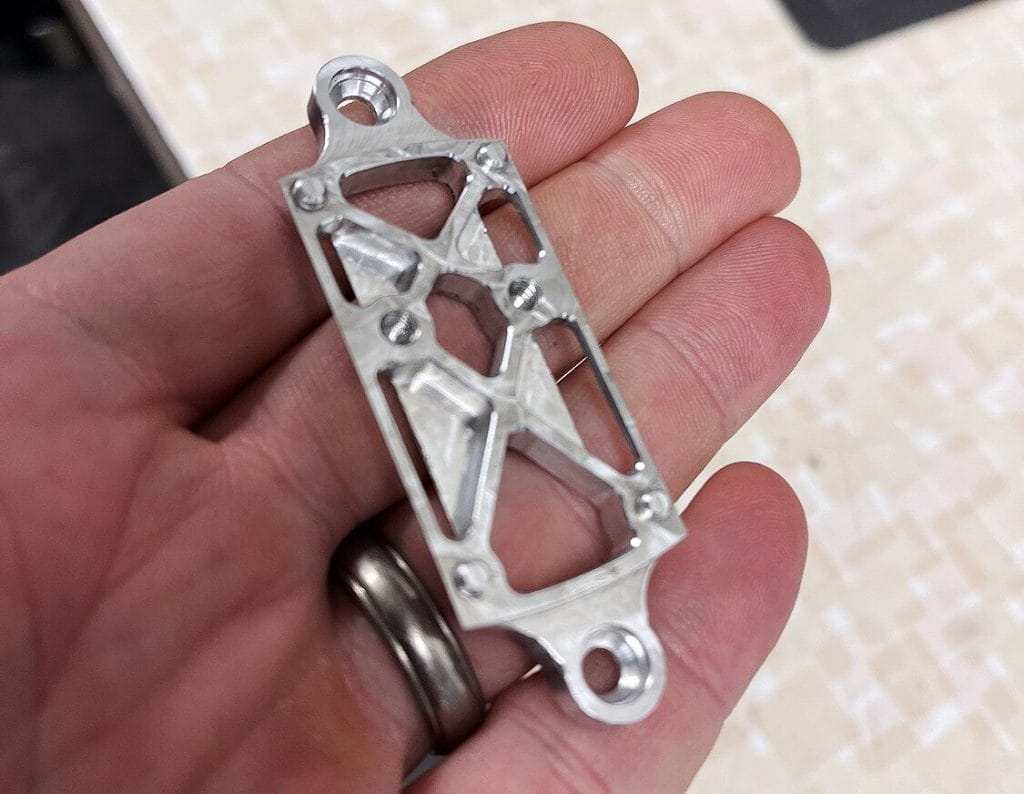 As of this writing, it is available in clear or gold and black and compatible with:
Vortex Venom
Leupold Delta Point
Trijicon RMR
Sightmark Mini Shot
Burris Fastfire III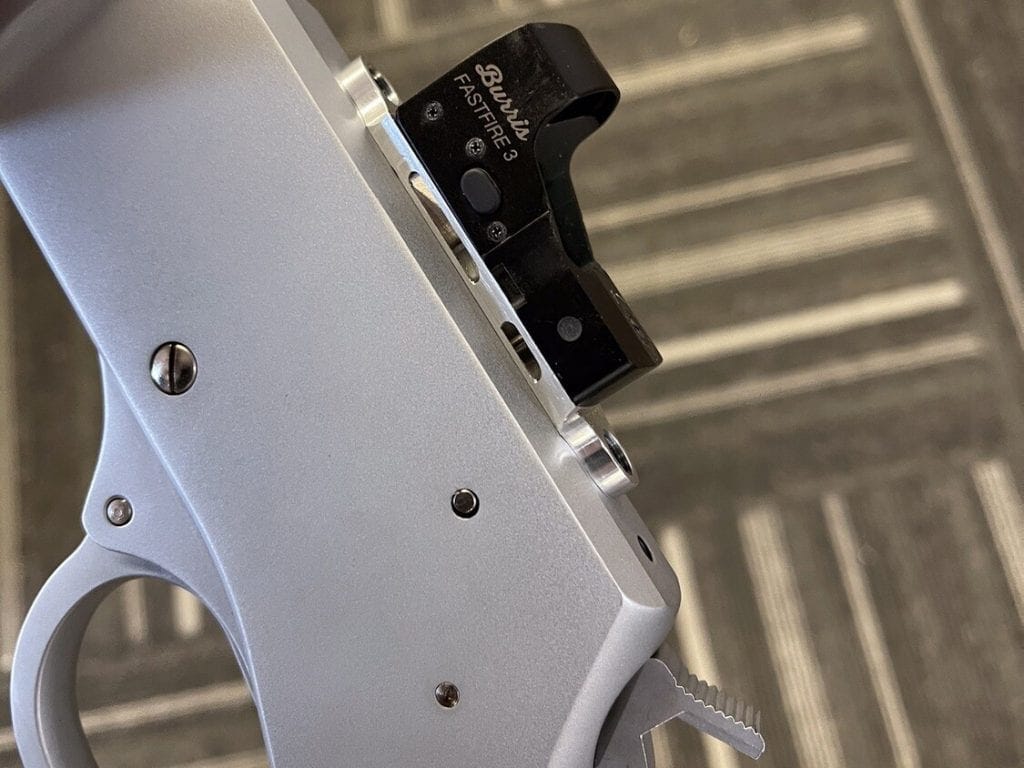 Diversified Innovative Products Henry Scope Mounts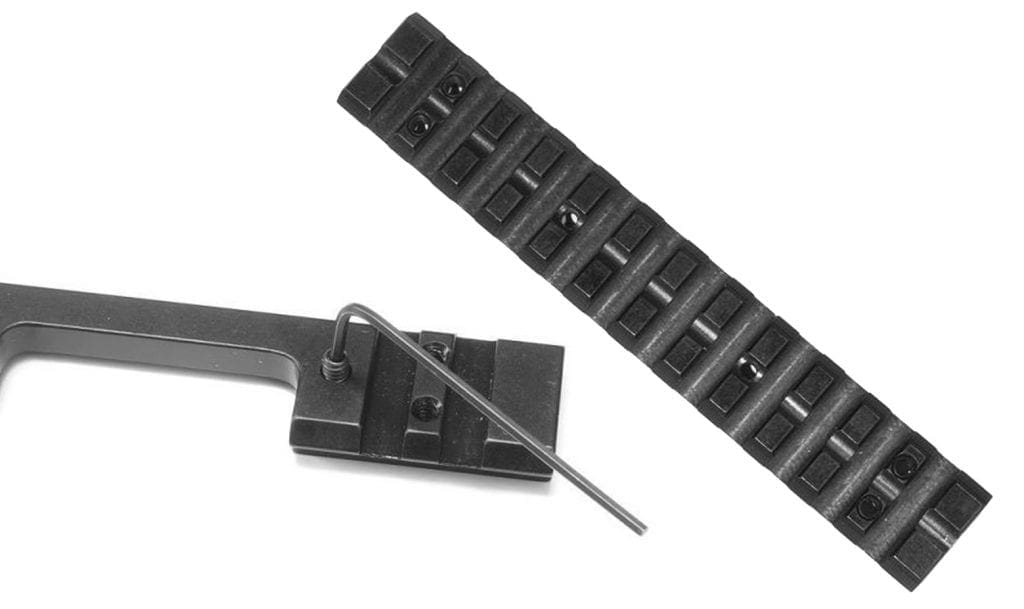 The DIP H001 and H003 adapters are 3/8 in. dovetail rail "upgrades" cut for use with both Picatinny and Weaver attachments. The manufacturer advises that no drilling and tapping is required. As of this writing, these are made for .22 Henry lever guns only.
Made with USA 6061 T3 billet aircraft aluminum
Secured by six (6) 1/6 in. Allen drive set screws
Height approximately .21 in., weight 2 oz, length 4.625 in.
Mount described as having 5MOA built in to allow zero from 15-160 yards
Taylor's 1873 Lever Action—Easy on the Eyes
David Higginbotham
I had an old Colt Python, once, and a Colt 1911 that was made in 1913, and both of those were exquisite guns. I even felt bad shooting them. There's a historical quality to this rifle, but this Taylor's 1873 Checkered Straight Stock Rifle is—hands down—the most handsome rifle I've ever had the pleasure of reviewing, and it is built to be used, too.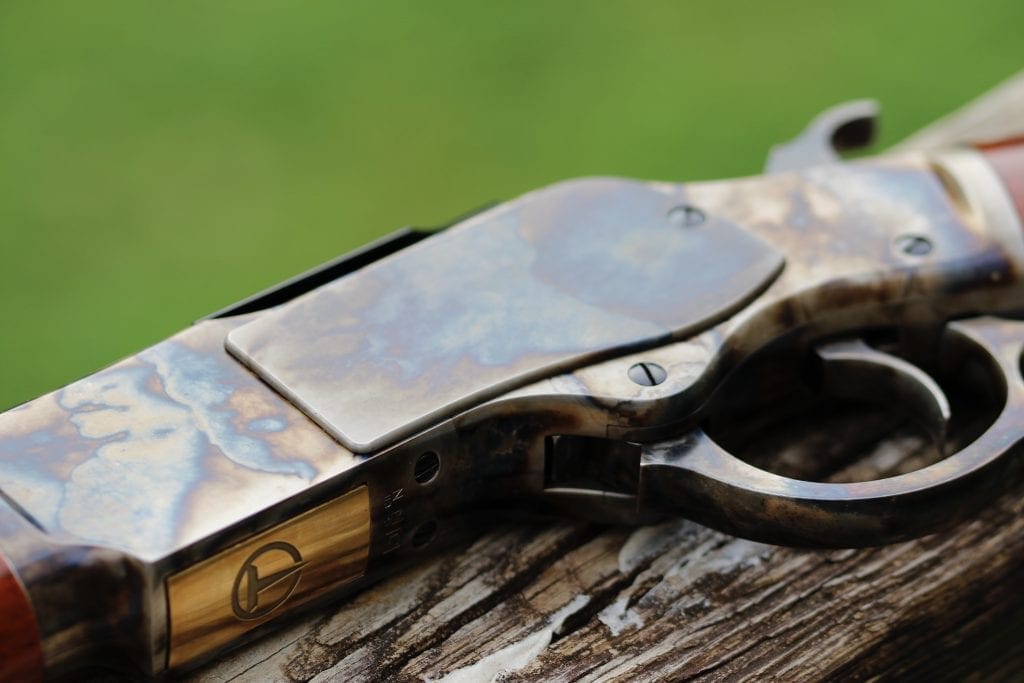 Stepping back
When did we, as American gun buyers, decide aesthetics didn't really matter? We have some attractive guns, yes. And there are some independent craftsmen still doing solid work—but pick up a Taylor's 1873 Lever Action and you'll see what I mean. This gun is stunning.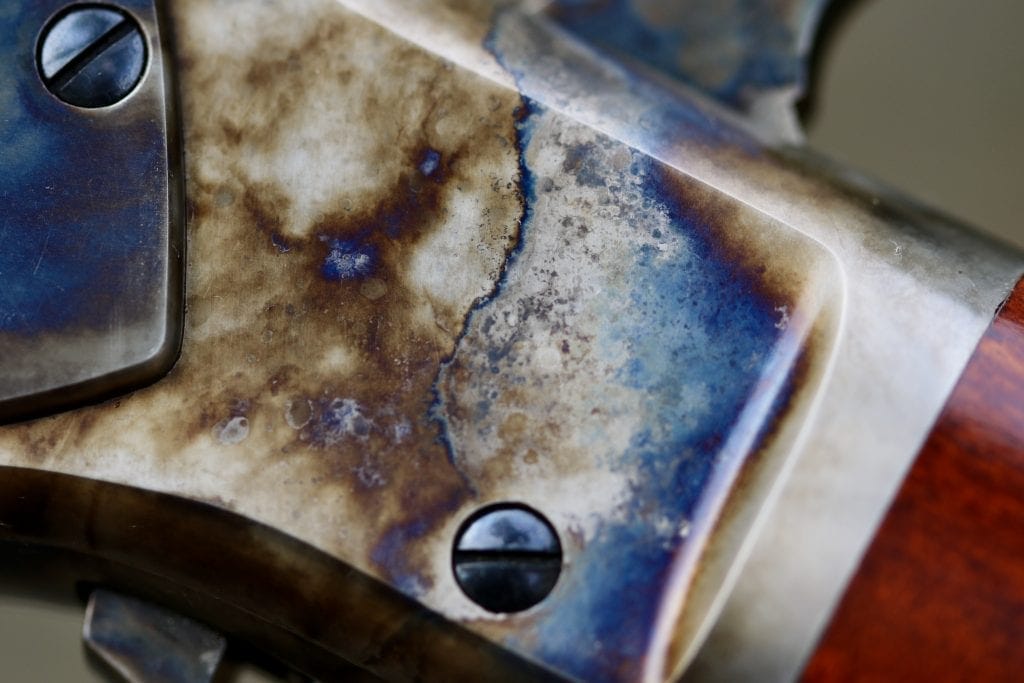 The case hardening is likely to be the first thing you'll notice. The mottled colors range from gold to purple to black, all in rather muted shades. There's a depth to the finish that is both protective and hypnotic.
The bluing on the barrel is also really deep. Bluing is easy enough to do. Achieving a uniform finish to the steel underneath requires more effort.
If you want a polished, almost glass-like blue, you have to sand down the surface. It goes beyond bead-blasting or machine work and has to be done by hand.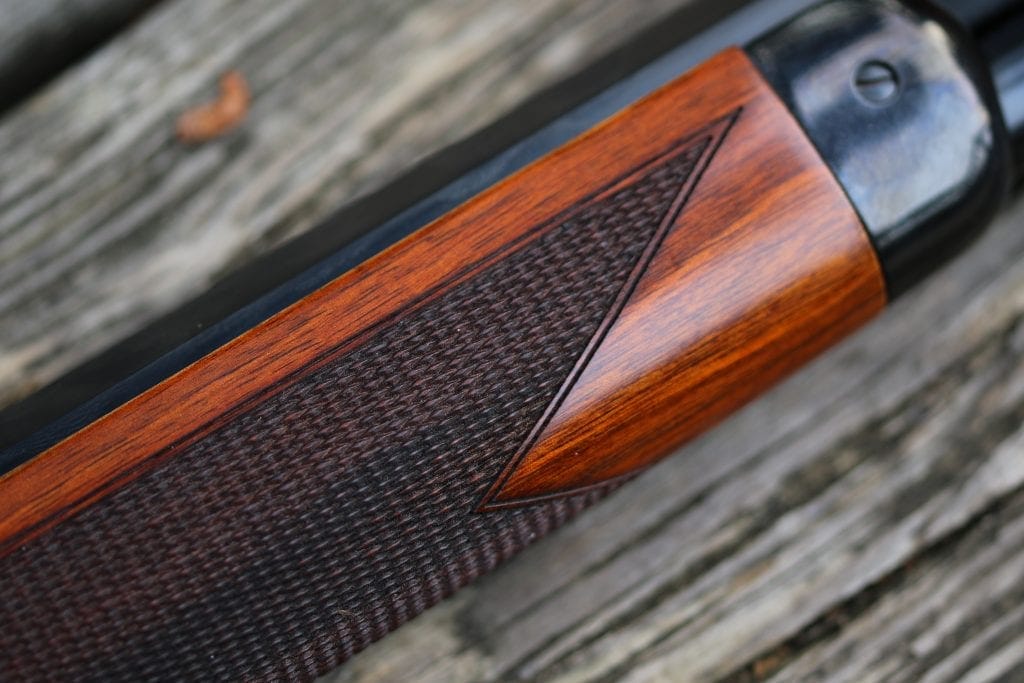 The wood on this gun is walnut. Walnut, especially the American kind, isn't likely to have strong quilting or flame in the wood. It is a rather pedestrian grain that works easily, yet remains hard enough to prove durable.
Walnut is one of the best options for woods that show wear—it may ding and scratch, but each mark will add to the gun's character. And walnut is strong enough to take a solid beating.

There are versions with more pistol-shaped stocks, and with different finishes on the gun. Some are blued, but others are left in the white. And some have an intentionally weathered look. Some have round or half-round barrels, too.
This is Taylor's 18″ 1873. The stock is straight and checkered. The barrel is octagonal all the way down. It is chambered in .357 and will fire .38 spl. The gun also comes in .45 LC.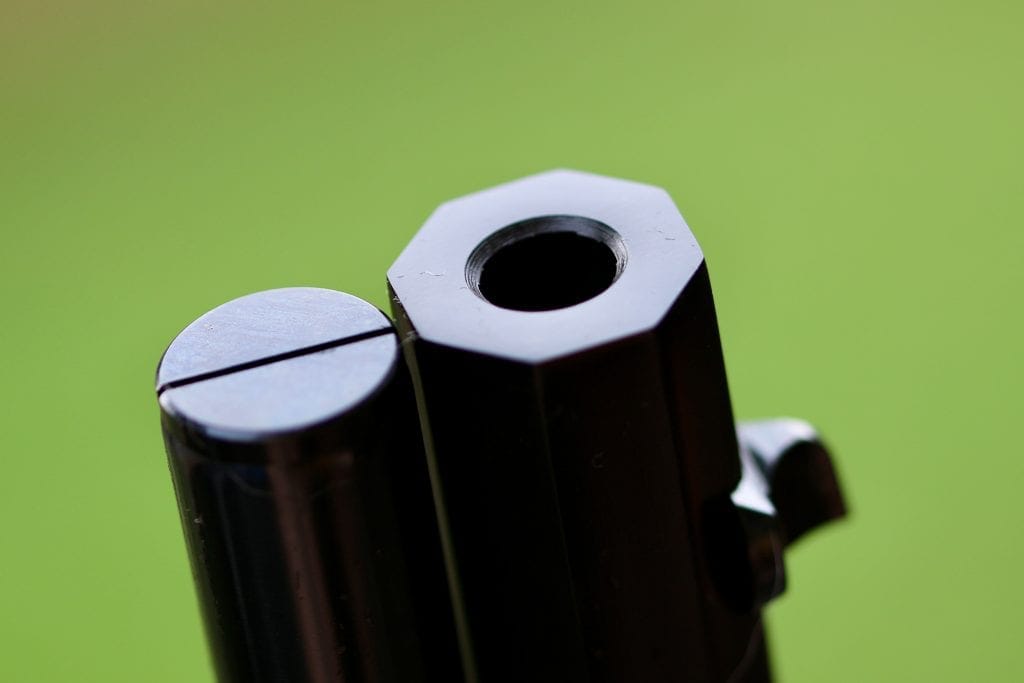 A Useful Tool
Consider where you are now. If I'd lived in Fort Smith, Arkansas (as I do now) back in 1873, I'd likely have a hard time finding a ready supply of ammunition. Granted, it would likely be easier than it is now—in 2021, but still. I would have access to a couple of stores—but hardly the selection.
Many of the early Winchesters and Henrys were chambered in common pistol calibers. These weren't the first pistol caliber carbines, but they were solid examples, and remain so today. If your revolver was chambered in .45 Colt, your rifle could be, too. We think of .45 Colt, and .38 and .357, maybe .44 and .44 Magnum, but there were many other calibers that were available that have fallen out of fashion.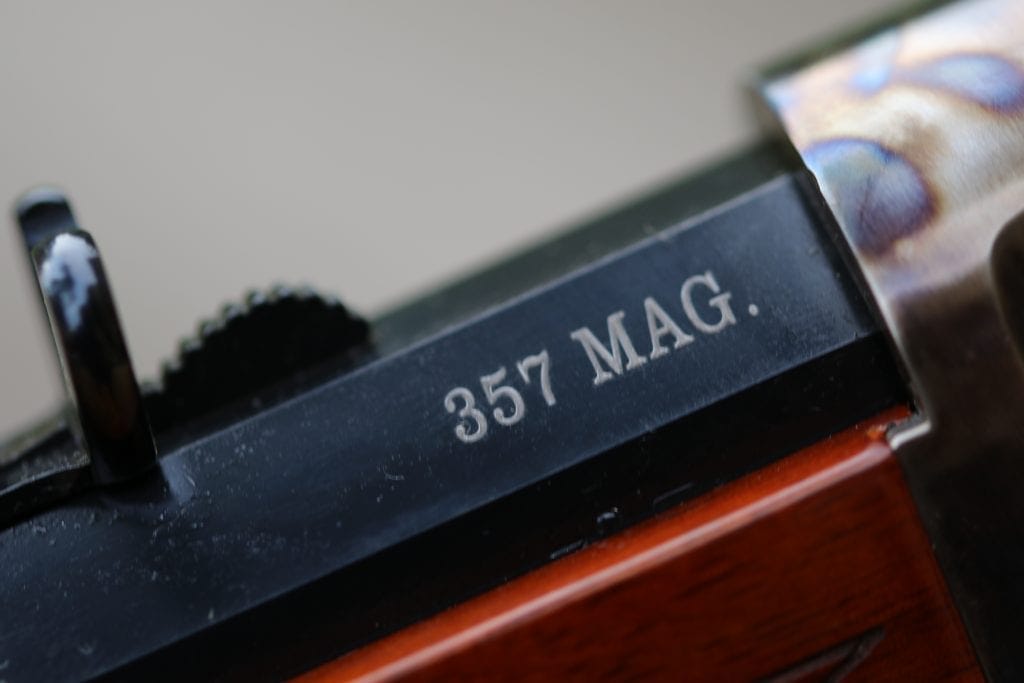 The theory remains, though. I have a Kel-Tec Sub 2000 that runs off of 9mm Glock mags and a Glock 19. This is the same idea. If you have an 1873 Army and a 1873 rifle, both in .357, then you don't have to overthink ammo.
1873 was a really good year for guns.
There was a before and an after. I doubt most of the humans alive saw it then, but the year changed the course of history. Winchester and Colt. The practical pairing was appreciated by many historical figures, but the pair dominates Hollywood to this day. Movies like "Winchester '73" starred the rifle alongside icons like Jimmy Stewart.
And that, in a roundabout way, is where Taylor's & Company come in. I could write a dissertation about how these guns crossed the pond in the 50s and 60s and ended up in the hands of European storytellers. The Spaghetti Westerns gave these rifles and revolvers their complicated history back while continuing to elevate their mythical status.
When Sergio Leone and his cohort moved on, the guns stayed. Italian gun makers build some kickass American reproductions. And before we delve too deeply into the simulacrum that is The West, I'll just say this; they are keeping these guns alive.
Taylor's is keeping the dream alive.
As I was working on this review, I talked with Rob Girard, Vice President of Sales at Taylor's. I wanted to know if Taylor's was increasing their imports and expanding their lines to meet the new crush of demand for lever-actions. Not as such, he said. Taylor's is more concerned with the quality of their guns than the quantity they can get out the door.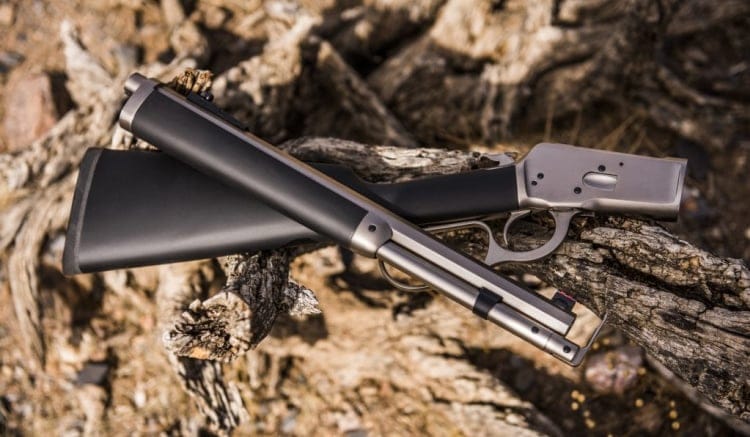 That's how the company maintains its reputation. It would be easy to make set-about guns (the kids you like to look at), and it would be equally easy to cater to the SASS crowd only—but Taylor's also sells to customers like me.
And that's where their modern twist on the lever-action came from. The Taylor's Alaskan Takedown, Girard said, shows Taylor's dedication to quality and functionality–with only an homage to the history.
So are there more like this coming? Girard wouldn't talk about what's coming but hinted at the fact that there are definitely big plans for Taylor's future. They're making waves across the board right now with virtually all of their single-action revolvers and premium lever action rifles.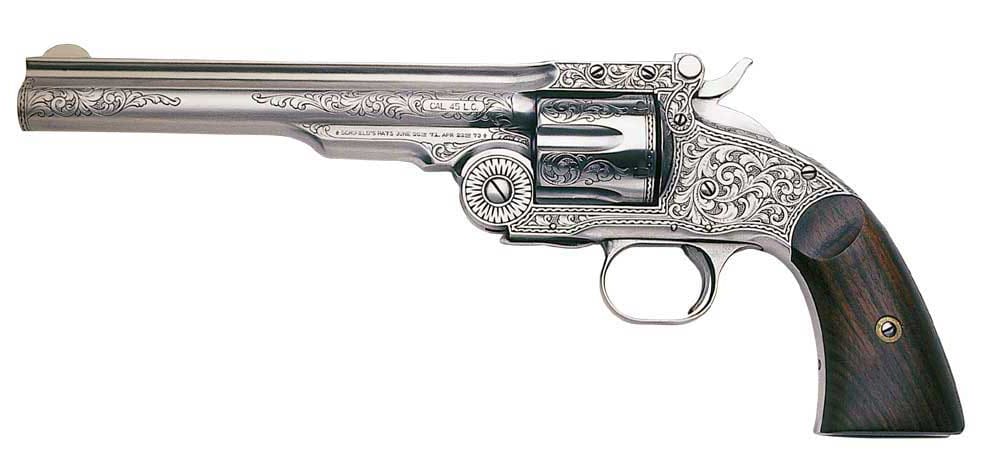 Girard and the rest of the crew at Taylor's are facing the same difficulties many importers and manufacturers are because of the pandemic. The slowdowns, though, haven't changed anything about the way Taylor's responds to their customers. Taylor's, Girard noted, is ideally suited to bring in a wide variety of guns, make sure those guns are flawless and functional, and provide the individualized attention to the customers that makes the company a go-to for the cowboys, the historians, and those of us who just appreciate the beauty and craftsmanship of a well-made gun.
So what does Taylor's do?
This rifle began life as an imported Italian 1873, a Uberti. Taylor's brings them into Virginia and makes them even better. Some of the guns Taylor's imports are more historical in nature. Some are exclusives that are only available through Taylor's and their distributors.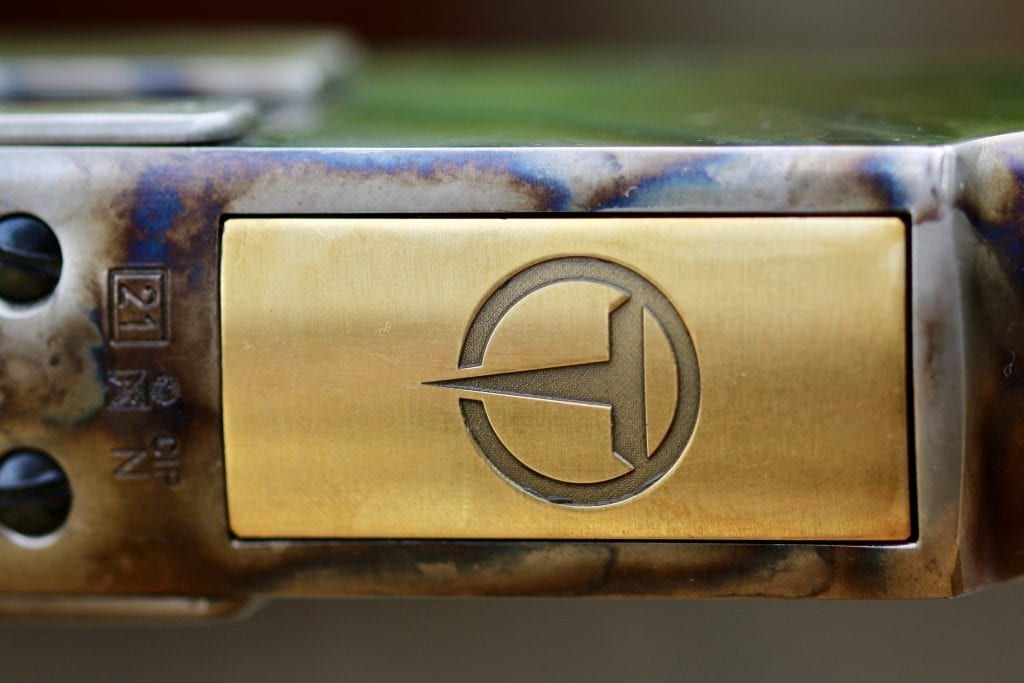 The highlight, though, is the guns that come out of Taylor's that are "Taylor Tuned." This is a performance refinement that is meant to ensure that these imports live up to the expectations of Taylor's customers.
Taylor's refinement process is just that. They begin with addressing some of the parts that are most stressed on high-use guns. By replacing some springs and polishing parts, Taylor's takes these working reproductions and creates fine-tuned rifles and pistols that are far more reliable.
On the 1873 rifles, Taylor Tuning includes a custom, hand-polished action, custom hammer and lever springs, a custom magazine tube spring, and an overall lightened action. The custom actions have a noticeably smooth hammer and trigger pull.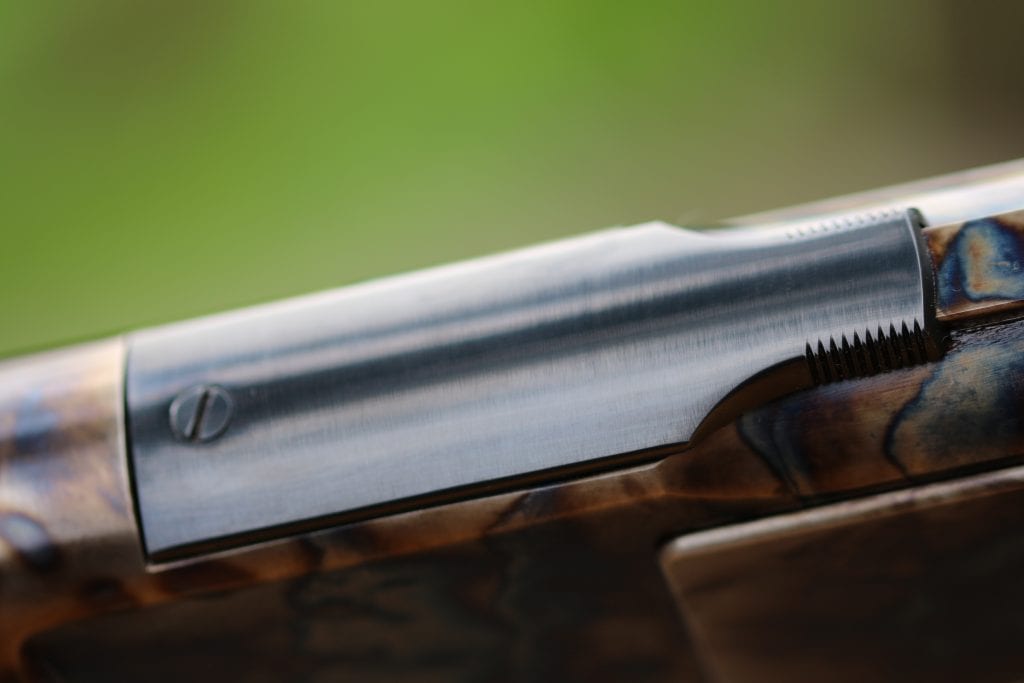 That isn't to say that there's anything wrong with a Uberti. The guns are robust, but the designs are antiquated. I'm not a gunsmith, but I've spent my fair share of time with YouTube videos and replacement parts trying to keep some high-mileage Ubertis on the range.
The Taylor Tuned rifles and pistols I've shot have yet to need the same kind of attention.
On the range with the Taylor's 1873
If you've not run a lever-action rifle, I'd suggest you give it a try. I mentioned that Hollywood influence, and it will hit you. I find it takes me a few minutes to get over the desire to fan the action and shoot from the hip.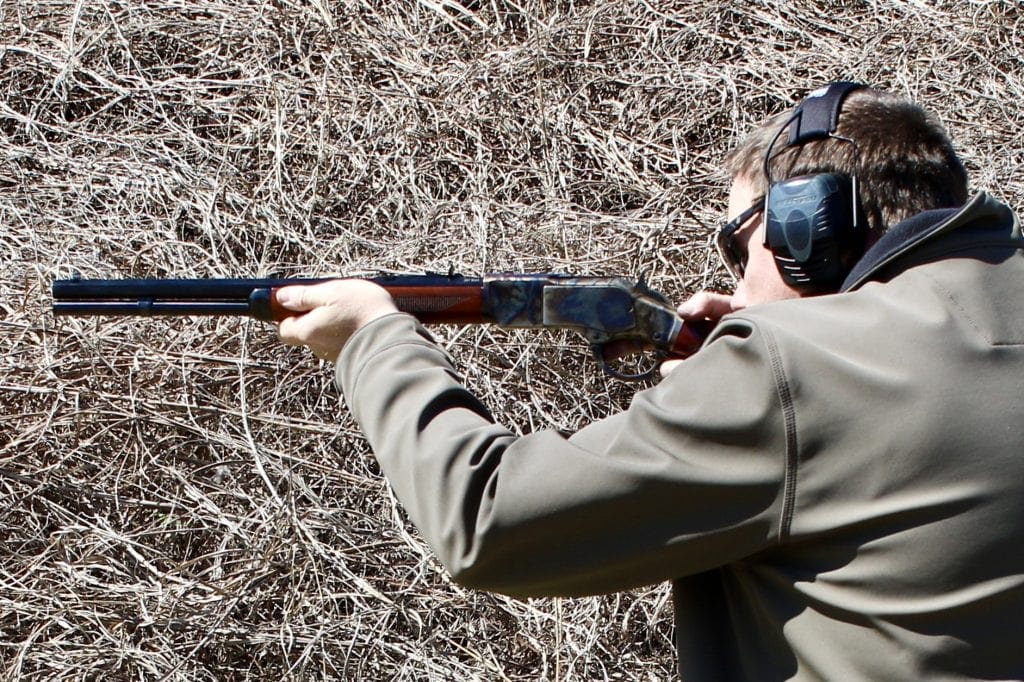 The 18″ barrel sounds long, but the whole package is extremely compact. With no optics up top, no magazine protruding from the bottom, and no controls on the side of the gun, the 1873 feels like a weedy supermodel.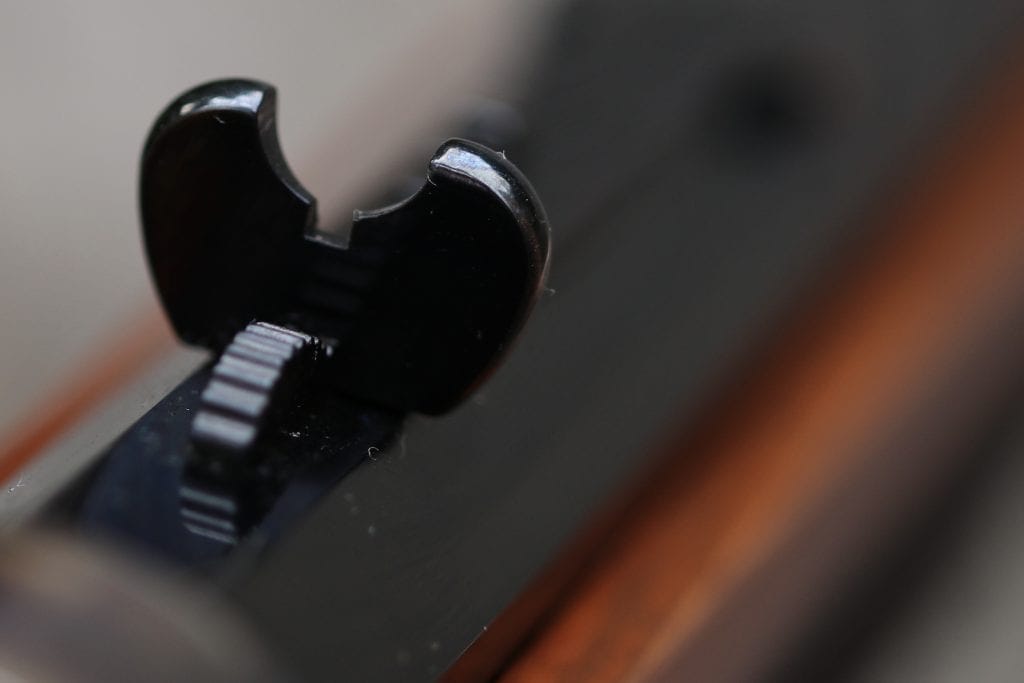 The sights are intuitive, though. They're adjustable for elevation, in that old-fashioned way, and windage is left to guesswork. In truth, I love these kinds of sights. They're so rewarding. If the gun performs well, which this one does, you'll learn to use the sights. The more you shoot, the better you'll get.
Taylor's 1873 Performance
There's a place for lever-action rifles, even the historic ones, in a modern arsenal. I think the potential is real.
First, this is a .357. The .357 Magnum from an 18″ barrel produces some seriously compelling ballistics—averaging around 2,000 fps. It could be a decent self-defense package, close-range hunting rifle—even good for hogs. If you learn to shoot like some of the old codgers that rule the SASS matches, it would be a very capable caliber.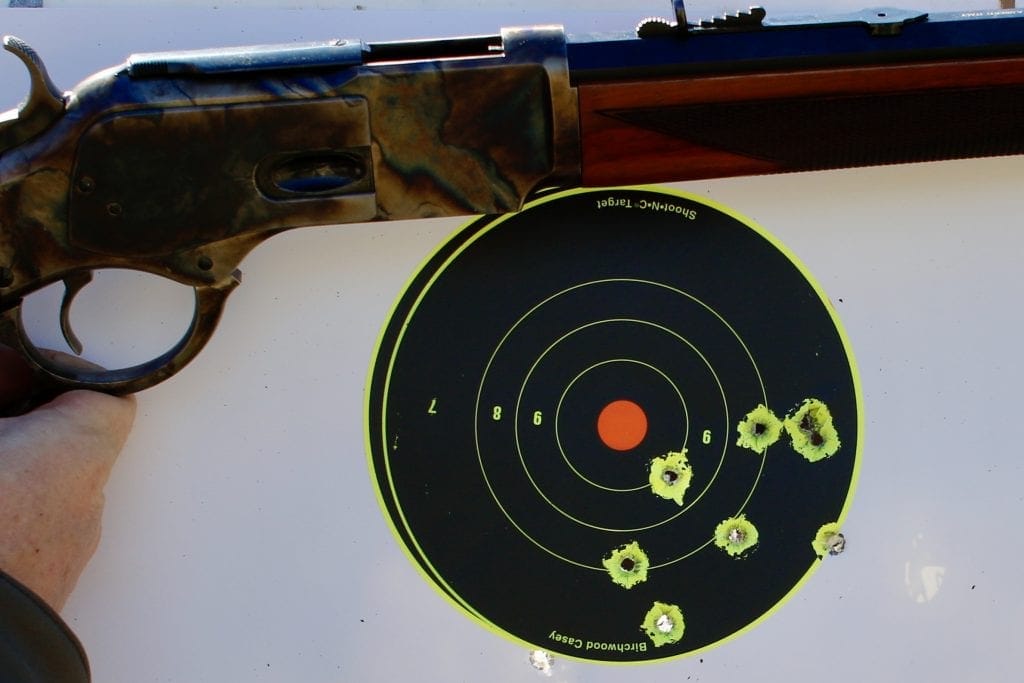 The capacity isn't what you'd get from a 30 round AR magazine, but it isn't likely to upset the sensibilities of many Californian politicians, either. It is advertised at 10 rounds. loading happens through the side gate and can be hell on your thumbnail—but it is what it is.
The gun weighs in under 8 pounds, too. The barrel makes up much of that weight, so muzzle rise is minimal. Even in .44 Magnum, recoil from this design is negligent. All of this adds up to fast follow-up shots. You're not likely to get a second shot on a whitetail, but you could on hogs.
How does an 1873 work?
There's a reason why cowboys wore hats with wide brims. I'll leave that one hanging. As I mentioned, these load from the side. The rounds stack up in the tube (so lead-nosed bullets are a good choice). When you open the lever it runs a block up that extracts and ejects a spent shell straight up through the receiver. As you return the lever, it loads the new round. The motion also cocks the hammer.
In order to fire the gun, you need to squeeze the lever against the stock. That's the only manual safety to speak of. The hammer can be lowered onto a live round slowly to make the gun marginally more safe. To fire, you'd simply cock it like a single action.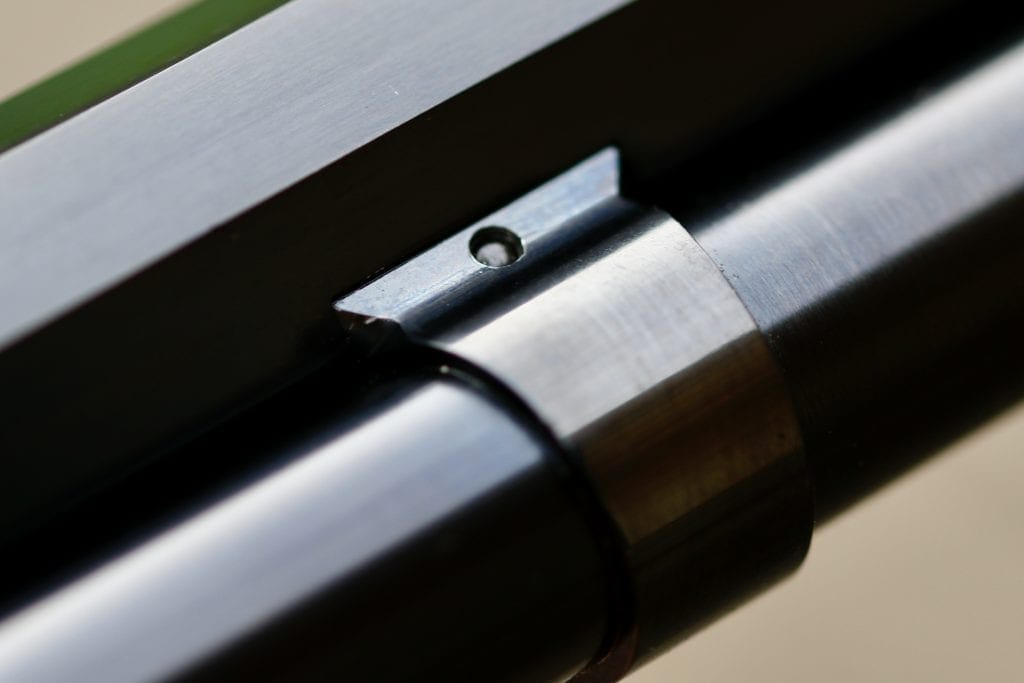 A couple of notes. Thumbing in rounds is hell on your nails. There's a sequence, though, that requires that you push one round in almost all the way before using the next round to finish the push that makes the process easier.
And if you don't shoot the rounds in the magazine, you can use the lever to eject them, or—if it came to it—take apart the magazine tube. But be safe and watch the trigger.
End of the Trail
As conclusions go, this gun refuses to ride off into the sunset. While the historicity may be harder to see in some of the contemporary homages, it is still there. And Taylor's is keeping the originals alive and kicking.
If you are looking for authenticity and functionality—history you can shoot without ruining the value—this is a great place to start. And, if you're anything like me, you'll have just as much fun looking at it and cleaning it as you do shooting it.