It's easy to list my five favorite guns, or my five favorite shotguns, or favorite handguns, or my favorite weird guns. That's easy. What about the five worst guns? Well, that turned out to be easy. After owning so many different guns, it was easy for me to come up with my five worst firearm experiences. So without wasting any more of your time, here are my five worst firearms.
1. Jimenez 380 – Worst Guns Ever
The term Saturday Night Special was specifically derived for guns like the Jimenez 380 ACP. Jimenez, Lorcin, Raven, Jennings, and a few I'm most certainly missing are all part of this certain category of firearms best described as junk. You can pick on Hi-Point all you want, but a Hi-Point is a Nighthawk compared to a Jimenez.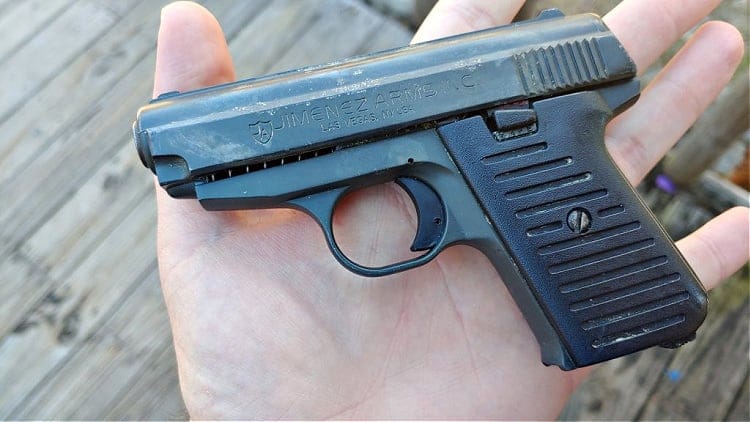 I paid all of 40 bucks for this pistol, and I most certainly got ripped off. This pot metal piece of crap is easily one of the worst guns I've ever shot, handled, and looked at. When people use 'Buy American' as an argument for some quality standard, I think of the Jimenez 380 ACP.
If you can get the gun to fire more than two rounds without jamming, it's a good day.
The sights suck and should be ignored. They are more decoration than a useful design. The manual safety sits flush within the frame and is hard to activate. Recoil is stout because it's a direct blowback weapon, and boy oh boy, I hope you like slide bite.
It's a piece of junk, and the number one on my worst guns ever list for a reason.
2. The Taurus Judge
Last month I wrote an article on why 410 revolver suck. In the process, I broke out my old Judge and took it to the range. It promptly broke, firing 410 Federal handgun ammunition. In many ways, I said why 410 revolvers suck in general but didn't dive deep into why the Judge specifically sucks and why it's one of my worst guns.
Obviously, it's ballistically challenged with 410 loads. They tend to suck out of the Judge's 3-inch rifled barrel. 45 Colt has so much cylinder gap to overcome that precision accuracy is best described as challenging with it. Also, the trigger blows hard. Even the single-action trigger feels sloppy and heavy. The rubber ribber grip feels like it's sized for a J frame .38 special and not a 410 pistol.
Add in the fact that it's probably fired less than 250 rounds in its entire life and still broke, and that says all I need to know about the Judge. I can deal with dumb fun guns. I love dumb fun guns, and the Judge was fun for a bit. However, when you combine the uselessness of the gun with the poor ergonomics, terrible trigger, and breakage issue — you get one of the worst guns I own.
3. USFA Zip
I wanted the Zip to work, and I wanted it to work so bad. It was a cheap gun, had a weird space-age design, and took Ruger 10/22 magazines. A fun, futuristic plinker like this could've been such a fun and silly gun for the range. However, like most of the guns on this worst guns list, it failed hard in the reliability department.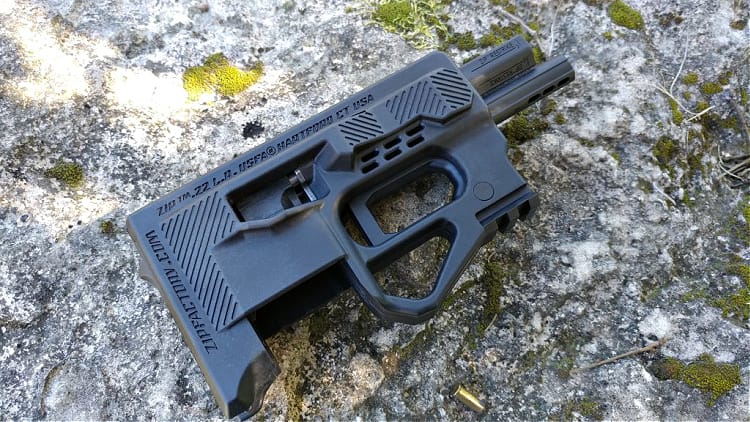 The USFA Zip wouldn't feed to save its life. USFA tried to come out with upgrade kits to make it work a bit better, but it never did. The gun barely feeds two or three rounds before you get a jam that requires you to remove your magazine and clear the gun.
Outside of the reliability department, the ZIP 22 had some fatal flaws safety-wise. Reportedly, there are out of battery detonations, which are never safe. The next issue is the charging handles — you basically have to put your finger in front of the barrel to charge the weapon. Not a wise decision.
4. Remington 597
The Remington 597 was my first rifle. This semi-auto 22 LR was a magazine-fed design and was my 10th birthday present. If I could go back in time, I'd tell my dad to get the Ruger 10/22. The Remington 597 was a garbage rod from the very beginning. The 10 round magazine was fragile and looked to be made of the same pot metal my Jennings is made from. It worked about the same.

The gun rarely fed correctly, and my ten-round magazine would rarely lift the round high enough to feed. The bolt would often drive the round down into the magazine, and this would bend to rounds and make removing the magazine and clearing the jam a major hassle.
Also, some years after owning it, the stock cracked near the pistol grip. No idea why; it just cracked and eventually broke. I traded it away for a single shot 22 LR and found myself way happier with the results. I built 80 percent lower guns that work better than this piece of Remington junk.
5. The Tec 9
Technically this is a TEC-DCM9, but let's just call it a TEC-9. Admittedly I bought this gun knowing it was a piece of junk, so that's why it's the final gun in my worst guns list. Even though I knew these guns were of dubious quality, I still didn't expect how bad the gun was. The first big flaw is reliability.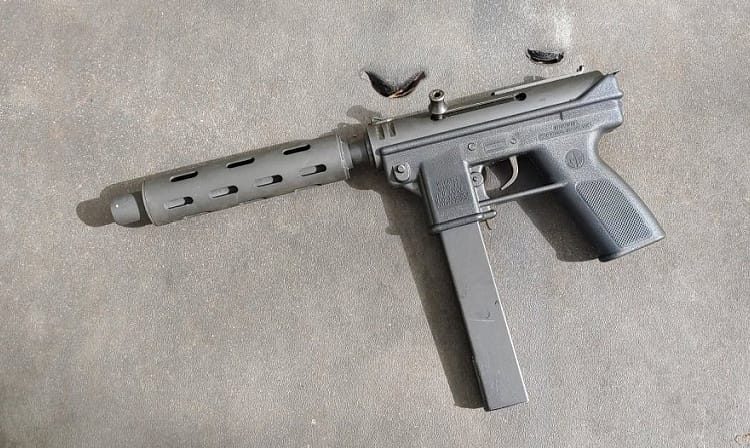 Boy, oh boy, does this gun love to jam. Not just fail to fire or fail to eject—and while it does do that, it also tosses complicated malfunctions left and right, like double feeds and failures to eject when the bolt still loads the next round. Almost every malfunction is trouble. Those suck for sure, but the gun itself is poorly designed.
The TEC-9 is a direct blowback weapon, and man, does that heavy bolt cause your gun to jump and buck way more than a 9mm should. The TEC-9 is a fiery little fella with one helluva safety. The safety is the charging handle. To turn it on, you press it down, and it locks in place. It's a terrible design all the way around. If it didn't have the controversial nature, I'd never own it, but for now, it's a primary fixture in my gun safe.
My Five Worst Guns
These are my five worst guns. Guns I wouldn't trust to be anything more than a paperweight. How about you? What are your worst guns? And why? Let us know below.