The Modular Holster Adapter from True North Concepts is a new holster accessory — one might say upgrade — from True North Concepts. It's intended to eliminate the unwanted movement you so often get from similar factory adapters. That's right, the Modular Holster Adapter minimizes maddening movement.
Say that five times fast.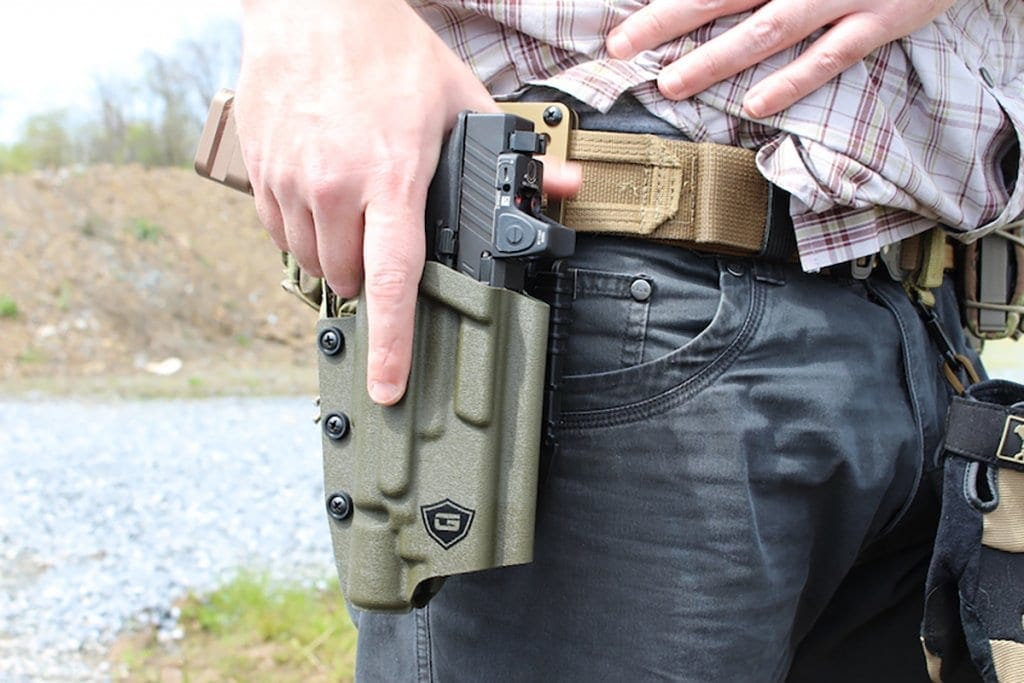 TNC's adapter is designed to provide interchangeability, holster to holster, gun to gun, on the same belt – and to do so without the shifting, sliding, and flexing such holster accessories tend to produce. It's not the first such device ever offered with such intentions in mind, but initial reports (not mine, I haven't put hands on it yet) certainly indicate it does a better job of doing so than its predecessors.
And unlike most other adapters, at least the ones I'm familiar with, the True North holster adapter lets the user decide how they want to carry their pistol rather than forcing them into a one-size-fits-one-belt carry system. That's a Good Thing whether you're building a "war belt", putting together a single range rig for multiple uses, or changing your duty belt setup.
The MHA's modular design gives holsters mounted to the adapter greater mounting rigidity. Its proprietary modular positioning features include:
20-degree-wide mount positioning range; 10-degree forward cant and 10-degree negative cant
Three vertical mounting points set ½-inch apart giving the user three height options
Supports "Mid-Ride" mode of carry that will drop the pistol below his or her belt line, allowing it to clear body armor and pouches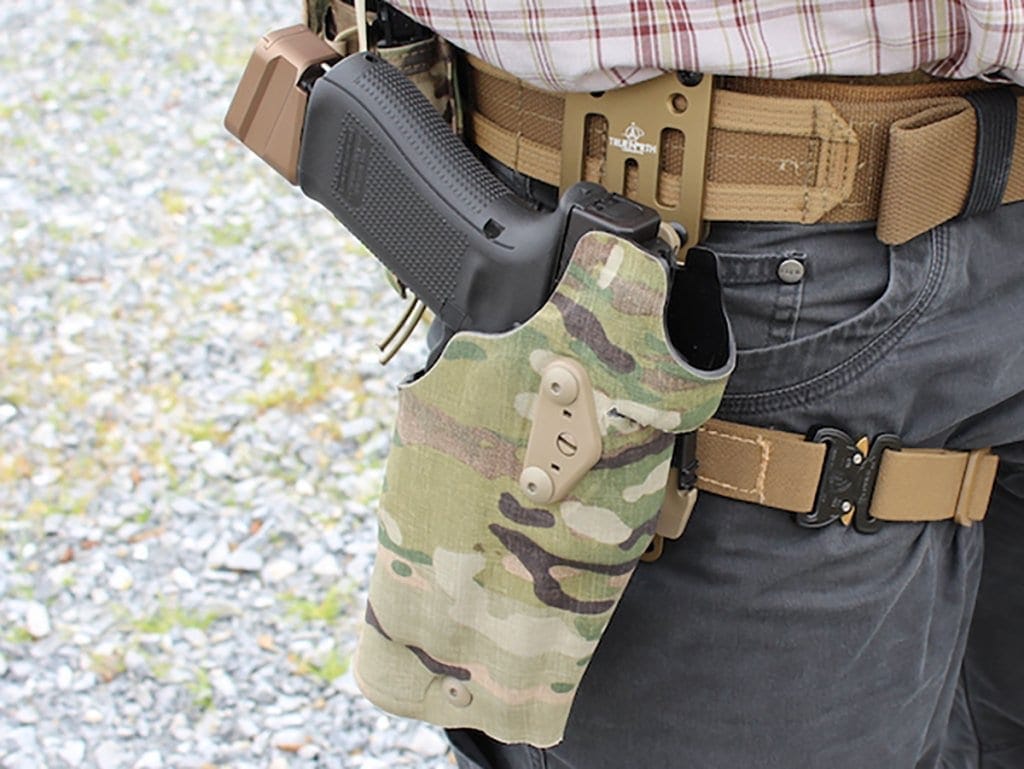 True North Concepts, helmed by Marine veteran Nathan Murr (and, in the interest of full disclosure, an old friend of mine), explains that rigidity (snicker) is indeed the key.
Says Murr,
The adapter includes belt mounting bars which are sized and spaced for use on MOLLE type battle belts, by threading each bar through the belts PALS webbing. This application works extremely well on narrow, minimalist type battle belts such as those from Ronin or Tyr Tactical. Alternatively, these mounting bars can also be directly bolted to any standard gun belt up to 2 ¼ in. wide. When properly installed on your gun belt, the adapter will not move. All unwanted movement, slipping and sliding has been removed from your system. The Modular Holster Adapter includes top mounting points for using a wide array of popular quick-release belt mounts such as the Tek-Lok and polymer MOLLE type hardware. Each Modular Holster Adapter comes with a complete hardware kit of various sized screws, posts, spacers and threadlocker for mounting.
The Modular Holster Adapter fits all Safariland "three-hole pattern" type holsters and multiple brands that use this method of attachment. It also supports common quick detach holster systems, including the QLS. It's made from non-ferrous DFARS-grade 6061-T6 aluminum, is Type 3 MIL-SPEC hard coat anodized and is made in America.
The Modular Holster Adapter mounting system gives users two primary mounting options – the ability to thread the mounting bars through PALS webbing to attach the holster to MOLLE-type battle belts, or to bolt the adapter directly onto any standard gun belt with a width of up to 2 ¼-inches. The Adapter also includes mounting points for use with a wide array of popular quick release belt mounts, including Tek-Lok and polymer MOLLE-type hardware
The Modular Holster Adapter is currently available in all sorts of colors; you just need to choose from Black or Dark Earth.
Online at truenorth-usa.com/; on the 'gramz, @truenorthconceptsllc.