Recently I was sent a Holosun 510C reflex sight to review. This specific model's reticle features a red, 65 minutes-of-angle circle/open crosshair with a 2 MOA dot in the middle, more or less a copy of the reticle designed by EO Tech more than 15 years ago. Unlike the EOTech, the Holosun sight is made in China.
As I discussed in my review of the Sig Sauer Romeo-5 sight, there was a time not long ago when optics imported from China were generally, for lack of a better word, crap. That is not the case today, and many of the optics being imported now offer a lot of features at affordable prices.
Some readers may express a hesitation to purchase a product made in China. This is understandable from a certain viewpoint. As much as the United States has normalized relations with China in the past 20 years, the country is still a totalitarian police state ruled by the Chinese Communist Party. Their human rights record is egregious, up to and including the ongoing persecution of the Uighur minority. The CCP's embrace of some capitalist economic policies (which undoubtedly would have Mao rolling in his grave) hasn't changed what they are: a brutal, tyrannical regime with a stranglehold on the world's most populous nation.
All that said, it helps to be realistic about the situation. The United States spent many years economically entangling itself with China, prodded along by our own government and business interests. While the winds seem to be changing presently, untangling ourselves from them will be a long and painful process, if it happens at all. Go to any major retail outlet and hunt for products not made in China and you'll see what I mean. Odds are, the computer or phone you're reading this on was either made in China or is made from components that were manufactured there. So were many components of your car.
Many optics companies use Chinese manufacturing or components these days, even traditionally American brands (especially the glass- almost all of it is from Germany, Japan, or China). Such is the nature of the current global supply chain, whether we like it or not. It's probably also worth pointing out that the Chinese workers who make the products you consume have no say in what their government does one way or another.
Holosun 510C Specs
If you're not interested in the philosophical or economic discussion and just want to know about the sight, its specifications are as follows:
Dimensions: 3.3" long by 1.8" wide by 2.31" tall
AR-15 sight height equivalent: absolute co-witness
Weight: 7.6 ounces with battery (as measured on my postal scale)
Power Source: CR2032 battery
Battery Life: up to 20,000 hours for circle-dot reticle and up to 50,000 hours for just the dot, per the manual
Brightness Settings: 12, including 2 night vision settings
Material: aluminum and titanium
Adjustment: ½ MOA clicks for both windage and elevation
Eye Relief: Unlimited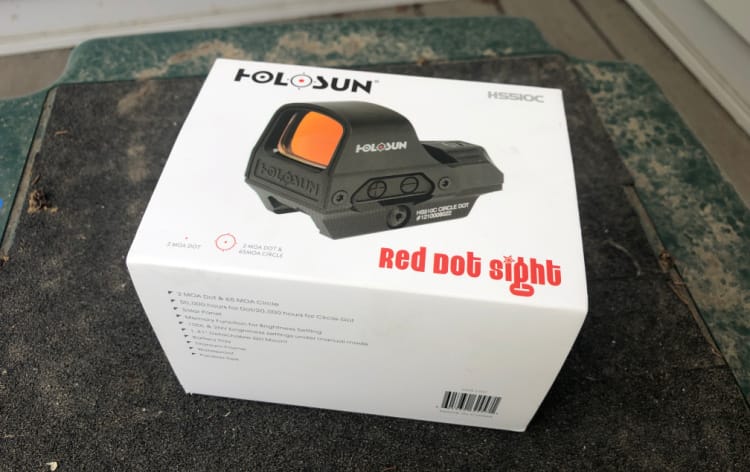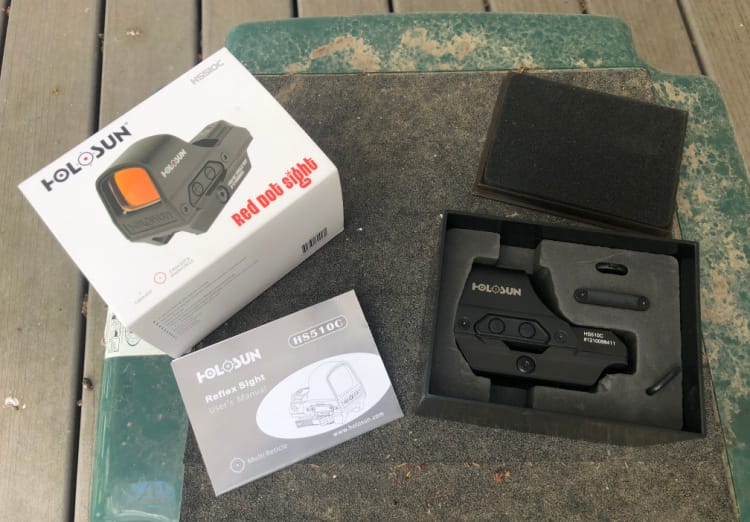 The HS510C is a reflector (or reflex) sight. It operates by projecting the reticle onto an angled reflective lens, which allows it to appear superimposed in the user's field of view. Reflector sights were invented circa 1900. They were widely used as aircraft gunsights in the Second World War, but it took a few more decades for the technology to be miniaturized for use on small arms.
The Holosun is an open-type sight. This means that the emitter is exposed. If you look at the front of the sight when it is turned on, you can see the reticle being projected from the emitter. Note that this also means that if anything covers or blocks the emitter (snow, dust, etc.) the reticle will disappear.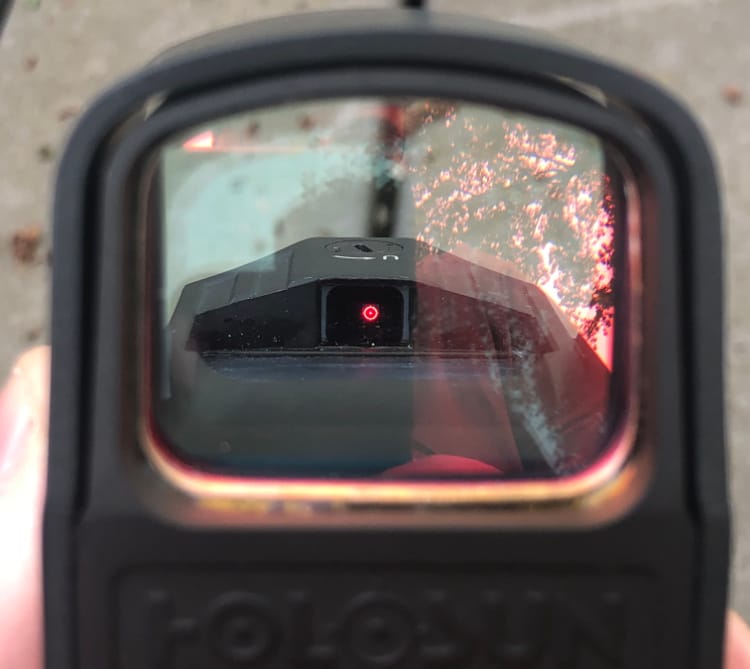 You can demonstrate this for yourself by blocking it with your finger while looking through the sight. This is not a particular failing of the Holosun- it's a possibility with any open-type reflector sight, of which there are many on the market. If this is a concern, the alternative is to get a fully enclosed red dot type sight like an Aimpoint.
Mounting and Battery Installation
The Holosun 510C sight comes with an installed quick-release mount that's compatible with any Mil-Spec M1913 Picatinny rail. It can be removed and a spacer (available separately from Holosun) can be installed if you want the sight a little higher. Included in the package is a battery, a spare battery tray, a small Torx wrench, and a little tool that's used for adjusting the sight and prying out the battery tray. The manufacturer states that the sight is waterproofed to IP67 standards. A metal outer shell provides an extra layer of protection to the lens box.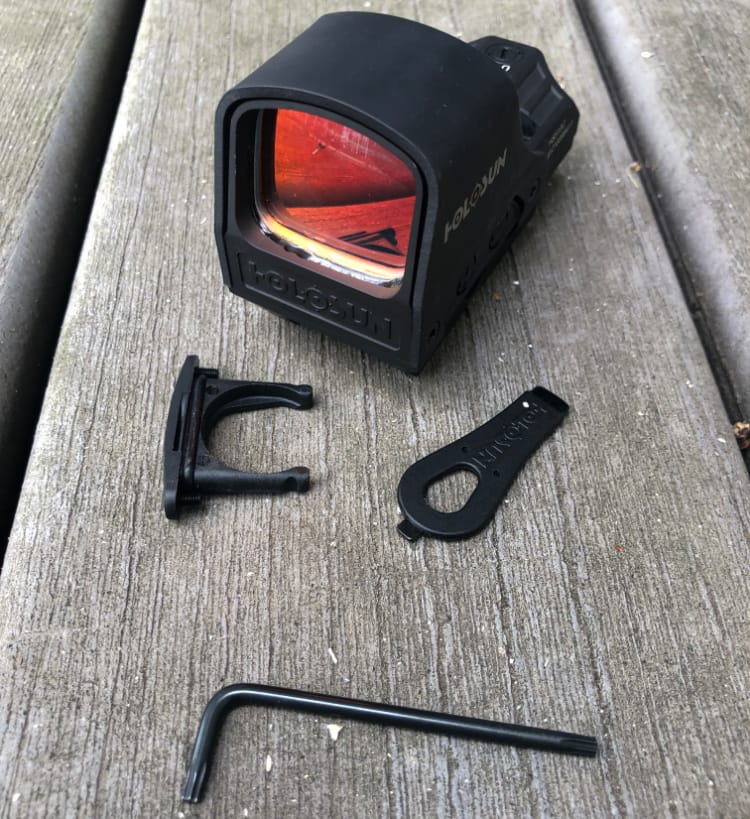 The battery installs from the right side and can be replaced without removing the sight from the weapon. It has a rubber gasket sealing it against moisture and is held in place by two Torx screws.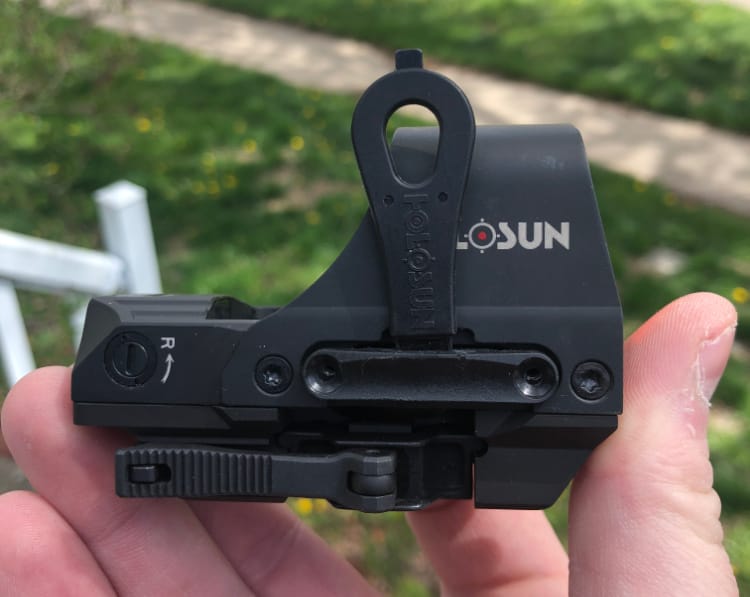 The quick-release mount, as near as I can tell, retains zero if the sight is removed and replaced. The sight window has a reddish tint from the front but no noticeable tint when you look through it from the rear, unlike some other red dot and reflex sights available.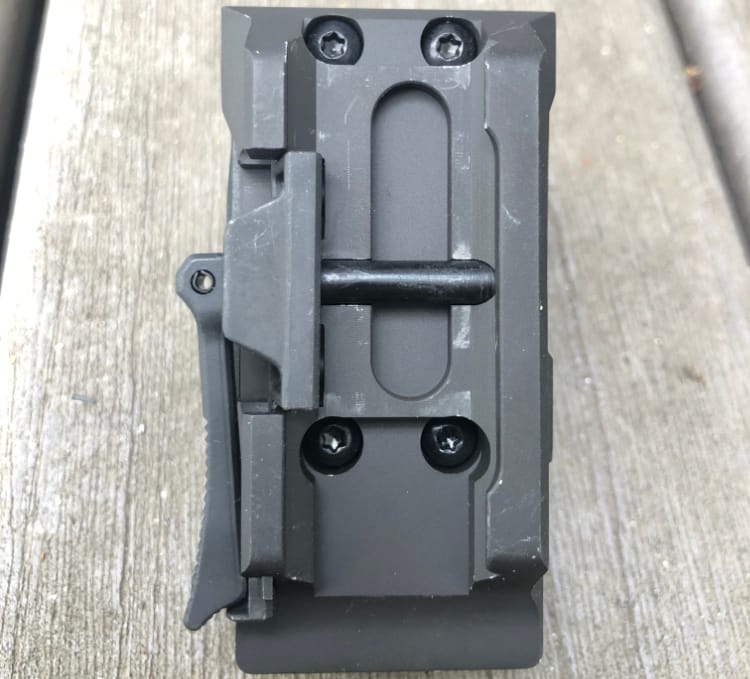 Function
There is a very slight distortion effect, when looking through the sight, if you pan side-to-side, but it's hardly noticeable and is not a detriment to shooting. The sight has two "night vision" brightness settings, but I have not had the opportunity to test them with actual night observation devices.
Brightness is adjusted by a + and – button on the left side of the sight. Pressing either one will turn the sight on; pressing them both together will turn it off. There are no other external controls on the sight. The elevation adjustment knob is on the top, while the windage adjustment knob is on the right side. Both are recessed and require a tool to adjust, which all but eliminates the chance of the weapon sight zero being accidentally changed. It adjusts with positive, tactile, half-MOA clicks.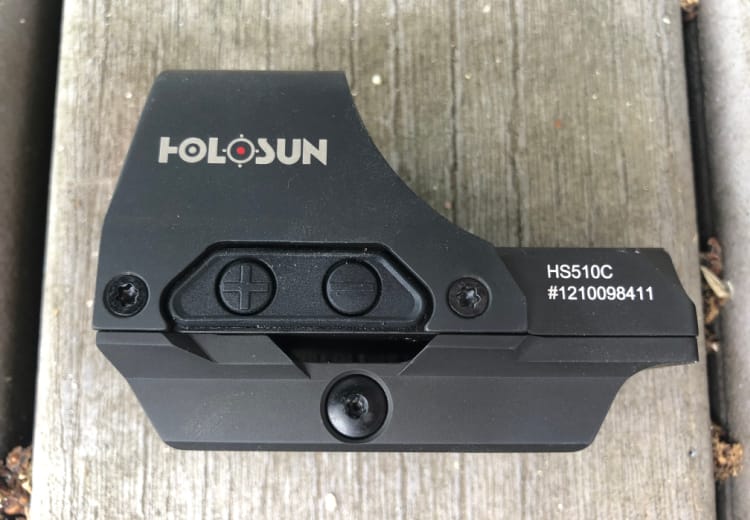 This sight has a small photodiode array on the top that serves two purposes. It acts as a solar panel, allowing the sight to be powered by sunlight and only switch to the battery when sunlight is not available if set in the automatic brightness mode. It also acts as an ambient light sensor for automatic brightness adjustment.
As noted above, the Holosun 510C has an automatic brightness mode, which can be turned on or off at the user's discretion. I tested it by carrying the sight throughout the house, to rooms with different lighting levels, and going outside in daylight. The function seems to work as advertised but note that there are some drawbacks. The transition from one brightness setting to the next is not smooth—it pops up and down in brightness, skipping intermediate settings, and can be a little distracting.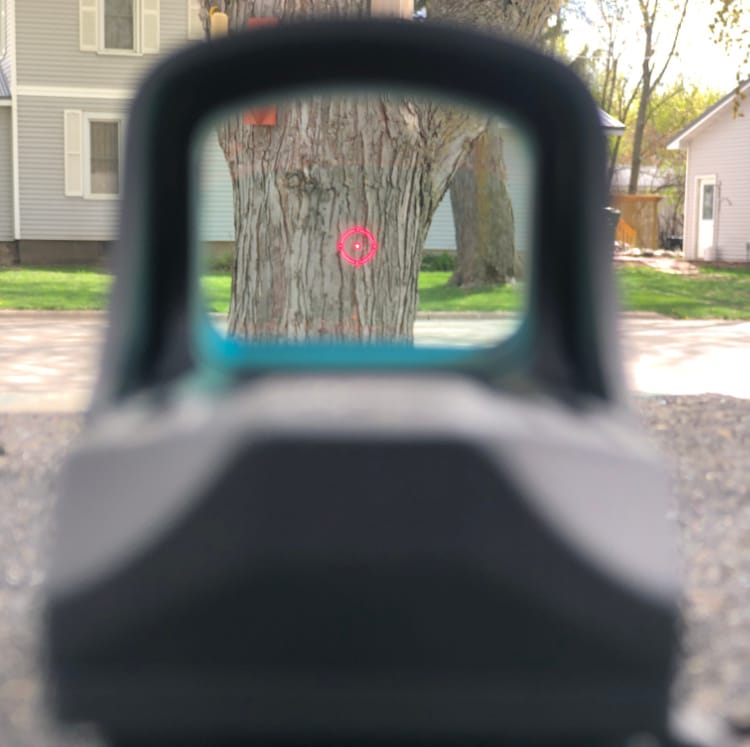 The light sensor is on top of the sight and adjusts its brightness based on how much light it is receiving. If you are in a dark room, looking out into a brighter room (or are using a weapon light in a darkened room), the reticle may wash out and not be very visible against the brighter background. This is an issue shared by sights that rely on fiber optic illumination. There is also a very slight delay in brightness adjustment. Most of the time it's barely noticeable.
The Holosun 510C sight has a variety of user-selectable options. You can set the sight to automatic or manual brightness mode. You can use just the 2 MOA dot, just the 65 MOA ring, or the full circle-dot reticle.
You can set it to be always-on or to utilize the shake-awake mode, where it goes to sleep when not moved for a period of time, and powers back on when disturbed. You can even adjust how long it has to be still before it goes to sleep (this only applies to the red sight. According to the manual, the green version of this sight has a sleep mode by default). If you turn the sight off, when turned back on it will return to the last brightness setting used.
When the battery is low, the reticle will blink every few seconds. The Holosun 510C will function with a dead battery or even without a battery installed at all, provided it has had enough exposure to sunlight to charge its internal power cell. Once charged, the sight will function even if not exposed to direct sunlight, until the charge is depleted. The sight isn't quite as bright when functioning this way, and the run time seems to be limited to a matter of hours, but it's still a welcome failsafe.
Read the Manual
It's important that you read the manual that comes with the sight so as to ensure that you are using it correctly. It has a lot of user-adjustable settings that are controlled by only two buttons. You can waste a lot of time fumbling with them trying to figure it out, or you can spend a minute reading a couple of paragraphs in the instruction booklet. Also note that the battery must be installed positive-side DOWN for correct functioning, not positive side up as most would assume from looking at it.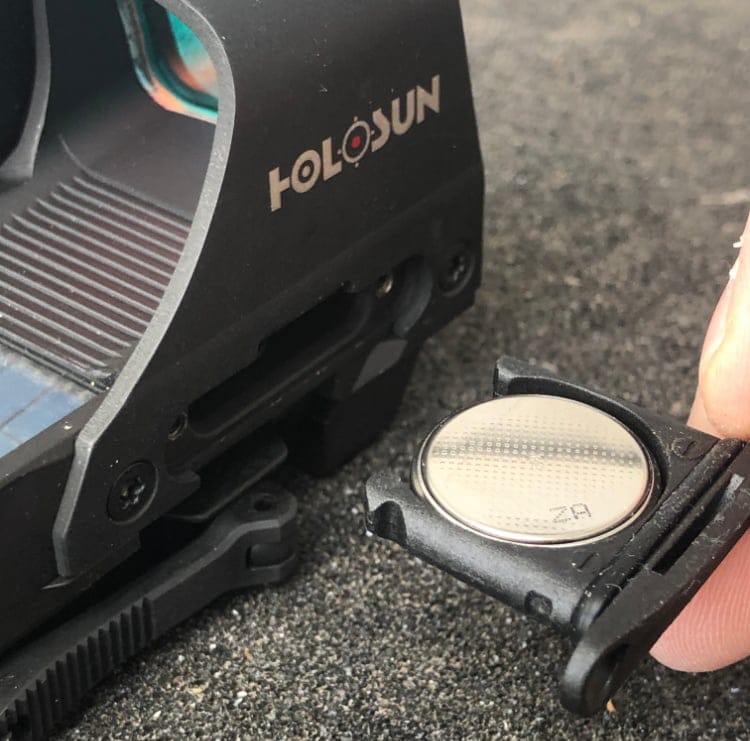 This issue is common enough that, on the Holosun website, they make you read and acknowledge a paragraph about correct battery installation before allowing you to proceed with sending a warranty repair claim.
One final positive note: sights like this Holosun and the EOTech series seem to work better, for me, with my astigmatism, than conventional red dots do. To my eyes, a typical red dot appears as an imprecise star, complete with rays coming off of it. The center dot of the sight has a little bit of this effect but it's much less noticeable, and I don't see any of the effect from the circle.
All in all, I've been pleased with the Holosun 510C. Its fit and finish are excellent and it seems to work well. It offers a lot of features, is compatible with magnifiers, and has a suggested retail price of only $364.69, per the manufacturer's website as of this writing (May 2021). I've used it on both an AR-15 and a PTR-91 in .308 (a roller-locked G3 clone) and it hasn't given me any problems. I haven't torture-tested it, nor have I had it long enough to be able to speak to its long-term reliability, but so far I have no real complaints.
Just read the friggin' manual and make sure you put the battery in the right way.