While the Beretta ARX-100 qualifies as a Modern Sporting Rifle, it most certainly is not a member of the AR-15 family in any way, shape, or form. Yes, it shoots the same ammo, and uses AR-15 compatible magazines, but everything else is much, much different.
You can think of the ARX-100 rifle as the Lego set of MSR's. Everything, and I mean everything, is reconfigurable, adjustable, removable, or reversible without the use of any tools. Well, in fairness, when changing the ejection pattern from one side to the other it helps to use a cartridge to press the internal pin. Clearly, this rifle was designed for agency and military use. The ability to buy one rifle and easily reconfigure it for different applications, right or left-handed users, different optics types, and varying shapes and sizes of operators is a big deal for groups that have to issue one kind of rifle to lots of folks.
That doesn't mean that the ARX-100 isn't useful in the civilian market too. While there are some rifles that are purpose built-for left-handed use, most favor righties. The ARX offers safety levers (like those on standard ARs) on both sides. There are also magazine release buttons on both sides of the receiver. There are also bolt release buttons on both sides of the trigger guard. Speaking of bolts, you can switch the bolt handle from one side to the other simply by passing it through the generous ejection port area to the other side. You'll want to press a recessed button to move the ejection pattern to the opposite side, but that's it.
The flexibility isn't limited to ambidextrous operation. The modular Lego approach applies to field stripping and maintenance. Remember how much of a pain it is to clean the chamber area of a standard AR rifle? Wouldn't it be much easier if you could just drop the entire barrel and chamber out of the receiver? On the Beretta ARX-100 you can. The short-stroke gas system and barrel drop right out as a single unit without need for tools. That allows for thorough and easy cleaning.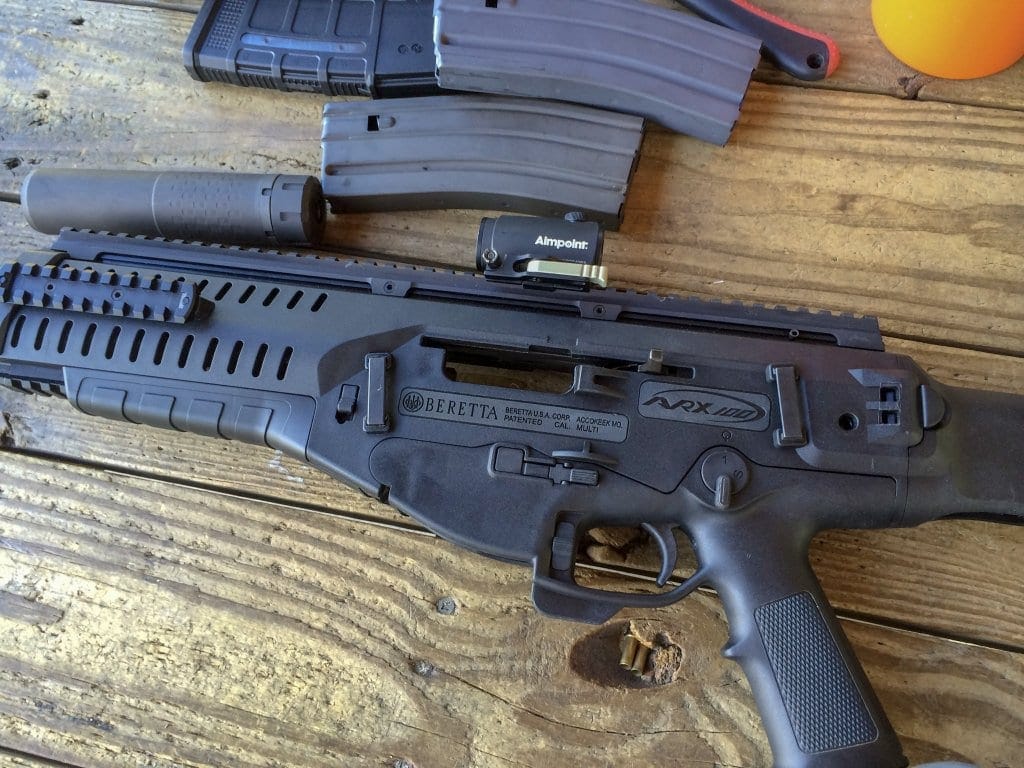 Since it's a gas piston rifle, there's no need for a receiver extension, buffer, and spring in the buttstock. That allows the ARX-100 to use a folding stock. It's great for carry and the rifle will also fire from this position if needed. The stock itself is adjustable for length of pull.
I shot the ARX-100 with a variety of ammo types and four or five different makes of AR magazines. Mil-spec, Magpul, Lancer, and other magazines all worked flawlessly, and ejection was positive using either button on both left and right sides of the receiver. Accuracy was service grade with five-shot group averages at 100 yards ranging from 1.00 to 2.98 inches. This ARX seemed to like lighter bullet weights, as the best groups came from Black Hills 5.56mm 50 grain Barnes TSX, DoubleTap 55 grain Nosler Ballistic Tip, and Hornady 55 grain V-MAX ammunition.
The Beretta ARX-100 is an interesting rifle. While it's in use at agencies and military teams around the world, it hasn't really caught on in the US – yet. I suppose time will tell.