The Smith and Wesson M&P 15-22 is one of the best dedicated AR-style rifles chambered in .22LR. It has magazines that are easy to load and the gun has most of the same features as a real AR-15. Many people prefer an "AR 22", i.e. a 22 caliber AR or an AR with a conversion kit for training; the S&W M&P 15-22 is one of the most frequently chosen.
Since the S&W M&P 15-22 is similar to an AR-15 you can immediately install AR-15 accessories such as triggers, safety selectors, grips, mag releases, and stocks.
However, there are some things you need to know.
Smith & Wesson M&P 15-22 Pre-Upgrade
Before we start with the upgrades, here's what she looks like from the factory.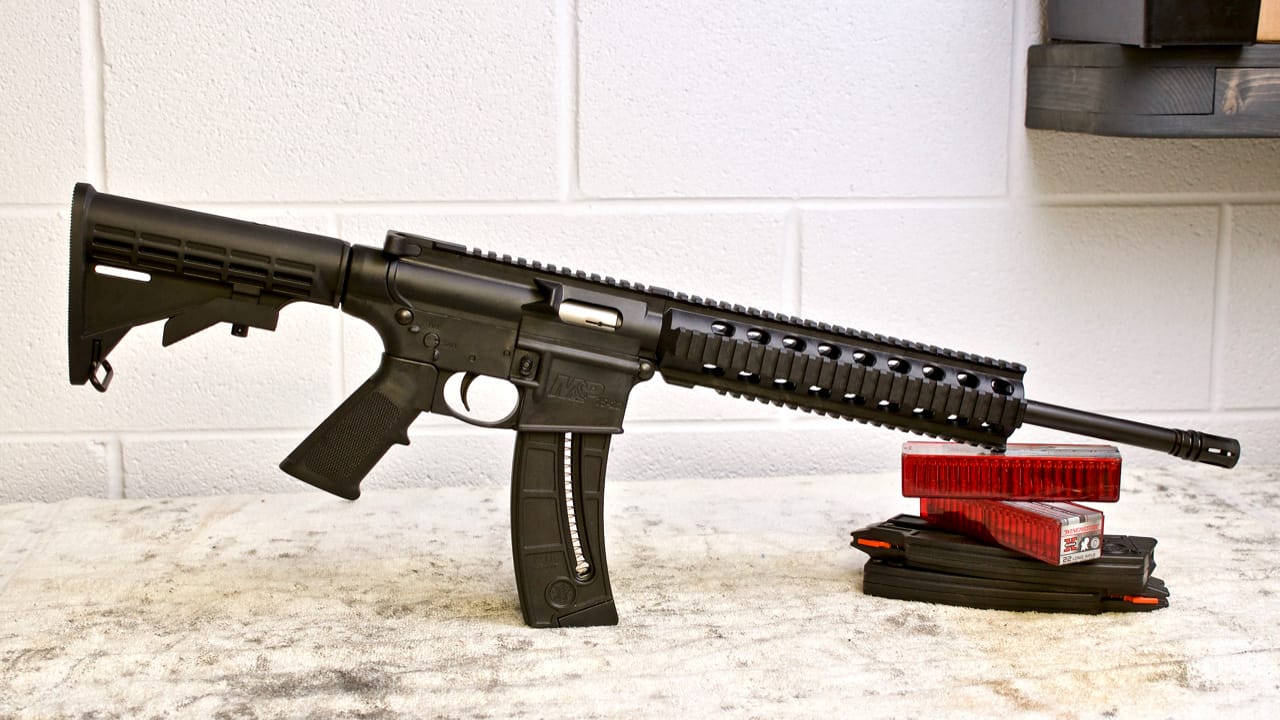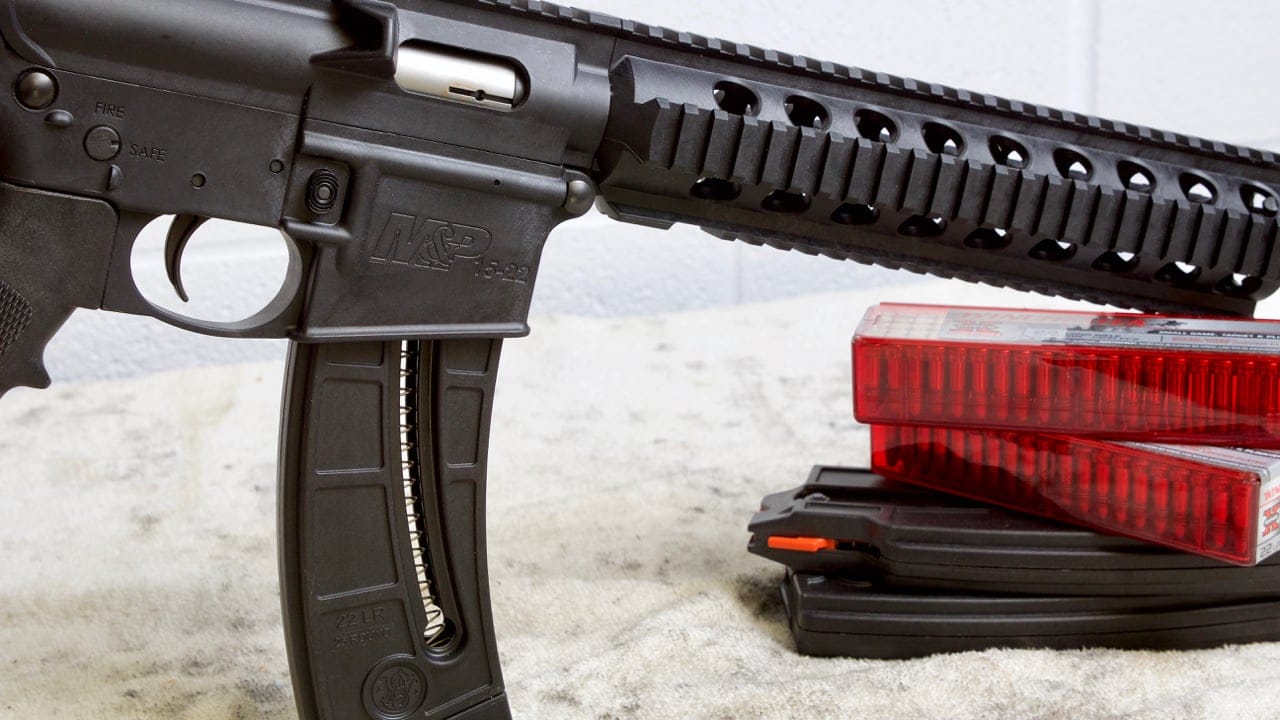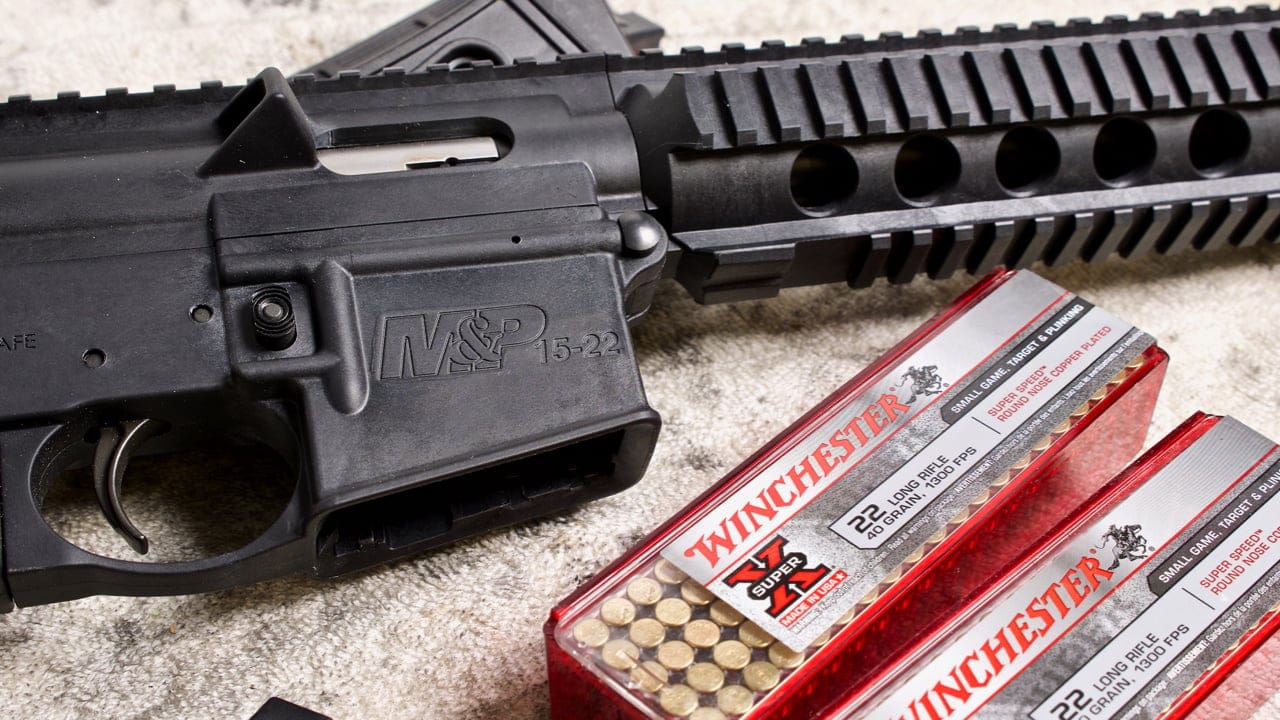 M&P 15-22 Accessories
Starting Back To Front
Buffer Tube
First up is the faux buffer tube. While it is mil-spec sized and will fit most collapsible stocks, things get interesting when you want to add sling mounts or fixed stocks. The buffer tube protrusion, that has all the stock detents, is one continuous piece. On a traditional carbine buffer tube, the protrusion stops about an inch before reaching the back of the receiver. In some cases certain stocks utilize this gap to mount the stock. This makes using those stocks almost impossible on the M&P 15-22. However the buffer tube is polymer so it is relatively easy to use tools and remove material. Look at the photo below, the previous owner drilled holes to attach a Magpul PRS stock to his S&W M&P 15-22. Stock
I installed a Hera Arms CQR stock to my S&W M&P 15-22. This was not a straightforward installation. The area where the buffer tube meets the receiver is a different geometry than a standard AR-15. There was some material that needed to be removed from the stock. Sling Mounts
As you can see in the photo above the Hera CQR stock has a QD socket allowing me to use a single point sling. But what if you don't want to use this style of stock? Well, some QD sling mounts will work. You need to find ones that can slide over the buffer tube and clamp down. I had this Troy QD Pro Grade Rifle Sling Adapter. This will fit onto the M&P 15-22. Triggered About Triggers
Moving forward down the M&P 15-22 we now take a look at the trigger. The M&P 15-22 can accept almost any trigger out there. I have a Geissele SD3E trigger in mine and while it cost more than the gun, the trigger pull is just sublime. The trigger is worth the price and I can always swap it into a real AR-15 if I want to. Installation of an AR-15 trigger is rather easy and the M&P 15-22 is just as easy. The only issue is the safety selector stops. Most AR-15s have the selector stops at Safe and Full. For some reason, S&W had selector stops placed at safe and fire. So the safety can only rotate 90 degrees. You will need to remove the semi selector stop if you want to use a trigger like the Franklin Armory Binary Trigger. Magazine Release
Staying with the lower receiver, you can change out the magazine release to an ambidextrous mag release and the mag well can take certain flared mag wells. I got mine from a friend. It makes reloads easier and faster.
In the upper receiver, the only part you can change is actually one of the more important ones if you like to shoot fast. The factory charging handle is just too small. There are a couple of options for larger charging handles. NDZ makes an aluminum replacement charging handle for the 15-22. They even offer enlarged latches. Those could work but Next Level Armamenthas a better solution. They took their AR-15 charging handle design and switched out the long shaft for one that will fit in an M&P 15-22. What About Handguards?
When I purchased my S&W M&P 15-22, it had a polymer quad rail. Now the new M&P 15-22 comes with a narrower handguard that has MLOK slots all around it. While the newer polymer MLOK rails are nice, it is just not something I want. So what can you do about this? Well, Tacticool22 is your answer. The factory polymer handguards are attached to the upper receiver by a proprietary nut and there is no conventional way to get in there and remove it. Tacticool22 came up with a special wrench to help you remove the small castle nut you see above. Once the castle nut is removed, you can simply slide the handguard off. Next, you need a Tacticool 22 thread adapter. It screws onto the receiver giving you threads like a traditional AR-15 upper receiver. With that adapter, the world is your oyster to mount any free-float handguard you heart desires. M&P 15-22 Magazines
The standard 15-22 magazines are single stack 25 rd magazines but 10-round magazines are also available, as seen in the image below.
If you're looking for a compact magazine for bench/prone shooting, you can add an S&W 10-round short factory magazine to your kit. However, if you'd like to increase the capacity, there is an alternative brand choice. Plinker tactical makes a 35 rd magazine for the 15-22. One issue is that the Plinker mags do not have the exposed follower loading assist like the factory magazines.
Suppressor
Next up is suppressing the S&W M&P 15-22. The barrel is threaded 1/2×28 so any muzzle device you want will fit the M&P 15-22. I added a suppressor to mine but Innovative Arms makes an integrally suppressed barrel. This barrel/suppressor combination is considered a single stamp gun. The suppressor is a part of the barrel making the barrel the legal limit so as to not have to file for SBR status. Besides the overall benefit of being a single stamp and keeping the barrel as short as possible does make the gun lighter. The Innovative Arms design is integrally suppressed, which is another benefit. The barrel is perforated so that any type of ammo vents gas after it passes them. Thus any rounds you use whether it be high velocity or standard velocity will drop down to subsonic levels making this gun extremely quiet. The only bad aspect of the Innovative Arms integrally suppressed barrel is the cost. It costs about $1000 to have your barrel converted.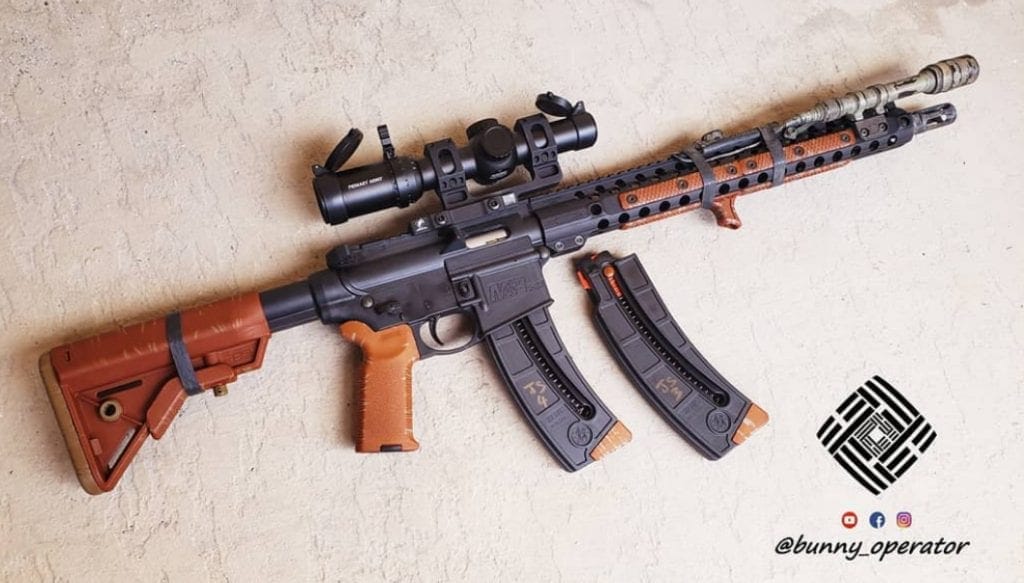 Adjustable Cheek Rest for the 15-22
There is another accessory option for you to consider – an adjustable cheek rest, like this one: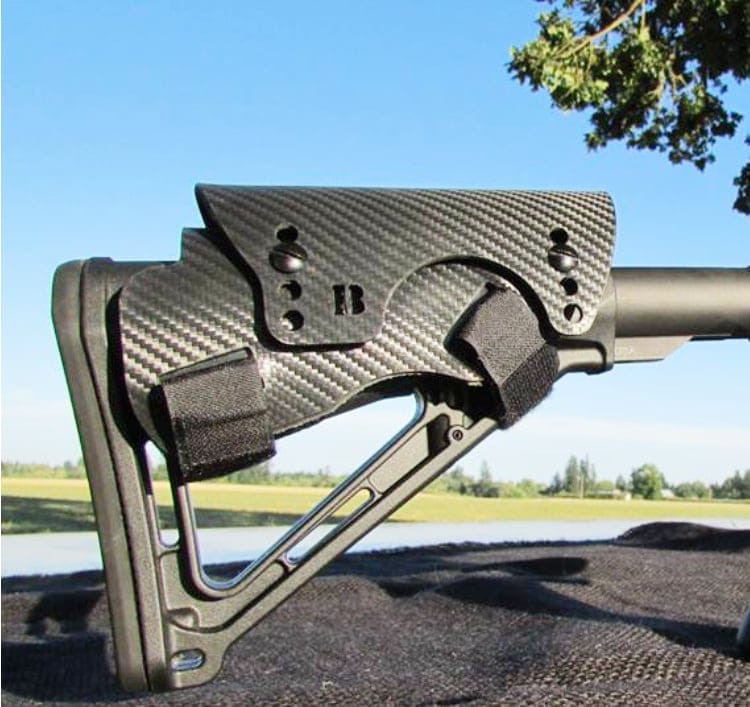 Designed to help get a solid cheek weld, the Bradley Adjustable Cheek Rest is a lightweight, robust alternative to a built-in adjustable cheek rest. Each of these is individually hand-crafted from Kydex by a U.S.A vetrepreneur.
What have you learned?
At first glance, the S&W M&P 15-22 seems limited in its potential to be modified and personalized. However, the sky's the limit with just a few dedicated adapters and some tools. These guns are extremely fun to shoot and adding your own personal touch to your firearm is one reason they are so much fun.
---
Read More About the S&W 15-22
Way back when it was still young, Four Guys Guns reviewed the S&W 15-22. The review covers the build, fixtures, accessories, and functionality. Their conclusion: "This rifle embodies everything great about the joy people get from shooting. The usefulness, the training capabilities, the cost effectiveness and the hours upon hours of shooting fun make this rifle one of my favorites. This is the rifle I would teach my son or wife on and have full confidence they could handle it and would want to shoot more."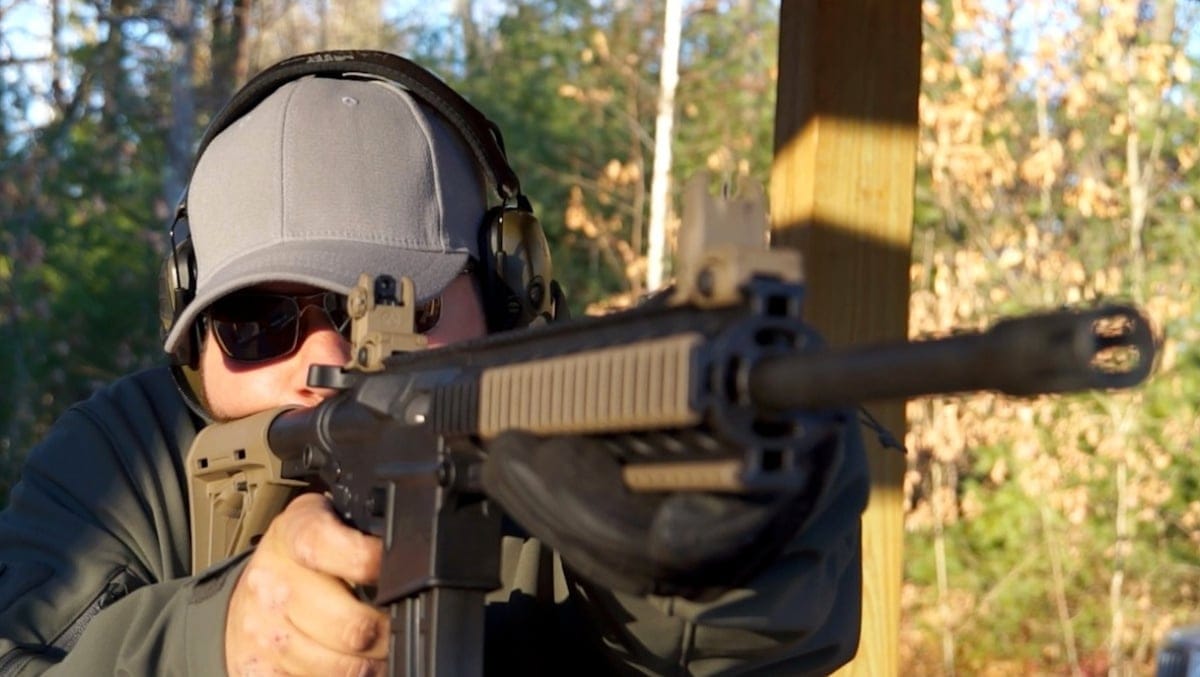 M&P 15-22 Sport Rifle. Image source: Smith & Wesson.