The Nightstick TWM-30 pistol light is a weapon-mounted light (WML) designed as a handgun light from the flashlight brand Nightstick, a subsidiary of Bayco Nightstick. You'll find information and reviews of it below.
The Nightstick TWM-30 Pistol Light
David Reeder, 8-28-21
The Nightstick TWM-30 pistol light is (as of this writing) the latest weapon-mounted light (WML) from Bayco's Nightstick brand of flashlights. To be fair, TWM-30 isn't any duller a name than TLR-1, PL350, or X300, I was just struggling to come up with a pithy title.
Regardless, the TWM-30 is now available. And in a season of new WML availabilities like the recently released Modlite PL350 (q.v.) and the rumored-to-be-coming-soon Cloud Defensive handgun light. the new Nightstick pistol light has a few interesting things to commend it.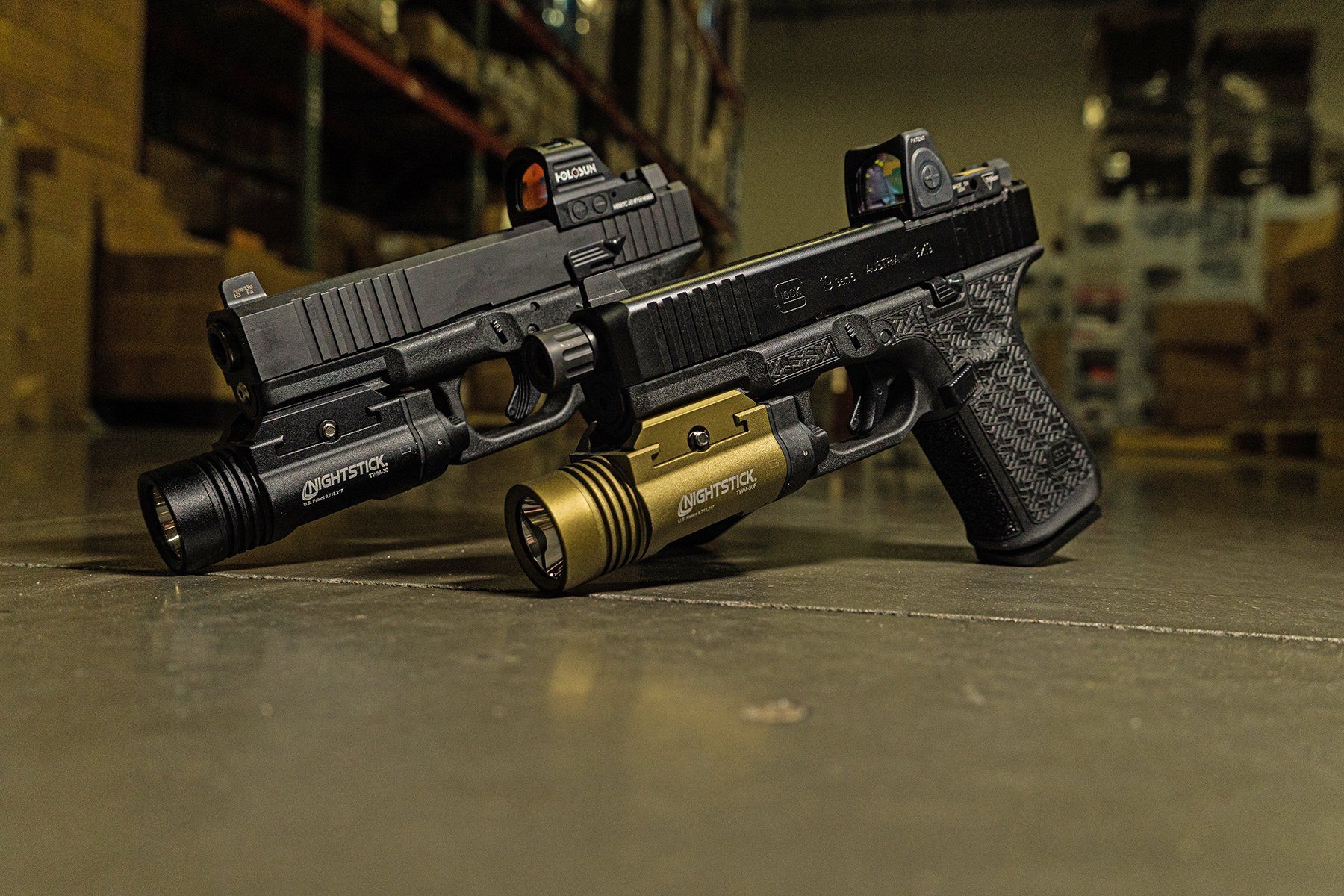 It sports a 1200 lumen (9,379 candela ) LED with a 194-meter beam distance, momentary switching capability (which is a major point for many people), and a runtime that's roughly 45 minutes longer than its more expensive competitors.
So, I'm cautiously optimistic this may be the best build and highest functioning handgun light for the money we've seen in quite some time. We'll soon see.

• First, is the manufacturer: Nightstick. Now, Nightstick taken without context might give one the impression that they're one of several second-tier WML manufacturers out there. To be candid, that was exactly my impression. However, as it turns out, Nightstick — in the form of Bayco — has been building hard use lights for the construction, mining, and similar industries (and for fire and rescue services) for nearly 40 years.
This doesn't provide an apples-to-apples certainty that their expertise and quality will carry over from headlamps to tactical lights necessarily, nor are the demands upon (and strictures of) a weapon light necessarily identical to that of an "intrinsically safe" industrial light.
But a light someone's life might depend on is, in the end, a light someone's life might depend on. That's true whether you're dealing with mostly peaceful protesters in a back alley of Seattle, running an urban rescue operation surrounded by shattered concrete and rebar, or carving away at a 40-inch coal seam in the Logan Orion.
• Second, are some of the features. Specifically, how those features stack up to competing WMLs. Some of the features will no doubt look familiar to you, but some are much better than I'd anticipated they'd be.
Here's the rundown.
Nightstick TWM Full Size Handgun Light Specs and Features
Available initially in black and olive green; FDE coming soon
Glass-filled nylon polymer battery door that appears to be the most secure battery door in its class
Aircraft-grade 6061 T-6 aluminum housing
Type III hard-anodized finish
LED technology
1.75-hour run time
1,200-lumen maximum output
9,379 candela
194-meter range
Ambidextrous controls (single-motion switches)
Momentary or constant-on modes
User-selectable strobe mode
User-selectable battery-safe mode
IP-X7 Waterproof rated
2m drop rated
Impact and chemical resistant
Serialized for personal identification
Power Source: CR123
Package Contents: Light, 3 cross-rail inserts, 2 cross-rail mounting cap head screws, Allen wrench, 2 CR123 Lithium batteries
Compatible with all existing TWM-Series-compatible holsters
Compatible with TLR-1 shape profile holsters
Rail mount modularity (q.v.)
TWM-30 Holsters
I almost forgot. Holsters can be a deal-breaker for many people, myself included. It's a pain in the ass to get a new holster just because you got a new light. More so if you're forced to get more than one.
TWM-30 = TLR-1
The Nightstick TWM-30 has the same form factor as the Streamlight TLR-1 holster(s) you may already have. This includes both the OWB PHLster Floodlight and the IWB PHLster Floodlight.
If you're running a Surefire, you're outta luck (for right now at least).
Stand by for some reviews as soon as my crew gets 'em done and submitted!
Here's how Nightstick describes the light:
Cut through the darkness and illuminate targets for quick, positive identification with the Nightstick® TMW-30 Full-Size Handgun Tactical Weapon Light. Featuring a Type III hard-coat anodized, aircraft-grade 6061 T6 aluminum housing, this weapon light offers superior corrosion and shock resistance for reliable performance under stress. The super-bright LED delivers an impressive 1,200-lumen maximum output (194-meter range), optimized for threat identification and target discrimination with a defined halo for superior peripheral illumination in CQB environments.
Fully ambidextrous, enhanced single-motion controls deliver quick, reliable control with both right- and left-handed shooters. User-selectable momentary-on and constant-on lighting modes keep you in full control of your light discipline, while strobe and battery safe modes are easily enabled or disabled with 2 unique switch actions. Operating on two CR123 batteries (included), this weapon light delivers 1.75 hours of runtime, while a glass-filled nylon polymer battery door allows for quick battery changes to keep you in the fight. The TWM-30F is compatible with all existing TWM-Series-compatible holsters including duty, OWB, IWB, and AIWB models.
Not compatible with rechargeable batteries. IPX7 waterproof. Manufacturer's limited lifetime warranty.
The Nightstick TWM-30F – A Low Key Illumination
Travis Pike, 8/30/21
The world of weapon lights is both big and small. Big in that a search of the term weapon-mounted light will turn up dozens and dozens of results. Small (in fact quite small) when you only consider the good WMLs.
I take that in stride and give new lights a fair shake. That's what I'm doing in this look at the brand new (as of right now) Nightstick TWM-30F. This is a full-sized weapon light designed for full-sized and compact firearms. It's a large framed light that fits in the class of both the X300U and TLR-1.
Now that I have one of these lights in hand, I've hit the ground running and given it a fair shake. Well, maybe less than fair. Whenever something new comes out, I like to run nice and hard to shake it loose. I don't purposely try to break things, but let's be real, you guys like negative reviews more than positive ones. Let's see how the Nightstick TWM-30F shakes out.
Nightstick TWM-30F Specifications
Before we dive into the field of how great or how bad the Nightstick TWM-30F is, let's take a peek at the specifications.
Lumens – 1,200 Lumens
Candela – 9379
Range – 194 meters
Run Time – 1 hour 45 minutes
Batteries – 2 CR123As
The first two specs in that list are interesting. First is the fact we've got 1,200 lumens of power. Measured by lumens, hat's more light than both the Streamlight TLR-1 and the Surefire X300U. It comes second only to the new Modlite PL-350's 1,350 lumens. However, the candela level falls below the leading competitors by a fair margin. Lots of lumens with lower candela make the light appropriate for close-range defensive use.
Included with the Nightstick TWM-30F is a rail key set. You get three to accommodate a wide variety of handguns, including Glocks, Sigs, HKs, and the like. Installing the keys is easy and can be done quickly. Unscrew an Allen screw, swap keys, and re-tighten it.
Ergonomics
From the ground up, the ergonomics are on point. We have an ambidextrous set of switches that are super easy to access. They don't rotate to activate, and they are a simple press-forward design. It's very clicky with lots of good tactile feedback. You can press slightly downward, or you can press inward. Basically, as long as you can press the switch, it will activate and firelight forward.
You can swap between constant and momentary, and 'ten' tap a strobe function into the system if you so choose. A battery-safe mode can also be activated should you want it. It's all done through the two rear switches.
I prefer just the constant and momentary modes. Constant switches on with a short press, and momentary is done with a long press. It's very simple and intuitive.
As a full-sized light, it does fit better on full-sized guns. When you go compact, a fair bit hangs off the front. However, with the right rail key, it's secured without issue.
Note: The Nightstick TWM-30F requires a Phillips head screwdriver to swap batteries, so keep that in mind when you're in the field.
Night Time Performance
I was honestly pretty shocked when I first sent a blast of light forward from the Nightstick TWM-30F. It's got a surprising blast and is quite capable outdoors. The beam is a bit warm, with a slight yellow hue. As weapon light users will usually attest, a warmer beam does a great job of defeating photonic barriers and blinding bad guys.
The light has tons of spill, more than the pictures represent (because taking photos of light at night can be tough.)
It's enough light to grant you excellent peripheral vision. The hotspot is quite potent and very powerful. I went back to 50 yards in the dead of night and easily lit up a target. At that range, I'm stretching my own capabilities with a handgun and most certainly the legal limits of self-defense.
The Nightstick TWM-30F pushes a ton of light out and does so impressively.
I put a photonic barrier between me and a "threat" and tried to see if the beam could defeat it. My photonic barrier was my pole barn lights. This creates a barrier of light that makes it impossible for me to see from one side to the other and identify the threat.
Well, impossible without a good light.
I hit the go button, and I was pleasantly surprised I saw my green polymer target on the other side. Before I turned on the Nightstick TWM-30F, I couldn't see the green target at all. Once the beam was in play, I spotted him through the photonic barrier without issue.
I can say I'm initially impressed by the power of the Nightstick. It certainly casts a bright beam forward and does an outstanding job of lighting up the world around you. Now we have to see if it continues to project that strength over time.
A Surprising Twist
As I fooled around with the Nightstick TWM-30F, I slowly felt a wave of deja vu hit. Something was familiar about the light, but it didn't catch me at first. I had never used a Nightstick light before.
As I used and abused the Nightstick TWM-30F, I realized its shape and size were quite close to the Streamlight TLR-1.
This had me asking if the Nightstick fit into TLR-1 rated holsters. I grabbed my Phlster Floodlight and quickly found out that, yep, it fits. It fits perfectly and works without issue. In fact, it even fits without issue in my Blackhawk Omnivore with its active retention device.
The biggest problem with buying a new light is holster availability. Well, the Nightstick has built-in support, so that's nice.
Will other TLR-holsters (as in from other manufacturers) accept it? The manufacturer says they will. We'll see if that holds true.
Let's Beat the Sh!t Out Of It!
This is my favorite part of testing stuff: taking it behind the barn and giving it the old Yella treatment! Well, kind of. I don't like to think I do crazy stupid torture tests, but I will look at the supposed ratings and test those specific ratings.
Drop Test
Nightstick claims the TWM-30F can withstand a 2-meter drop. Now I'm an American, and I only understand measurements used by countries who've gone to the moon. It turns out 2 meters is 6.5 feet. As a dude whose almost 6.5 feet tall, I held the light attached to a blue gun above my head and let it drop.
Over and over, at various angles to see if it would fail. For the last few drops, I even left it on to see if it would shut off when dropped—no such luck. The Nightstick TWM-30F took the beating better than Butch Coolidge.
Going Higher
I guess it could survive two meters, but what about a ten-foot drop? Well, up the ladder I went, and after fighting off a nest of wasps, I dropped it time and time again. Again, the Nightstick kept ticking and never even flickered at the abuse I tossed at it (or tossed it from).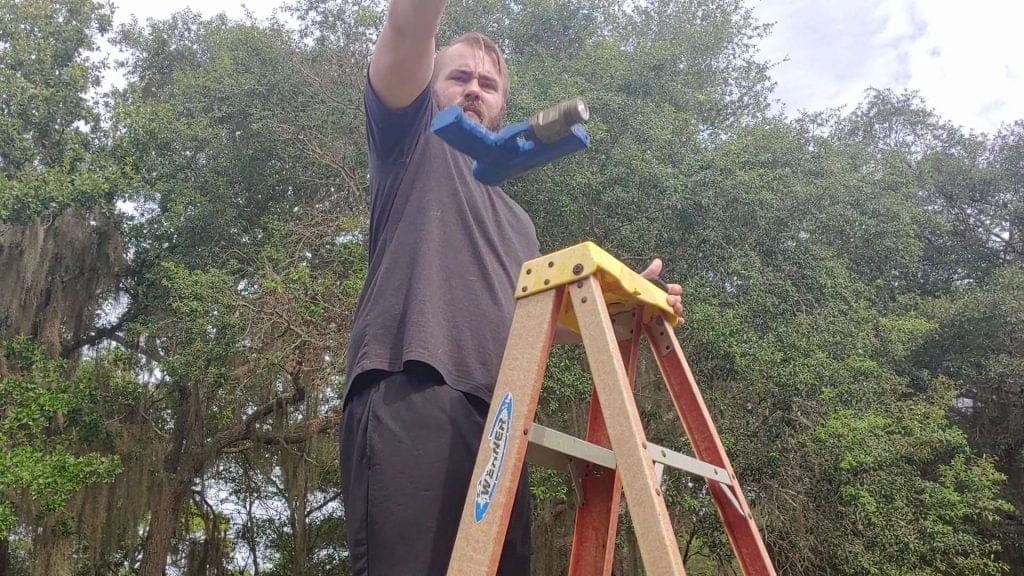 Water Test
With an IPX7 rating, the TWM-30F can be tossed in water for 30 minutes. I did just that.
I filled a bucket of water and dropped it in. Then I left it there. I went and mopped, did some dishes, and made my world-famous muffins. While I intended to leave it there for 30 minutes, it was actually about 36 minutes total. The good news is that the Nightstick TWM-30F took the extra time underwater in stride.
Hit a Punching Bag
Let's pretend for a moment that I live a much more exciting life than I actually, currently do, and I need to use my gun as an impact weapon.
Maybe I'm experienced in gun-fu.
Can the light take the abuse? Well, let's find out. I got a little fella I call Bob from Century. The Bob is a tool used to practice martial arts, boxing, and now pistol-whipping. I slammed the blue gun and downward, forward, and side to side to really shake things up.
The Nightstick (and, to be fair, Bob also) took the beating without tapping out.
Cleared Hot to Light It Up
The Nightstick TWM-30F surprised me. I had never used a Nightstick light before, so I didn't know what to expect. I went in blind but came out and saw the light, so to speak. The Nightstick TWM-30F is a fantastic little light; it's durable, affordable, and bright. I'm now a fair bit curious as to what else Nightstick has and will be taking a second look at their products.
Travis Pike
NightStick's TWM-30 Handgun WML
David Higginbotham, 8/31/21
Nightstick isn't entirely new to the weapon-mounted light game. The company has a much deeper history with other industries, like fire service and mining, but they're bringing their expertise from years in the field to a new line of lights for guns. Happily, we got an early look at the Nightstick TWM-30.
This is a first-impression piece here–the basics on the TWM-30. If you want to dive into all of the specs and more detail, check out the intro piece here.
The Nightstick TWM-30 is a seriously bright light. 1,200 lumens, as the box above denotes, is bright. Do not cut this joker on until you have it pointed in a safe direction.
Inside, the light is so bright that I find it a bit blinding, even when it isn't pointed at me — but that's hitting the switch in full darkness. Outside, it is less effulgent, as there's less to immediately bounce the light back.
The cone of light that comes off of the TWM-30 has a bright center spot and a wide–less bright–flood. This is a useful tool for highlighting a wide area of your surroundings while also pinpointing a more narrow area of your target.
And 1,200 lumens is a kind of weapon in its own right. The light, even the spill, is blinding.
Installing the TWM-30
This is a new system to me. The TWM-30 connects to the typical Picatinny rail, but there are two places where this connection happens.
The first is the predictable Picatinny claw action on the sides of the light. In the middle, on the backside, is an insert that has a bar for indexing slots on the rail itself. While this doesn't add grip to the connection, it does prevent the light from moving forward and back on the rail.
At the side of the TWM-30, a stainless bolt tightens the light to the rail. This system is familiar enough to most of us. The tension provided in this connection is enough to hold the light in place on the gun.
Inside, two CR123 A batteries provide the juice for the 1,200 lumens of the TWM-30. Run time should be somewhere in the neighborhood of 1:45. Like most lights, you'll need to have the battery in place before you install the light.
The design of the body feels robust. If I can get off track for a moment, I'll put in one word of caution. The hot surface warning is legit. This thing gets hot. This is not a light I'd leave on long. If you need a flashlight, get a flashlight.
The Nightstick TWM-30 comes with three small panels that can be used to dial in the fit for different rails. One comes installed, and there are two extras in the bag. From the backside, as you see below, they look the same.
On the flip-side, though, are letters and a cross-bar for fitting to a rail. These are meant for larger pistols and won't fit on any of the micro-9s I've got kicking around.
The machining on the panels is nice. They only go into the body in one direction. There's no way to goof them up, unless you were to loosen the screw that holds it down. Even that, though, isn't likely as Nightstick has provided a spare.
The TWM-30 in operation
Finding the right fit with the TWM-30
This is a Goldilocks kind of thing, but I'm going to start with the Nightstick TWM-30 mounted on the gun I have on hand that it fits on best –a Springfield Armory TRP.
Getting the TWM-30 in place is complicated by the length of the body. It is almost long enough that it needs a channel to allow for the trigger guard on most pistols. Otherwise, the switches are flush with, or ahead of the trigger guard. That isn't the end of the world, but I like the way it fits on the TRP.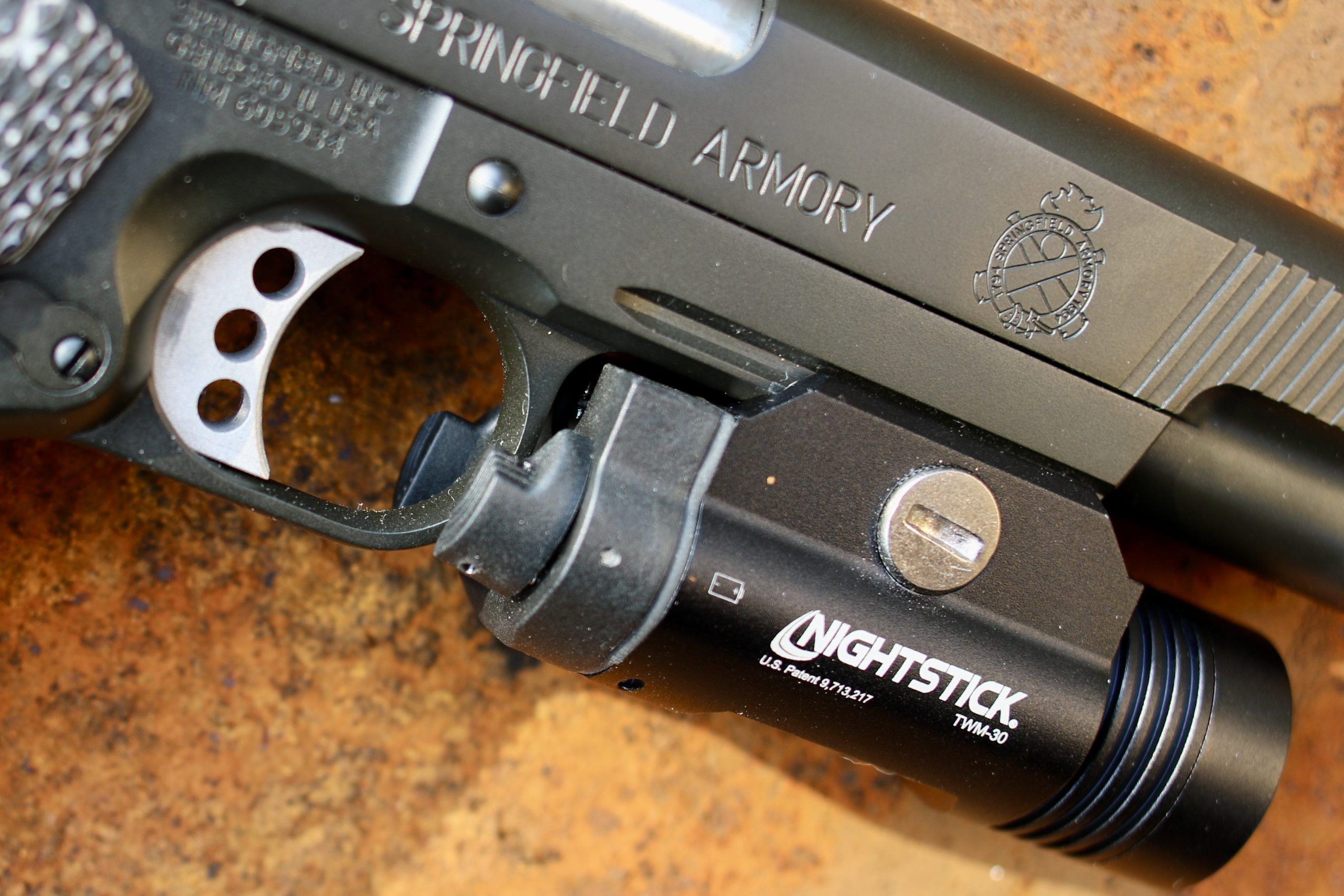 The Nightstick TWM-30 on an Adams Arms AA19 wasn't as perfect. As you can see in the image below, with insert #2–which should work–the slant of the trigger guard prevents it from seating. This is why there are multiple inserts.
With insert #1, the TWM-30 sits on the gun. I can still run the switches with that trigger finger with little difficulty. I'd prefer to have the light back against that trigger guard and don't like that gap there, but it fits and is still easily controlled.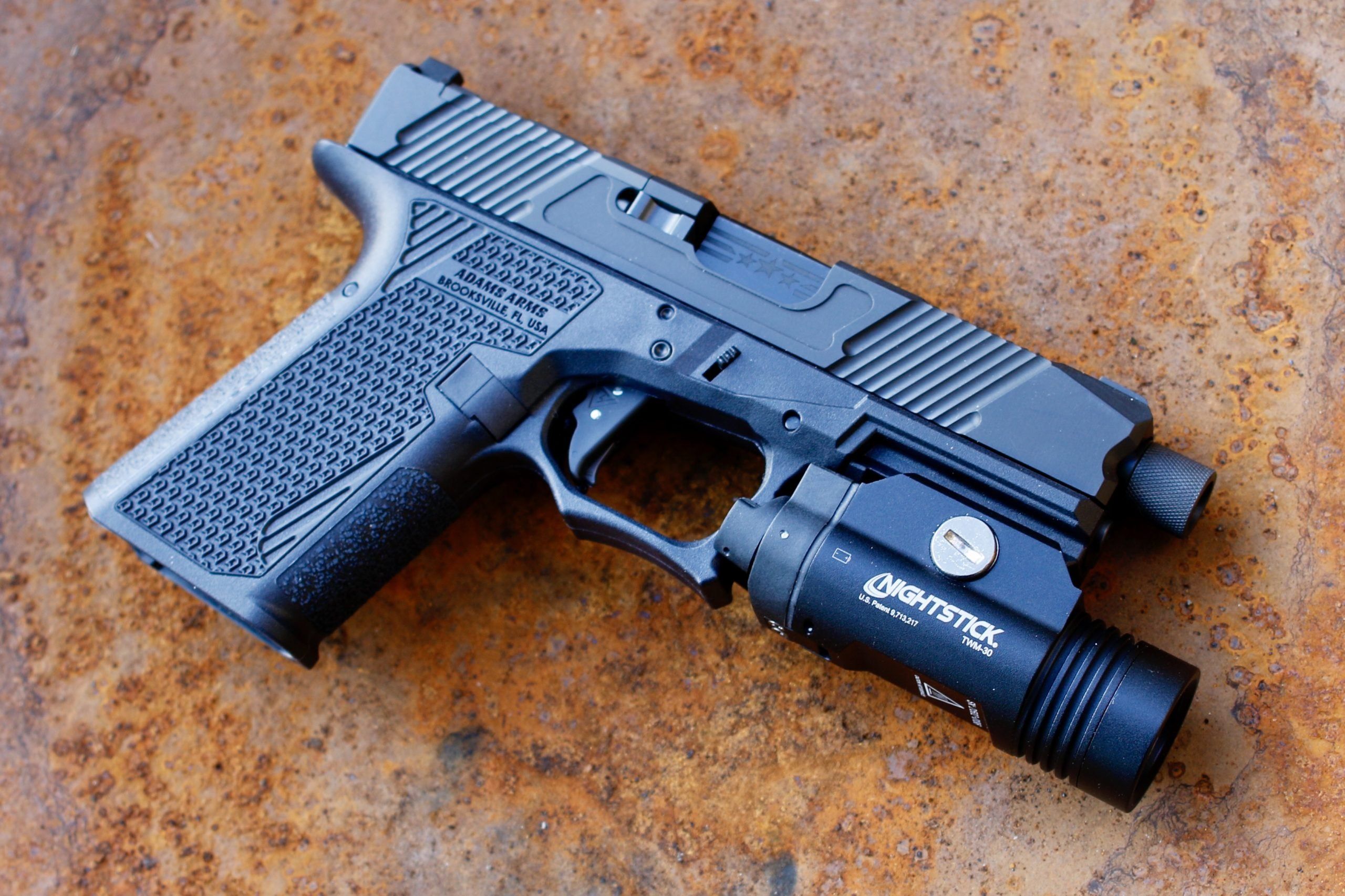 The Nightstick TWM-30 on the Sig Sauer P226 presented similar problems. Though it fit, the activation switches on the TWM-30 required a bit more reach. And the unit wasn't seated fully on the rail.
And you can see in the image below that the under-side of the light was exposed a bit just past where the frame ends. This includes the screw that holds the insert to the light body. If that screw shifts during extended shooting, the light should stay in place. But I'd rather have that bolt covered up by the gun itself, as it is on the TRP.
This problem is hardly unique to this light. There's not an industry standard for how these rail slots are placed on a frame. They're all damn-near the same, but sometimes damn-near is not enough.
Even though the spacing of a Picatinny slot is standardized, the distance between the first slot and the trigger guard is often determined by the spacing of the end of the rail at the muzzle-end of the gun. Follow that logic?
In the image below, I've got the inserts lined up in order on three guns. They look very similar here, but that's deceptive. The body of the light adds length that makes fitment a bit of a mix-and-match game.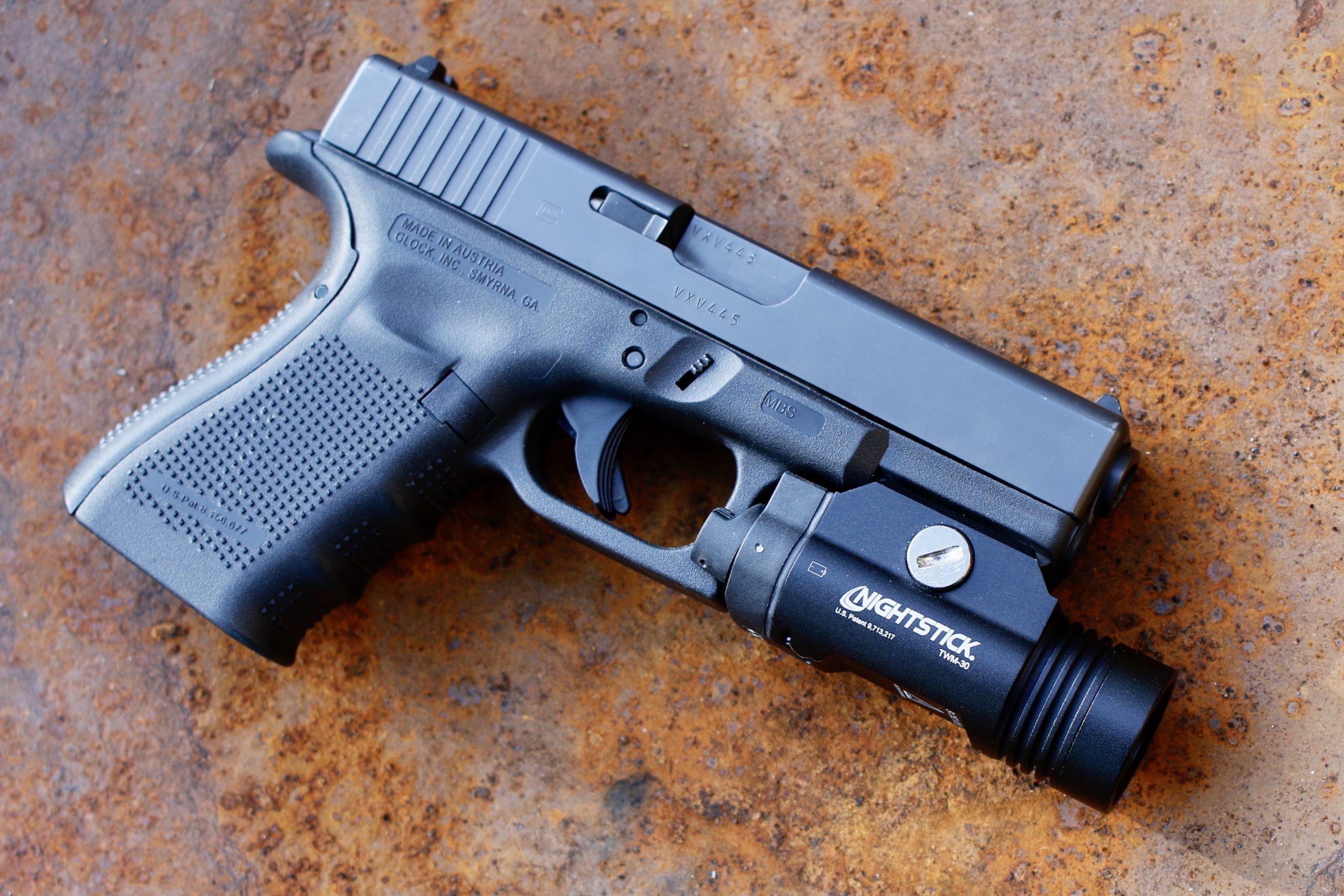 One big thing in the Nightstick TWM-30's favor is the bolt that holds it to the rail. While the little screw holding the insert in place in the image below will help determine spacing, the knurled bolt holds it to the rail. And that bolt is spring-loaded.
The spring pushes the bolt out, holding the light onto the rail (even when it isn't locked down tight). Should the bolt come loose, that spring should keep the light on the gun (in combination with the rail-spacer insert below it, which would prevent the light from simply sliding off the rail).
Holstering the Nightstick TWM-30
Details on holsters are still hazy–our intro article suggests that it fits in the TLR1 holsters. There's a very good chance that the TWM-30 will also fit in holsters designed for the SureFire X300–at least those that aren't wet-molded leather or form-fitting Kydex.
I'm thinking here of the holsters from Safariland.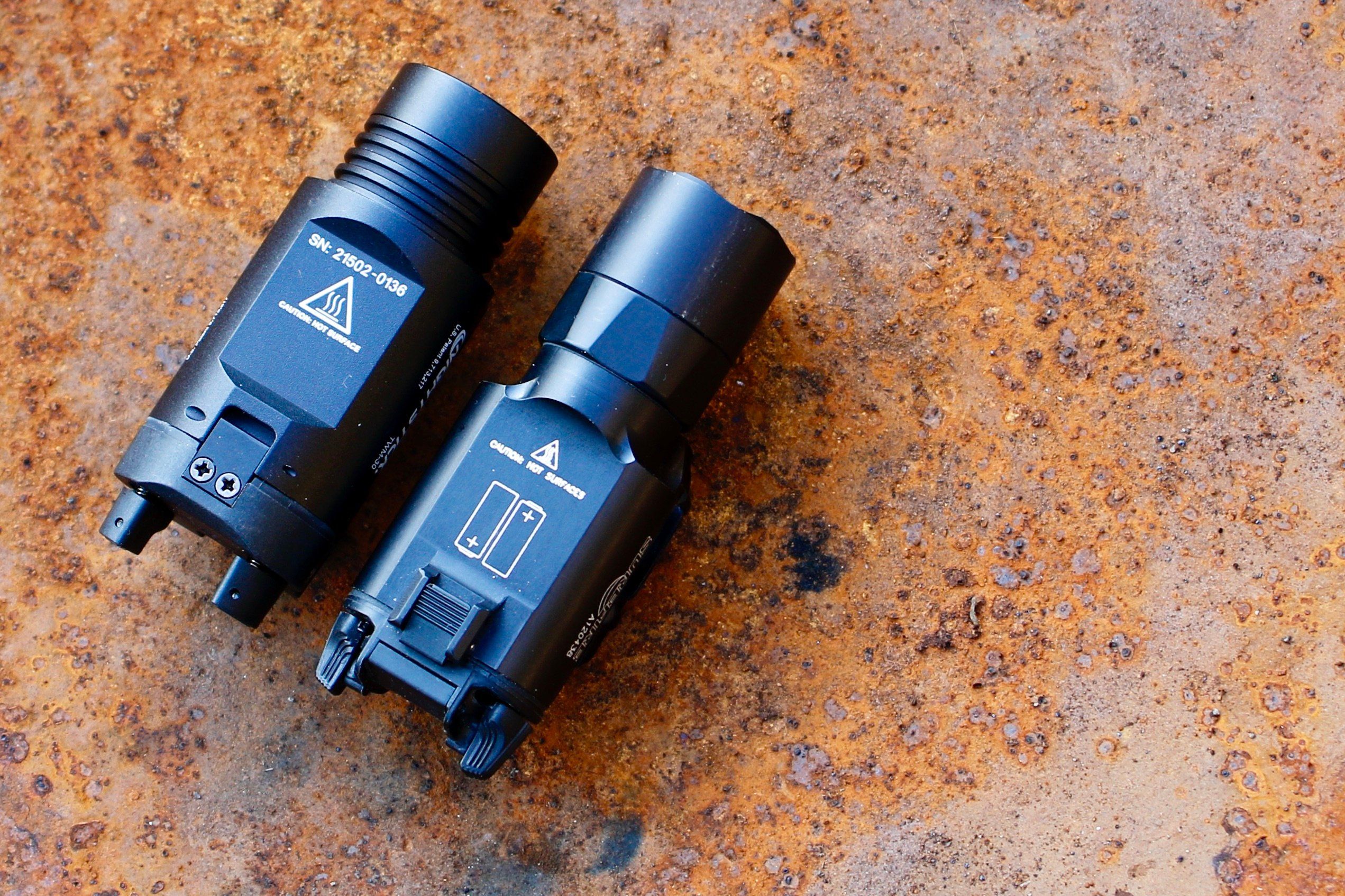 Safariland maintains intense tolerances for their retention devices, but the holster bodies on some of those are more open in the muzzle-end to allow for a variety of lights.
On the Range with the Nightstick TWM-30
The light should run for 1 hour and 45 minutes. Nightstick says it is water-resistant down to a meter. While this isn't very deep, few of us swim with our guns. It is more about the confidence to know the light can handle sweat and rain with no problem.
These are early days with the TWM-30. We shot for a couple of hours, off and on, and didn't kill the light or the batteries. It handled recoil well and didn't shoot loose.
The Nightstick TWM-30 is currently selling for $129.99. If you want a light that can crank out the lumens and one with an impressive run time, this might be the one for you.
DH