Mr. Guns 'N Gear (GNG) recently ran some of NightStick weapon lights through their paces. He tested several different models, including the 850, 550, 11G, and 170 Scout Light.
Aside from shooting the lights on weapons at night, Mr. Guns 'N Gear also shot them extensively during regular range sessions with no issues.
Models
850 XLS
The first model that Mr. GNG covers is the 850 XLS model, which he says is similar in form factor to a Streamlight TLR-1. There are twin, independent toggle switches in the back of the light, which he really likes. Aside from being able to mount this light on a pistol, it could also be mounted onto an AR-15 or other firearm; there are different inserts that will adapt to various rail systems.
The 850 puts out 850 lumens of light (I guess we know now where they got the model number for this light). That's 15,000 candela. The LED light will run for 1.75 hours on two CR-123 Lithium batteries. The door cap to the battery compartment is screwed on, so it is very secure and will not pop off at an inopportune moment. Mr. Guns 'N Gear mentions that some people don't like having to unscrew the door to the compartment, but he points out, "How often do you have to change the batteries in your weapon light?" That's true.
The price of this light is around $70 at the time of this writing.
TCM 550 XL
This is a smaller model than the 850 and it is designed for pistols. It has toggle switches that allow constant on, momentary on, and a strobe feature. There are different inserts for mounting to various rail systems. There is also a lockout feature so that the light won't turn on if you have it in storage. A special version is made for rifles in which there is a different switch system.
The 550 XL puts out 550 lumens from one CR-123 battery and runs for 2.5 hours. It weighs 2.5 ounces, and is 2.5 inches long, so this one is extremely light and unobtrusive.
The price for this light, at the time of writing, is around $80.00.
170 Scout Light
This light is intended to be mounted on a long gun. It will run for 1.5 hours and it reaches out 304 meters with 1,500 lumens. It runs on a rechargeable Lithium-Ion battery or two CR-123 batteries, and the interchangeability is nice. The Scout Light is 5.5 inches long and weighs 7.5 ounces. The light is activated via a standard tail cap (a light press gets you momentary on and a press and click will get you constant on).
Included with the scout light is a charger for the rechargeable battery.
Aside from the tail cap, there is a tape switch option to control the light. The light will fit on 1913 rails readily.
All NightStick lights are 6061 Aluminum and Type III Hard Anodized finished, so they are durable. Mr. Guns 'N Gear stated that he has fired many rounds through weapons with all of these lights mounted and they have held up admirably, with no issues.
The price point, at the time of this writing, is around $199 for this light. As Mr. Guns 'n Gear points out, this price point is approaching Surefire territory, so choose accordingly.
TSM-11G
Next up at bat is the TSM-11G, a light specifically designed for pistols. Namely, the Glock 42, 43, 43X, and 48. It will also fit the Springfield Armory Hellcat, Sig P365 series, Glocks 26, 27, 33, and 39. It will fit pistols both with and without the rail.
Not only is the 11G a light, but it's also a laser (green or red). As well, the unit is rechargeable (a Lithium-Ion battery) and comes with a USB cable for that task.
Lumen output of the 11-G is 150 lumens for a distance of 104 meters with a listed run time of 45 minutes. It's 2.5 inches long and weighs a scant 1.3 ounces.
There is a push button on the side to activate the unit and you can choose from combinations of function: Light Only, Laser Only, or Both.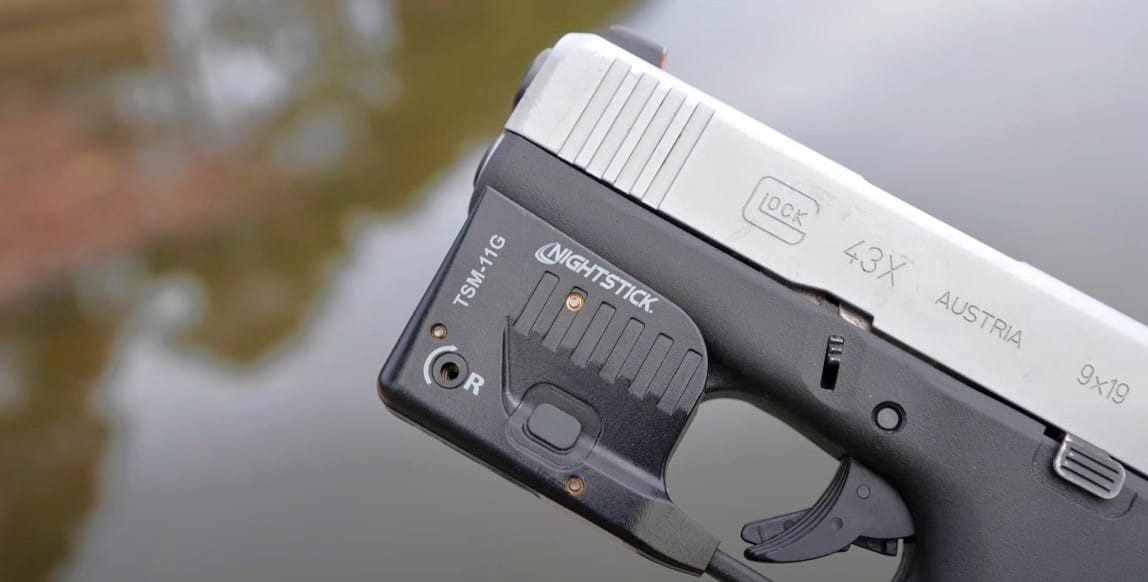 As this is written, this model goes for around $85.00.
Function & Reliability
As mentioned, Mr. Guns 'n Gear has used these lights for extensive firing on his weapons and he has not had a single issue with any of them. No flickering, no dimming. He said he also drop-tested the lights and they came through with flying colors, so that adds to the reassurance.
Overall
In terms of performance, the lights work admirably. They're very similar to lights from Surefire and Streamlight in their class, so the products are very comparable.
Most of these lights are priced very economically. Mr. Guns 'N Gear believes that is because the company is building its reputation and wants to become a major force in the market. Compared to other lights in their class, these lights really are priced to sell. The fact that they are extremely durable and dependable makes them an especially sweet value. He also notes that these lights are made in China and Texas.
I'll throw in my two cents here, as I have evaluated a NightStick TWM-30F weapon light. It's a 1200 lumen model that runs off of two CR-123 batteries. The run time on this unit is 1.75 hours. I can tell you firsthand that it is very bright, with an intense hot spot and a broad throw, making it very effective for both viewing and identifying targets, as well as blinding them. It has a Constant On, Momentary On, and Strobe Mode. The twin toggle switches at the rear of the light are convenient for activation and there is also a lockout feature, which I like a lot.
The color of the light is listed as "OD Green", but to my eye it looks similar to the CB finish that's on my Glock 19X (which is, incidentally, is the pistol that I mounted the light on for testing).
These lights feel very substantial in the hand and are sturdy in built. This inspires confidence. So far, I've had zero issues with the TWM-30F light, it promises to be a good long-term piece of gear.
As with Mr. Guns 'N Gear, my impression of this light is very favorable; it's durable and effective. My only slight criticism of the light is that I'd like to see a quick mount/detach system like Fenix utilizes. As it is, the light has to be screwed on and off of the pistol rail. Not a huge deal, but convenience is always nice to have. Once I adjusted it to fit my Glock 19X, the light goes on fairly easily now.
So there you have it, a review of a cross section of NightStick weapon lights. For the money, they are good, dependable lights that most users will likely be happy with.