Magazine fed shotguns were one of my favorite developments in 2018. They existed well before 2018, but really seem to have come into their own when companies like Remington and Mossberg both put out one or more magazine-fed shotgun, and many smaller companies upped their game to compete. Some are traditional manual action weapons with a magazine feed system added, others are designed from the ground up as an AR shotgun or AK shotgun.
So what are my top 5 magazine-fed shotguns?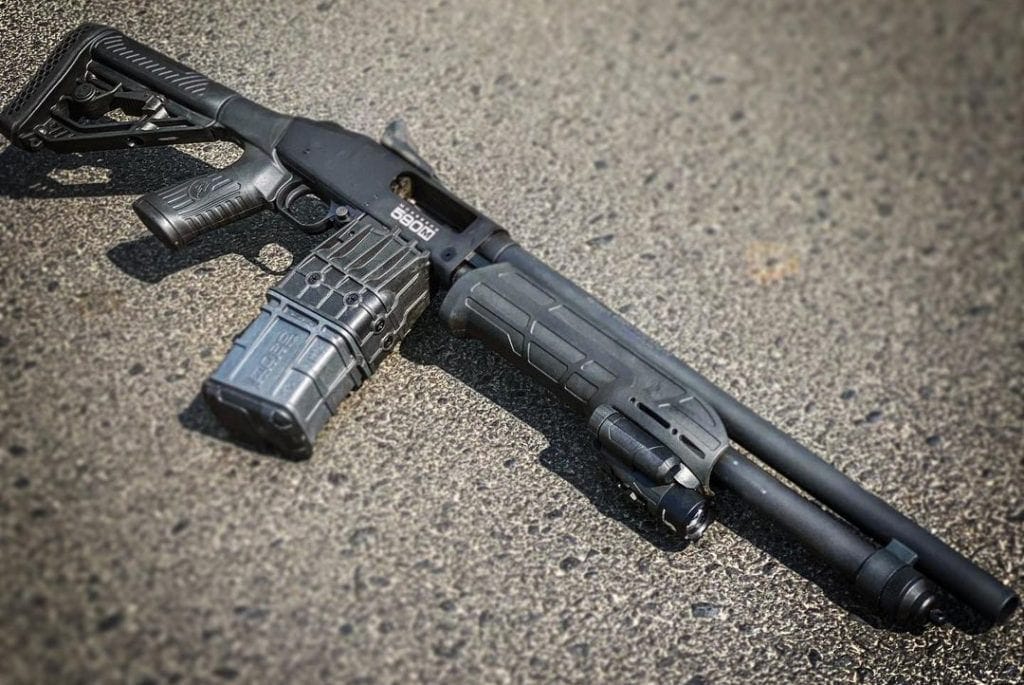 Edit January 2021: As you'll read below, this article is over a year old now. We're posting again to get some input on what mag-fed shotguns you'd like to see us cover in the future! 
Note: we're talking magazine-fed 'gauges here, both manual/pump semi-automatic shotguns. Not belt fed.
Those will have to be the subject of another study.
MAGAZINE FED SHOTGUN: PERSONAL TOP FIVE
1. Mossberg 590M Family
The Mossberg 590M family includes a total of three 12 gauge weapons. This includes a base model 590 with a stripped-down simple design, to an enhanced 590M with a heat shield and ghost ring sights, and finally a Shockwave model. Mossberg's 590M uses massive double stack magazines that have a capacity from 5 to 20 rounds. When it comes to capacity, the Mossberg 590Ms are hard to beat. Prepared to have som good shooting gloves because 20 rounds of 12 gauge makes a gun hot.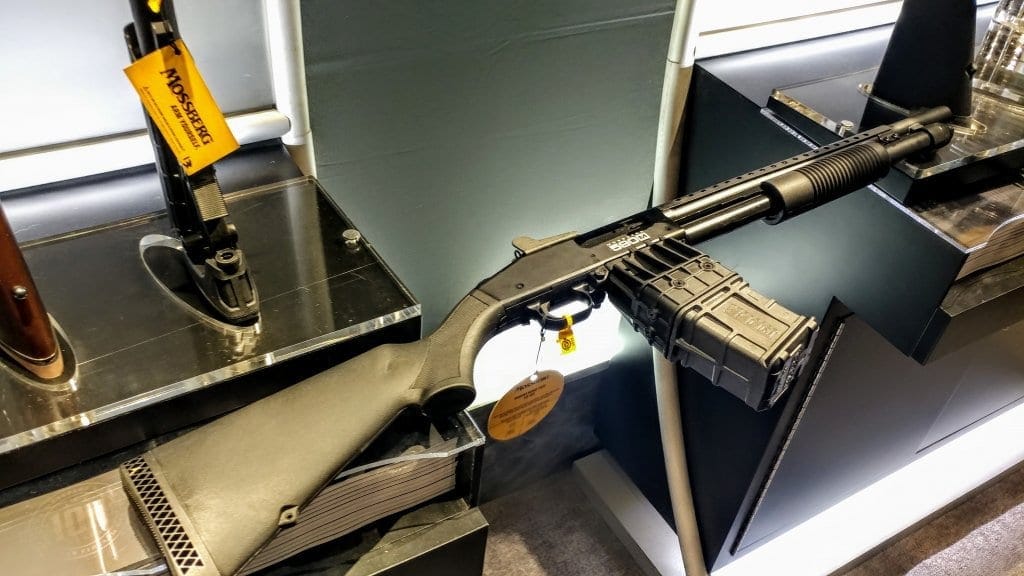 2. Remington 870DM
The Remington 870DM made the idea of a mag fed, pump-action shotgun mainstream. The Remington 870DM uses a 3 or 6 round magazine and comes in close to half a dozen different models. The 870DM comes in hardwood, Magpul, camo finish, and more with varying sight options. Of course, there is a Tac 14 model as well. While the Remington has a lower capacity, it is a lighter option.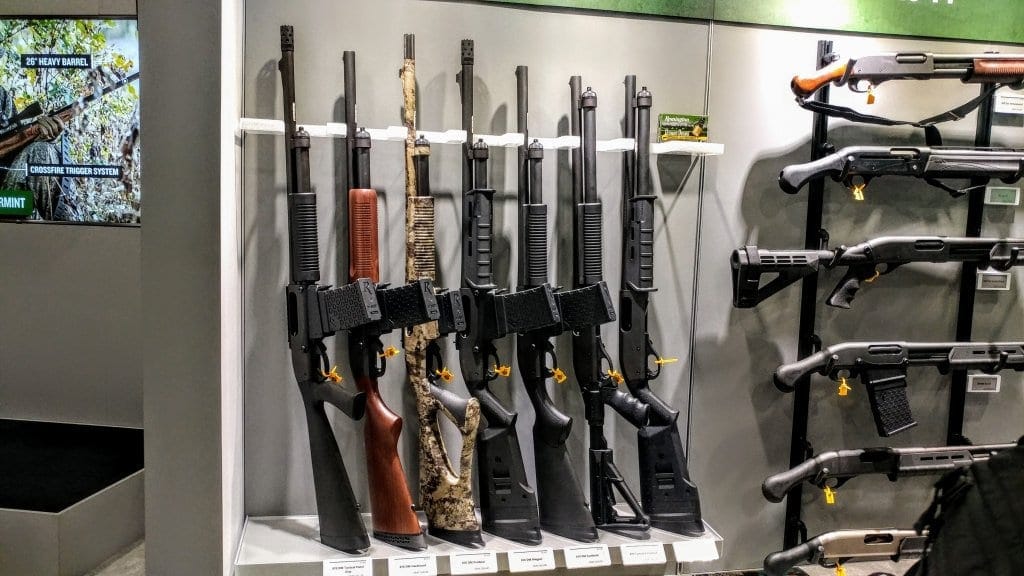 3. Adaptive Tactical Conversions
Adaptive Tactical doesn't produce guns, but they are on the forefront of the Mag fed shotgun movement. This is the company that designed and produced Mossberg's magazines. The Sidewinder system is designed to utilize a Mossberg 500, 590, or Maverick 88 as a base gun and the end-user can convert it to a magazine-fed model. Adaptive Tactical even sells a 10 round drum that's quite slick.

4. Kalashnikov USA KS12
The absence of Saiga magazine fed shotguns has left a gap a ton of manufacturers are vying to fill with AK shotguns. The KS12 seems to be the first potential true replacement for the Saiga 12. This high-end AK shotgun will come in an AK configuration featuring a real pistol grip and stock and take Saiga magazines and accessories. Various models will be released including a tactical model with an AR stock and muzzle brake. Since these are made in the USA, 922 R compliance won't be an issue and no conversions from a neutered design will be needed.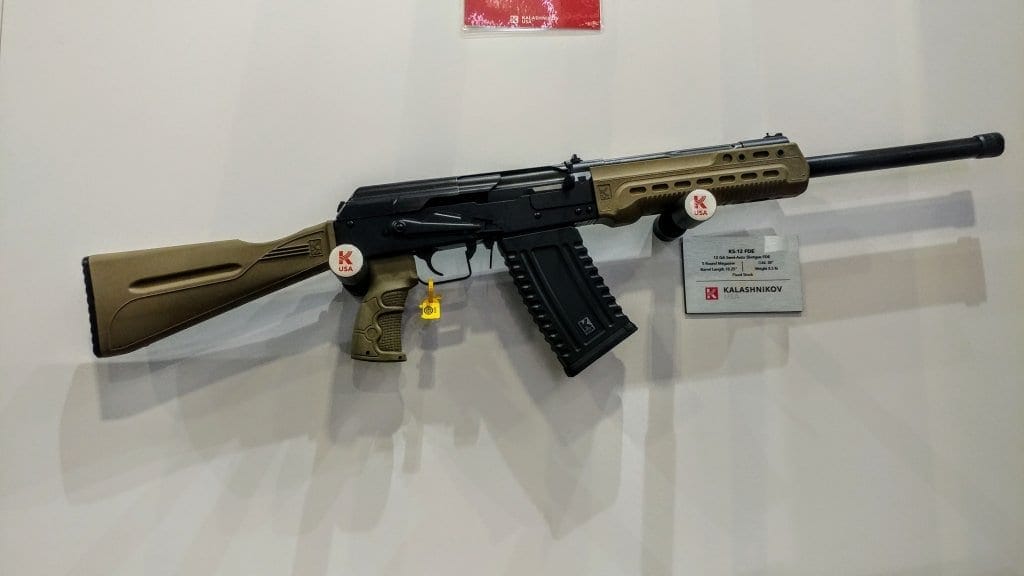 5. Rock Island VR 60 and VR 80
The VR 60 was an incredibly fun gun, one I rode the lightning on (and reviewed here on The Mag Life!).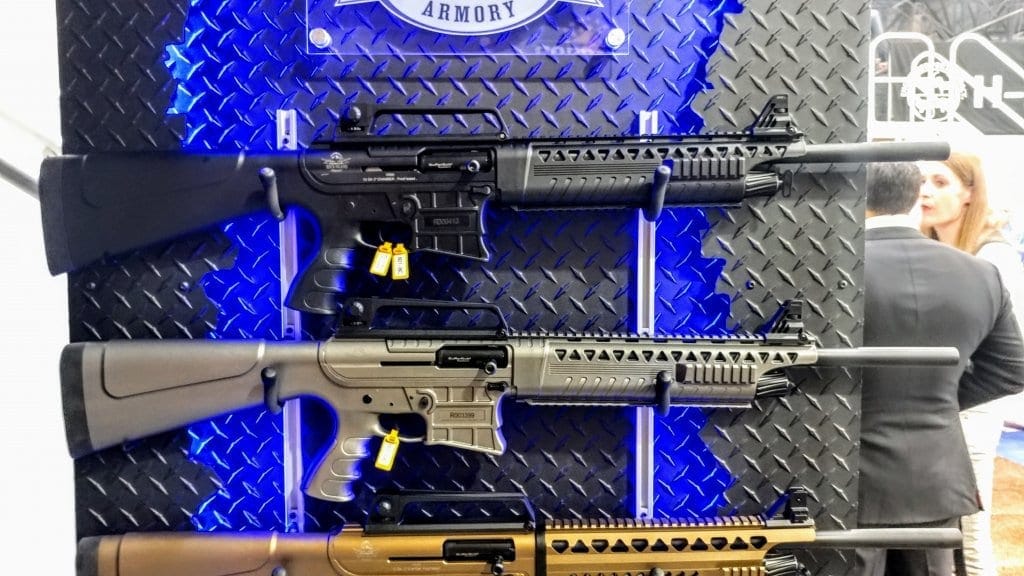 It ran with everything and its low price point makes it the perfect gun if you want to enter the magazine fed shotgun market. The VR 80 will be their newest model at SHOT 2019 and it promises to have the reliability of the VR 60 with a slimmer and sleeker profile. And we'll soon have a review of RIA's VR100, too, which is a different beast altogether.
Best Tactical Shotgun
The question, "What is the best tactical shotgun?" can most easily be answered with, "Whichever one you have on hand." That said, there are many advantages to a magazine-fed shotgun vs traditional manual action (i.e. pump) shotguns. We'll be delving into that topic in the future. We'll also be addressing the issue of…
Best Semi-Auto Shotgun
As with many weapons, this will in large part be a question of individual choice, but there are a number of factors that will come into play when trying to answer it.
AR Shotgun
There are more than a few examples out there, including (among others) the VR-60 and the VR-80 mentioned above. We've started working through them in the AR Shotgun series.
AK Shotgun
As with the AR-centric platforms, there are more than a few that look and feel Kalashnikov…ish. Such weapons include the Cheetah 12, VEPR 12, and others. Find more in the AK Shotgun lineup.
Are Magazine Fed Shotguns the Future?
Magazine Fed shotguns aid in beating two of the biggest issues with shotguns: low capacity and slow reloads. Magazine fed shotguns are not the be-all-end-all of shotguns, but they are an interesting step forward for the platform. As we see more and more come to be, we will see the tech pushed onward and forwards in making newer, and better magazine fed shotguns. I'm a fan of the concept, are you?
This article is over a year old now…what should we be looking at next?