This Taurus G2S review is part two of a series we're calling Ramen Noodle Guns. Each iteration of this ongoing (if necessarily periodic) column will be a rundown of the most affordable weapons we can find and how they perform. Why? It's easy to review Gucci firearms and to love them, but outside of the narrow world of the gun reviewer and the firearm cognoscenti, such a report is not always helpful. It's fun, at least when you are the reviewer, but what service am I offering? I wanted to start a series on more affordable firearms and today we're focusing on the Taurus G2S 9mm.
I'm not going to structure this as a standard review. Instead, I'm going to focus on what I like, what I dislike, and the numbers.
This article is from November 2019.
Taurus G2S: 9mm or 40 S&W
The G2S comes in either 9x19mm or 40 S&W. It's a single stack firearm with a capacity of 7 rounds in 9mm or 6 rounds in 40 S&W.
It is a DA/SA (Double Action/Single Action) gun…
Kinda.
The G2S trigger is a single action that has a double-strike capability. You cannot decock the gun manually. So if you pull the trigger and get a click you can pull it again to restrike in full double action.
The G2S weighs 19.85 ounces, is 6.25 inches long, and has a 3.25-inch barrel. The gun is 1.10 inches wide. It's really closer to 1 inch, but the safety adds some slight bulk and gives it that extra .1. The gun is 4.8 inches tall, and the magazines both sport pinky rests. The gun has a fully adjustable rear sight.
Rated for +P rounds, the G2S should have zero issues digesting hollowpoints. The weapon also comes with the Taurus lifetime warranty and not the controversial year-long warranty.
G2S Review: The Good
This gun does look good, much better than the Hi-Point. The finish is nice and consistent. I don't like the fact that Taurus guns are billboards for Taurus, but it is what it is. It also comes with two magazines where most budget guns come with one.
The gun has some solid ergonomics.
The G2S has a blocky, but not uncomfortable grip. The grip is nicely textured and sticks to the hand. The gun comes with a manual thumb safety that is placed for instant and easy access.
The magazine release is a little bigger than most and I appreciate that. The magazines do drop free nicely and are easy to load as well. The addition of a pinky rest makes sure I have a full grip of the gun.
The gun is just as easy to control as most other pistols its size. The G2S even comes with a Picatinny rail that will accommodate ultra-small lights and lasers. That's a bit different for a gun in this size class.
Accuracy
The gun is plenty accurate as well. After a little iron sights snafu I was producing respectable groups, and they were on par with any other gun in this size range. You'll be able to make confident headshots at 20 yards.
The Taurus G2S also has a restrike capability, a rare feature in striker-fired guns. This is one of the few micro pistols where my thumbs don't rest on the slide lock. The slide will lock to the rear once I've fired the last round.
Upgrade Options
The list of aftermarket accessories is ok, if not (unsurprisingly) stellar. Magazines are easy to find. There are also numerous companies making holsters and some fiber-optic sight options. Taurus kept the old PT 111 and 709 series sight pattern for these guns so there are already options out there.
G2S Review: The Bad
This Taurus G2S review wouldn't be complete if I didn't also cover the negative aspects of the gun.
Ouch!
The worst part to me about this gun was the slide bite. The slide digs into my hand and within fifty rounds it's broken the skin. This makes shooting for long periods of time far from comfortable. For this reason, I'd keep a pair of gloves in the ole range backpack for long days at the range.
Malfunctions
The Taurus G2S 9mm did have a few malfunctions, as well as a minor issue with the sights. In total, the gun has had two failures to extract/eject that created complicated malfunctions.
Additionally, I experienced magazine failure twice that required a firm slap to fix. The follower was not raising the rounds and was stuck in the middle of the magazine. This was all in the first 200 rounds. After that, however, everything seemed to function fine.
A Slight Adjustment
The front sight was somewhat loose. Initially, it caused me to produce shotgun-like groups. A quick fix and some adhesive solved that problem. Other than that the weapon performed admirably.
Taurus G2S Review: Check Out the Numbers
•Price – 179.99 at multiple online outlets.
•Current Round Count 425 (Plus some assorted defensive ammunition).
•Malfunctions – Two failures to extract/eject. Two magazine failures to feed.
Drill Performance
Draw and Fire
For this drill, I started with the handgun holstered. I drew and fired one round at 5 yards into a 2-inch circle. Shooting just into a torso sized target is a bit quicker, but a 2-inch circle seemed a better test.
Times:
2.15
2.05
1.9
Mozambique Drill From the Draw
A Mozambique Drill entails two rapid shots to the chest and one well placed shot to the head. I fired the drill at 7 yards, starting with a holstered handgun.
Times:
2.41
2.35
2.37
Box Drill
A Box drill is done with two targets. You shoot the right target twice in the chest. Then, you transition to the left target shoot it twice in the head. Next, you place a headshot on the left target before ending the drill with a headshot on the right target. I started at the low ready and shot from 7 yards.
Times:
3.40
3.51
3.48
iHack Drill Pass/Fail
The iHack drill is a close range, limited resource version of the Hackathorn standards. The drill is shot from 5 yards onto very small dot targets. The drill is fired in three strings.
•The first string is one shot left to right.
•Second string is one shot right to left.
•The final string is one shot in the center, and then one shot in each outside circle in any order.
Each string must be completed in 3 seconds. The drill has 9 total points and requires 7 shots to pass.
I shot the drill twice and passed twice with 7 out of 9 and 8 out of 9 scores. I dropped those points due to misses. Shooting the three shots in under 3 seconds wasn't an issue.
Taurus G2S review: final thoughts
The Taurus G2S is a good looking, decently reliable handgun that's both accurate and easy handling. If I was hard up for cash for a carry gun the G2S would get my money before the Hi-Point C9. The gun isn't perfect but performs well enough that I'd trust it. I won't be replacing my SIG with the G2S anytime soon, though.
The Taurus G2S 9mm exists in a crowded market. While it's not particularly innovative, it does come in at an amazing price. If you want a means to defend yourself and you are strapped for cash, the G2S could very well be the gun for you.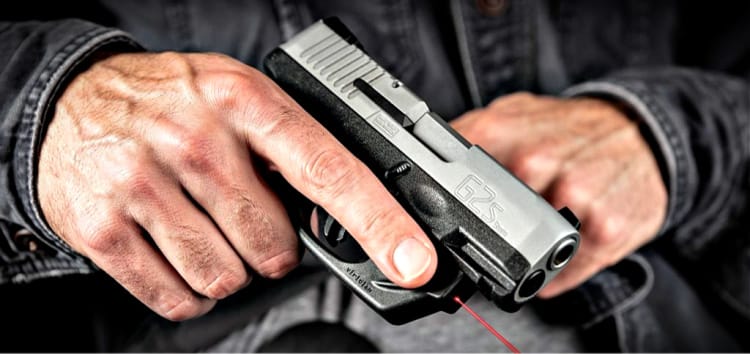 My only suggestion is to make sure you take a few range trips to make sure everything is up and running before you trust it with your life.
What about you? What are your thoughts and experiences with the Taurus G2S? Sound off in the comments below.