Ever since the introduction of the P365, it seems like we've wanted more from our carry guns. There used to be a time when if you wanted a concealed carry firearm with a light and optic, you chose something like the Glock 19. Anything other than that meant iron sights and a handheld light. As Bob Dylan once said, "the times, they are a changing." These days little guns are getting decked out with lights and optics. We've talked about mini optics before, but let's look at little lights.
Specifically, two lights were designed with subcompact guns in mind, the TLR 7 SUB and the Surefire XSC. Both come from trusted and reputable manufacturers that have been trusted by police and military forces across the United States. Both lights are designed for subcompact and micro-compact firearms. Both lights still pack a punch for their size, and both offer shooters a concealable WML. So which is better?
Surefire XSC vs. TLR 7 Sub — Little Lights and Big Power
Surefire and Streamlight are the two companies that shooters depend on across the world. They offer the best lights on the market. Surefire is often seen as the premium brand that equips elite military forces and police units. Streamlight is often seen as a slightly more affordable alternative that offers solid, well-made lights without the Surefire price point. It's easy for these brands to trade barbs.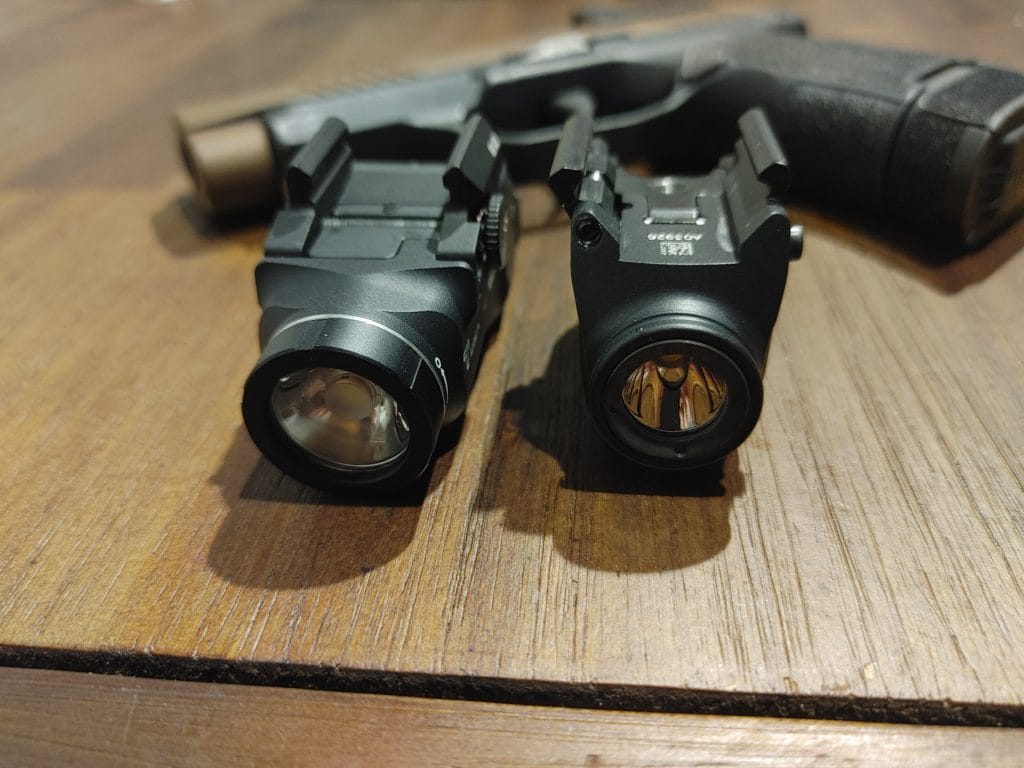 You might be wondering why I didn't include other mini-lights on this list. Many might ask about the Olight Mini Valkyrie, and to them, I say it's not here because it's not even part of the discussion. As far as I know, the Surefire and Streamlight options are the only two that are breaking the mold of low lumens and candela.
Weapon's Compatibility
What the light fits is a pretty big deal. If the light doesn't fit your preferred handgun, then the competition ends here for you. Both of these companies focused on targeting the micro-compact realm. The Surefire XSC is available for the P365, the P365XL(But not Macro), the Springfield Hellcat, and Glock 43X and 48 Railed models. The TLR 7 SUB echoes that compatibility by targeting the P365 models, the Glock 43X and 48 models, and the Hellcat.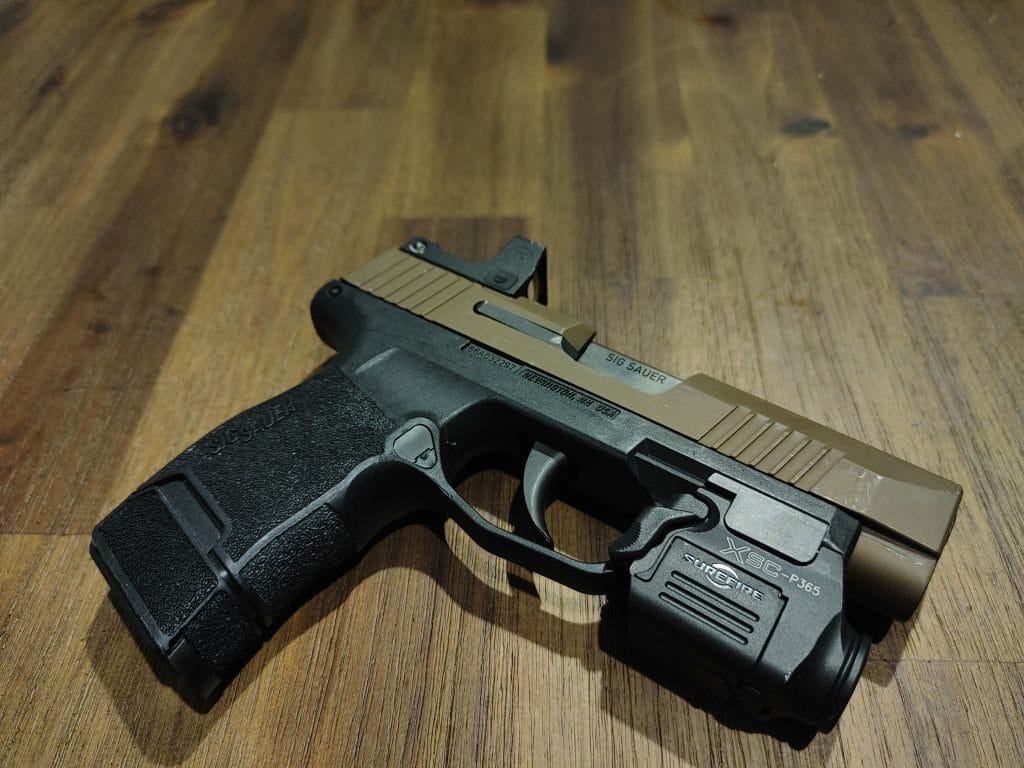 Additionally, Streamlight makes a TLR SUB designed to fit subcompacts with rails. This light features a key kit that allows it to fit basically any small gun with a Picatinny rail. Streamlight states they've tested the light with the HK45 Compact, the M&P 2.0 Subcompact, the Px4 Storm Subcompact, the Springfield XD-e, and the XD-S series of pistols. However, it's likely to fit a wider variety of pistols, possibly including the P365 XMacro.
The TLR 7 SUB is the more accessible option for a wider variety of weaponry. That is a bit of a win for it, and for some, it might be the only option.
Lumens and Candela
How much power can a little light put out? Neither reaches Modlite or Cloud Defensive levels, but it is relatively impressive how bright either light can be. It should be recognized that these lights are not going to be good options for duty use. They are designed for concealed carry and potentially home defense. Neither is great against photonic barriers but can light up a dark environment rather well.
Surefire pushes out 350 lumens backed by 2,000 candelas. That's a fair bit of power for a little light. However, the TLR 7 SUB outshines it with 500 lumens backed by 5,000 candelas. That extra candela really propels the lumens further, providing a bright light more capable of penetrating the darkness. It shines through the darkened corners and cracks in an environment.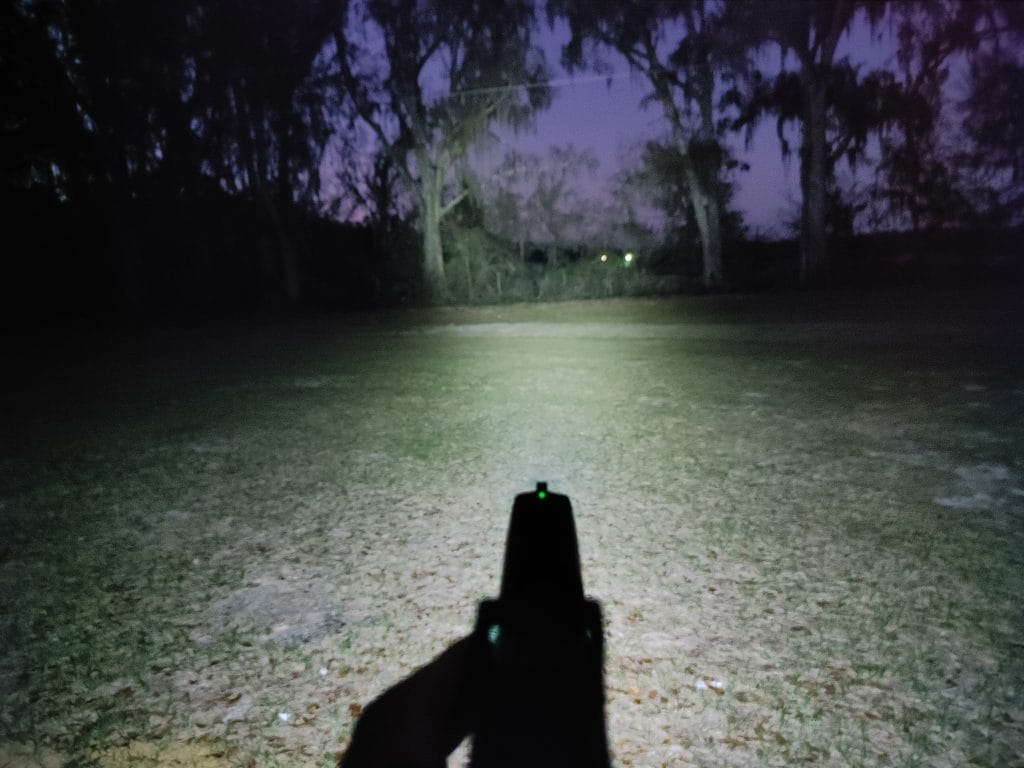 Outside of raw power, they both feature similar but slightly different beam designs. The XSC has a slight hot spot with a very wide beam. It fills the peripheral vision with light from side to side, forming an impressive beam that maximizes its power.
The TLR 7 SUB has a more noticeable hot spot and is clearly brighter. It does provide a good spill for peripheral use but is a more focused beam. It does noticeably better against light photonic barriers.
Ergonomics
Both lights use an ambidextrous paddle design. Press the paddle in, and the light comes on. It doesn't get much simpler than that. The TLR 7 SUB has options for a high and low paddle, and the Surefire XSC uses a standard paddle. While the options are nice, both systems work perfectly fine. Both sit tight to the light and provide a snag-free design that keeps things simple and easily manipulated.
Size and Weight
Much like the lumens and candela, there is a major difference between the size and weight of these two lights. The Surefire XSC is a fair bit smaller. It weighs 1.7 ounces with a battery and is 1.94 inches long. It's quite compact and fits almost flush with the barrel of a P365, Hellcat, or G43X. On guns like the P365XL, the Hellcat Pro, and G48, it sticks behind the muzzle.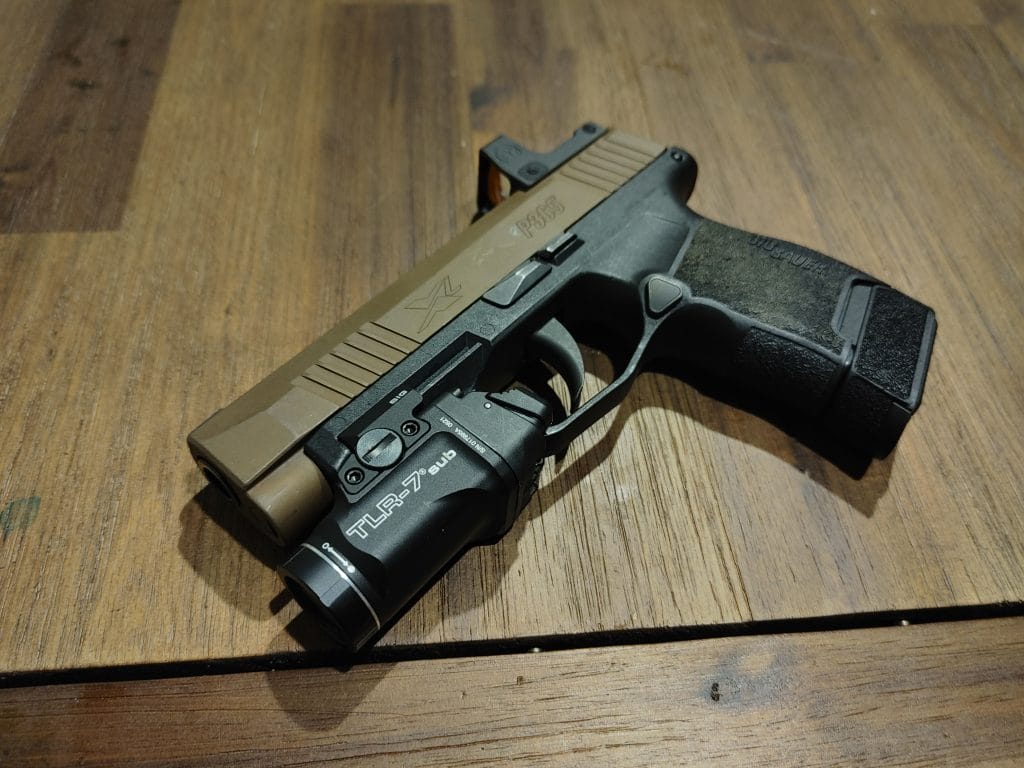 The TLR 7 SUB weighs 2.39 ounces and is 2.51 inches long. It's big for a little light. It just barely sticks behind the barrel of guns like the Glock 48. We can't pretend that weight and length don't matter with little lights and little guns. The TLR 7 SUB might provide more power, but it's at the cost of an overall bigger light.
Power Source
The TLR 7 SUB uses a single CR123A battery, and that does contribute to its length and overall size. The single CR123A powers the light for 1.5 hours in total. The Surefire XSC makes itself so much smaller by using a rechargeable battery. This little battery comes with a recharger as well as an LED battery gauge. The battery can be detached from the light without detaching the battery from the gun.
Final Thoughts
Both lights are a compromise. They are super small and, for their size, output a fair amount of light. However, I wouldn't leave the handheld at home. These are great for in-a-pinch WML use, especially if your carry gun doubles as your home defense gun. There is a pretty big price difference as well. Surefire also commands a high price, it'll cost you around $300. The TLR 7 SUB costs a little less than half that at around $139.99.
That's a big price difference and might help guide your decision. Which one would you choose? Let us know below!