I don't like pocket pistols! I have no use for them. If I'm going to carry a pistol, it's going to be a real pistol, one that I can actually get my hand around that fires a real caliber!
Having fired smaller pistols before, I've always thought of them as having very snappy recoil in a hard-to-get-ahold of package. Namely, my dad's 9×19 Makarov. That little thing was just unpleasant and even painful to shoot. So, no thank you.
Last week, I was in my favorite local gunshop helping a friend select his first handgun. As we browsed the display cases, I saw that the shop had two Sig P238s for sale. They were used and had a very attractive price tag.
"Ugh," I told him, "you don't want one of those for your first pistol. You have huge hands, you wouldn't be happy with them." He agreed. Just for the fun of it, I asked to handle the P238. It felt pretty good in my hand. Huh. Who would have thought?
We left the gunshop with my friend's first 9mm pistol (a used Sig P239), and he was thrilled.
That night at home, my mind wandered back to the Sig P238. It really did look neat, like a little 1911 (in fact, that's pretty much what it is). I hesitate to say that it looked "cute", because I don't carry cute guns!
Well, Maybe…
Back and forth I went, reasoning that I don't need a pocket-size pistol. Okay, I figured, I'll stop by the shop again and just take a look at it. That doesn't mean I have to leave with it, right? I can stop any time I want, it's not like it's a problem or anything.
Or so I thought. I handled it again and decided that even though it's in .380 ACP (not my favorite for defensive purposes), I really did have to have it. So, I did some horse-trading with the gunshop owner and walked out with the little pocket pistol (that I really didn't need or want, but had to have).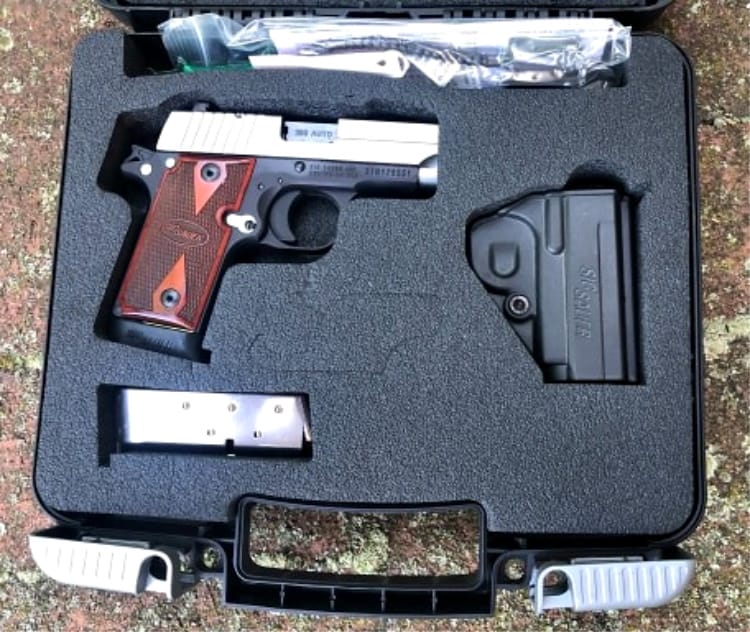 Introduced in 2009, the P238 is not the latest, greatest wonderpistol. In fact, the attractive price tag was on the pistol because no one wanted "yesterday's news", which is a very common phenomenon in gun circles. People run out and snap up the latest goodies, which often leaves the older models, which are still stellar, overlooked. Perusing the used guns section of many gun shops will yield a staggering array of superb opportunities to acquire excellent used guns at bargain prices.
What You Get With the Sig P238
The P238 is 15.2 ounces, and before I get into the rest of the specs, let me tell you that it is an absolute joy to carry! We often hear the phrase, "I barely know I'm carrying a pistol" used to describe some handguns, and that fits perfectly here.
The length is 5.5 inches, height is 3.9 inches, width is 1.1 inches. Overall, this thing is pretty darn small. The barrel is 2.7 inches.
My pistol came with a holster and Siglite night sights. The sights on this tiny pistol are very good, and show up well at night. There was one spare 6-round magazine. I purchased a 7-round mag with extended floorplate, which gives my pinky finger a place to rest. Everything was contained in a nice, plastic case.
The Sig P238 has been released in many different configurations, grips, and colors. There are literally a couple of dozen combinations available. Mine has a stainless slide with Rosewood grips and is quite attractive.
I do not hold the factory holster in high regard and opted to purchase a DeSantis Mini-Scabbard, which carries outside the waistband (OWB) very comfortably.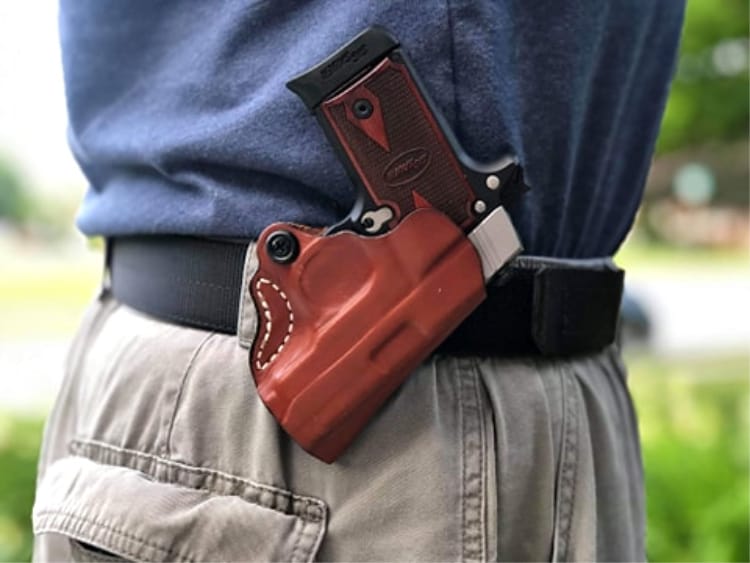 So we have a tiny 1911, and the controls are as good on the P238 as they are on the legendary 1911. Which brings us to the safety. It could not be placed more perfectly and is just the least bit stiff, which is not a bad thing if you plan on carrying this pistol in your pocket. When taken off safe, there is a very positive, most pleasing click. I would not change a thing! There is no grip safety on the P238 like most 1911s have. There are, however, internal safeties; a firing pin block, hammer safety, and a disconnect that prevents firing if the pistol is out of battery. Finally, my pistol will not fire if a magazine is not inserted.
The slide release and magazine release are standard and both function as expected. No revelations here. Magazines are single stack and all metal. And small! They disappear in my pocket.
This pistol has all-metal construction, which is refreshing in this day of polymer frames (this is not a knock against polymer frames). It feels solid, yet very light at the same time. The grip feels wonderful in my smaller sized hands.
After a little practice drawing from the holster, this pistol comes right up into my line of sight like it was made for me. It's a natural, and the sights really do help in this department.
The trigger is as good as we'd expect on a single action pocket pistol, with a little take-up before breaking. The break is nice and crisp, with a weight a little over four pounds, which contributes to accuracy.
Field stripping is carried out just like a 1911, with the slide being retracted until a cutout lines up with the stop pin, which is then withdrawn. From there, the slide is taken off, and the barrel and recoil spring are removed. The recoil spring is strong, so take care. Reassembly is fairly easy, but the extractor must be pushed down for the slide to be placed back onto the frame.
Range Time
At the range, I was very pleasantly surprised. Instead of the snappy recoil that I was expecting, I felt a gentle push. In fact, I fired a second round just to make sure what I was feeling was normal. It was. This soft-shooting pistol quickly became my favorite handgun to shoot; it's just plain fun! The sights returned to the target very quickly as a result of this soft recoil.
That got me to thinking that maybe the .380 caliber choice wasn't a terrible one because of how soft this pistol shoots. A little more about the .380 ACP (Automatic Colt Pistol) round, which was invented in 1908. It throws a 95-grain projectile at around 1,000 feet per second, give or take. It's a little light for self-defense for my taste, but it is what it is. The tradeoff means softer recoil, so it's a give and take.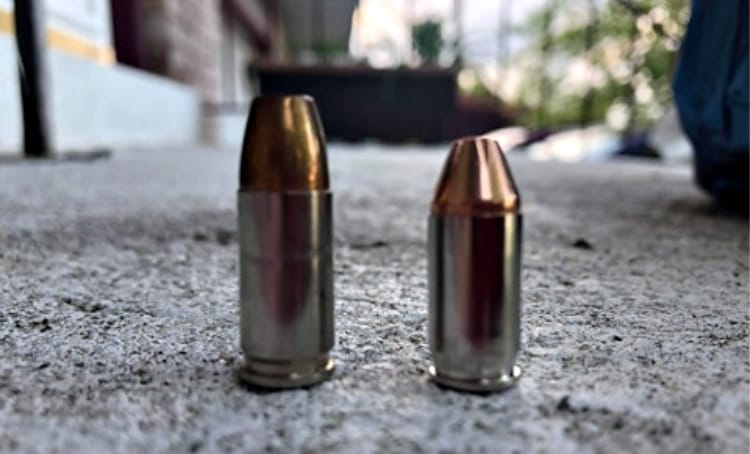 Accuracy was good in my opinion. I shot out to 20 yards and was able to keep all the rounds on an 8-inch paper plate, but I had to take my time to do that. I wasn't about to put the pistol into a Ransom Rest, as that would be ridiculous for this type of firearm.
This pistol is meant for very close range, and at that range, accuracy is perfect. I just like to know that it will reach out further than bad breath distance, which it will if the shooter takes his time. It will put hits on a man-size target as fast as I can pull the trigger and align the sights easily at 10 yards, and out to 15 yards if I slow down a bit. For its intended purpose, it fills the bill just fine.
As expected, the little Sig P238 functioned 100% with both FMJ and Defensive ammo, which was not shocking.
Supreme reliability in a soft-shooting, tiny package.
In summary, this little pistol has become my favorite pistol for carry. It's light, I barely know it's there. And it looks great! Although capacity is not large, with the extended magazine of seven rounds, plus one in the chamber, an eight-round capacity is not bad. I currently carry eight rounds on board with two spare 6-round magazines, giving me 20 rounds.
All in all, this pistol is a winner! At some point, I want to give the 9mm P938 a try, but until then, this Sig Sauer P238 will fill the bill quite nicely. It's certainly worth a look at!