Savage Arms has been mostly a rifle company for decades, with a few shotguns along the way. So, when Savage released a handgun in 2021, it came out of left field — at least for me, it did. It was the company's first pistol in, well, dang-near forever. I, like many, paid attention when Savage dropped the Stance. It was released in three colors: black, FDE, and grey, and some models come with night sights and other models with lasers. The one used for this model is the FDE model with standard sights.
Stance — Breakdown and Specifications
The Savage Stance keeps things rather traditional. Savage bills the Stance as a micro-compact 9mm, but that title doesn't fit. The Stance is more akin to a single stack nine like the S&W Shield than a true Micro-Compact like the P365. The Stance comes with two magazines, one holds seven rounds, and the other holds eight.
The gun has a 3.2-inch barrel with an overall length of 6.2 inches. Height-wise, the gun sits at 4.6 inches tall. The widest portion measures out to .96 inches, making it quite thin and lithe. At twenty-two ounces, it's a little heavy for its class of firearm but not heavy enough to make carrying it difficult.
Like a lot of modern handguns, the Stance uses an integral chassis system. The chassis contains the guts of the frame and can be removed from the frame. This chassis is the serialized portion of the firearm and is technically the 'gun.' This means frames and slides aren't serialized and can be shipped without an FFL.
Savage has said they plan to produce new frames for the pistol. This includes color, frames with rails, and likely various sized frames to fit larger or smaller magazines. Additionally, the interchangeable frames could allow for a wide degree of customization and new aftermarket options.
Take a Stance on Ergonomics
The Stance does a great job of presenting ambidextrous ergos. The slide stops and manual safety are ambidextrous, as is the magazine release. Not reversible, but truly ambidextrous. That being said, the slide lock and safety are both very small. Savage does make a model without a manual safety, and that would be my choice. The slide locks are just that — locks — and are not meant to be used as a release to reload.
Savage conquered the grip game with the Stance. The 18-degree angle is nice and comfy, and you get an additional backstrap to change the size of the grip to fit your hand. The grip is also thin with rounded edges, and it fits the handle very well. On top of that, the grip itself wears a very aggressive grip texture that covers everything.
The front, the sides, the rear, and even multiple index points for your trigger finger are all covered. Holy crap, it's just everywhere. Not only everywhere, but it's well done and very, very grippy.
That same grip is rather thin with a couple of very nice thin portions to accommodate your trigger finger and the top part of your hand. The slide features a few relief cuts to lessen weight and does make the gun have that modern, cool look to it. The front of the slide is beveled for easy reholstering, and the slide is melted and dehorned for easy concealment and a smooth draw.
At the Range
I put a few hundred rounds of Global Ordnance brass-cased 115-grain FMJs and some SIG 124 grain +P loads. I ran a variety of drills, including the iHack, the failure to stop drill, and a few reload drills. At that time, I found the weapon very easy to control. Like crazy easy to control. The Stance's thin but highly textured grip doesn't budge in the hand.
Even with those hotter self-defense loads, the Savage Stance doesn't shake its way out of your hand. The gun stays put without complaint. A lot of little guns will recoil and shift in your hand, especially when you rapidly fire several shots in quick succession. The Stance doesn't move in your hand at all. Good on Savage for addressing a rather common issue with little guns.
The Stance is plenty easy to control, even with a single hand, and even when that hand is your weak hand. Blasting through my ammo was never uncomfy. The recoil impulse is mild, and there isn't any slide bite or pain between each shot. While it might not be 'soft' shooting, it does handle well for its size and class.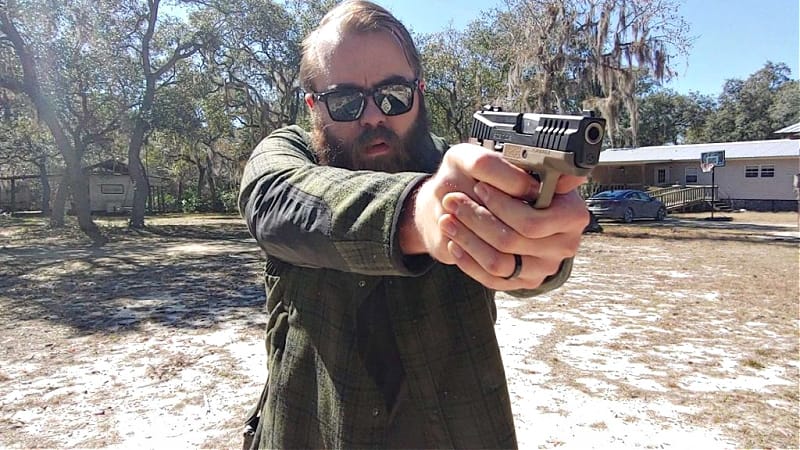 Those recessed slide stops are nice. My big thumbs often pin slide stops downward, which ensures the slide doesn't lock back to the rear after the last round is fired. That's not an issue with the Stance, and it is the only small gun that I've shot that doesn't give me a slide lock failure.
Trigger Time
The trigger, well, you won't write home about it. It's a long, spongy trigger pull with a fair amount of weight to it. The reset is also fairly long, and it has to come all the way back forward before it fully resets. It's not fantastic, especially in the face of so many good triggers on the market.
Although it's not so bad that it compromises your overall accuracy, Savage tossed on a great set of sights. The rear sight is two white dots, and the front sight is a big orange dot. They contrast well, deliver great accuracy, and are super easy to spin up and get on target. Finding the front sight is easy, and a good presentation gets you right on target. Plus, since they are easy to see, you can get lead on target quickly.
In terms of accuracy, it doesn't stand out but is perfectly suitable. Headshots at twenty-five yards are not a big deal. Hitting those two-inch dots that make up a dot torture target isn't very difficult either. Now, if I needed to make a fifty-yard shot on a ten-inch gong…well, I better have lots of extra ammo.
Going Bang
Did I have any flaws or reliability issues? Nope, not a single one. The Savage Stance ran and ran without complaint or a lick of lube. I ran it exactly how it came from the factory, and the Savage didn't disappoint.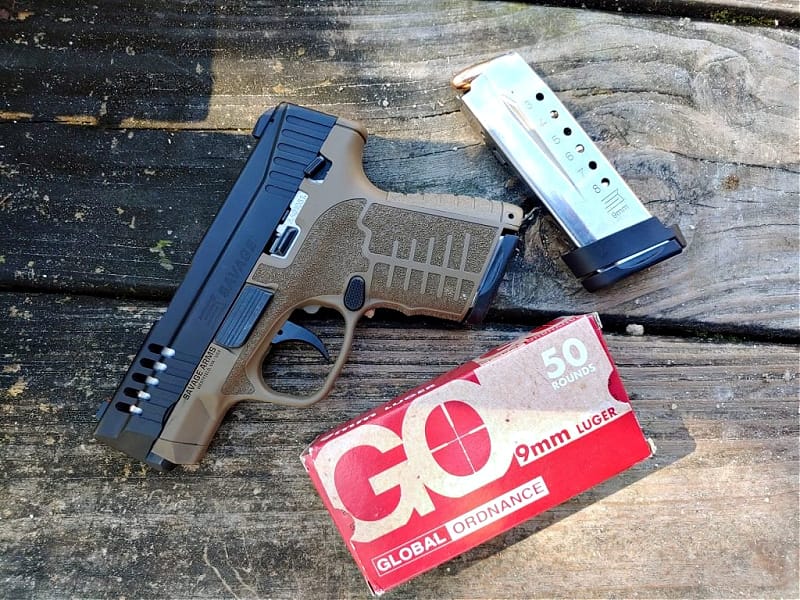 The Stance does lack the capacity of modern micro-compacts, as well as their efficiency. However, the price point is a fair bit lower, with an MSRP of 479. The street price will likely be even lower. That being said, I think the Stance missed the boat by not including a rail or an optic compatible model. I feel that makes the single stack nine design feel slightly more dated.
However, it's a reliable and ergonomic pistol. Accuracy is good but not great. It's a solid, well-made gun that will be a perfectly competent choice for concealed carry and defensive use.