GunMag Warehouse's Jeremy Stone is back with a quick look at the Q Honey Badger SBR. AAC originally developed the Honey Badger at SOCOM's request as a rifle caliber replacement for their H&K MP5 SDs. Built in conjunction with the .300 AAC Blackout cartridge, the gun never made it to the civilian market, but Q resurrected the design and markets it as the Honey Badger by Q.
There's a lot to like about the Honey Badger, but with a $2,999.00 price tag, Jeremy asks "if I could afford it, would it make the list, would it make the cut?" He does admit, right off the bat, that "It's a lot of fun." Jeremy is running the SBR version with an added Q Trash Panda titanium suppressor.
Let's take a look at the Honey Badger SBR's specs from the Q website:
Caliber: .300 AAC BLK
Clear Hard Coat Anodized 7075 Aluminum Receiver
Free Floating 6061 Aluminum M-LOK Handguard
70 Degree Safety Selector
Two-Position Collapsible PDW Stock
Adjustable, Low Profile Gas Block
Tapered Muzzle with 5/8-24 Threads
Two-Stage Trigger
AR-15 Controls
Weight: 4 lbs. 8 oz
Length: 20-25 inches, Depending on Stock Deployment
Barrel: 7 inches with 1:5 Twist
Cherry Bomb Muzzle Brake
This Critter is Lightweight
True to the original SOCOM parameters, the Honey Badger is handy and lightweight at only 4 lbs. 8 ounces. Of course, there are always tradeoffs with weight reduction, like the suppressor's titanium baffles not being as durable as steel. A more important factor, as Jeremy notes, is that the Honey Badger is "significantly less fun to shoot without the suppressor."
That's always going to be the case in a compact, lightened firearm chambered in a full-sized rifle round, despite the many advantages of the .300 BLK cartridge and the Cherry Bomb muzzle brake. Jeremy does note that ammo selection plays a big part in how the rifle handles. The Honey Badger is "a dream to shoot" using Sellier & Bellot ammo, though he doesn't tell us the load. Switching to Mag Tech, with "the same grain" was decidedly less pleasant. So, choose your freedom seeds wisely.

Controls and Ergonomics
Jeremy says there's some good and some not-so-good here. He likes the M-LOK receiver with the top Picatinny rail. The seven-inch barrel limits accessories, but the handguard provides as much flexibility as possible. The flared mag well is another plus, Jeremy says, "which is cool. Makes me look a lot better when I'm shoving mags in there." There's also the Geissele two-stage trigger, "which I adore."
The only ambidextrous control is a 70-degree safety selector, but the standard AR-15 controls make the Honey Badger familiar to most of us right out of the box. The Radian charging handle is always nice, but Jeremy isn't a fan of the slim Magpul pistol grip. He wants something with more substance, though he admits it's a matter of taste.
His least favorite part of the Honey Badger is the lightweight two-position stock. He notes that "it's either all in or all out." There's a five-inch difference from in to out and no in-between position. There's some nice texturing on the butt pad, but if you try to get a solid cheek weld against the polymer or the struts, "you're gonna have a bad time."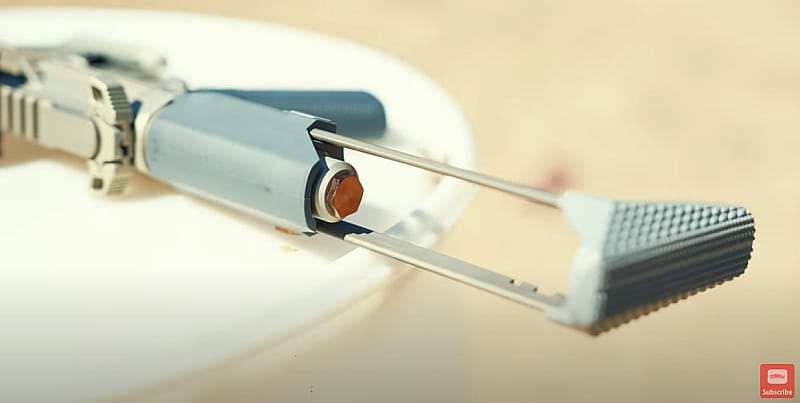 The Honey Badger features billet upper and lower receivers, which is also a matter of personal taste. The less expensive Q Sugar Weasel is basically the same gun, though it's less "bourgie," as Jeremy says. By the way, "bourgie" is pronounced "boojie," in case y'all didn't know. I only know because my daughter says it. Anyway, the Sugar Weasel has forged receivers and a few other downgrades that cut the price almost in half.
Does the Honey Badger make the cut?
As always, that depends on who's deciding. If you have plenty of money and dropping three grand on a firearm is no big deal, the Honey Badger might be your thing. Or maybe the Honey Badger is just your dream gun that you're willing to sacrifice for. Again, good deal. There are any number of reasons that someone might buy a Honey Badger.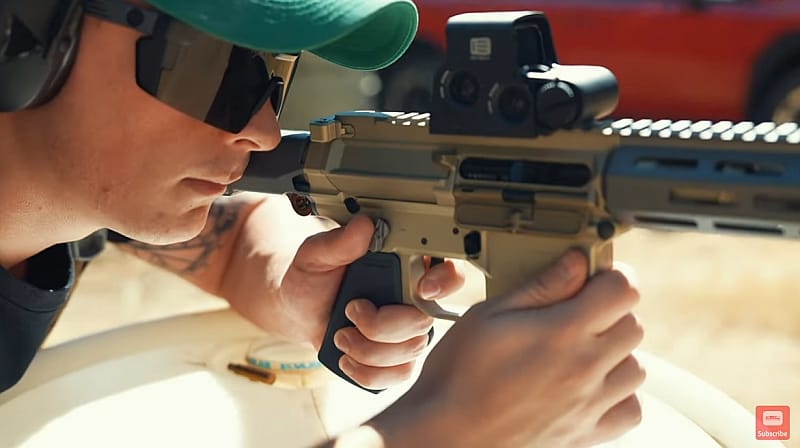 But Jeremy thinks he would prefer the Sugar Weasel because it's significantly less expensive, if a little less flashy. Either way, you're getting a nice gun. So, is the Honey Badger worth the price tag? Only you can answer that question.