My recent interest in mag fed shotguns has lead me to look into several different systems. My interest was catapulted by Mossberg and Remington Introducing two pump-action mag fed shotguns. When my local gun store called me to advise he had the new mag fed Shockwave 590M in, I knew I had to get one.
This is the third 'not a shotgun' I've purchased. I love the idea and concept of these 14-inch scatterguns. The newest Shockwave, of course, features the 590M magazine system. Mossberg showed the original 590M series at SHOT Show 2018 and I loved seeing the pump action shotgun evolve. I was also a big fan of the Shockwave, so if you combine the two I should be a big fan right? Well, not that I've put some rounds downrange I can tell you, but first, let's take an in-depth look.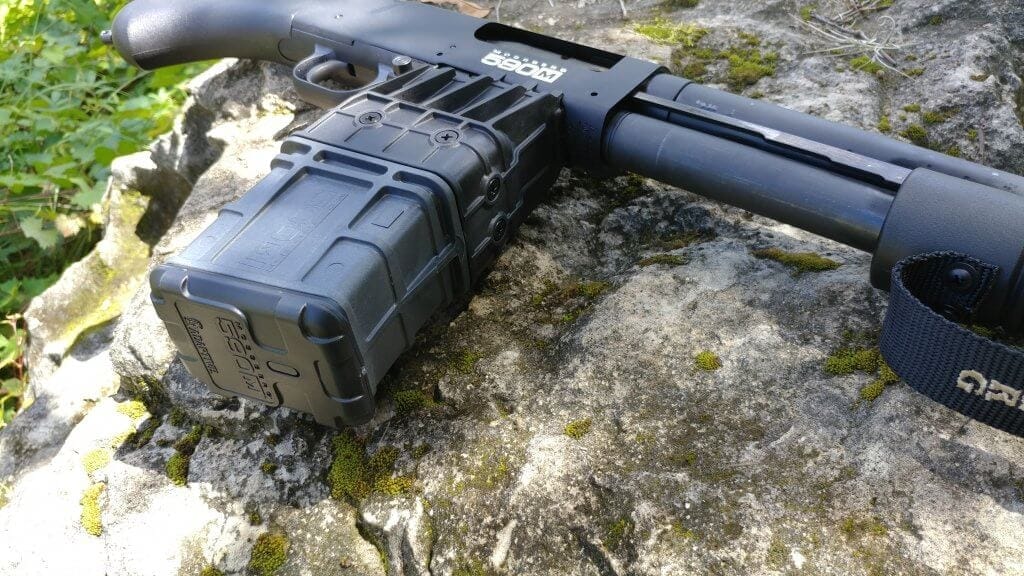 Inside the Mossberg Shockwave 590M
Barrel Length – 15 inches
Overall Length – 27.5 inches
Weight – 6.55 lbs
Caliber – 12 gauge
Capacity – 10 + 1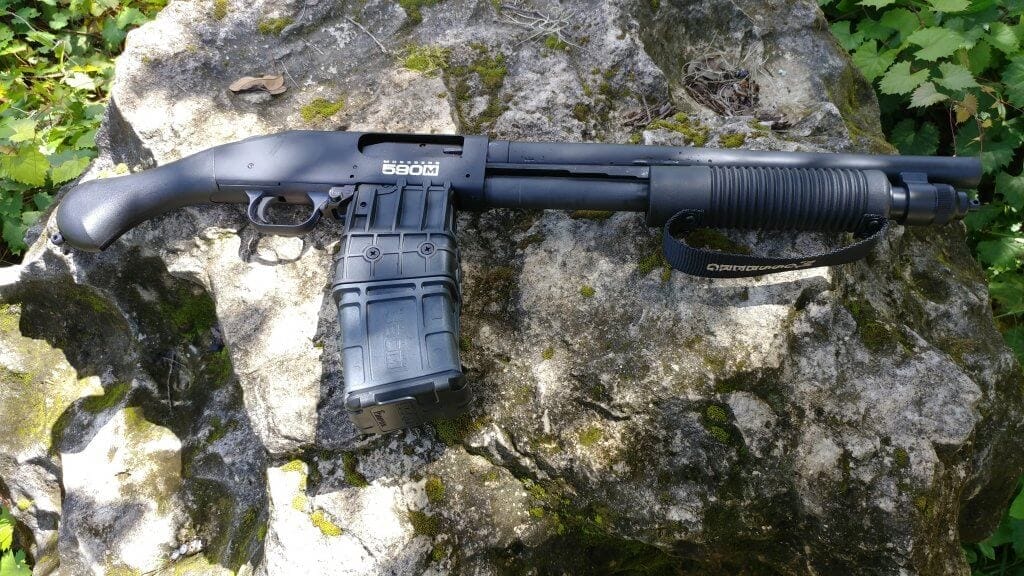 The Mossberg Shockwave 590M isn't a shotgun, it's just a 12 gauge, pump action firearm. It falls into an odd category of firearm that is basically the "other" option. Since it's not a shotgun it's 15-inch barrel doesn't make it a short barreled shotgun, and since it's longer than 26 inches overall it's not an AOW. This makes it occupy that odd gray space in the firearms world.
The Shockwave 590M, of course, takes a magazine and shoots 2.75-inch shells. The design of the gun is a very basic pump-action shotgun with the addition of a magazine. The magazine well for lack of a better term is the space where the shell lifter would normally pick the round up. The magazine tube is disabled and features a cap that's slotted to accept the magazine. The magazine has an AK style lip that slots into that tube cap. Then the mag rocks in.
Right behind the magazine is an ambidextrous magazine release. Just pushes it, and remove the mag. It's very easy and very intuitive.
The Magazine
The magazine is obviously the star of the show. The Shockwave 590M comes with one 10 round magazine and it is a beefy beast. The magazines are made by Adaptive Tactical. Adaptive Tactical already made a variety of conversions for the Mossberg 500 series that added magazines to the platforms. This included a drum. Currently, the 590M series has available magazine sizes of 5, 10, 15, and 20 rounds. Adaptive Tactical does make a drum for their conversions and I'd love to see a drum for this system. A ten round drum could really help reduce the overall profile of the gun vertically anyway.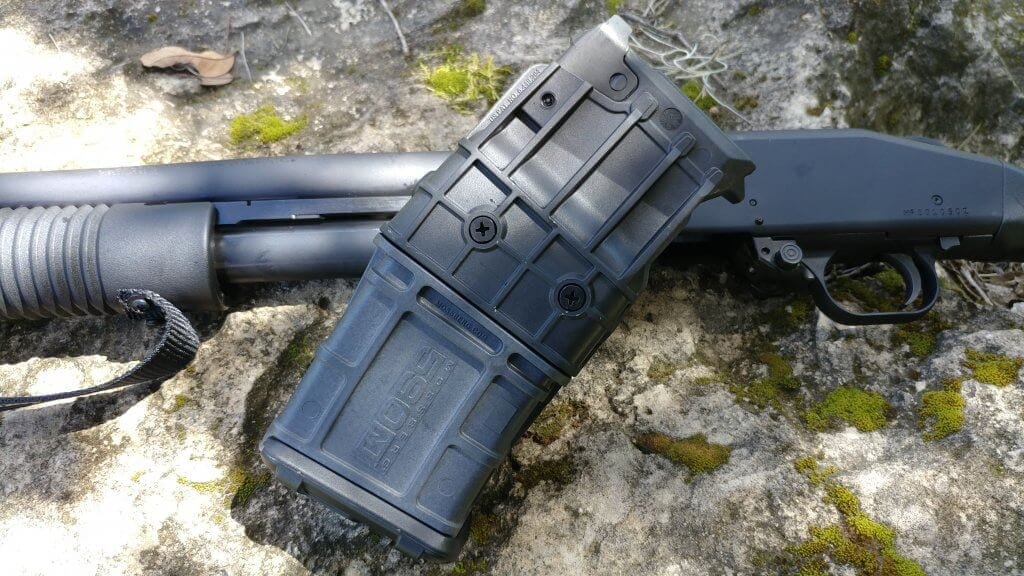 The included magazine is doublestack of course and does pack 10 rounds in a relatively short, but fat bottom package. The Magazine operates smoothly, but man that tenth round is a pain to load. You really gotta shove it in there. However, due to the rock in nature of the magazine system its easy to load a magazine with the action closed. I do imagine some deformation would occur if you left the magazine loaded with the action closed so keep that in mind.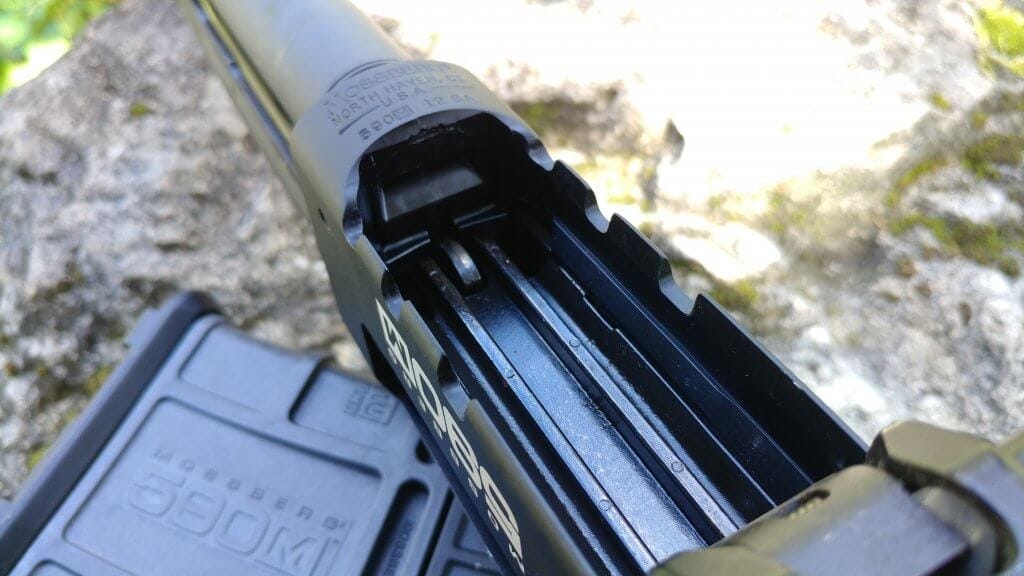 How beefy are these magazines? The 20 rounder weighs almost 2 pounds…unloaded. The magazines are widely available, and I think I'm gonna need a 20 rounder soon. The big 20 rounder makes more sense in a shoulder-fired weapon, but the Shockwave 590M exists out of ridiculousness, and I need to go full ridiculous with it.
On The Range
You have no idea how excited I was to hit the range with this gun. What doesn't scream America more than a 12 gauge firearm, totally not a shotgun, with a massive magazine hanging out of it? I knew every time I touched off a round if I listened hard enough through my ear pro I'd hear the scream of an approving bald eagle.
The Mossberg Shockwave 590M is a literal blast to shoot. It's a lot of fun. Touching off ten rounds as fast as I can pump the gun is so much fun. The Shockwave series of guns takes a certain amount of technique to handle, and over the last year, I've gotten pretty decent with these guns. The Shockwave 590M was no different.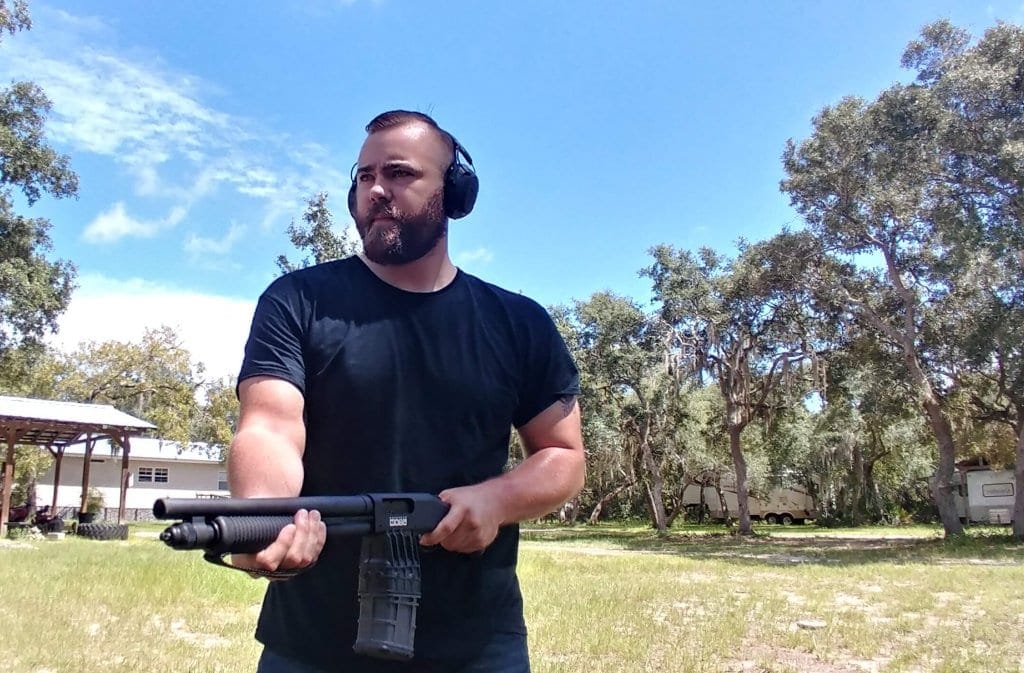 To aim and shoot this thing with any kind of usefulness you need to push forward on the pump and pull back on the Raptor grip. Almost like you are stretching the gun. If I did that I could control bird and buckshot without any issue. Admittedly its a handful to hang on to, but its a fun handful.
I've said it once and I'll say it again, hanging onto these guns is a challenge, but that's part of the fun. It's hard to shoot, but I like that kind of challenge. The Raptor grip helps a lot. From experience I can tell you a normal pistol grip can be absolutely painful, the Raptor not so much. The Raptor grip's rearward design doesn't kill the wrist and is not painful.
Trigger and Pump
I noticed two big differences from my normal experience with the Mossberg 500 series. First, the pump is much rougher, and nowhere near as smooth as a normal pump action. The magazine and the shell's pressing upwards adds pressure to the pump which causes that friction. This makes the pump a little rougher than most, and you really have to force it rearward and forward again.
The trigger also feels quite stiff. Much stiffer than most and I'm not sure why the presence of a magazine would affect trigger pull. Do I have an odd model? Or do I just have some primo examples of the 500 series with excellent triggers? It's not bad, especially for a weapon as imprecise as a pistol grip only twelve gauge. It's just surprisingly stiff.
Reliability
Normally this would be handled with a single sentence. It's a 12 gauge pump shotgun, what could go wrong? Well, adding a magazine does complicate things right? When it comes to shooting the gun I put 300 rounds of birdshot downrange in just a couple days and did experience an odd malfunction. One thing that's important is to make sure the top round is fully seated rearward. Like a lot of mag fed shotguns, the brass rim can be a pain in the ass for seating rounds. Make sure it's fully to the rear or the round may nosedive.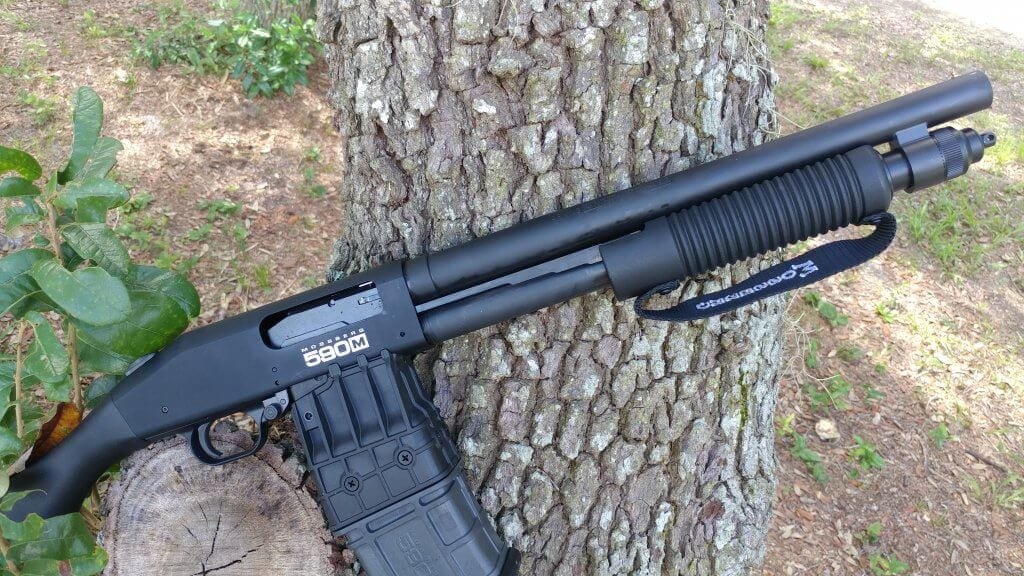 What's the point
Fun, pure fun. The Shockwave 590M is a fun gun and that's all it needs to be. The design is somewhat ridiculous, but perfect. The magazine gives you a massive amount of firepower, but I'd take a shouldered version of it or even the regular Shockwave for a combat role. The Shockwave 590M is a heavy gun, but if you need compact firepower its hard to beat. The gun is fun, the magazine works, and it's a beautiful example of why I love America.