By now we've all seen and are familiar with the Micro Roni systems. These Israeli designed and produced kits have been around for quite some time. The idea is simple. The Micro Roni's convert your standard handgun to an SMG sized package. With the rise of pistol stabilizing braces, these kits have become even more popular. The newest Micro Roni Gen 4 model comes equipped with a stabilizing brace. The stabilizing brace models are predictably much more popular than the models requiring you to register your weapon as an SBR. Due to reader demand, we got our hands on one so we could test and review our very own Roni Glock.
Originally published in October 2019.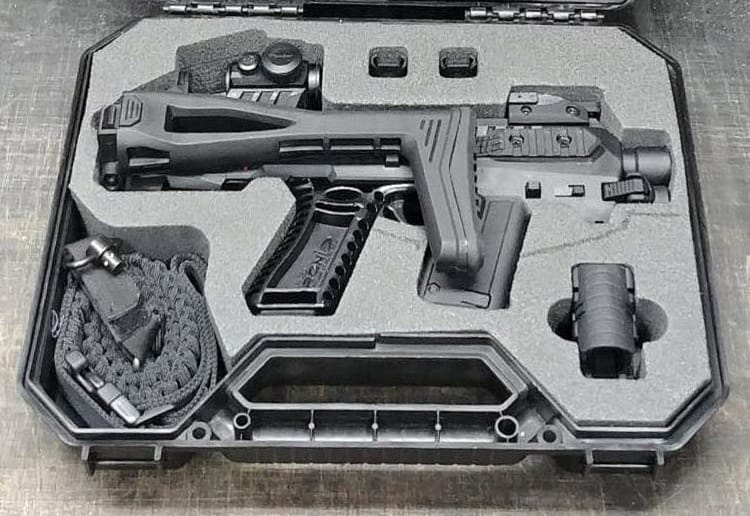 …and he called it Micro Roni…..
The Roni kits used to be quite pricey, but have seen a steep decline in price. At this point, a Glock and Roni kit will cost nearly right around the same as higher-end PCCs. The Gen 4 models have a number of new features, including:
Captive Charging Handle – The charging handle is no longer removable and therefore it can't be misplaced.
A larger ejection port. This is a requirement to ensure the gun and system is reliable.
The ability to reach in and use the pistol's slide stop.
A triangular barrel shroud that's adjustable. This allows the Roni Gen 4 to work with both Glock 17/22 models and 19/23 models.
Micro Roni Gen 4 Features — Up Close
The Micro Roni Gen 4 keeps the Stabilizing brace design that also folds to the right. Along the top, we have a full-length optics rail, of which I've taken advantage of. On the sides, we also have some small sections of rail to accommodate your favorite flashlights, lasers, and so on. At the rear of the unit is a QD port for a sling. The front of the weapon has an angled grip and a handguard to keep your hand from slipping in front of the barrel. Lastly, there is a hinging device that acts as a trigger block. This safety is a bit of a necessity since you can safely holster this device. It's nice to have something between the trigger and the world when running it slung, especially if you ever plan to let it hang.
Easy Peasy Glock Installation
Installation is very simple. At the rear is a button, press it in, and this will unlock the rear hinging door. Once opened you pull the charging handle to the rear and press the Glock into the charging handle. It should align with the serrations of the Glock slide. Once it's locked in, you press the Glock forward where it locks into the Glock's rail system. Close the door, push it forward, and lock it into place. That's it.
Roni Glock Ergonomics and Controls
You are still stuck with your Glock grip angle, but you can reach forward and find more support with the incredibly comfortable angled forward grip. This angled grip makes it easy to engage any of the accessories you have mounted to the accessory rails.
The magazine and slide release are all Glock—nothing changes in regards to reaching and utilizing them. The safety is quick and easy to reach and is easy to engage with the trigger finger on either side. At the rear, we have an ambidextrous charging handle that's very easy to reach and utilize. The charging handle does reciprocate, but the handles on the side are small and positioned far enough away from you to never strike you while cycling.
The length of the brace is short, as it should be since it is designed to wrap around your forearm. In that capacity, it's the perfect length for most shooters. If you were to say, misuse the brace and place it against your shoulder, you may find it a little short. Legally you can do such a thing, but you also may find it to be rubbery and that it seems to flex a bit when shooting. Firing the Roni Glock with the brace folded isn't possible. When fully folded the brace covers the trigger and trigger guard.
Overall, the Micro Roni is well done, and it melds very well with the Glock.
On the Range—Roni Glock PDW Performance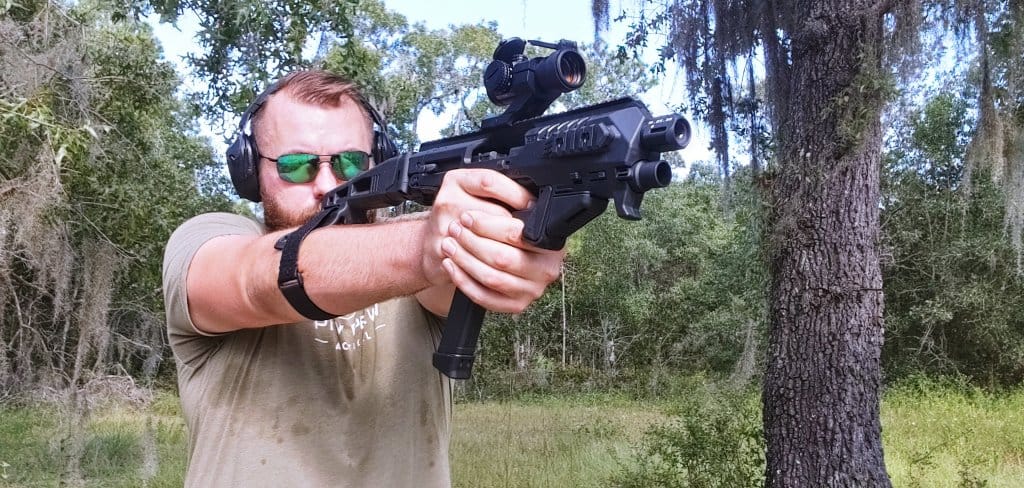 Better PDW Control and Accuracy
As you can imagine, the Micro Roni kit makes the weapon much easier to control. The added brace, weight, and the ability to hold the weapon with a forward grip all make the weapon easier to control. You can quickly and accurately transition between targets and score great hits with little effort.
You can also back up a bit, and by a bit, I mean much further than I could with my stock Glock. Add in the red dot optic and I was dropping rounds regularly at fifty yards into a man-sized target. Accuracy is as good as it gets for a Glock in a chassis system. It's not as accurate as a dedicated PCC like a Scorpion or MPX, but it's accurate enough.
Rapid Fire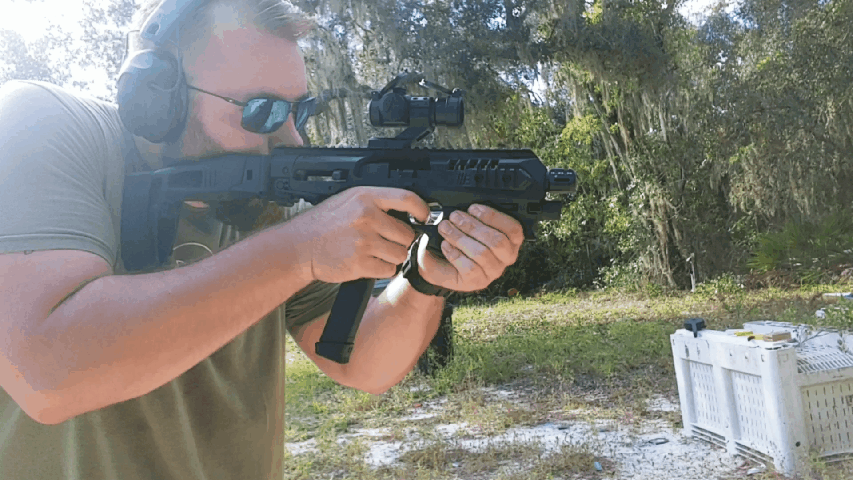 Rapid-fire is also very easy to control and a ton of fun. I pulled the trigger as fast as I possibly could and kept the rounds very close together. I could never keep this group with just a handgun firing as fast as I was.
Roni Glock Benefits and Challenges
Keep Your Glock Upgrades.
One of the benefits of using this system over using a PCC is you can keep all of your dedicated Glock upgrades. Yes, you get to keep your triggers, extended slide stops magazine releases, etc. It's likely much easier to transition between your Glock to your Roni Glock than from Glock to PCC.
Red Dot Challenges
My biggest challenge was zeroing the red dot. It sits a bit high over the bore and was shooting way high, so I had to drag it down quite a bit to finally get on target. What would likely work better is a micro red dot, like a Trijicon RMR. However, this worked once it was zeroed.
Now, Lets Really Turn it into a PDW
Kits like this are the reason I own a 50 round drum for my Glock, as well as tons of extendos. They simply balance better in the Glock with the Roni kit. This is especially true for the drum magazine which gives a weird recoil impulse when it's slapped in a pistol.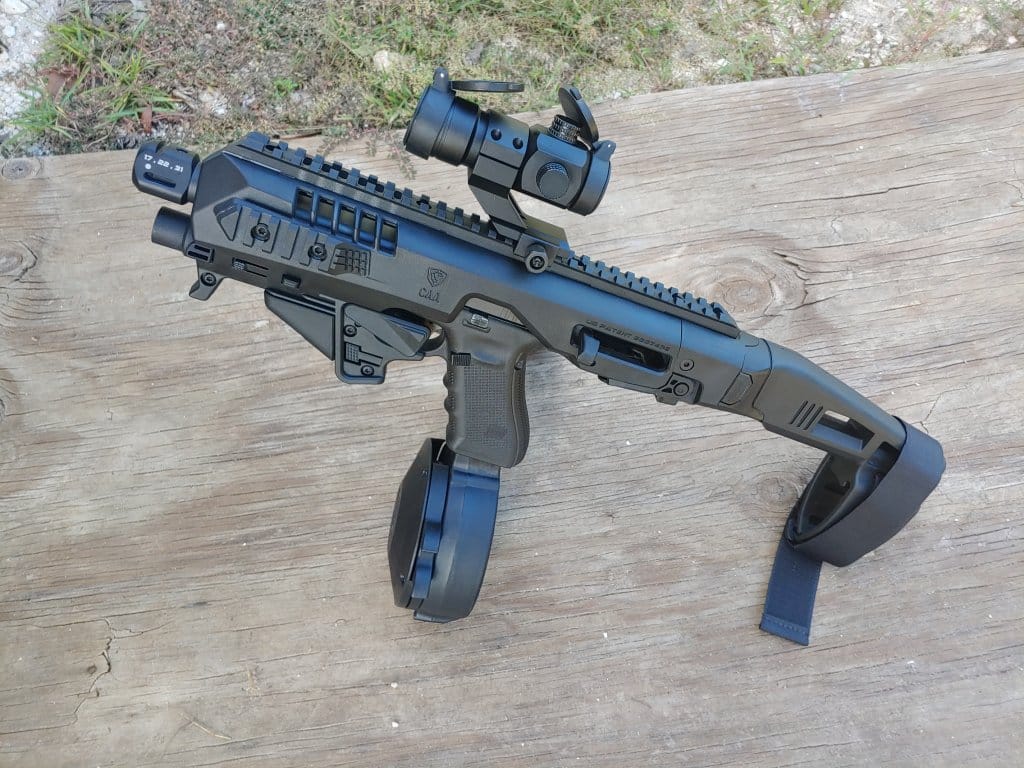 Is the Micro Roni Gen 4 Worth It?
The Roni Gen 4 kits with braces are going for less than 300 bucks on average and that's not a bad price at all. Compared with the average Glock price, you can be into one of these kits for about 750 to 800 bucks—depending on your Glock's generation and features. These systems won't work with a Polymer 80% lowers Glock so be well aware of that. The Roni Kits also come in SBR variants with a few different features and most can be found at YRS Inc.