Many years ago I was a PFC at the School of Infantry Training Battalion, waiting to receive my new (to me) M16A4. Prior to that, my experience was the M16A2. The new M16A4 seemed like something out of the future, with rails, and a flat top upper. Included was a Trijicon Acog, a PEQ 15, and a vertical foregrip. While functionally it was the same as my M16A2, I was still a big fan of the new gun. I carried a variety of weapons through my Marine Corps career. I carried everything from machine guns to shotguns. However, one weapon I always had to my name was my M16A4 service rifle.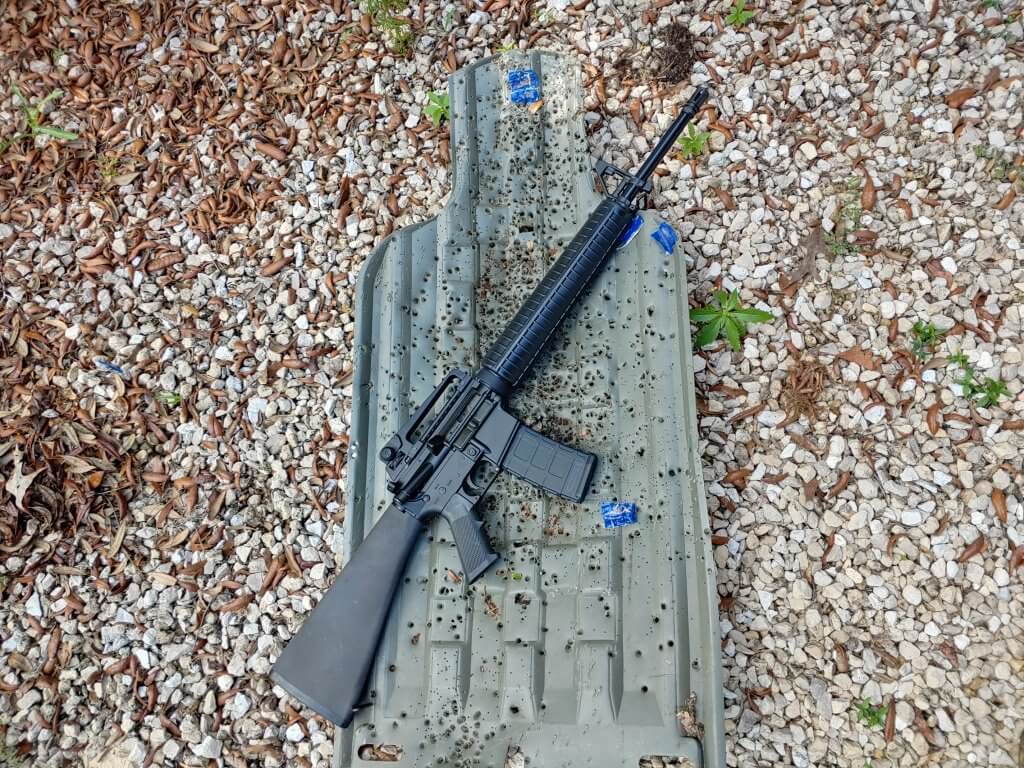 Years after my service, 6 to be exact, I decided I wanted to go back to a full sized AR 15, similar to my original M16A4. There are numerous choices out there, but I settled on the Aero Precision model. I shot one of their M16A4 models at SHOT and loved it. Aero was happy to send one my way and when I opened that box I was hit with a huge wave of nostalgia.
The Aero Precision M16A4
This exact Aero Precision model is not true clone M16A4. It does not come with an ACOG, a laser aiming device, or a Knights rail. If it did, it would be a several thousand dollar rifle, not a $750 gun. That being said, there is a slightly more expensive model that comes with the M16A4 quad rail, but I went slick to save weight and I can add a rail later if I choose too.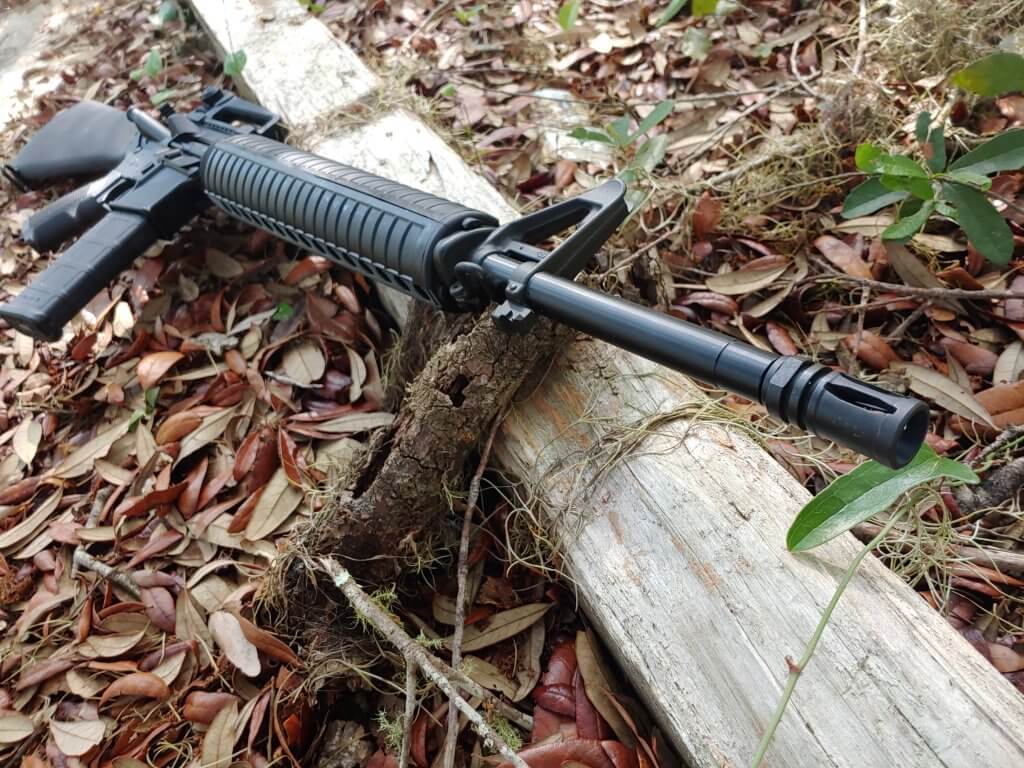 The Aero Precision M16A4 does have Safe, Semi, and Burst markings, as well as M16A4 markings. The lower features the A2 stock, and standard Mil-Spec controls. The upper comes with the M16 style carry handle and awesome and dynamic sights. Everything is simple and Mil-Spec. It's the perfect host for those looking to completely clone a military rifle.
Since this is GunMag Warehouse what would be an appropriate magazine for a clone rifle? Well the USMC pushed Magpul PMAGs for some time, plus the standard aluminum magazines. In my time I saw Colt aluminum magazines, HK aluminum mags, and Surefeed mags. Magpul mags were the Gen 3 mags. Plenty of Marines bought their own Pmags of varying generations.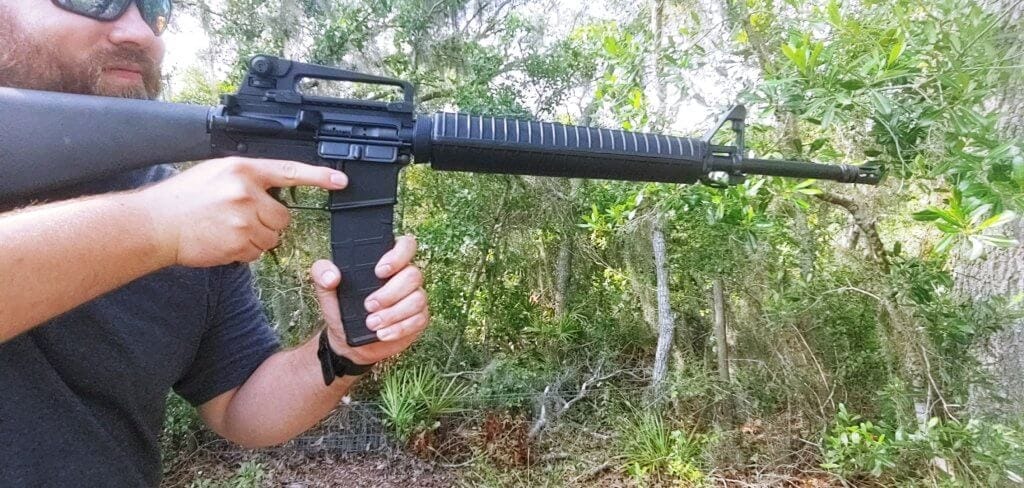 The clone scene is small in the grand scheme of things, but very active and those building clone rifles are incredibly passionate about their builds. The Aero Precision M16A4 is a perfect base rifle for those looking to clone an M16A4.
The Musket
In the Marines, we often referred to the M16A4 as the 'musket.' This was a quasi affectionate name for what is a rather large gun compared to most modern military rifles. The M4 was the gun we all wanted for its lighter and shorter nature. For a guy my size, the M16A4 is quite proportionate. This includes the notorious A2 length of pull.
The A2 stock is rather long, especially when you factor in Marines wearing body armor. I know a lot of smaller guys hated it. The rumor is the extra length from the A1 to A2 was for the Army or maybe USMC Marksmanship unit, and was designed to win marksmanship contests. This isn't true at all, by the way, I wanted to clear that up.
The M16A2 length of pull is perfect for my gorilla arms and is one of the more comfortable rifle stocks I've experienced. I can get an amazing cheek weld and its the perfect range from the sights to my eye. This allows me to have a proper sight picture. The stock is rock solid and its width and height allow me to rest the stock in my shoulder pocket and to lock it down. This creates a very stable base.
Out of the box, it looks and feels just like the M16s I used in the USMC. It's a super light rifle, especially for its size. I will likely add an ACOG one day, but for now, I'm happy with the stock rifle.
Those Sights
The M16A2 and A4 sights are some of the more complicated and dynamic iron sights out there. They allow for very precise adjustments. The sights come with two apertures, a larger aperture for 0 to 200 yards and a small aperture for longer ranges. Adjusting the sights is easy, and there are tons of military manuals out there that will give you guidance on how to zero the system.
It's not hard, but knowing the right distances is important, as well as using the right target if you want to get the most out of your zero. The USMC teaches a 36/300 yard BZO. You shoot at a very small target at 36 yards. This target replicates a man-sized target at 300 yards. The trajectory of a 5.56 round at 36 yards is similar it's trajectory at 300 yards. I can attest to this efficiency, and that is how I zeroed my Aero Precision M16A4.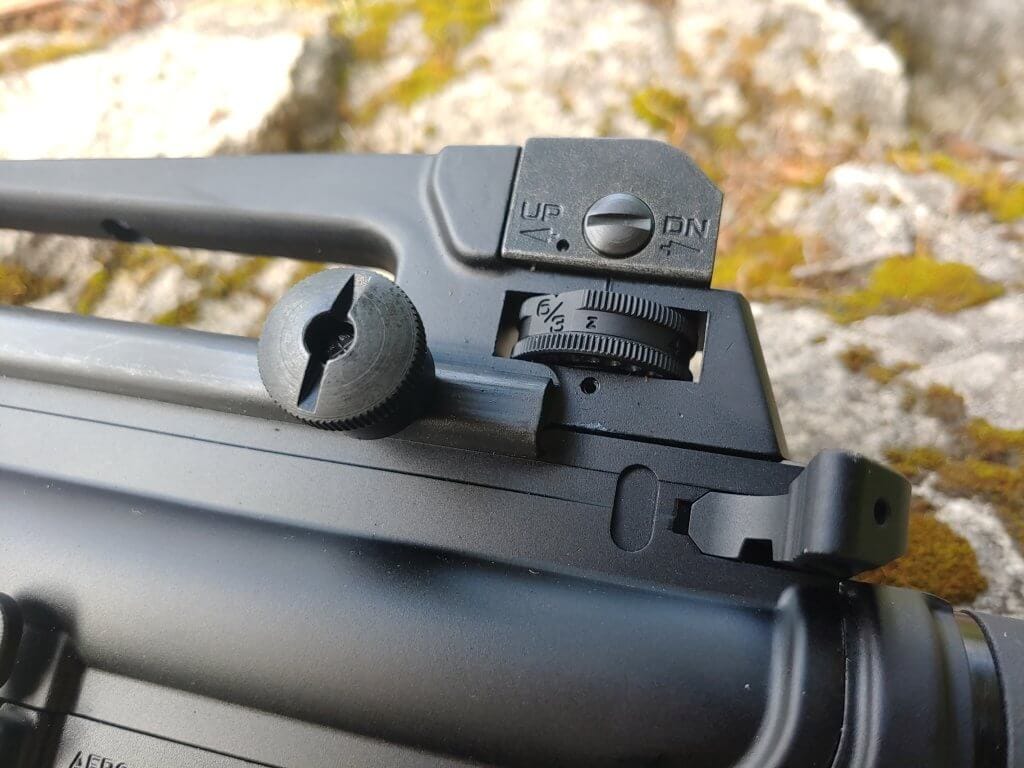 On the Range
I haven't fired a full-length rifle AR 15 in a long, long time. I've forgotten there is between a full-length rifle with a 20-inch barrel and a carbine. Shooting a AR 15 with a 20-inch barrel is best described as buttery smooth. The weapon cycles and recoils with such a gentle push. The longer barrel and gas system makes things so much softer.
The gun's recoil is negligible, as is the muzzle rise and concussion. It's much more comfortable than the standard carbine we are all so used to. Shooting it beside even shorter ARs in the 10.3 or 7.5-inch range will blow your mind. It feels like you are shooting two entirely different calibers.
This clone M16A4 is a true rifle. It's not trying to be compact, it's trying to be a rifle. It's very accurate. While zeroing the gun I was placing my three round groups into one small hole.
Backing up to 100 yards had me ringing a 12-inch steel gong in the off-hand with ease. This gun feels like a laser. It's too easy to shoot accurately. Back in the day, as a young recruit, my platoon and I were hitting man-sized targets at 500 yards in the prone with a week's worth of experience beforehand. Not to sound old, but this was in the days of iron sights at boot camp.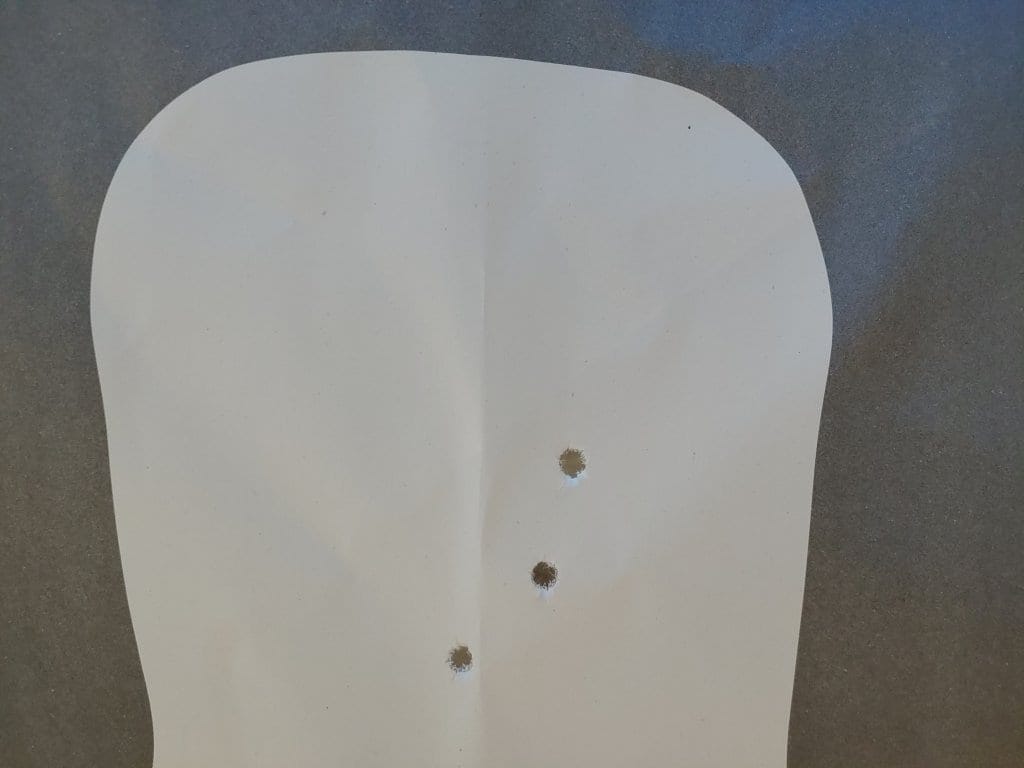 The reason these guns are accurate isn't just because of the trigger, or a fancy barrel, it's part of the design. It helps reduce human error when it comes to shooting. The stability of the stock, the soft shooting design, as well as the awesome iron sights, make this an easy gun to shoot accurately. The reduced recoil and soft shooting nature specifically are excellent for new shooters, it helps reduce flinch and fear associated with newbies shooting.
Down the Barrel
Aero Precision is well known for making outstanding guns at a variety of price ranges. They escape the memes associated with budget ARs because they do some outstanding quality control. The Aero Precision M16A4 is well made from the finish to the controls. The upper to lower fit is tight, the breakdown pins do not require a mallet, and because it's in spec, you can toss the anti-walk pins out.
The trigger is predictably Mil-Spec, so don't expect something from Geissele. It has some take up to it, and over travel, but it is consistent. The weapon is put together well and the controls click and pop as you'd expect.
If you ever served or got any experience on an M16A2 or A4, or even an A3, then you'll be at home with the Aero Precision M16A4 clone. The Aero M16A4 is an outstanding rifle, and it brought me back to the joy of a full-sized AR 15. While carbines are sexy, and the trend for smaller rifles has never been bigger, I still adore full-length rifles. It's not for everyone admittedly, or for every task, but the full-length rifle is still an excellent do it all gun.
Let me know what you think about my favorite 'musket.'