On July 18, 1934, a 27-year-old police detective named "Jelly" Bryce got word that cop-killer Harvey Pugh, an accomplice of Clyde Barrow, was holed up in an Oklahoma City hotel. Pugh's associates, Ray O'Donnell and Tom Walton, also wanted, were said to be with him. Bryce approached the desk clerk, an elderly woman whose daughter owned the hotel. The woman led Bryce to her daughter's room, so the detective could question her.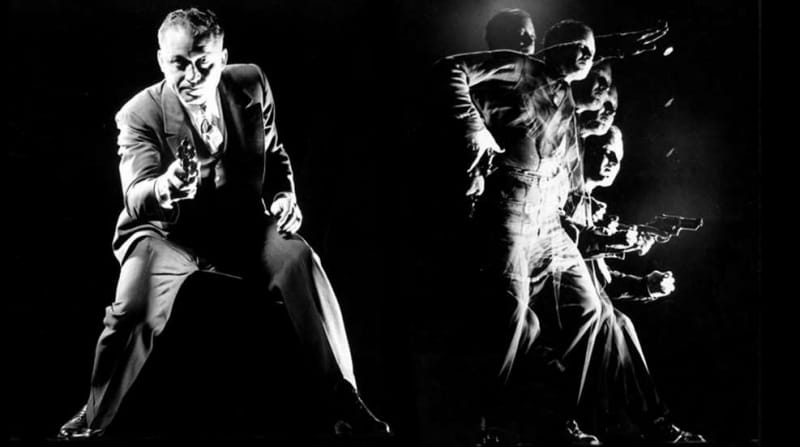 The woman opened the door but quickly tried to close it again. Sensing something amiss, Bryce forced the door open, seeing the scantily clad hotel owner in bed with O'Donnell. The outlaw was pointing two Colt 1911 pistols at him. As Bryce recalled later, "When I looked into the room, there he was up on his elbows with a gun in both hands aimed right at me. He was lying on the near side of me, and the woman was on the other side of him. I jumped to one side, out of the line of fire, grabbed my gun, and tore him up."
"Tore him up," indeed. Point shooting from a crouch, Bryce's first round caught O'Donnell under the chin. The next four rapid-fire rounds were head shots. There is some question whether Bryce fired six shots or only five, though O'Donnell was unable to ask himself the important question that necessarily came after. Some say a sixth shot buried itself in the mattress. But it mattered little. O'Donnell never got a shot off, despite already having the 1911s in his hands.
The Legendary Jelly Bryce
Jelly Bryce's career as a lawman ended with his retirement in 1958. Yet his exploits are still talked about today, 49 years after his death at age 68. Bryce was probably the 20th century's deadliest gunfighter. So feared was he, that holed-up criminals were said to suffer from the "Bryce Effect," meaning they surrendered as soon as he showed up on scene. They knew that Jelly Bryce didn't miss with pistol, rifle, or shotgun, and no one could outdraw him. Bryce won 19 live-or-die shootouts in his 30-year career, beginning with his second day on the job.
Jelly Bryce was born in 1906 in Mountain View, Oklahoma Territory. There seems to be some uncertainty about Bryce's real name. Most sources name him as "Delf A. Bryce," but he is alternately listed as "Jacob Adolphus Bryce." His Oklahoma City Police ID card reads "D.A. Bryce."
Either way, Bryce was said to have literally cut his baby teeth on his father's loaded revolver. Asked about this story, Bryce's older sister called it "preposterous," adding with a smile that their father always unloaded his gun before letting her baby brother "have at it."
Bryce was a good athlete, playing football and running track. His hand-eye coordination was said to be astonishing, and he was always a crack shot. After graduating high school, Bryce decided he wanted to be a lawman. He started as an Oklahoma State Game Agent in 1927.
But Bryce soon tired of his job. He resigned in 1928, thinking he would go to college. Heading to Oklahoma City, Bryce stopped in at a shooting contest in Shawnee, hoping to win the $100 prize. Bryce walked up to Clarence Hurt, who happened to be the Oklahoma City Police Department's "Night Chief." Bryce asked if anyone could enter, to which Hurt replied, "Can you shoot?" Bryce answered that he thought he could.
Intrigued, Hurt set up a target. Before shooting, Bryce asked, "Can I draw and shoot? I'm better if I draw first." "Up to you," answered Hurt. Bryce set up, drew his revolver amazingly fast, and put all six rapid shots into a silver dollar sized group. "Forget about college," Hurt told him. "You have a job with the Oklahoma City Police Department."
Detective "Jelly" Bryce
Bryce soon showed his mettle. On his second day on the job, in plainclothes, he saw a man acting suspiciously in a parked car. Bryce opened the car door and asked the man what he was doing. Bryce had caught the man hotwiring the car. The man asked who he was, to which Bryce replied, "I'm a police officer." The man drew a gun, swinging it toward Bryce. But the new cop was faster, pulling his own revolver and shooting the man dead.
Two more criminals challenged Bryce that first year, and they ended up like the first. Coming on the two men prying open a locked door, Bryce trained his headlights on them and got out of his patrol car, shouting to the men to surrender. Both the crooks drew pistols and fired, missing Bryce. They didn't get second shots. Bryce drew and killed them with one round each.
Bryce's nickname came from his habit of dressing well. He was soon the youngest detective on the Oklahoma City force. He always dressed immaculately in a double-breasted suit or sport coat, tie, creased trousers, shined shoes, and a perfectly folded handkerchief in his breast pocket. The slang of the day derisively called such well-dressed men "Jelly Beans."
Soon after, Bryce cornered a wanted gangster. Calling on the man to surrender, Bryce took fire instead, instantly returning it. Once again, the cop was better than the criminal, and the man went down, badly wounded. Trailing blood, the gangster crawled into a nearby theater.
Bryce had the theater manager turn the lights up and followed the dying criminal's blood trail. Looking up at the sharply dressed Bryce, the man's last words were, "I can't believe I was killed by a Jelly Bean like you." The name stuck, and "Jelly" Bryce was born.
The FBI Comes Calling
By 1934, high-profile criminals like Bonnie and Clyde, John Dillinger, Pretty Boy Floyd, and Babyface Nelson were at the top of their games. The combination of fast cars like the Ford V8, relatively primitive communications networks, and the desperation of the Great Depression not only made serial bank robbery possible, but it also turned these outlaws into folk heroes.
Since their safety depended on mobility, such criminals necessarily crossed multiple state lines, bringing them within the FBI's jurisdiction, as well as state and local police agencies. Director J. Edgar Hoover had recently professionalized the FBI, requiring his agents to possess economics or law degrees. But these men were ill prepared to take on hardened killers like Barrow and Dillinger.
Hoover quickly moved to rectify that situation. He quietly, and often personally, waived the college requirement to get the shooters he needed. Among them were Texas Rangers Gus Jones and Doc White, Texas Deputy Charles Winstead, and Oklahoma City cops Clarence Hurt, Jerry Campbell, and Jelly Bryce. It appears that Bryce's dramatic takedown of Ray O'Donnell put him on the FBI's radar.
Winstead eventually killed Public Enemy Number 1, John Dillinger. As noted, most of Bryce's records were lost, but some evidence suggests he was present when the infamous Ma Barker and her son Freddie were cornered and killed in early 1935 after a four-hour gun battle.
Without those records, there is little specificity regarding Bryce's FBI career, but we do know that he was highly respected and effective. He developed a personal friendship with Hoover and eventually ran the FBI field offices in El Paso and San Antonio. In 1945, Bryce was promoted to Special Agent in Charge of the state of Oklahoma.
Bryce also served as a "special negotiator" before the FBI had such specializations. A holed-up criminal in his area often resulted in a call to Bryce. He reportedly talked to the suspects while maneuvering into position for a shot. Sometimes the criminal surrendered. Sometimes they didn't. Uncooperative criminals soon found out how deadly Jelly Bryce truly was.
On one such occasion, a reporter asked Bryce, "Aren't you interested in bringing them back alive?" Bryce responded, "I'm more interested in bringing myself back alive." It wasn't long before the "Bryce Effect" emerged.
Bryce's Firearms
Bryce was first and foremost a revolver man. His early weapon of choice was a Wolf & Klar Special Edition Smith & Wesson 3rd Model Hand Ejector chambered in .44 Special. The big, nickel-plated N-frame wheel gun had a 4-inch barrel and specially carved ivory (some say pearl) grips. The right grip was engraved with a steer's head, while the left side featured a black cat and the number 13. The frame, barrel, and cylinder were also engraved. Bryce called the gun "Lucky." It seems the gun's current whereabouts are unknown.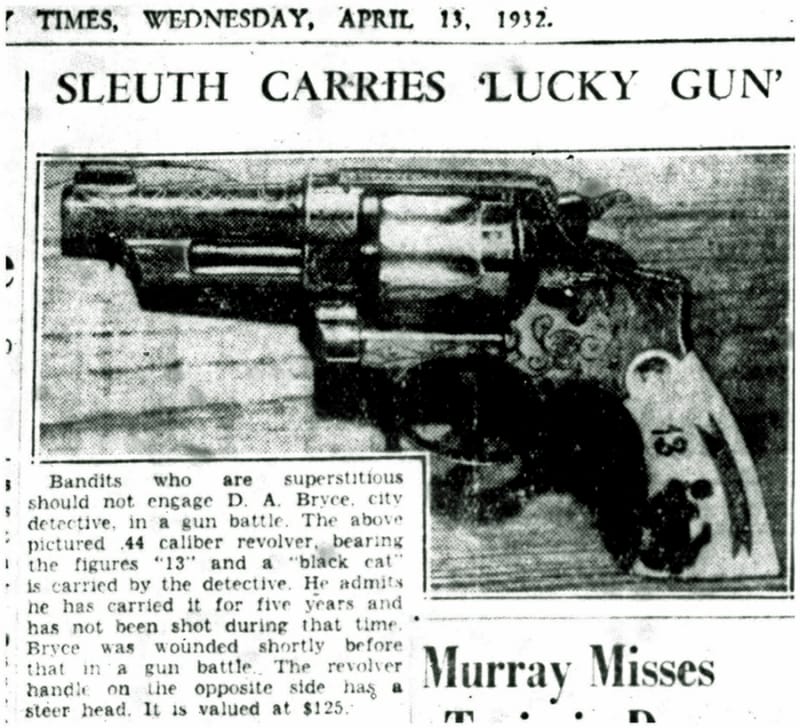 After joining the FBI, Bryce moved on to the new Smith & Wesson .357 Magnum revolver, later called the Model 27. Bryce chose the 3.5-inch barrel, and the gun appears to have been his preferred sidearm for the rest of his career.
Bryce also liked short-barreled Remington pump shotguns. He preferred pumps because he could run them faster than semi-automatic models could cycle. Bryce is known to have carried such a gun in his car even after he retired. There are also many photos of Bryce with the Thompson submachine gun.
Jelly Bryce the Point Shooter
Bryce was a point shooter par excellence. He was said to practice drawing his cleared six-gun 8 hours at a time in front of a mirror. He developed a distinctive circular draw that snatched the pistol from the holster on the up stroke. Bryce shot from a deep crouch, which he entered as he drew. He fired when his gun came level with his target. Bryce's draw was later electronically timed at a blazing two-fifths of a second. No wonder Ray O'Donnell never fired his pistols.
His otherworldly hand-eye coordination, combined with endless practice, meant that Bryce could perform seemingly impossible feats with revolver, rifle, and shotgun. He used all three platforms to shoot grapes, coins, and pecans out of the air. He hit targets holding his revolver upside down or shooting between his legs. He even fired his revolver over his left shoulder, his back turned, while looking at the target's reflection in his big diamond ring, scoring every time.
Bryce's most famous feats, however, were his quick draw demonstrations. Holding his gun hand straight out, Bryce placed a poker chip on its back. The chip would fall as he began his crouch and draw stroke. Bryce cleared his suit coat, drew the revolver, and fired a double action shot before the chip hit the ground. Some say he shot the chip out of the air, though that claim is disputed.
Another quick draw exhibition involved having people stand in front of him and clap their hands when they saw him move. Their hands invariably closed on Bryce's unloaded revolver pointed directly at them. Many people point out how many of Bryce's demonstrations violate modern notions of gun safety, and they are correct. But such standards are evolutionary, and Bryce was a product of his time. His exhibitions served as great public relations for the FBI.
Bryce also competed on many a department and agency shooting team with predictable results. Some allege that Clarence Hurt initially recruited him for just that purpose.
Legendary Lawman
Jelly Bryce was a true legend in his own time, partially because of his exploits and partially because Hoover knew a good PR campaign when he saw one. Bryce traveled the country, competing, performing shooting exhibitions, and meeting with fellow cops.
It's said that Bryce didn't like talking about the men he'd killed and refused to do so when asked. He reportedly liked telling stories, but they never involved the killings. It's likely that Bryce understood, and accepted, the enormity of taking another life. His not discussing it lightly almost certainly proves that.
It's easy for civilians to celebrate Bryce's gunfighting prowess, but they aren't the ones who carry the knowledge and the weight of what it means to actually pull the trigger. But it's also clear that Bryce, and others like him, did what had to be done, just as some continue to do today. Knowing how seriously Bryce viewed his deadly encounters is what makes this legendary gunfighter ultimately human, despite the public acclaim.
A special thanks to my friend and colleague Jake Bush for first giving me the lowdown on Jelly Bryce.